OnePlus is known for flagship killers, but recent flagships from Redmi and other brands have been the real flagship killers these days. In the wake of releasing cheaper flagships, OnePlus 7 Pro is a new take from OnePlus. It's a more premium device and while still cheaper than the other flagships; manages to provide almost everything the other phones offer.
Whilst still expensive than the regular OnePlus 7, it adorns some cool features like 90HZ fluid display, bezel-less screen, and triple camera setup. How good or great is the OnePlus 7 Pro in the real world? Let's find out in this review.
(Pricing: The OnePlus 7 Pro price in Nepal starts at Rs. 89,900 for 6GB variant, Rs. 99,900 for 8GB variant and 1,09,900 for 12GB variant.)
Display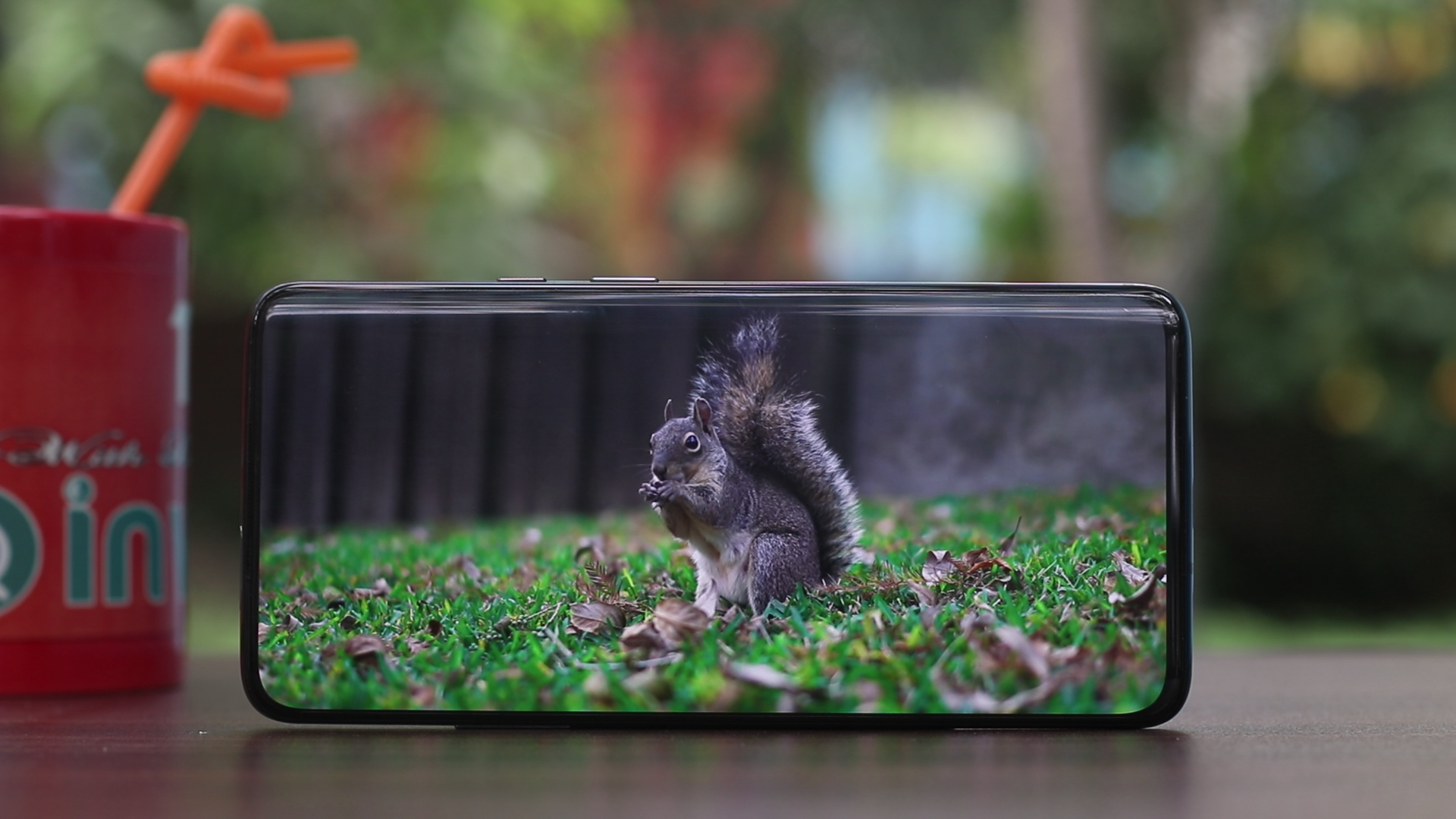 90HZ refresh rate fluid AMOLED display
6.67 inches all-screen display with HDR10+
1440 x 3120 pixels resolution, 19.5:9 tall aspect ratio
Recent OnePlus phones came with an AMOLED display, but they were less than impressive. But with the OnePlus 7 Pro, they have really managed to take the game to the next level. A true all-screen phone – it has no notches or punch holes. The pop-up camera doesn't eat into screen real state. And, we have seen this used on various smartphones by Xiaomi, Oppo, and Vivo.
The bezel-less 6.7 inches AMOLED display is even more impressive in real life. Applauding the 90HZ refresh rate, the "Fluid Display" on the OnePlus 7 Pro is wonderful. Everything feels smoother, be it watching videos, browsing the internet, playing games, or just normal navigation within the phone. The 60HZ display gets really boring after you get used to the OnePlus 7 Pro.
There aren't many games that support 90HZ refresh rate. Some of them are "Hill Climb Racing 2" and "Vainglory". Playing both games side by side the S10 Plus, OnePlus 7 pro did feel smoother.
The colors have vastly improved over its predecessor but I still think that the S10 is slightly ahead when it comes to color. Also, HDR YouTube videos looked better on the S10 Plus than the OnePlus 7 Pro.
Design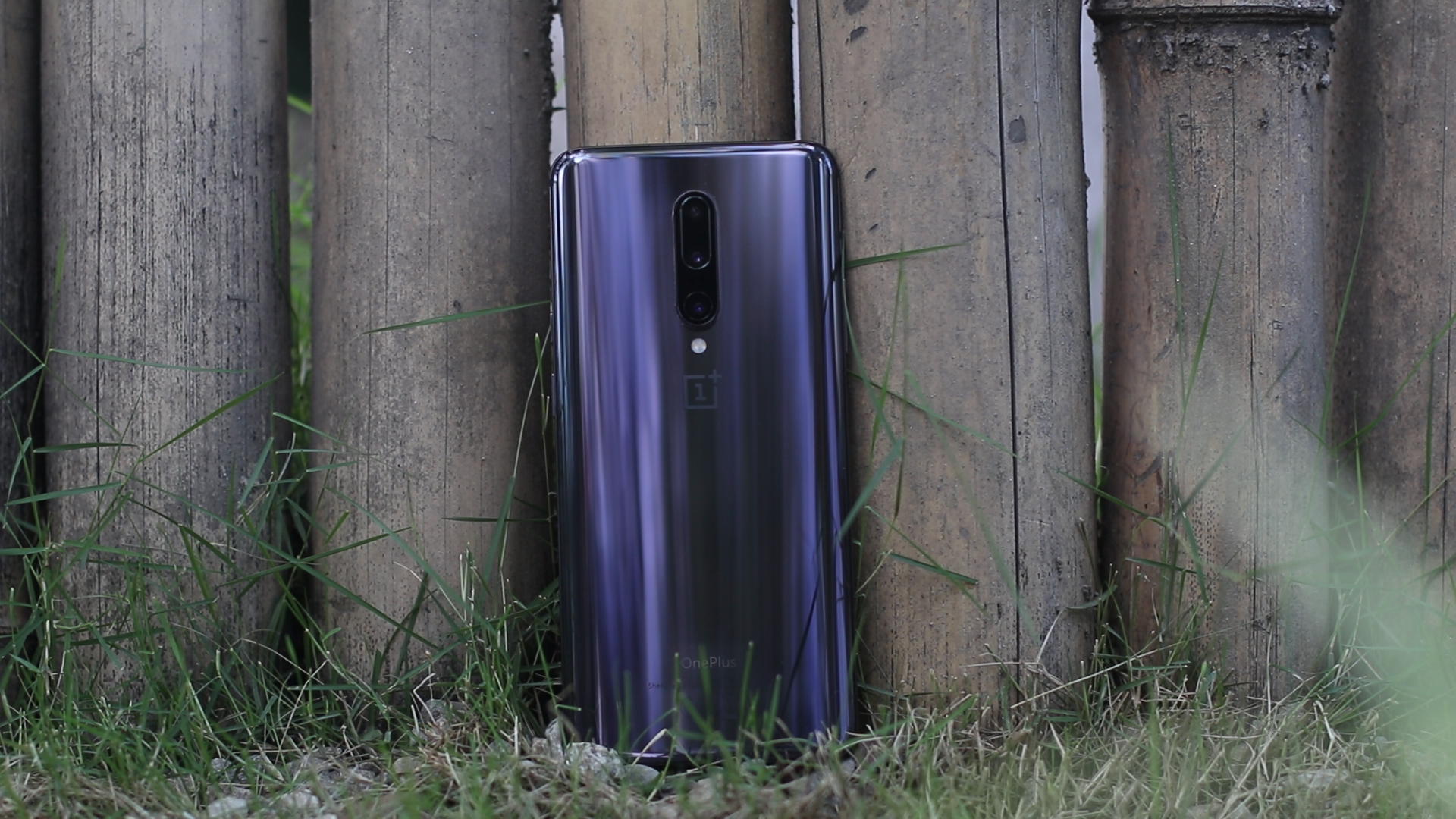 OnePlus 7 Pro is a typical 2019 flagship smartphone in terms of looks. There are no bezels essentially, just a slight black screen outline, a curved screen like the S10 plus, and a similar glass back. The glossy mirror grey finish does catch fingerprint easily while the blue nebula has a matte finish and looks more appealing. The nebula blue version is only available on the 256GB internal storage variant. It's a very tall phone, taller than the S10 plus and it cannot be handled with a single hand. Also, the triple camera on the rear protrudes the back of the phone.
Something I adore on the OnePlus 7 Pro is the inclusion of an alert slider. A handy little button to switch the sound profile. Every phone should have this button. OnePlus's phones do not come with micro-sd slot, meanwhile, it does have dual sim slot and a USB type C port. Plus, we are getting a stereo speaker with the OnePlus 7 Pro. It is adequately loud but sounds only decent at max volume.
Now what OnePlus 7 Pro lacks is a headphone jack and IP certification for water resistance. While the former was the issue with the last years 6T as well, OnePlus says they skipped the water certification to make the phone cheaper.
Front Camera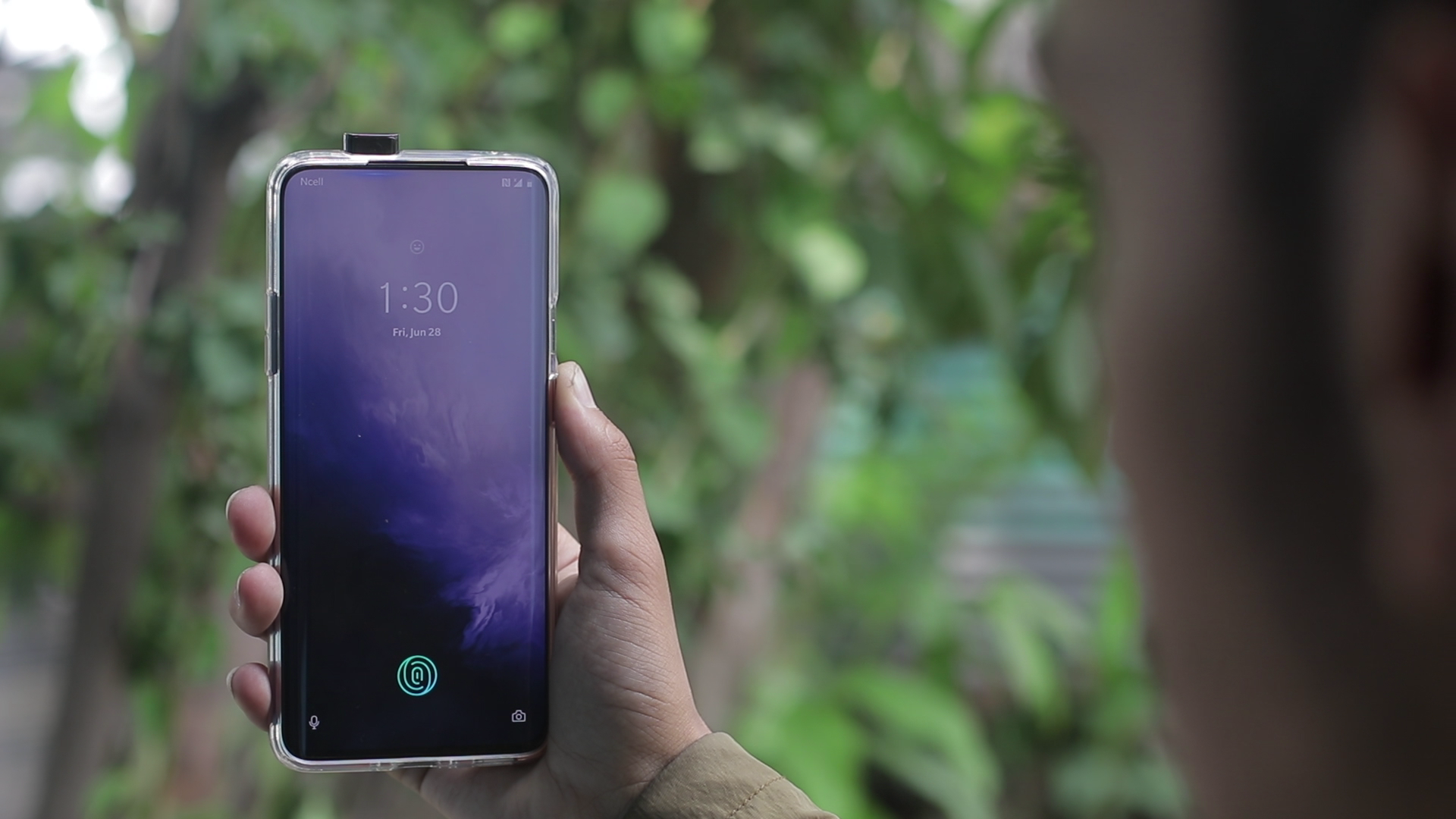 After the notch, we saw a lot of wild ideas to achieve max screen real estate; pop-up camera, flip camera, sliding cameras. well, we get to see a pop-up camera on the OnePlus 7 Pro. It pops up while taking selfies and for face unlocks. It is pretty fast and smooth unlike what you get with the cheaper phones like Redmi K20. Face unlock feels seamless and very fast given it has to pop-out the camera each time to unlock. I've been very impressed with the pop-up camera when it comes to its smoothness and feasibility.
Now coming to its photo capture capability. The OnePlus 7 Pro houses a 16MP front camera. And, it is good but not the best. The exposure is usually on point but the colors can be washed out and highlights can be blown out.
Triple Rear Camera
On the rear, the OnePlus 7 Pro houses a triple camera setup; 48 MP main sensor, 8 MP telephoto lens with 3x zoom + OIS, and a 16 MP ultrawide lens.
This slideshow requires JavaScript.
On, overall its an average camera. It is vastly improved over its predecessors but still lacks behind the best in different departments. Some things I noticed was, exposure was not balanced when not using tap to focus, the color seems warmer than usual in dim lighting conditions, and skin smoothing in low light shots which is more aggressive when using the Night mode. Also, the wide-angle lens has an only 117-degree field of view, thus it is not the widest on a smartphone but does the job pretty well.
These issues would appear sometimes, else it's a pretty good camera. Also, the videos are smooth and pretty much well stabilized.
Performance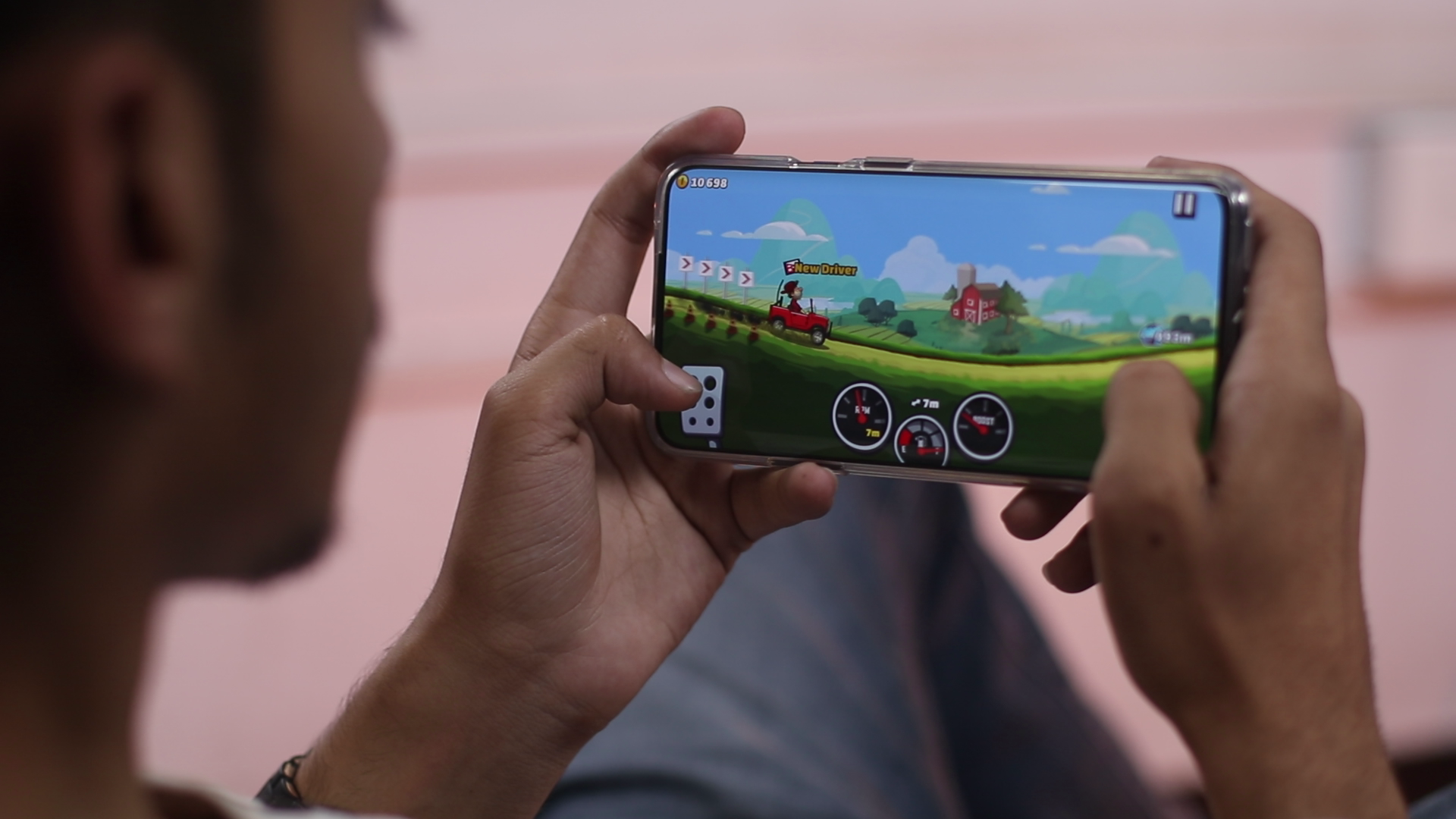 Now, the OnePlus 7 Pro is a beast of a phone when it comes to performance. It is the fastest phone I've tested so far, even faster than the Samsung Galaxy S10 Plus with Exynos 9820. I had no problems while running apps, downloading files, or playing heavy games. In a week of testing, I haven't felt the device slow down in any way.
The liquid cooling works pretty well, there was no significant heating while playing PUBG. Also, I loved the new haptic vibration motor that provides instant feedback while using the navigation buttons. Also, it has a USF 3.0 storage so it has faster read and write speeds than any other phones.
Plus, the 6GB RAM is more than enough and there are some cool RAM boost and gaming modes that could give the gaming phones a run for their money.
Software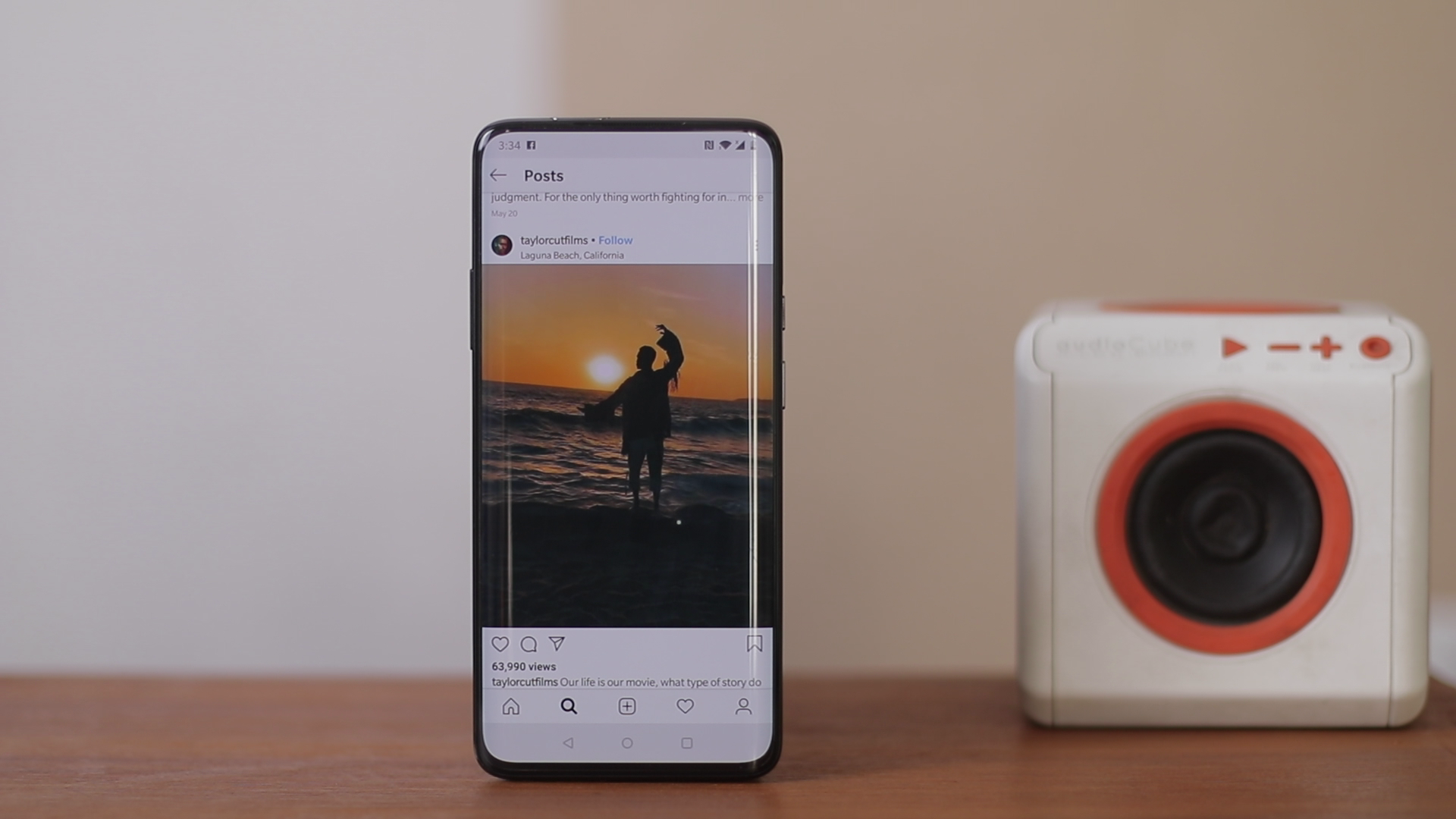 Something I've always loved on the OnePlus phones is the Oxygen OS. OnePlus 7 Pro runs on Oxygen Os on top of Android 9 Pie and it is the best stock experience I have had. It offers a light amount of alteration to Google's stock android but nonetheless looks impressive.
You have gaming mode and special Fnatic gaming mode for full unlocked performance. There's an in-built screen recorder which can help you make a step-by-step tutorial and also it supports scrolling screenshots.
Some other inclusions are Ambient display, it would have been cool to have an always-on display but the ambient display is satisfactory. It turns on when we pick up the phone or double tap the screen. Also, we are getting Zen-Mode on the OnePlus 7 Pro which turns on automatically if you use your phone too much. There is no other way to access the app, if you use the phone too much, you will be greeted with a prompt to turn on the Zen-mode which then will turn off notifications and will render your phone useless. Well, you will still be able to receive your phone calls.
Overall, it is the best software experience you can get on an Android device. It is fast, smooth, fluid, and responsive.
In-Display Fingerprint
We get an in-display fingerprint sensor on the OnePlus 7 pro just like the 6t, but it is much improved. It unlocks really quick and it's far more consistent. I did not feel awkward or difficult while using the in-display fingerprint sensor, the experience was better than what I had with the S10 Plus. But of course, the later is more secured.
Battery
OnePlus 7 Pro includes a hefty 4000 mAh battery and it's a 1-day battery if you are an aggressive user. Normally, I would start using the phone at 8 or 9 AM and I would have to charge the phone the next morning only. But if I started my day earlier (6AM), I needed to charge the phone before the end of the day. Nonetheless, it gave me more than 5 hours of Screen On Time consistently and I was quite happy with it.
On to the Warp charging. It took us from 0% to 34% in just 15 minutes, then to 60% after 30 minutes, and we reached 100% in under 1 and a half hour. The charging speed of the 7 Pro is quite impressive
Conclusion
So, if you're bored with the 60HZ display and you are looking for a high-end smartphone with max screen real state along with the best Android experience then the OnePlus 7 Pro is the go-to smartphone for you. It will breeze through all the apps, games, and videos without any hitches while flaunting the smooth 90HZ refresh rate.
But if you think you need the best camera smartphone out there or a flagship with better value then skip this one.