Established in 1999, Vianet Communications Pvt. Ltd. is one of the top Internet service providers in Nepal. It is also the first Internet service provider in the country to focus its operations on the wireless broadband Internet. Currently, Vianet is operating from four branches and is all set to open its fifth branch office in Bhaktapur on 20th August, Saturday.
Vianet is also popular among its customers for its amazing offers. Recently, it has come up with two new amazing deals for its existing subscribers and prospective subscribers.
For Existing Customers
The first scheme has been named as Referral Scheme.  Under this scheme, the existing customers have an opportunity to earn rewards with referring internet facility to friends, family, and colleagues. Each reward point is equivalent to Re. 1 and a person earns 500 points per referral. The scheme is available for both Home and SoHo packages. However, there are certain conditions in the scheme, which can be learned from this official offer post.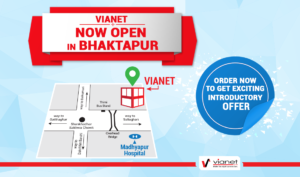 For New Customers
Vianet has come up with an introductory offer on the occasion of the opening of a new branch at Bhaktapur.
All the new subscribers are offered with free Installation, 1 month's free Internet, and extra data on the yearly plans. In addition to that, Vianet has also offered exciting offers via lucky draw even for random inquiries. The bumper lucky draw winner will get 1 Year Free Subscription of Vianet FiberHome Rush Package worth Rs. 26,000. For making the inquiries, you can visit Vianet stalls in Thimi Chowk, Kausaltar Chowk and Suryabinayak Chowk on 4th or 5th of Bhadra (i.e August 20 & 21 respectively). For more details, see the official offer post.
This is not the first time that Vianet has come up with this kind of offers. Taking the existing competitions into consideration, the company regularly announces exciting offers to lure the customers.