Leon Motors, the official distributor of Mitsubishi vehicles in Nepal, is planning to introduce the new 2018 Eclipse Cross, in the Nepali market. Globally, Mitsubishi has introduced 4 variants of 2018 Eclipse Cross to the market. A release date, as well as the price, hasn't for the Nepal launch has not been fixed yet but as per our intel, it will be announced soon.
2018 Mitsubishi Eclipse Cross is a crossover SUV with a 1.5-liter turbocharged inline-four, coupled to a continuously variable transmission (CVT). Front wheel drive is standard, but all-wheel drive is optional. The engine produces 152 horsepower and 184 pound-feet of torque.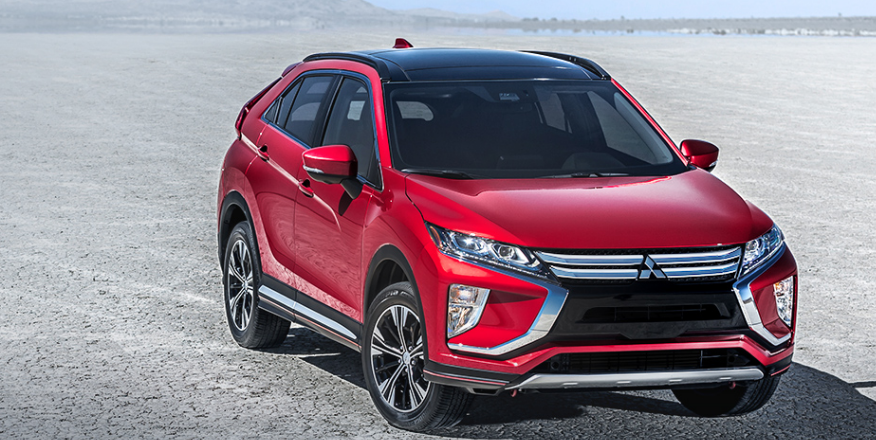 2018 Mitsubishi Eclipse Cross Features
Mitsubishi Eclipse Cross offers more torque than the Jeep Compass (175 pound-feet) which was recently introduced in NADA 2018, but Jeep Compass' 2.4-liter inline-four offers more power (180 horsepower). On paper the power output that the Eclipse Cross produces is promising, but the actual power output can only be calculated once it's been put into action.
Mitsubishi made some pretty bold choices with the exterior with a sporty look, front dynamic shield, muscular fenders, and high hip point, it is a crossover SUV with some personality. The company gave the Eclipse Cross more expensive styling than most of the crossovers in the market. Mitsubishi also claims that the outward visibility is good even with the sloping roofline. Passenger space is comparable to competitor model like Jeep Compass, but Mitsubishi offers the least cargo space of the bunch.
This slideshow requires JavaScript.
Mitsubishi Eclipse Cross comes equipped with the infotainment system with a 7.0-inch display with touch controls around the border, and a laptop-like touch controller on the center console. The laptop-like touch controller allows the user to scroll left and right or up and down by swiping across marked areas of the pad. Mitsubishi claims that the new infotainment system will ease operation while driving. The Eclipse Cross has a feature of a heated front and rear leather seats in addition to a handy, if a bit large, retractable head-up display screen. Forward Collision Mitigation, adaptive cruise control, and blind spot assist are some of the extra features that the Eclipse Cross brings to the table.
Mitsubishi Eclipse Cross is the first model from Mitsubishi to get the Mitsubishi Connect telematics service, which includes features like remote control of door locks, horn, lights, ignition and climate control, and parental controls ( geofence, speed, and curfew alerts).
2018 Mitsubishi Eclipse Cross Key Specs [SEL 1.5T S-AWC]
Engine: 1.5-liter turbocharged inline-four
Displacement: 1499cc
Mileage: 26 kmpl(estimated)
Transmission: 8-speed CVT with Sport Mode
Max Power: 152hp
Max Torque: 184 lb-ft
Fuel Tank Capacity: 60L
Ground Clearance: 175mm
Seating Capacity: 5
Kerb Weight: 1555kg
Brakes: Ventilated Disc(Front), Disc(Rear), ABS
2018 Mitsubishi Eclipse Cross Price in Nepal:

TBD

On the overall perspective, the 2018 Mitsubishi Eclipse Cross looks promising than the previous generation of Mitsubishi Eclipse that got eclipsed. The interior, exterior, power output, and the infotainment system looks promising on paper. With lots of updates, the new Eclipse Cross is a sporty and a Crossover SUV with personality.

If you are someone who is looking for a sporty Crossover SUV equipped with lots of features, then Eclipse Cross might just be something that you need.




Featured video from TechLekh

Xiaomi 12 Pro Unboxing & Impressions नेपालीमा