"K padhne?" (translation: What to read?) is probably one question that haunts every student throughout their whole life. Whether you're still in school or pursuing undergraduate education or even graduate study, you always have the dilemma of what to read next. However, the level of dilemma does vary by resources and opportunity available nearby you. If you are lucky enough to live around an educational hub, the chances are that you probably figure out the answer soon enough. But for the students living far from the educational centers, the question is one big problem.
Well, the startup we have covered today has taken it upon itself to answer these dilemmas that occur in a student's life. Named after the question itself, kPadhne is an online search platform that aims to work as a one-stop solution to various questions of student life.

Problem
---
Since the primary cities are educational hubs, most of the students are bound to come to these cities for higher education. The main problem that prevails right now is that the students do not have enough information that they require before moving to these cities.
Solution
---
kPadhne is a search portal that answers all the significant questions that the students seek answers to while choosing a new career path. It primarily concentrates on answering the following four questions:
What to study
Where to study
With whom to study
Where to stay
In addition to that, the site also consists of dedicated counseling and scholarship sections. Through the counseling section, a student can get advice from the experts about their career path and even get answers to queries about any specific fields.
Similarly, the Scholarship section makes sure that students are informed about different scholarships provided by various organizations to students of different levels.
To sum it up, kPadhne is a complete educational platform that connects students to educational institutions and vice-versa.
"Our primary target audiences are students, our main motto is to provide all the information to make a life of a student easier." – Kishor GC, Cofounder.
History
---
kPadhne was established in 2016 by four education enthusiast, Kishor GC, Navraj Pandey, Pradip Subedi, and Suresh Pant.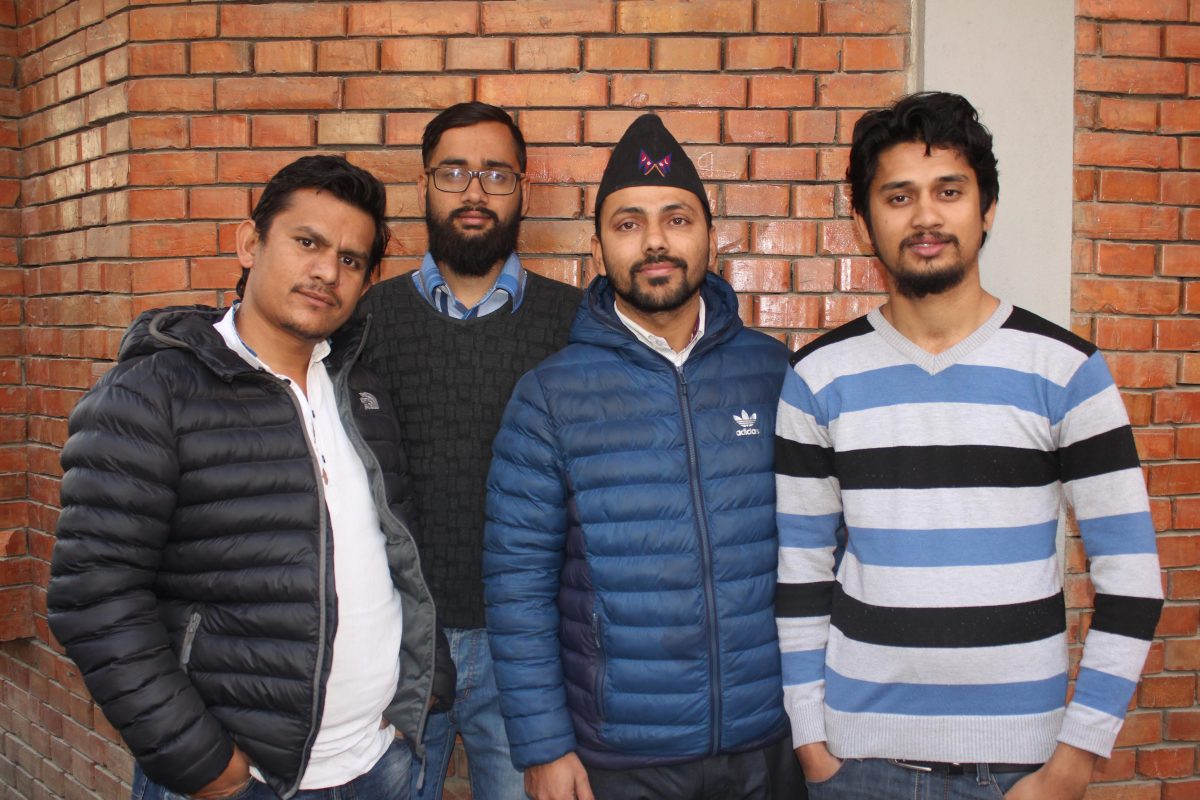 Experience is the most significant form of learning. The formation of kPadhne also had to do a lot with the backgrounds of the co-founders.
Navaraj said, "I, as a student, had limited access to information when I needed. I was unknown about my strength, interest and even the colleges. I remember going to different colleges as per the recommendation of my relatives after SLC without any clue of what I actually wanted, and the dilemma persisted even after the completion of my high school."
"I too had a similar story. There was no medium or a platform that could help us make an informed decision. Thus, when we decided to commence a startup, we decided to establish kPadhne so that students today have an information source that they can trust. ", added Kishor.
Current Focus
---
The primary concern of the team right now is to reach and connect directly with the students.
"Lately, we have realized that we still need to work on reaching the students out of the valley. Thus, we have decided to go to the rural areas and interact with the students there. We plan to reach 50,000 students. Our primary aim would be to inform the students about our platform and orient them," Kishor explained.
Challenges
---
"The key challenge of being in a startup is to make sure that we are motivated every time.", Navaraj mentioned.
"Generally, people become overambitious while commencing a startup. We think of unattainable goals and believe that we will conquer the world in a day or two. But the reality is way too harsh than we think of. There are so many hurdles that come along on our journey. But in spite of all this, we need to make sure that we stay motivated all the time. It's easy to start a startup, the primary challenge is to sustain it. And above all, maintain your enthusiasm and patience all along.", added Kishor.
Since kPadhne is a one-of-its-kind platform, it took a lot of hard work and convincing for members of kPadhne to reach and persuade the clients to join their platform.
While summing up the experience, Navaraj shared, "The penetration of internet is relatively new so convincing our clients was not a one day job. Institutions and hostels have been running on certain methodology and are quite comfortable with it. The main problem for us was to persuade them to move into entirely new technology and adopt it. Our days of convincing have not ended, but we have managed to get a good number of institutions and hostels to our platform."
As per the team, institutions have lately realized the necessity to transit to digital marketing which has been a plus point for the team.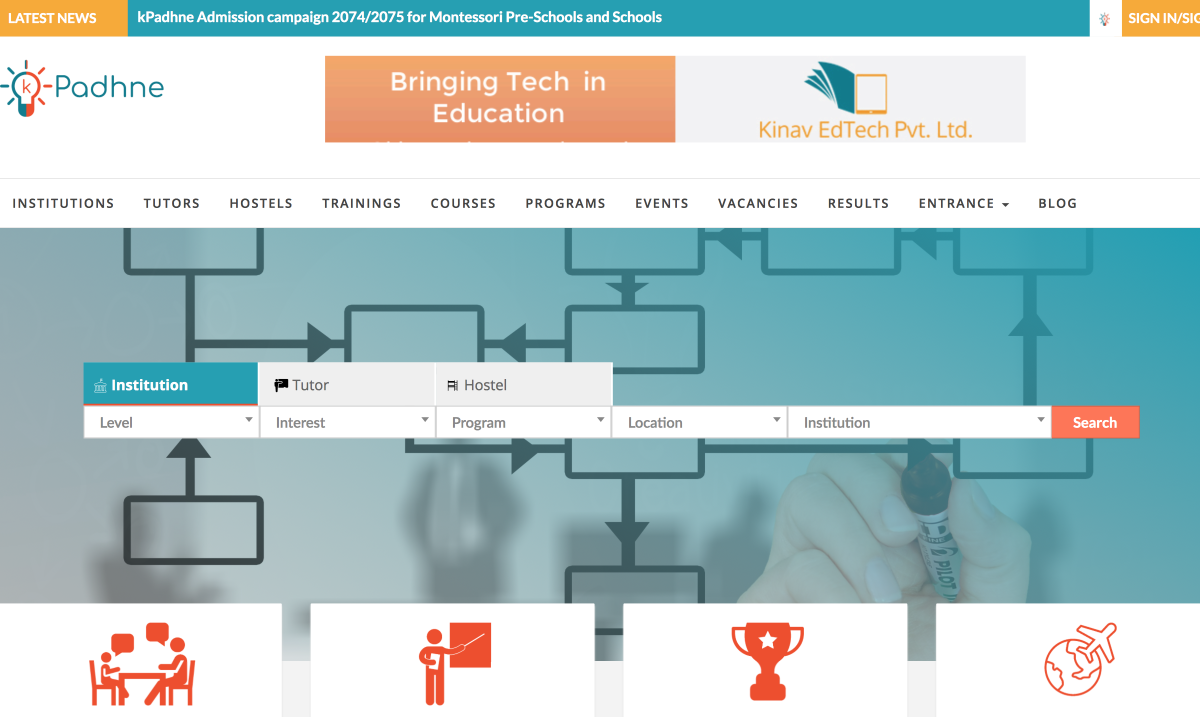 Best Moment So Far
---
The kPadhne team recently achieved their favorite moment so far. It was when a hostel owner associated with them called them up to share that, three students joined her hostel on a single day, and all of them got referred by kPadhne.
"Its the compliments and encouragement from our clients that keep us motivated. Lately, we have been receiving lots of feedbacks and appreciations from students, institutions, and hostels and moments like those make our day."
Future Plans
---
They are currently concentrating on bringing more educational institutions and hostels to their platform. By the end of 2018, they plan to enroll around 600 schools/colleges, 1550 training institutes, 1000 hostels and 1000 tutors to KPadhne.com.
Besides that, they plan to reach at least 50,000 students all around the country and do on the spot counseling about their platform.
"We want to make sure that no student in Nepal goes through the dilemma while making any decision about their career," Kishor shared.
"Besides that, we are all also planning to conduct online entrance examinations for schools and colleges, so that students do not miss any opportunity due to the geographical difference.", Navaraj added.
Prominent Learning So Far
---
"The most important aspect of any business is client satisfaction. In many cases, when a company starts gaining popularity, they tend to forget about the clients. But, we have learned the lesson in the early stage itself. We always make sure that our clients are satisfied with our services and are getting value for their money. ", Kishor explained.
The team undoubtedly takes the satisfaction of their clients seriously. Thus, they have a dedicated team that interacts with the clients on a regular basis.
Our Take
---
Talking to the co-founders reminded me of my student life when I had to go through all the dilemma. The problem they are trying to address is a significant one, and their solution is quite innovative too. But their next challenge will be to include the institutions and students from outside the Kathmandu valley. While the whole country is moving towards decentralization, it is equally essential that they incorporate the institutions and hostels from outside the major cities too.
---
Editors Recommendation