Pros
Sporty Armored Energy Design
Excellent Power Delivery
Punchy Performance at 40-60Km/h
Loaded Features with Real-World Appeal
Softer Suspension
Cons
No LED Lights!
Lacking in Top End Feel
Engine Struggles Past 70Km/h
Uncomfortable Seat for Longer Rides
Few Slight Hiccups
Yamaha Ray ZR 125 FI is the only second BS6-compliant scooter in Nepal.
MAW Enterprises Pvt. Ltd., the authorized distributors of Yamaha scooters in Nepal, announced the launch of Yamaha Ray ZR 125 FI, following up on the success of Fascino 125.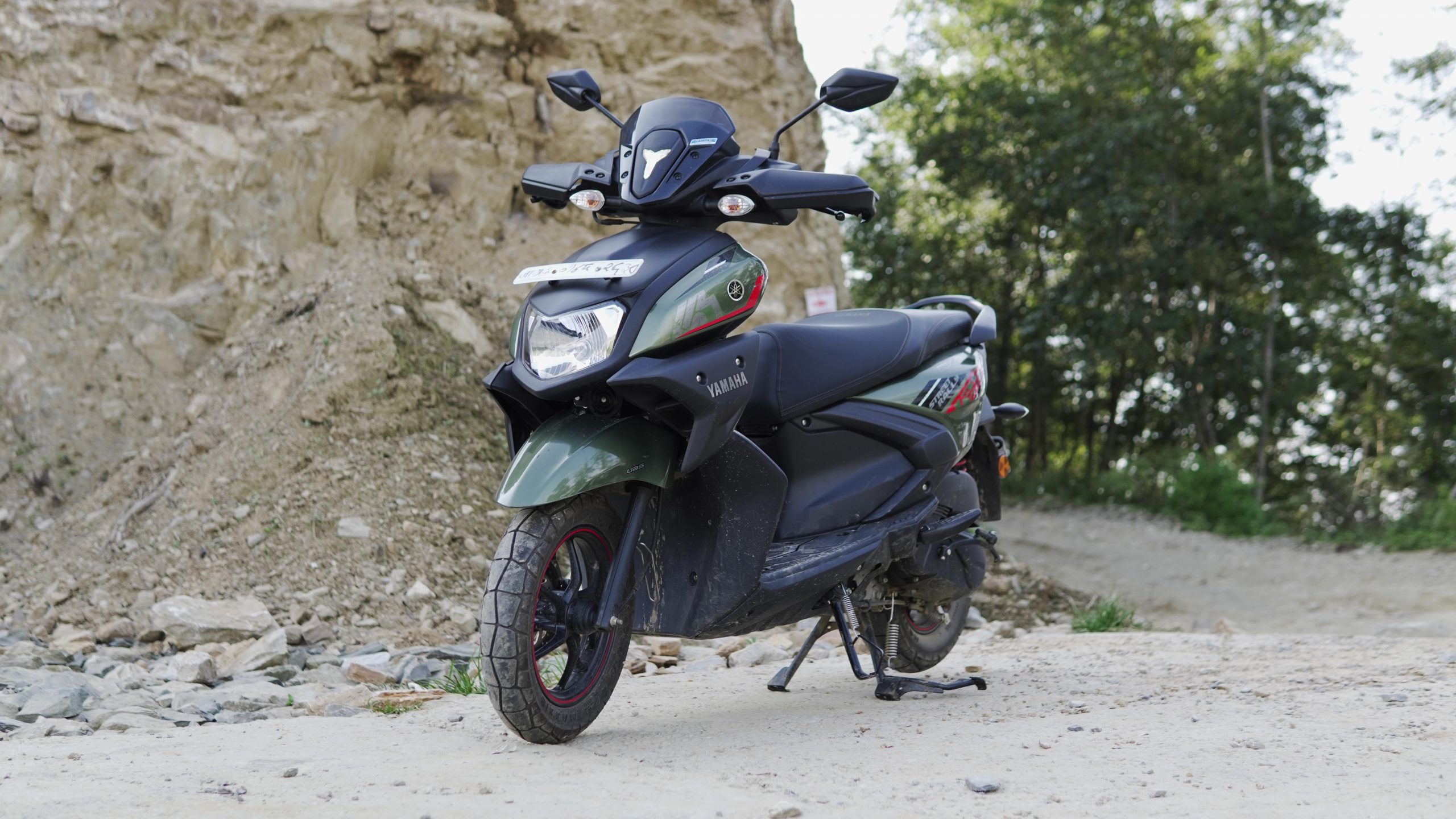 The latest Yamaha scooter brings forth a fresh new design, more features alongside a new 125cc BS6-compliant FI engine. Moreover, it is available in two different variants: Standard Model (Disc – Drum) and Street Rally.
Yamaha Ray ZR 125 FI price in Nepal starts at Rs. 2.29 Lakhs (Standard – Drum) to Rs. 2.54 Lakhs (Street Rally).
For this review, we got our hands on the Street Rally version, which is the most expensive one in the lineup.
In this Yamaha Ray ZR 125 FI Full Review, we'll try our best to answer three important questions:
What's new?
Which variant do I choose?
Is it worth buying?
We spent about 3-4 days testing out the new scooter, trying to answer just that. So, let's start!
Yamaha Ray ZR 125 FI Street Rally Specifications
Engine Type: Single-Cylinder, 2-valve, BS-VI complaint Fuel Injection
Displacement: 125 cc
Cooling System: Air-Cooled
Starting Mechanism: Electric Starter & Kick Starter
Max Power: 8.2 PS @ 6500 rpm
Max Torque: 9.7 Nm @ 5000 rpm
Top Speed: 80 Kmph
Fuel Tank Capacity: 5.2 liters
Mileage: 58 kmpl
Front Tyre: 90/90-12 – Disc
Rear Tyre: 110/90-10 – Drum
Tubeless Tyres: Yes
Braking System: Unified Braking System (UBS)
Suspension Setup: Telescopic Front Forks and Rear Swing Arm
Seat Height: 785 mm
Ground Clearance: 145 mm
Under Seat Storage Capacity: 21 liters
Kerb Weight: 99 kg
Colors: Blue and Green
Yamaha Ray ZR 125 Street Rally Price in Nepal: Rs. 2,54,900
Yamaha Ray ZR 125 FI Street Rally Review
Sporty Design
Yamaha went all-out with the new design!
It offers a breath of fresh air, allowing Yamaha to experiment and update the design on their popular offerings.
Yamaha isn't afraid of criticism, which is one of those rare qualities that put Yamaha at the forefront of FI Technology, from motorcycles to scooters. It is one of the reasons why the new Ray ZR FI goes for a radical new design concept.
Yamaha Ray ZR 125 FI Street Rally is available in two different colors: Green and Blue.
Body Design
Yamaha Ray ZR 125 FI is based on the "Armored Energy" concept. It looks and feels sportier with a hint of aggressive edges, giving off a tougher look.
The muscular body, snazzy graphics, and premium feel all add to the experience of being the ultimate sporty scooter.
Compared to the 110cc predecessor, the newer version comes across with an additional aggressive styling and a sharp character.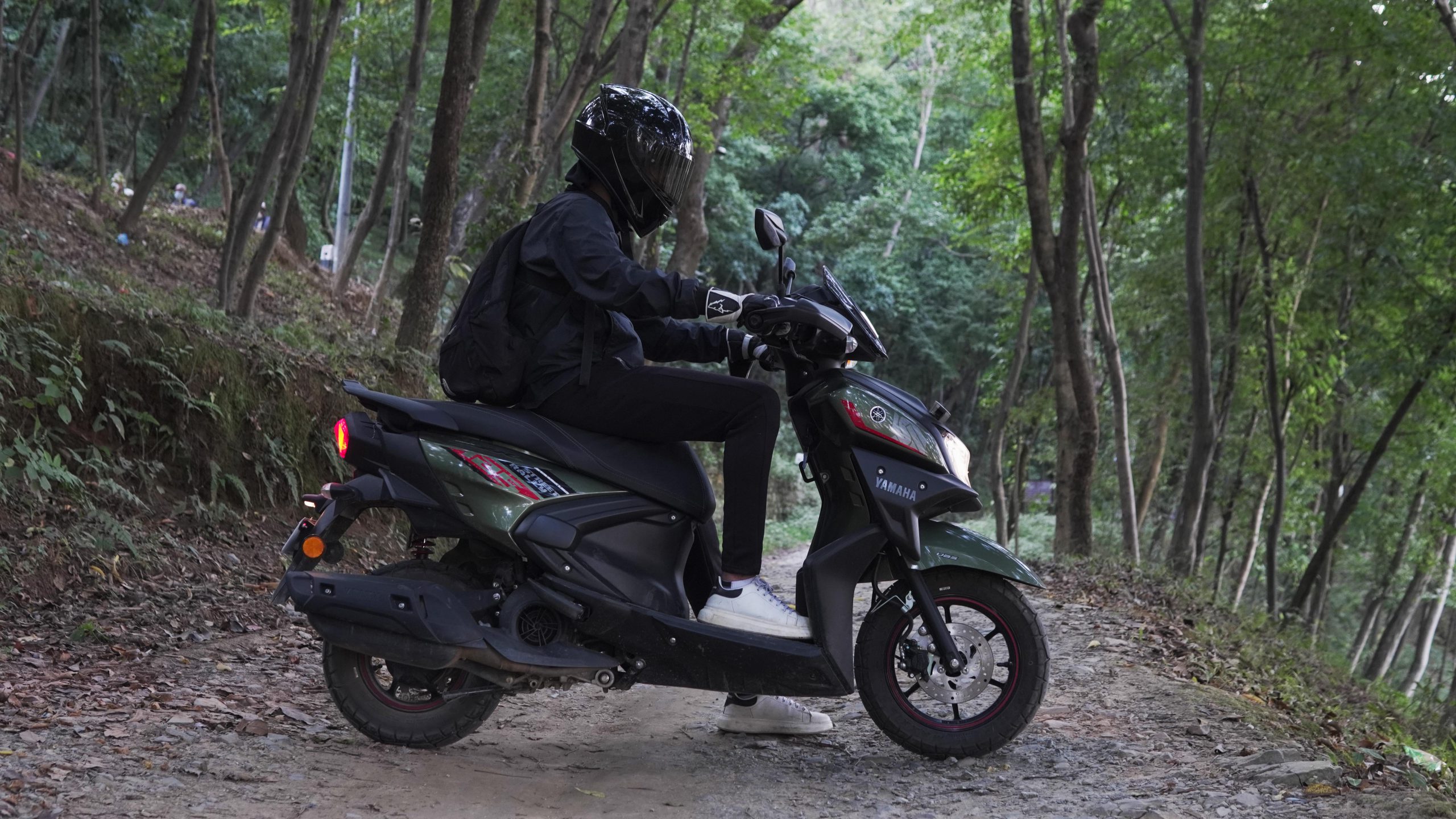 The overall front section feels more substantial and smoothed out now, rather than flat and pointy.
I do think that the new Ray ZR 125 has that extra bit of character, or originality, which the old Ray ZR 110 lacked.
Three New Elements
Starting with the front section, there are a lot of new elements on the front alone. These elements help the scooter feel more modern than ever.
You'll notice three new changes just at the handlebar alone.
Y-Shaped LED DRL
Stylish Hand Guard
Blacked Out Visor
The new Y-Shaped LED DRL is one of the most noticeable parts of the Ray ZR. It gives off an encrusted diamond look, which sets it apart from other sporty scooters.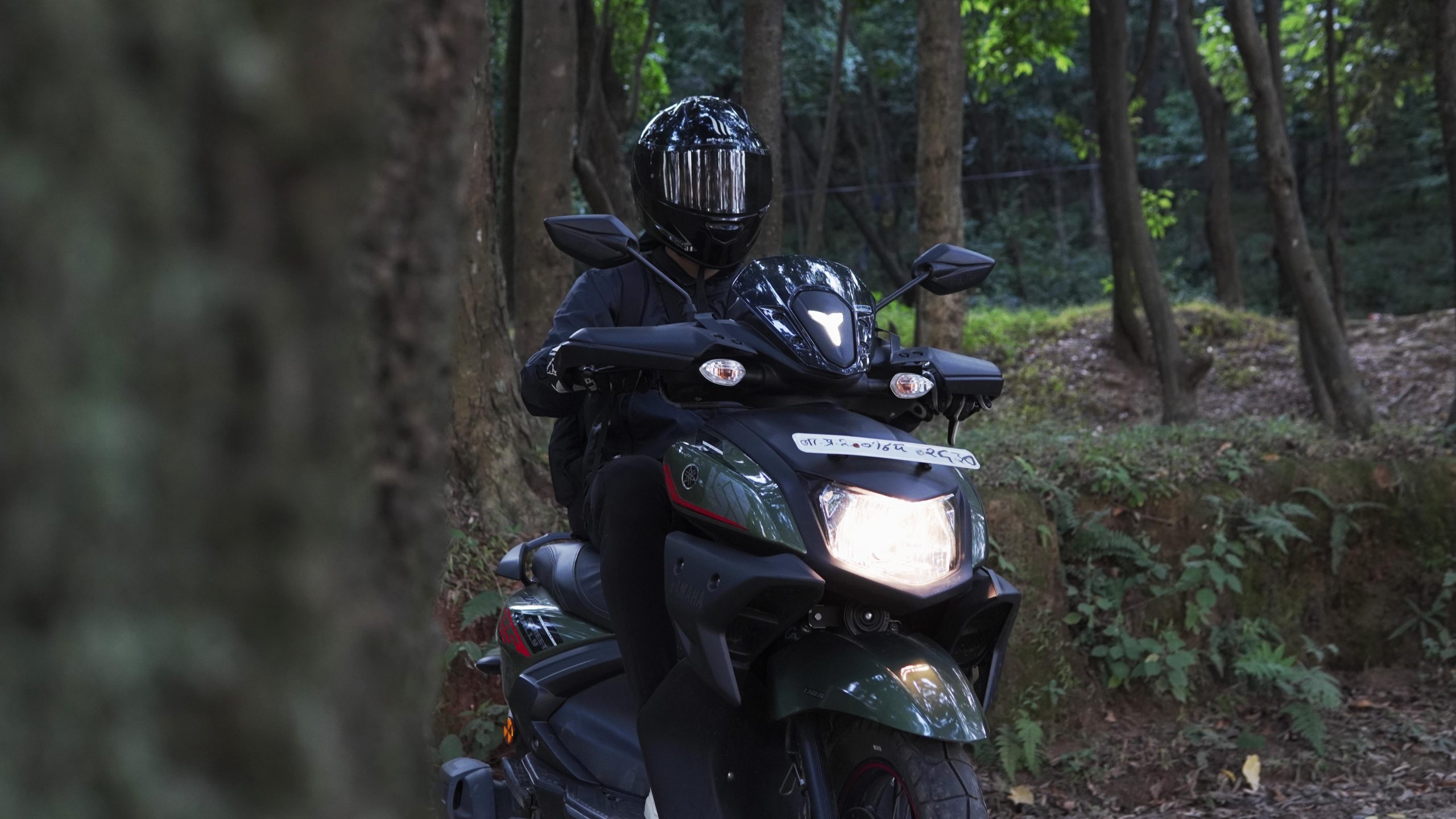 Plus, the DRL looks very epic especially at night time, coming across as a true premium feature. Unfortunately, these are the only LEDs you get.
Besides the LED DRL, the rest of the lighting system is limited to halogen bulbs.
Under the Y-shaped DRL, it gets a blacked-out visor. In terms of functionality, it doesn't deflect winds or have any function. Still, it is a nice addition, making the scooter look very cool.
Additional changes include a new brushed handguard and side indicator position change.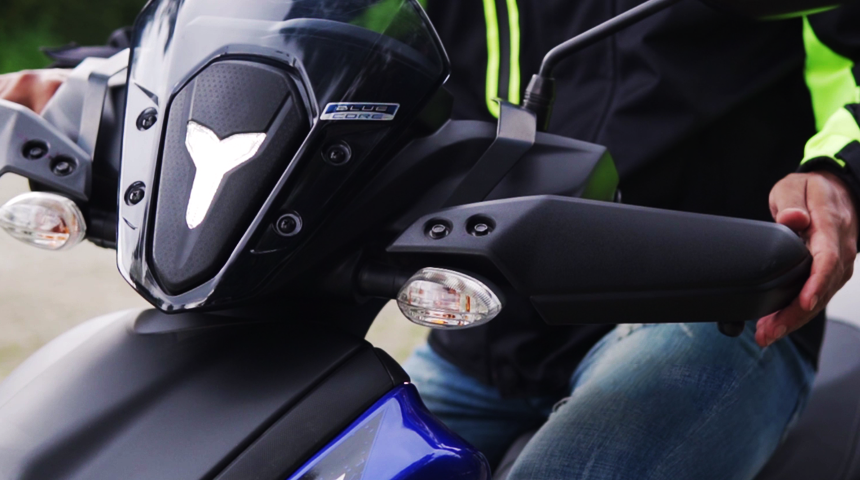 Ray ZR 125 gets a new handguard, which feels nicer than before. Moreover, the side indicators have been moved from the side of the headlamp to the top of the handlebar.
The side indicator styling follows up on other available sporty scooters like the TVS NTorq 125 and Aprilia SR 125.
Besides those new changes, you also get a tougher looking halogen headlamp.
Additional New Style Changes
Well, those changes were just in the front.
Moving to the side, you'll notice yet another design refinement in the two-level seat, side panels, grab bar, and exhaust. The styling has been refined, coming across as modern and stylish.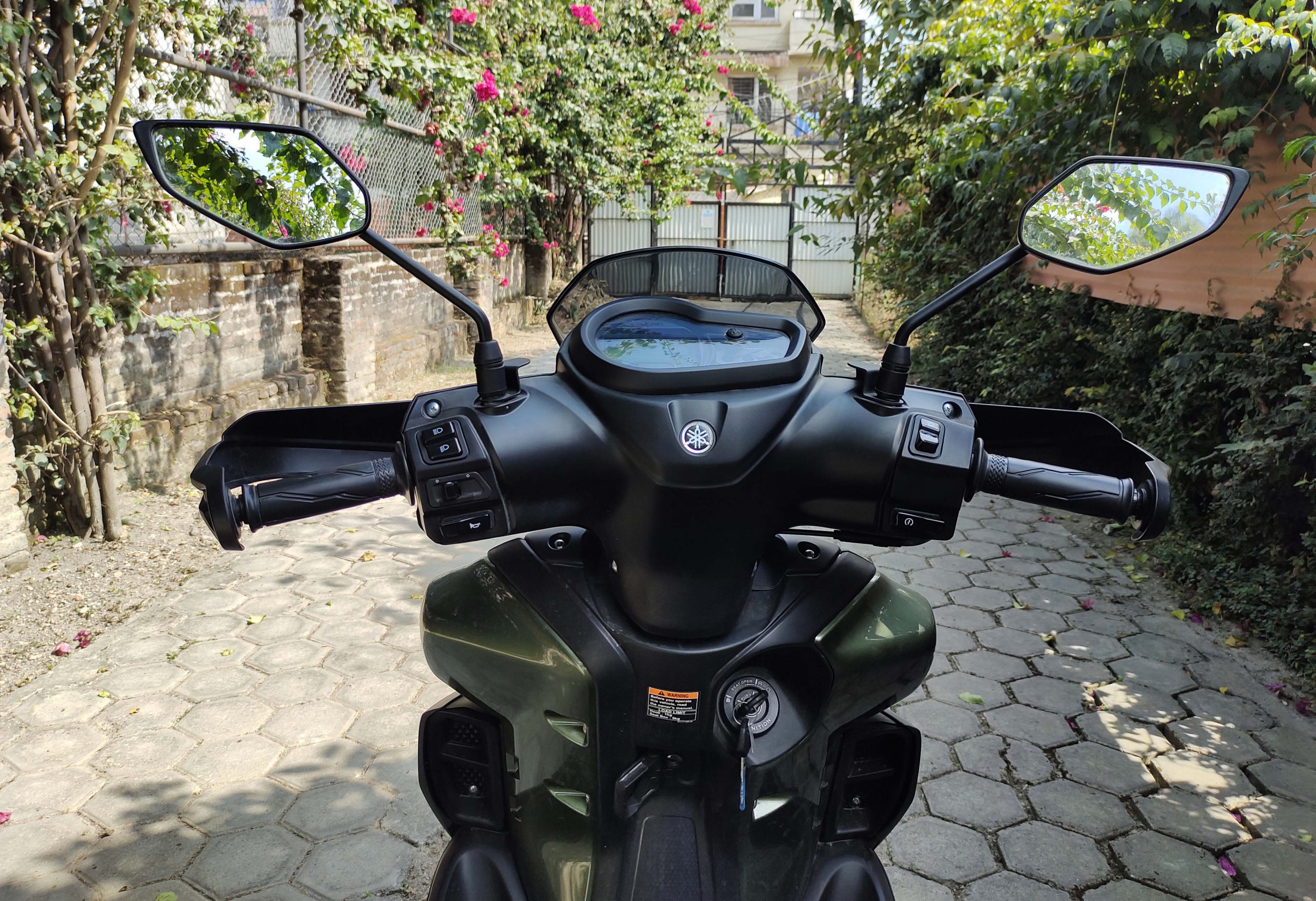 Similarly, you get stylish mirrors, which look cool but offers decent rear visibility. Previously, it might have been all about sharp edges. However, it's more puffed out this time around.
Finally, we get to the rear section.
Compared to the front, the rear section doesn't go crazy with new changes. However, it does get an improved M-shaped halogen tail lamp.
Yamaha Ray ZR 125 FI Street Rally Design Highlights
'Armored Energy' Design Concept
Dual-Tone Sporty Graphics
Y-Shaped LED Position Light
Blacked Out Visor
New Brush Guard
Touger Headlamp Design
M-Shaped Tail Lamp
Full Digital Instrument Cluster
Block Pattern Tyre with Sporty Wheel Stripes
Two Level Seat
Redesigned Exhaust
Yamaha Ray ZR 125 FI Street Rally vs Yamaha Ray ZR 125 FI: Design Differences
As I have stated earlier, Yamaha Ray ZR 125 FI is available in two versions: Standard and Street Rally.
Both share the same styling, features, and engine. So, the experience on offer is the same. However, Ray ZR 125 FI Street Rally comes with three extra features: Sporty Graphics, Block-shaped Dual Purpose Tyres with Red Stripes, and Hand Guards.
These extra features help Street Rally come across as a sportier offering.
If you want a simple Ray ZR experience, then the Standard version will do its job.
However, if you want to stand out among the crowd, then the Street Rally will do just that!
New 125cc Engine with Excellent Pickup
Yamaha Ray ZR 125 is powered by a new Yamaha Blue Core FI engine.
It is a 125cc, air-cooled, BS-VI compliant engine. Moreover, it can generate a max power of 8.2PS at 6500rpm and max torque of 9.7Nm at 5000rpm.
Yamaha claims that the new engine comes with a 30% power increase and 16% mileage improvements.
On top of that, the engine features the fastest pickup of 0-60 Kmph in just 7.59 seconds! Along with that, it also claims a high saving mileage of 58kmpl.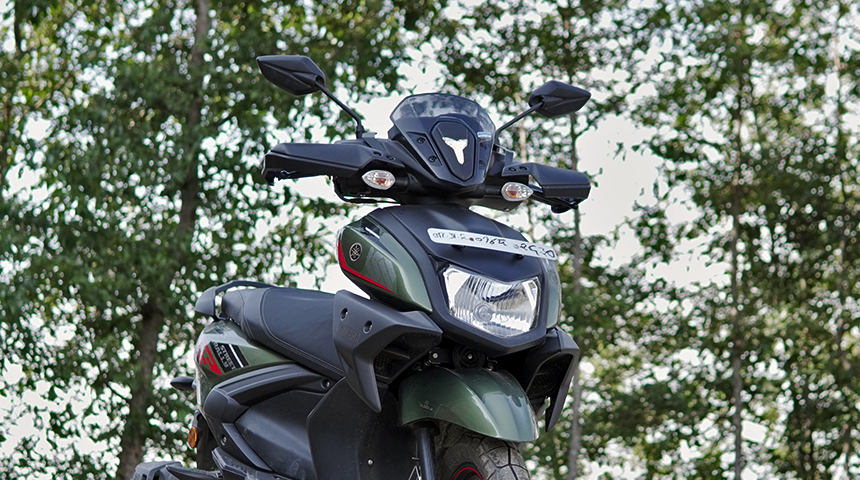 If you look at the spec sheet, it shares similarities with the Yamaha Fascino 125. Although, the engine in Ray ZR does feel a bit different.
The similarities are shared with the performance numbers, suspension setup, and braking setup. However, the styling is different by a long shot.
Additionally, Yamaha Ray ZR 125 FI also gets Yamaha FI exclusive features like Smart Motor Generator, Side Stand Engine Cut Off, and Start-Stop System.
ALSO READ: Yamaha Fascino 125 FI Review: Stylish and Practical!
We have already gone into detail about these FI features in our Yamaha Fascino 125 FI Full Review. So, be sure to check that out!
Yamaha Ray ZR 125 FI Street Rally Engine Highlights
Smart Motor Generator
Side Stand Engine Cut Off
Start-Stop System
Fastest Pickup in the Segment
Loaded Features
We have already established that Yamaha Ray ZR 125 comes with sporty new looks and a punchy FI engine.
Interestingly, those new changes fall short in comparison with the sheer amount of features on offer.
Compared to the Fascino 125, the included features in Ray ZR 125 feels more exciting.
Braking Performance
Ray ZR 125 FI gets a traditional front-disc and rear-drum braking configuration.
Yamaha has added a Unified Braking System (UBS) on top of an extra safety layer. Thanks to the UBS, it helps riders distribute braking force equally on the front and rear wheels.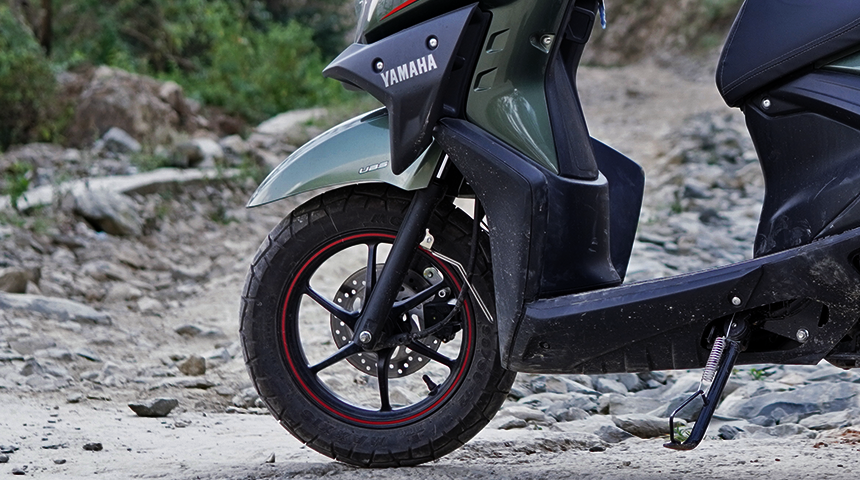 The braking experience is pretty similar to the Yamaha Fascino.
While the rear drum lacks in initial bite, the UBS does help overcome that with confidence. However, there were few instances where pressing on the rear disc locked up the rear wheel.
The braking is good enough, but I am not happy with the braking configuration here. Yamaha should've included at least Dual Disc to set it apart from the Standard model.
Suspension
Yamaha Ray ZR 125 FI comes with front telescopic and rear unit swing arm.
It is the same setup usually seen in most 125cc scooters. Furthermore, it is the same setup previously seen in Yamaha Fascino 125.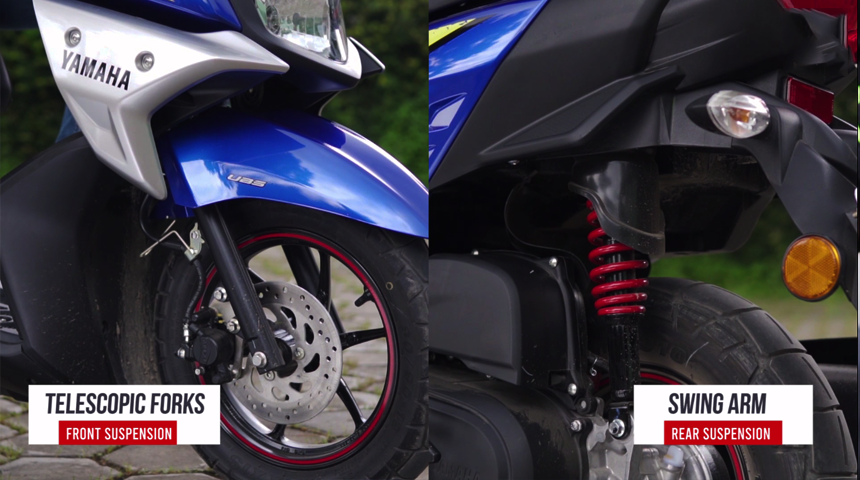 Does the experience match? Nope.
Ray ZR 125 FI comes with a softer suspension, making it more rider-friendly on rough and muddy roads. The setup does seem softer at times, absorbing most of the impacts from the potholes and bumps.
So, the scooter will be capable of going out on a few off-roading adventures. Unsurprisingly, the suspension does fit well with the sporty theme.
Storage Space
Yamaha Ray ZR boasts a massive 21-liter under-seat storage.
The storage space is large enough for most of your stuff. However, it still isn't large enough to fit an average full-sized helmet.
Similarly, Yamaha does offer a USB mobile charger as an additional add-on. Like the Fascino, there aren't any extra storage cabins anywhere. Instead, it gets a front hook.
Fuel Tank
The new Ray ZR comes with a 5.2-liter fuel tank capacity, where Yamaha claims an impressive mileage of 58Kmpl.
After our test completion, Ray ZR 125 does feel more fuel-efficient than the Fascino.
While it might not live up to 58Kmpl promise, it does deliver close to 50-55Kmpl mileage. That was the good part, now for the bad part.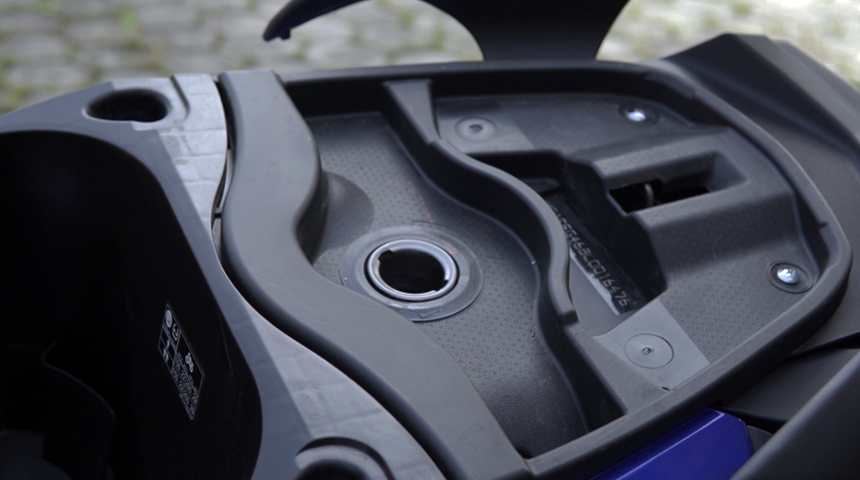 The fuel filler is positioned under the seat, which means riders have to open the seat every time they refuel.
I let this nuisance pass for Yamaha Fascino. But it is a bit disappointing to see the same thing on Yamaha Ray ZR, especially since it is advertised as a next-gen scooter.
Wider Tyres
The Street Rally features a large 90/90 12-inch cast wheel front tyre and 110/90 10-inch rear tyre.
Both tyres are tubeless, featuring block-patterns with sporty red wheel stripes. This feature is exclusively available in the Street Rally.
I don't have any complaints here. The tyres get the job done. Plus, the block-patterns serve as dual-purpose, perfect for city-riding and occasional off-roading.
Two Level Seat
Yamaha claims that the new two-level seating provides a distinctive silhouette and great comfort.
In the real world test, that didn't turn out to be the case!
The main rider's seat felt smaller, with stiffer cushioning. I was pretty comfortable for the short rides. Although, I started to feel slight discomfort after 4-5 hours into the ride.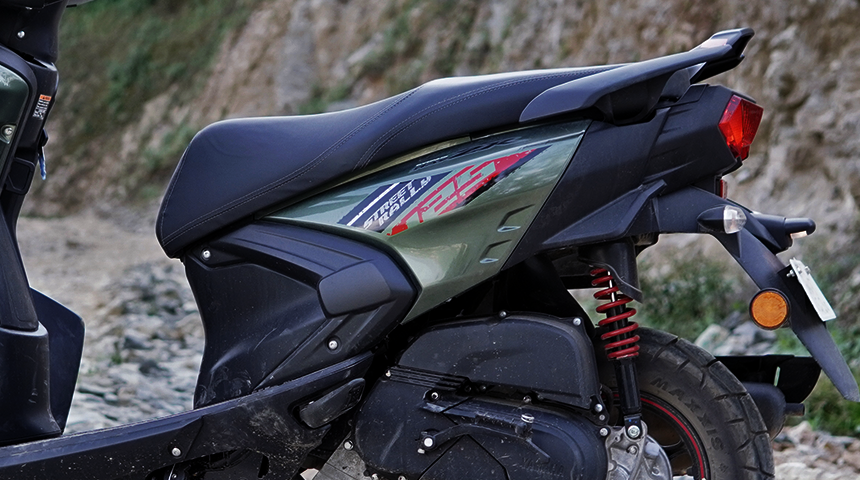 The pillion seat was comparatively more comfortable. It's a bit wider and feels more relaxed. In summary, it's great for commuter/short rides!
But I highly recommend riders to take brief breaks in between long rides to avoid any discomfort.
In contrast, Yamaha Fascino felt more comfortable with the wider rider seat.
Other Features
On top of those features, Yamaha Ray ZR continues to offer more features.
Some of my favorites include Multifunction Key Switch, Full Digital Instrument Cluster, Easy-Grip Grab Bar, Light Weight Body, and ample legroom.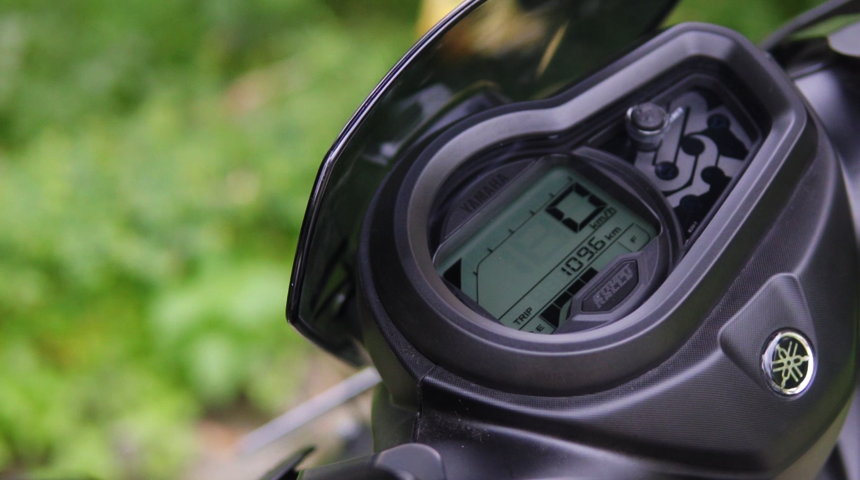 I do have to point out that the Fully Digital Instrument cluster offers information like Speedometer, Fuel Gauge, Trip Meter, Odometer, and RPM.
The offer information is decent, but I wish there was more.
Yamaha Ray ZR 125 FI Street Rally Feature Highlight
Full Digital Instrument Cluster
Lightweight Body at just 99 kgs
Better handling with Telescopic Suspension
Unified Braking System (UBS)
21L Large Under-Seat Storage
Multi-function Key Switch
USB Charging (Optional)
My Experience
I had the opportunity to ride the new Yamaha scooter for about 2-3 days, with a single day 6-8 hours long ride in my name.
There is a resounding performance similarity with the Ray ZR and Fascino.
The overall performance and experience feel so much alike, which is expected since both share the same 125cc FI engine.
Fastest Power Delivery
Yamaha Ray ZR 125 FI claims a "fastest pickup" of 0-60Kmph in just 7.59 seconds. Luckily, Yamaha lives up to the promise, offering an excellent pickup for a 125cc engine.
The initial power delivery feels punchy, with excellent regards to the super-refined FI engine.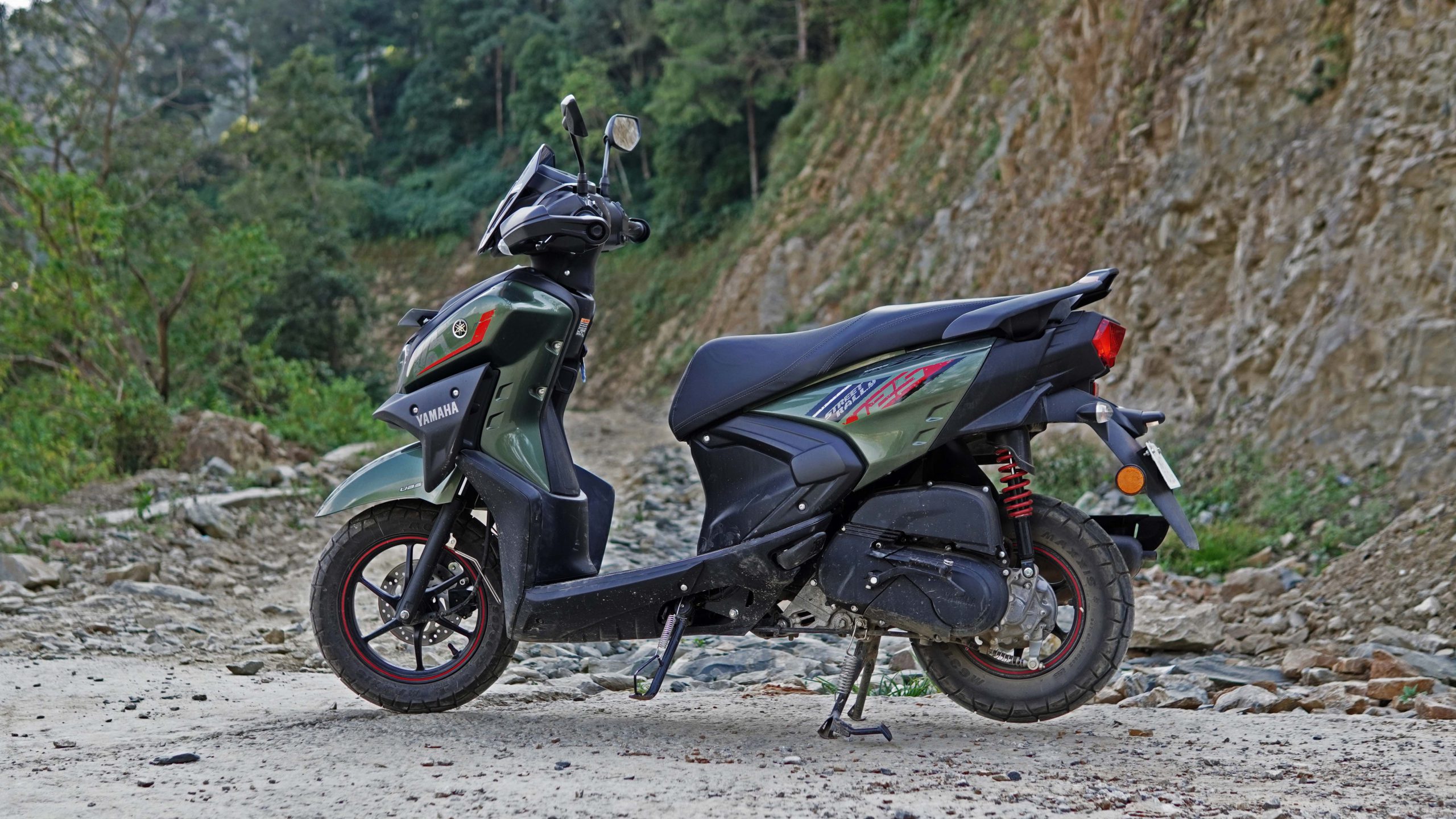 On a side note, the same pickup power was also present in Fascino. The engine feels alive and fun!
I do think that the fast pickup is the best thing about this scooter!
Engine Performance
The 125cc FI engine gives off a punchy performance, remaining relatively silent even under pressure.
There were no signs of engine vibrations, even at higher speeds. Interestingly, the engine does feel slightly reworked on, especially since it can push past higher more comfortably.
Yamaha Ray ZR is capable of pushing past the 70Kmph limit with relative ease.
That being said, the scooter is still lacking at lower speeds and higher speeds. However, the scooter still feels best in the 40-60Kmph speed range.
ALSO READ: Yamaha Scooters Price in Nepal: Features and Specs
Practical Performance
Yamaha Ray ZR feels flick-able in tight spots, providing perfect balance at lower speeds as well.
It practically handles any traffic conditions with its eyes closed (figuratively speaking).
The 145mm Ground Clearance and 99Kg Lightweight Body add to the practical nature of the scooter. You feel more confident with the handling, and cutting corners feels like a boss!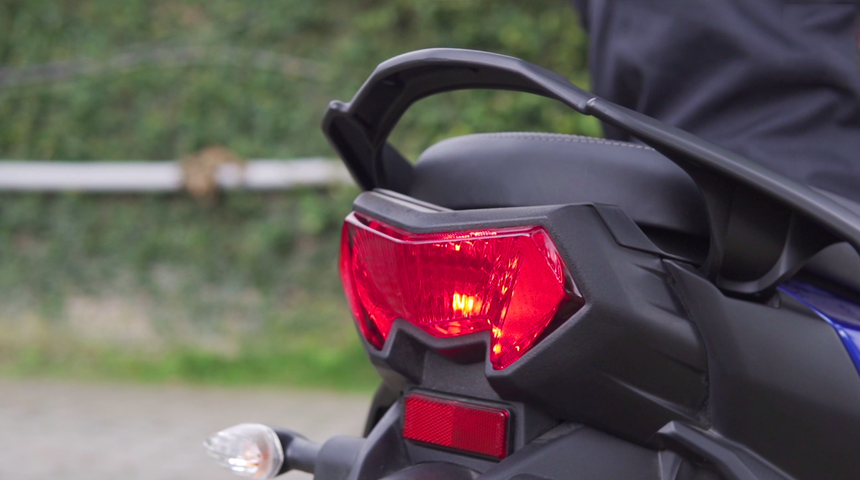 Whether it's a city riding or highway riding or off-roading, the Ray ZR takes it like a champ.
Again, I have no complaints about maneuvering, handling, and agility.
Riding with Pillion
Yamaha Fascino had perfectly aced the weight distribution.
While most of the remains true for Yamaha Ray ZR, I did feel as if it wasn't all that perfect. If you add a payload on the front or pillion on the back, you do feel the weight.
Fortunately, it isn't heavy enough to overpower you, but still noticeable. Thus, the engine still performs top-notch, and continues to offer an original ride experience!
Battle with the Competition
Yamaha Ray ZR 125 FI Street Rally battles it out against the likes of TVS NTorq and Aprilia SR 125.
All three scooters are targeted to provide exhilarating performance, backed up by sporty design.
Yamaha Ray ZR 125 vs TVS NTorq 125
When we compared the Ray ZR 125 with the NTorq 125, the results were quite surprising.
Both are sporty 125cc scooters with similar performance on offer.
Interestingly, Yamaha Ray ZR 125 comes up on top for its initial power delivery and excellent pickup. However, TVS NTorq 125 comes out on top with an excellent low-end grunt, top-end performance, and SmartXonnect system.
Plus, the seat is far more comfortable than the one present in Ray ZR.
Although, Yamaha Ray ZR 125 is the only scooter in its segment to offer a BS6-compliant FI engine.
Yamaha Ray ZR 125 vs Aprilia SR 125
The Aprilia SR 125 comes out on top with excellent performance. However, SR 125 engine feels littered with vibrations, coming across as less refined than the Ray ZR 125 engine.
Both come with equally matched style, but the engine becomes the ultimate defining factor.
Compared with the Aprilia SR 125, I would choose Yamaha Ray ZR 125 any day of the week!
Few Hiccups 
Despite being perfect in most parts, Yamaha Ray ZR 125 Street Rally comes with few hiccups.
I do believe that three factors might affect the purchase decision.
Halogen Lights
Under Seat Fuel Filler
Tight Seat
Starting with the lights, I do not like that Yamaha is still offering halogen lights.
Both front and rear lamps come with halogen bulbs. Including halogen bulbs in Fascino made sense, but Ray ZR is supposed to be futuristic.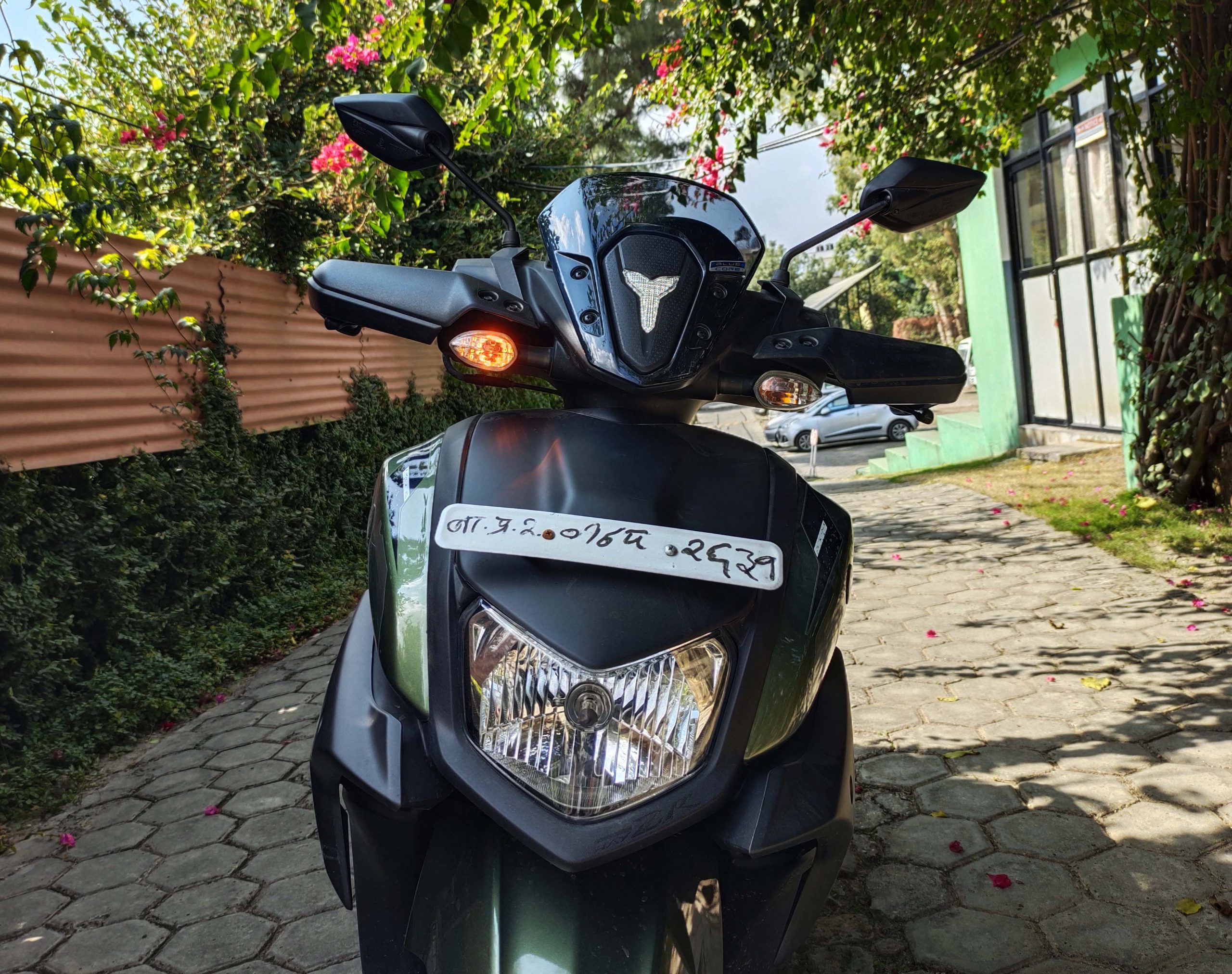 On top of that, the halogen bulb does not provide sufficient lighting at nighttime.
Moving on to the under-seat fuel fillers, the same thing. I don't like the fact that Ray ZR presents itself as a futuristic scooter, but fails to see the irony with the under-seat fuel filler.
The seating cushion is something I didn't like.
Throughout my test, the seat felt tight and narrow. I wouldn't go as far as calling it uncomfortable, but it did take a toll on my back after a 6-7 hours ride.
This isn't a make or break proposition, but it is something one should carefully consider.
Conclusion
Some might feel Fascino wasn't very exciting, at least for male riders. However, things are quite different.
Ray ZR does offer a lot to be excited about like the sporty new design, peppy engine performance, and extra killer features.
Is it perfect though? Is anything perfect?
Despite its flaws, Yamaha Ray ZR 125 FI Street Rally comes across as a good value for money proposition. It boasts a next-gen BS6 engine with a styling appearance, ensuring every eye is on you.
More importantly, Ray ZR offers muscular and sporty looks with attractive features, which was lacking in Fascino. However, I do recommend you carefully consider the flaws before going all in.
Like the Fascino, Yamaha Ray ZR 125 sits well between Aprilia SR 125 and TVS NTorq 125.
Yamaha Ray ZR 125 comes out with excellent pickup, killer styling, and a BS6 engine. However, TVS NTorq and Aprilia SR 125 still dominates with better power figures and more comfortable seats.
All in all, TVS NTorq comes out on top offering a better value-for-money proposition. But TVS NTorq is powered by a BS4 engine.
Until we see NTorq in BS6 avatar, Yamaha Ray ZR 125 is the only future-proof scooter in Nepal.
It is an excellent proposition for people who want to experience the magic of refined engines while taking a glimpse into the future of Fuel Injection.