Until the 4 rear camera phone, Samsung Galaxy A9, makes its way to Nepal, the Samsung Galaxy A7 is the Samsung Phone with the highest number of cameras in the country. It has 3 vertically stacked cameras on the back and a single front-facing shooter at the front. This phone is available for preorder starting today, 12th October 2018, until 4th November 2018.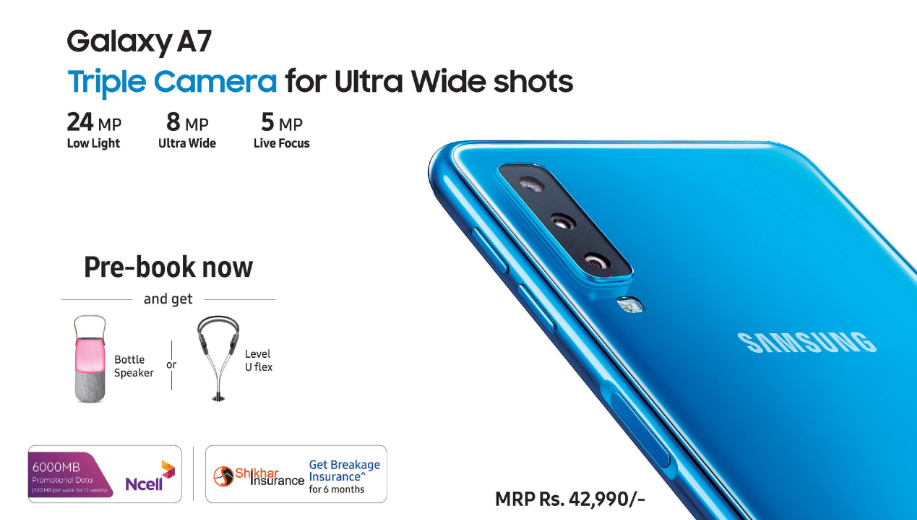 Customers will get a Bottle speaker or a level U Flex Bluetooth earphones as a gift along with 6000MB of Ncell's promotional data and 6 months of breakage insurance from Shikhar Insurance if they preorder the phone. But before you get all excited, know that the price of this phone is Rs. 42,990.
The Galaxy A7 comes with a sure-to-be gorgeous 6-inch SuperAMOLED display, an octa-core 2.2GHz chipset Exynos chipset 4 GB of RAM. This means smooth multitasking performance and ample storage to store all your photos.
The phone looks and feels premium with its glass sandwich design. You probably are looking at the renders and thinking, "Where's the fingerprint sensor?". Don't get your hopes up, it's not under the display. It is at the sides, embedded in the power button.
3 cameras for…?
Now, let's talk about the cameras. On the front of the device, you'll find a single 24MP selfie shooter. That's impressive in itself, but on the rear users are greeted with a triple camera setup. This consists of a primary 24MP lens with auto-focus and a f/1.7 aperture. This lens improves the quality of your photos by combining four pixels into one when in low-light conditions using a technique known as pixel binning.
There's also a 5MP f/2.2 "Depth Lens" which is used to produce bokeh effect. The third lens is an 8MP f/2.4 Ultra-Wide lens that has 120 degrees field of view which lets you capture more from less distance. It is especially useful for capturing shots of tall buildings and gorgeous vistas.
Samsung Galaxy A7 is a very interesting phone. But the greatness of its cameras remains to be tested. Search for its reviews online. If you like what you see, go ahead and preorder it. To preorder the phone you will have to fill this form. If you need more information, visit Samsung's Facebook page. Also, other conditions and prerequisites for preorder are included at the bottom of the form, don't forget to read it.
---
Editor's Recommendations
---