Festival season is upon us. The time for celebration with family and friends has just started. It is the opportunity to buy the things you always wanted to buy for your loved ones. Maybe a new smartphone was on your list. Well, you're in luck! Festival season, especially Dashain and Tihar, brings forth some of the most amazing offers for the consumer.
There are many offers floating around for this festival season. However, these offers may vary from lucrative discounts to unique schemes. And we are here to help you choose.
To make these offers more easily distinguishable, we're compiling the list of every offer available right now on smartphones and putting them on the same table. Without any further adieu, let's begin with our list.
Dashain Tihar Deals and Offers on Mobiles
---
Huawei – Get Lucky Every hour
In this offer from Huawei, if you have to buy any Huawei phone this Dashain, you can enter to win exciting gifts and prizes. To participate, you'll have to
1. Like Huawei's Facebook page
2. Share the campaign post publicly
3. Tag 3 friends on facebook and
4. Fill in this Form with the IMEI Code
The form contains further instructions on how to enter the offer.
Daily gifts include Bluetooth speaker, power bank, fitness band, T3-7, Y3 2017, Y9 2018, and Y7 Pro 2018. Bumper gifts include Nova 3i, Huawei Y9 2019, Huawei P20 Pro, and a Mate Book. Ten lucky winners will be randomly selected each day via lucky draw, every hour from 10 am to 8 pm for the daily gifts. Winners' name will be posted in Huawei's Facebook page.
---
InFocus – Utsab Khusiyali, Thailand Yespali
While many smartphone makers tend to confuse customers with not that substantial discounts and offer in Dashain season, InFocus is putting out a no-nonsense deal for its customers. Buy any InFocus smartphone and every week during the Dashain-Tihar period, 2 random customers will get the gifts of Thailand tour. Just ask about this offer to the mobile store's owner to enter the draw. Also, keep checking InFocus Nepal's Facebook page.
---
Nubia – Dashain Dakshina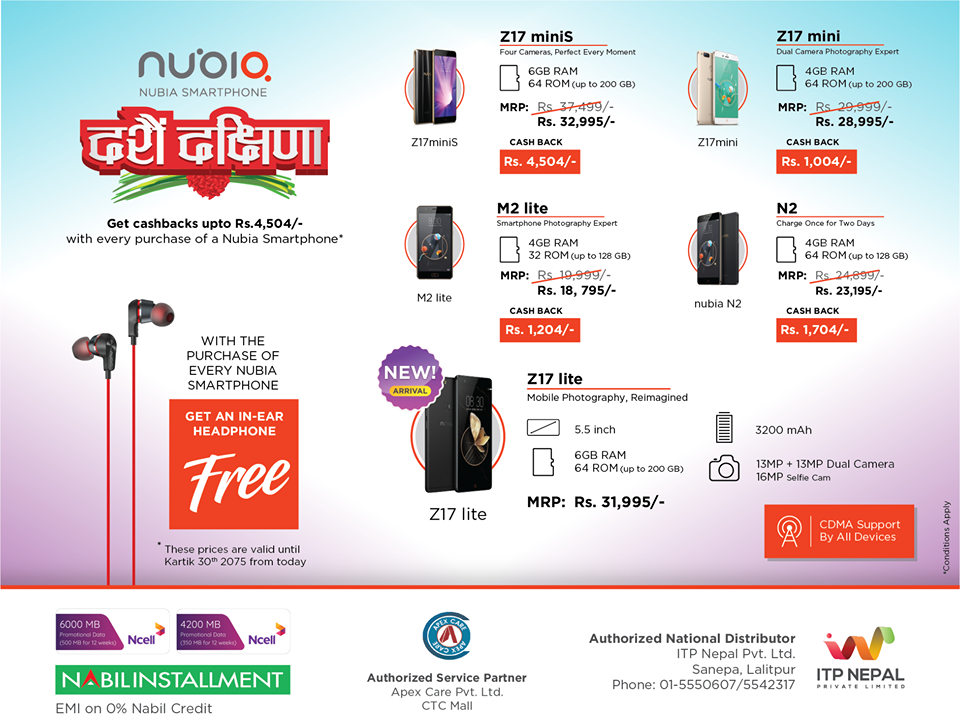 In this offer, customers can get up to Rs. 4504 off of any Nubia smartphone (there are five in Nepal, currently). Also, an in-ear headphone is free in every purchase of Nubia smartphone. Promotional data pack from Ncell is also available. This offer lasts until 30th Kartik.
---
Samsung – Instant Cashback ko Sath Star Cruise ko Safar
On purchase of any one of the nine phones that Samsung has listed, you'll get some cash back. This offer is described in greater detail in this article. The price cut ranges from Rs. 300 to Rs. 10000. This offer is valid from 17th September to 14th October 2018.

The offer doesn't end in price cuts. Samsung has announced that customers who purchase any smartphone or tablet from Samsung will get the opportunity to take part in a lucky draw that will take you (plus one) to the Star Cruise in Singapore. Two winners will be announced every week from September 17th to 14th October. To enter the lucky draw, you'll have to send a message from your newly bought phone. Again, more details are found in the article we mentioned above.
Colors – Happy Sawari
With Dashain knocking on our doors, Colors Mobile Nepal has announced their offer – "Colors Happy Sawari". The offer started on 19th September and it will last until 13th November, throughout the nation.
The offer is available on the purchase of every smartphone of their brand. Once a customer buys a phone they will be able to participate in the lucky draw winning event. The prizes include 7 Suzuki Lets scooter, 30 sets of Colors 32″ LED TV, daily 100 percent cash-back and gift box worth Rs 1500. All the customers participating in the lucky draw event will get a unique code number and the winners will be announced via the Facebook page of Colors every week.
Vivo – Dashain ko Bahar, Hat Khali Najane Upahar
With this deal, if you buy any Vivo phone, you get a scratch coupon. 8 customers can get Vivo Y81, another smartphone from Vivo. 15 customers have the chance to wind the Vivo Y71, and 30 customers have the chance to win Vivo Y53c. There are other lucky prizes too. And 12 super-lucky winners will get a grand prize of a trip to Thailand.
UMIDIGI Dashain Offer
UMIDIGI is giving every one of the customers that buys a UMIDIGI phone, a 10-gram silver coin. And on some phones, you can also get a cool T-shirt. But, that's not all. Buyers have the option to enroll in UMIDIGI's lucky draw. Through this lucky draw, people can win exciting gift hampers and prizes such as iron, microwave, or a TV. Here's a link to UMIDIGI's Facebook page.
OPPO Dashain Offer
Oppo is a beloved brand in Nepal, known especially for its cameras and sponsoring Nepal Idol franchise. Oppo, too, has some offers to make your Dashain happier. Buying an Oppo phone can win you a trip to Singapore. That is the most exclusive gift offer. But you can also win the Oppo F9, or a 32″ LED TV, a woofer, or a bag. There is also an offer of 3-special passes for the Grand Finale of Nepal Idol 2. Each winner will get a single special pass. So, if you want to get into Nepal idol, don't miss this deal.

The offer is valid from 1st of October to 30th November. 1st lucky draw winners will be announced on 5th November 2018, and the 2nd lucky draw winners will be announced on 5th December 2018. You've got time to make your decisions.
---
That's the list of all the available offers on smartphones from the different brands for this festive season. Few more offers are expected to pop up as we move closer to Dashain Tihar. When that happens, we will be among the first to give to new updates. So, be sure to follow us!