Pros
Excellent and fluid curved AMOLED display
Accurate, premium haptic feedback
Thin and light design
Great performance
Good stereo speaker setup
Solid battery life
Incredibly fast charging
Good software experience
A decent set of cameras
Cons
Plethora of bloatware apps and ads
No headphone jack
No microSD card support
No ingress protection rating against dust and water
No OIS, EIS only works for 1080p 30fps and lower
Last year's Realme 9 Pro Plus 5G was a great midrange phone, so much so it won our Best Midrange Smartphone of 2022. This year, Realme refreshed it with the new Realme 10 Pro Plus 5G.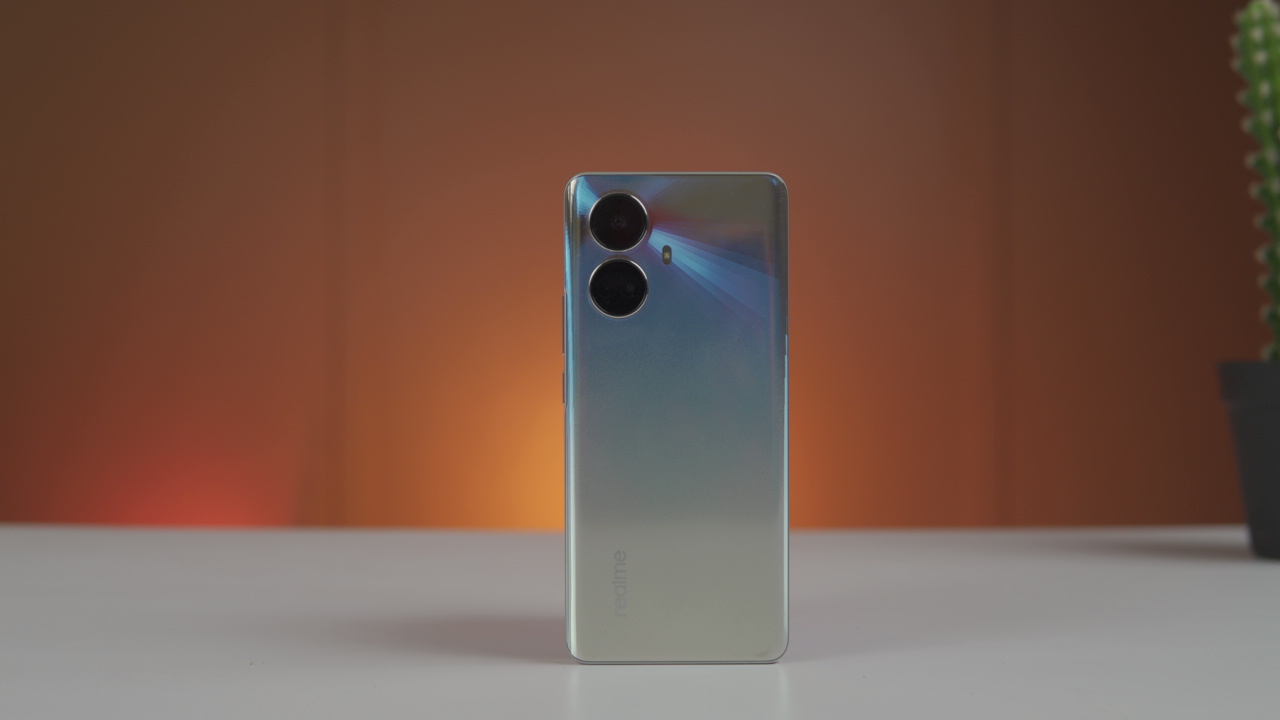 Priced at Rs. 45,999 for the 8/128GB variant, the specifications of the 10 Pro+ look promising as it brings improvements upon the already-great Realme 9 Pro Plus in virtually every aspect of the device.
This is very refreshing to see since many releases after 2022 were underwhelming and were hardly better than their predecessors, likely because of the global chip shortage that began a year before.
So, specs apart, I really wanted to use this phone to see how it performs in real life, and if it actually was worth purchasing. I did that, and here is my honest Realme 10 Pro Plus 5G review.
Realme 10 Pro+ 5G Specifications
Body: 161.5 x 73.9 x 7.78 mm or 7.95 mm (Hyperspace), 173 g or 175 g (Hyperspace)
SIM: Dual SIM (Nano-SIM, dual stand-by)
Display: 6.7 inches FHD+ AMOLED, 1080 x 2412 pixels, 120Hz, 800 nits (peak), HDR10+, 100% DCI-P3
Chipset: MediaTek Dimensity 1080 (6 nm)
CPU: Octa-core (2×2.6 GHz Cortex-A78 & 6×2.0 GHz Cortex-A55)
GPU: ARM Mali-G68 MC4
Memory: 128GB 8GB RAM, 256GB 8GB RAM, 256GB 12GB RAM
OS: Android 13, Realme UI 4.0
Rear Camera: 108 MP, f/1.75, 23.6mm
Front Camera: 16 MP, f/2.5
Battery: Non-removable Li-Po 5000 mAh battery, Fast Charging 67W
USB: USB Type-C 2.0
Sensors: Fingerprint (under display, optical), accelerometer, gyro, compass, light, proximity
Colors: Dark Matter, Nebula Blue, Hyperspace
Realme 10 Pro+ 5G Price in Nepal: Rs. 45,999 (8/128GB)
Realme 10 Pro Plus Review
Flashy, Thin, and Light Design
161.5 x 73.9 x 7.78 mm or 7.95 mm (Hyperspace)
173 g or 175 g (Hyperspace)
Dual SIM (Nano-SIM, dual stand-by)
Plastic frame and back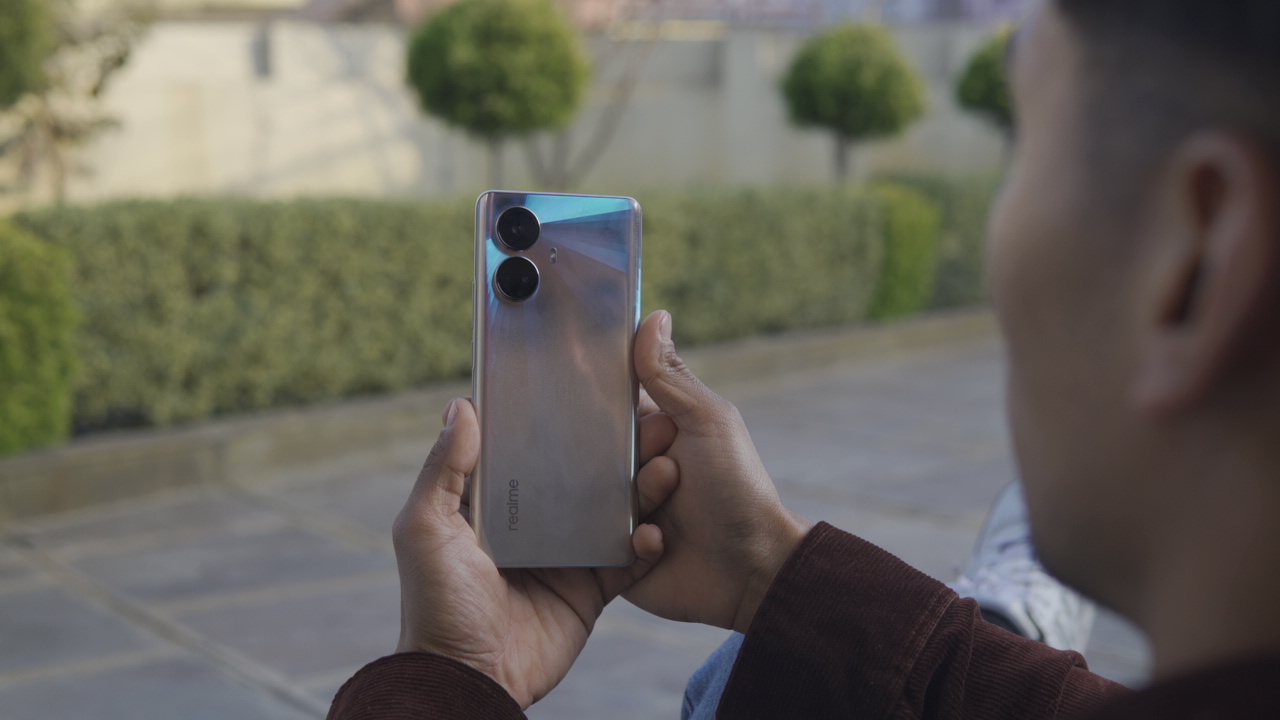 Starting with the design of the Realme 10 Pro Plus, the design is very flashy. I have it in the Hyperspace color variant, which has a glittery finish on the back with a radial effect. And, there are two huge camera rings that you will not get unnoticed.
The phone is really shiny, but because it attracts fingerprints so much, it is quite difficult to keep it clean. The phone stayed smudge-free for only a few seconds after I took it out of the box until my fingerprints were all over it.
Moving on, for the first time in Realme's number series, the 10 Pro+ has a curved display at the sides. That, combined with the curved back of the phone, makes the phone feel even thinner than it already is, at the same time make it look great.
For build quality, Realme has gone with plastic for both the frame and back this time. The 9 Pro+ had a glass back, so in that sense, you can say that the build of the Realme 10 Pro+ has been downgraded.
However, I personally do not mind it much as long as the design is great. And to be honest, it's getting more difficult day by day to distinguish between glass and plastic back.
One advantage of choosing a plastic build is that the phone feels really light. As a result, you won't have to endure any discomfort from the weight, even if you use the device for extended periods. If you come from a heavy phone, you'll certainly appreciate this lightweight design.
As for the front glass, the company says the phone uses "double-reinforced glass." Realme says it is durable enough to survive Realme's 1.5m drop test and 28,000 micro drop tests.
NO HEADPHONE JACK
One disappointing thing about the 10 Pro Plus is that it no longer has a headphone jack. The 9 Pro Plus had one but Realme decided to remove it this year.
The power and volume buttons located on the right side of the device are conveniently positioned and provide a satisfying, tactile experience. The buttons have a slight wobble, which is something I noticed.
In everyday use, this is hardly noticeable. I only became aware of this when I heard a slight noise coming from the phone while using it in a quiet environment. This is a very minor issue, but these kinds of little things differentiate it from the flagship devices.
The phone has a stereo speaker setup: one at the bottom and one at the top. The speakers are loud and clear. For a midrange phone, I like the speaker quality of it.
Near the speaker is a USB-C port and SIM card tray, which, unfortunately, does not support a microSD card. And this also does not have any ingress protection rating, so be careful with this device when around water.
Lastly, the phone has an in-display optical fingerprint sensor. Although there is a slight delay compared to a regular fingerprint sensor, it is accurate and reliable.
ALSO READ: Xiaomi Redmi A1 Review: Best Entry-Level Phone?
In Love with Haptics
I really am in love with the haptic feedback of the Realme 10 Pro Plus. The great haptic motor combined with optimized software in this smartphone makes the phone-using experience so much better and gives the device a premium feel.
The intensity of the haptics can also be adjusted to our liking.
Colorful Curved Display
6.7-inch curved FHD+ AMOLED
FHD+ display (1080 x 2412)
120Hz refresh rate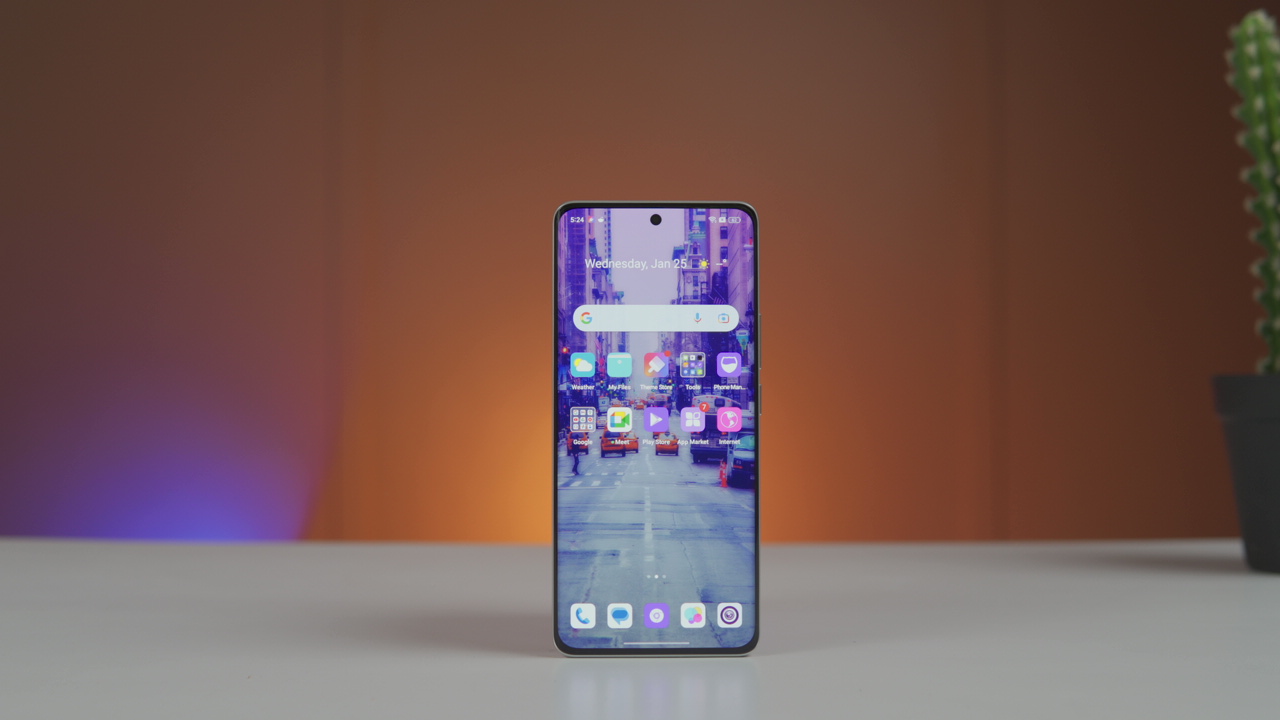 This is the first smartphone in this series of phones from Realme to feature a curved display. It's a 6.7-inch AMOLED panel with Full HD+ resolution.
The colors on the display are excellent, with vivid colors, and the touch response also feels fast, making the viewing and interaction experience truly delightful. The brightness is also enough for outdoor use.
Slightly larger than before by 0.3 inches, the refresh rate of the display is also now faster, supporting up to 120Hz. Scrolling and other user interactions in the system UI and supported apps are very smooth.
Thanks to its curved sides, the display design looks amazing, and the bezels are also very minimal for a midrange smartphone. I also did not find the curved sides uncomfortable to use, with no accidental touches. This display is HDR10+ certified, so you can enjoy HDR content on this phone.
The Realme 10 Pro Plus also boasts 2160Hz high-frequency PWM dimming technology, which is significantly higher than what a typical smartphone offers. This high-dimming frequency should reduce the likelihood of eye strain and headaches caused by the OLED screen flickering at low brightness.
Overall, the display on the Realme 10 Pro Plus is great.
Performance
MediaTek Dimensity 1080 (6nm)
Octa-core (2×2.6 GHz Cortex-A78 & 6×2.0 GHz Cortex-A55)
Mali-G68 MC4
8GB RAM 128GB storage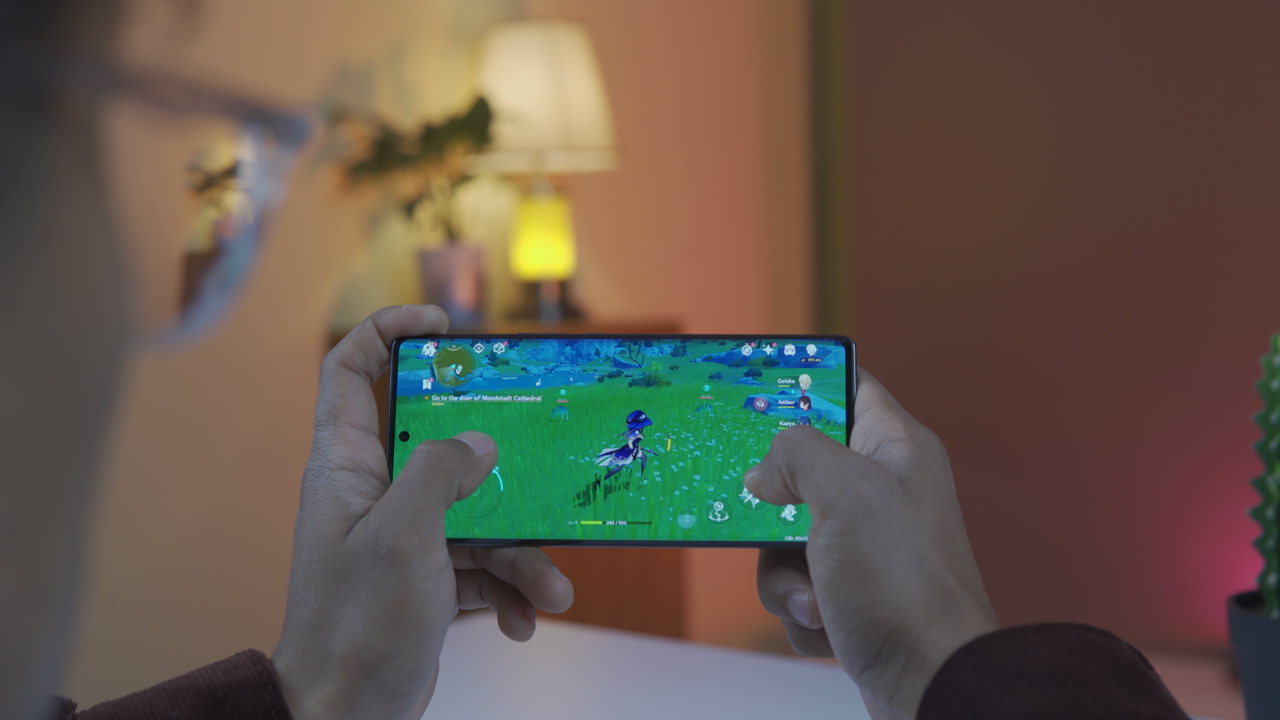 Although Realme makes the memory variants with up to 256GB storage and 12GB RAM, only the 8GB RAM with 128GB storage variant of the Realme 10 Pro Plus is available in Nepal, which is the one I have for the review.
The 10 Pro+ uses a Dimensity 1080 chipset, which boasts two Cortex-A78 performance cores clocked slightly faster at up to 2.6GHz compared to 2.5GHz in the Dimensity 920 processor equipped in the previous model, the 9 Pro+.
The rest of the CPU and GPU, consisting of six Cortex-A55 CPU cores (up to 2.0GHz) and a Mali-G68 GPU, remain unchanged. Therefore, the overall performance remains largely similar compared to the 9 Pro+.
BENCHMARK
The benchmark scores also reveal that there is no significant performance jump. When tested on Geekbench 5, both the single-core and multi-core CPU performance are comparable to the Realme 9 Pro Plus's Dimensity 920.
When compared to the Xiaomi 12 Lite's Snapdragon 778G, the Dimensity 1080 outperforms it in single-core performance while falling short in multi-core performance.
This slideshow requires JavaScript.
The GPU performance, as tested on 3DMark (Wildlife), shows that it is similar to the Dimensity 920, with the SD 778G taking a little 10% performance advantage.
And on Antutu 9, which tests the overall performance of the device, the Realme 10 Pro Plus scored over half a million, which is again similar to the Snapdragon 778G.
REAL-LIFE USAGE AND GAMING
In my day-to-day life, the phone performed wonderfully. Everything runs smoothly and without any hiccups. The only minor issue I encountered was a slight lag in the camera app's viewfinder. Other than that, I do not have complaints I can remember regarding the performance.
The phone also does not heat up much, so that's good. The gaming performance of the device is also good.
I was able to run PUBG Mobile on HDR Graphics and Ultra Frame Rate, achieving a stable 40fps, while Genshin Impact maintained an average of 30fps on Low (Default) settings.
Additionally, I was able to push the Frame Rate to Extreme while on Smooth Graphics in PUBG Mobile, resulting in smooth 60fps gameplay.
This slideshow requires JavaScript.
ALSO READ: Purple Crown Review: A Good Budget Option with Inaccurate Health Monitoring
Camera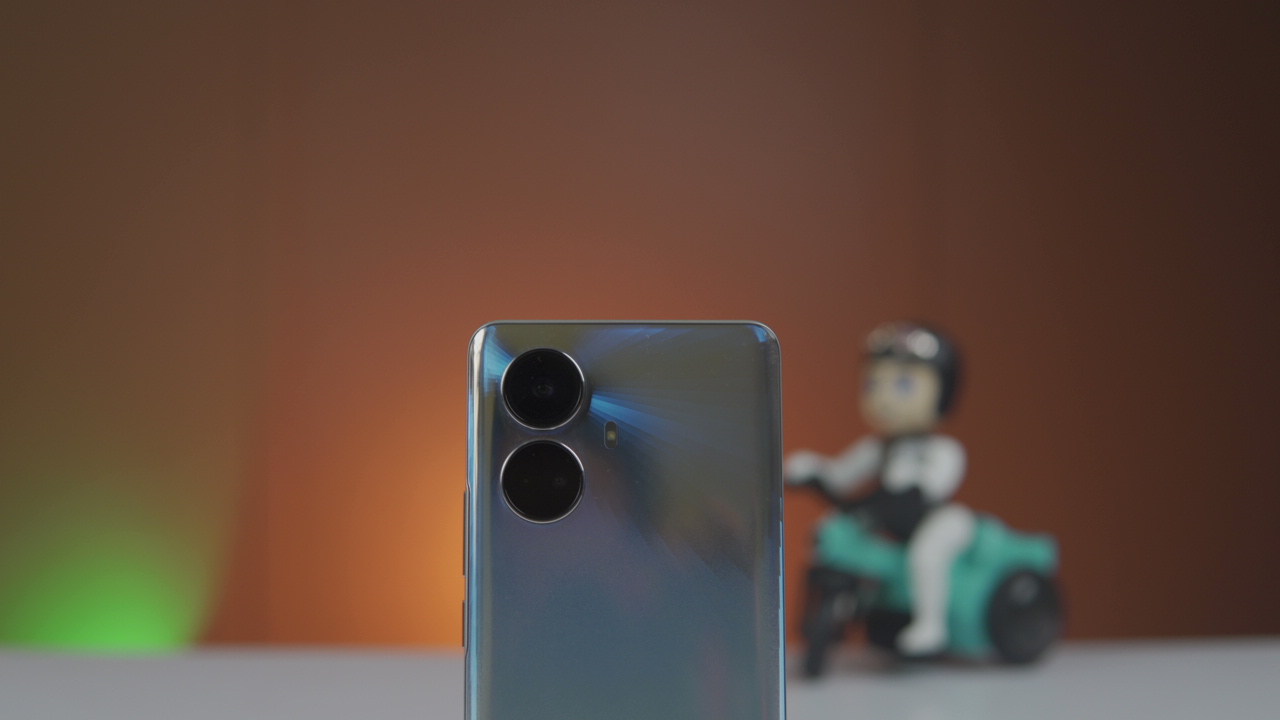 The big two rings at the back house three cameras: a 108MP main camera, an 8MP ultrawide camera, and a 2MP macro.
Unfortunately, Realme has removed optical image stabilization (OIS) from its camera this year. The 9 Pro Plus had it. The OIS helps to stabilize the camera.
NORMAL PHOTOS

The main camera takes good pictures, but the colors appear to be washed out. If Realme increased the color a little, the photos would look more vibrant.
Otherwise, the details and sharpness are great. The dynamic range is also good.
This slideshow requires JavaScript.
PORTRAIT MODE
Most of the time, when taking portrait shots in Portrait mode, it does a good job of blurring the background and separating the subject from it. However, on certain occasions, it struggles to accurately define the edges of the subject.
In terms of capturing skin tones, the phone produces natural-looking results, which is good.
This slideshow requires JavaScript.
ULTRAWIDE PHOTOS
The colors on the ultrawide camera are similar to those on the main camera, which is generally good, but, again, if it also had a more colorful output, the photos would have looked better.
As far as the details go, it's not as good as the main camera.
This slideshow requires JavaScript.
FRONT CAMERA
Regarding the front camera, the issue is consistent with the main camera: colors often look faded with low contrast, although sometimes they appear good but make the skin appear slightly reddish, which is acceptable.
Aside from this, I find the details to be satisfactory, although the sharpness could have been improved. Additionally, the front camera touches up the face to hide acne and produce smoother skin, resulting in a softer appearance.
This slideshow requires JavaScript.
VIDEO
The phone can shoot video at up to 4K at 30fps, but the resulting video quality is not particularly noteworthy; it is merely satisfactory.
While electronic image stabilization (EIS) is effective at stabilizing 1080p 30fps footage, 1080p at 60fps and 4K footage tend to be very shaky.
Solid Battery Life
5000mAh battery
67W Fast Charging Support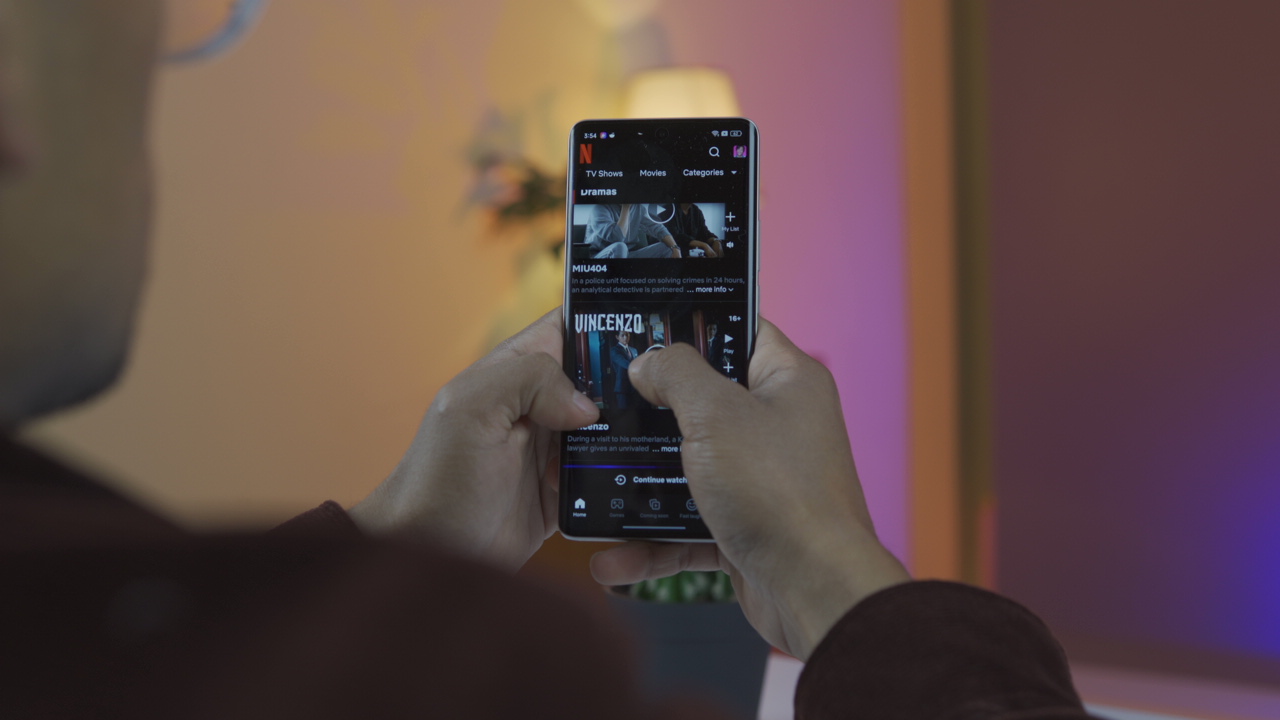 Although the phone is this thin and light, Realme has managed to put a 5000mAh battery inside the 10 Pro Plus. The battery life is excellent on this device. You can easily get at least a full day on a single charge.
Even if you happen to need to charge the device in the middle of the day, you do not need to worry as it supports 67W fast charging. Surprisingly, the phone comes with an 80W charger.
With the supported charger, in just 30 minutes, you can get up to 87 percent from a dead battery, which is really impressive. To fully charge, it takes an additional 10 minutes.
Realme 4.0 UI
The Realme 10 Pro Plus ships with Realme 4.0, which is based on Android 13. This is the first device to get the Realme 4.0 UI out of the box.
I really like Realme's software experience. This is also very smooth and gives a lot of customization options.
The new UI brings a new set of app icons, a card-like layout for different types of information, and music control support on always-on-display. Additionally, on the home screen, there are now dynamic widgets and large folders for apps.
But one major complaint I have about this is that it comes with a ton of bloatware apps and ads. For a phone of this price, it should not have happened.
Disabling the "personalized search" option from the app drawer settings and the "get recommendation" option from the phone settings can minimize the number of ads to some extent.
The bloatware apps also send spammy notifications, so it's best to uninstall them as well.
Should You Buy Realme 10 Pro Plus?
For the overall features, we can say that the Realme 10 Pro Plus is a great smartphone. I say this is the best smartphone you can get for under Rs. 50,000 in Nepal.
It has an excellent display, an attractive design, a solid battery life with incredible fast charging support, great performance, and premium haptic feedback. Getting all this in a single package is awesome.
But yes, it's not perfect. The cameras could have been better, and Realme should have included an OIS. The headphone jack has also been removed this time. And, despite having a good UI, the ads on Realme's UI are quite annoying.
Nevertheless, these drawbacks are forgivable when you consider the overall value that this phone provides.
So, as of writing this, I crown the Realme 10 Pro Plus as the best mobile phone under Rs. 50,000 in Nepal.
ALSO READ: Realme Mobiles Price in Nepal: Features and Specs
So this is my Realme 10 Pro Plus review. What do you think of the Realme 10 Pro Plus? Let me know in the comments!
---
Also, watch our review video of the Realme 10 Pro Plus in Nepali.