Nissan has been working extra hard this year despite its troubles. The company had to cut its production capacity by 20% while closing its plant in Spain. After that, there was a teaser for the launch of the upcoming Nissan Magnite.
Moreover, the automakers followed that with their sub-brand Datsun, launching GO &GO+ with the BS-VI compliant engine in India. Interestingly enough, those key events happened just a few days ago. And now, Nissan has launched the all-new Nissan Kicks e-POWER in Thailand.
So, what's all the buzz around Nissan Kicks e-POWER?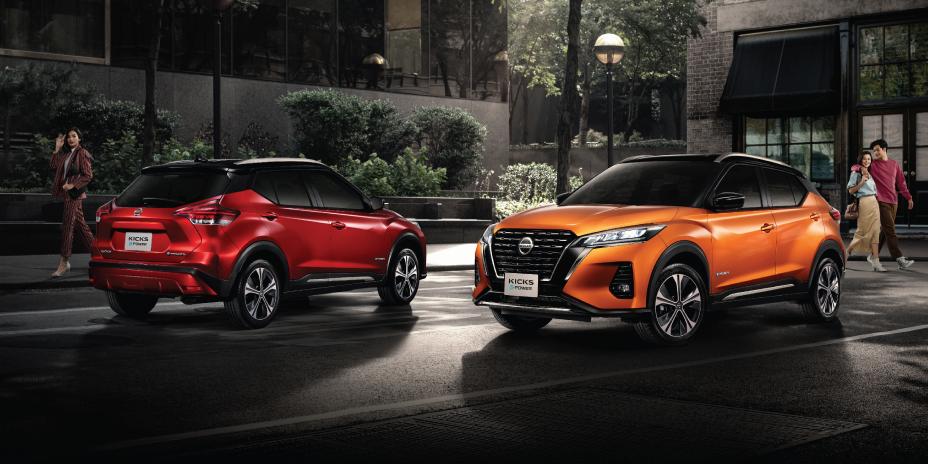 Nissan Kicks e-POWER is an all-new subcompact SUV, marketed to give drivers the power and performance of an electric car. Well, it is different than the normal Nissan Kicks that was launched last year in Nepal.
The new one comes with an "e-POWER" engine. While the naming might give it off as an electric SUV, it's not. Rather, it is a mix of the "Fuel + Electric" engine making it a hybrid engine.
Toyota Camry has already introduced us to the concept of hybrid cars and… expensive pricing. Hopefully, Nissan Kicks e-POWER is a lot more reasonable.
What's an e-POWER Engine?
Like I've said earlier, the all-new Nissan Kicks comes with a hybrid engine, dubbed as an e-Power engine.
It is sort of like a combination of a standard fuel-driven engine and an electric motor. Furthermore, it is powered by a 1.2-liter, three-cylinder, DOHC Petrol engine which can generate a max power of 129PS and max torque of 260Nm. Likewise, it is also powered by an EM57 electric motor with a 1.57kWh Li-Ion battery.
All in all, the e-Power engine consists of a gasoline engine, a power generator, an inverter, and a motor that works together to provide smooth acceleration, quiet rides, and increased fuel efficiency of 23.4kmpl.
ALSO READ: Nepal Bound Tata Nexon Goes Electric. Did They Create a Perfect Electric SUV?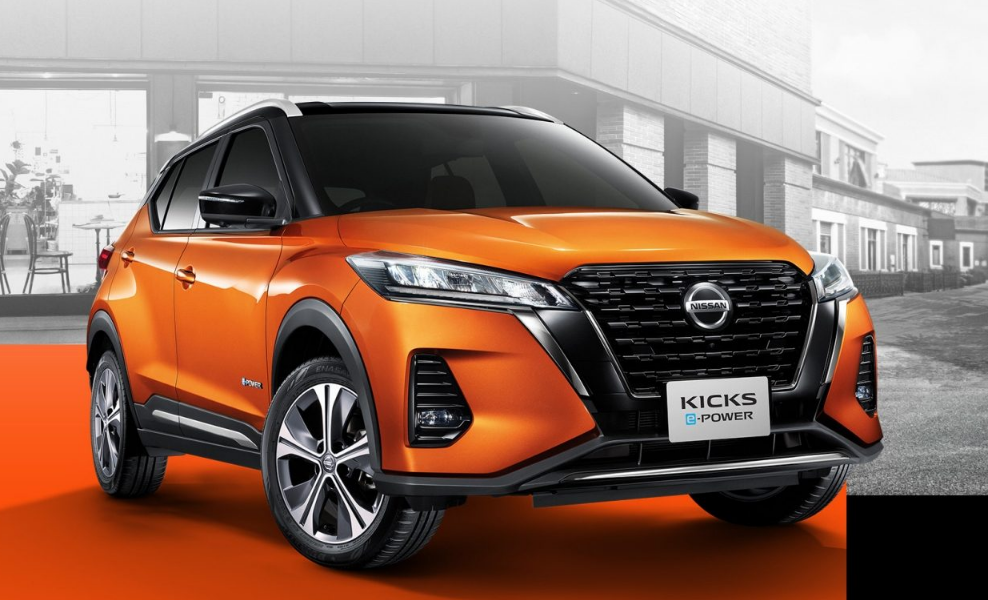 Nissan Kicks e-POWER: Design and Body
As for the design, it resembles closely with the standard Kicks model. However, the new e-Power kind of acts as a facelift, offering few new design changes.
It gives off a design signature with Nissan's bold V-Motion grille, boomerang LED headlights and taillights. Additionally, it features a wide and longer exterior dimension using Nissan's Emotional Geometry design language, while enhancing the all-new Kicks' roomy interior space.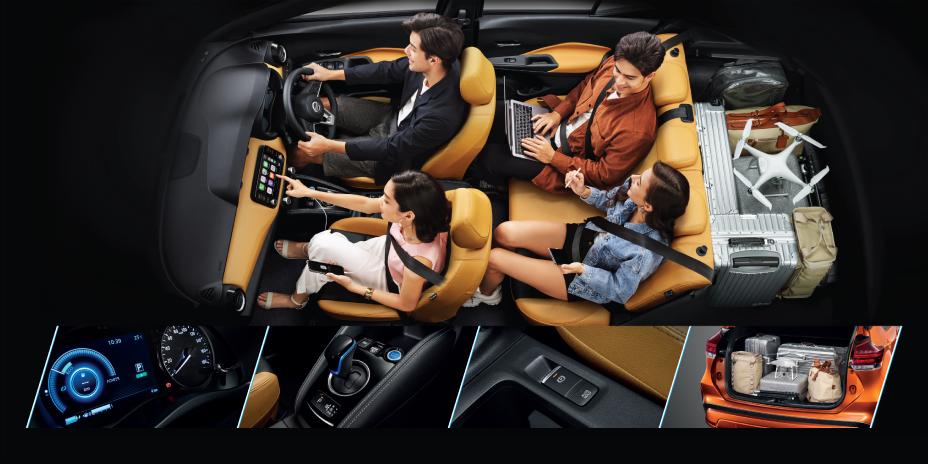 Nissan Kicks e-POWER: Quirks and Features
Okay, you get a lot of cool features.
Starting off, it comes with one-pedal technology that allows drivers to launch, accelerate, decelerate, or stop the vehicle by using only the accelerator pedal. Moreover, it gets four driving modes: Normal, S, Eco, and EV.
Talking about its features, you get Intelligent Cruise Control, Intelligent Forward Collision Warning, Intelligent Emergency Braking, Blind Spot Warning, Rear Cross-Traffic Alert, Intelligent Around View Monitor with Moving Object Detection, Nissan Connect, and Intelligent Rear-View Mirror.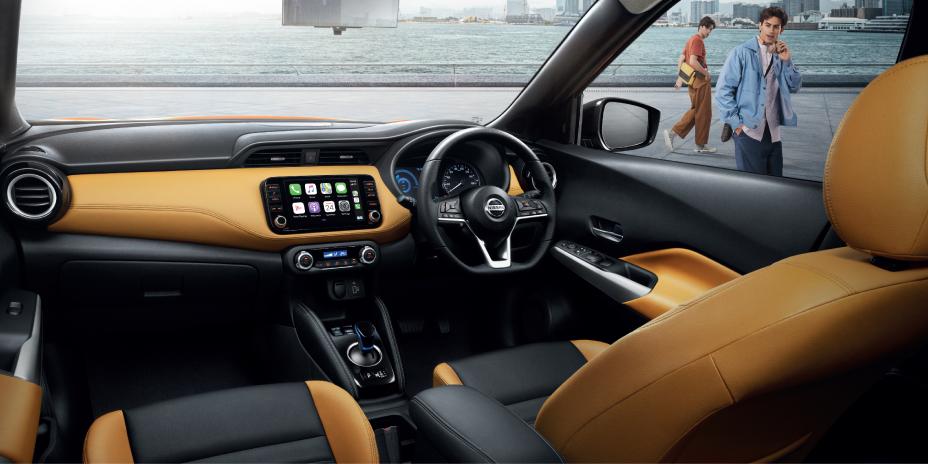 Likewise, you will also get amazing safety features like Anti-lock Braking System, Electronic Brake Force Distribution System and Brake Assist as standard on all models, along with six SRS airbags.
Nissan Kicks e-POWER is available in six different color variants: Black Star, Storm White, Radiant Red, Gun Metallic, Brilliant Silver, and Monarch Orange.
ALSO READ: Nissan Leaf, The World's Best-selling EV, to Launch in Nepal Early Next Year!
Cool… How Much?
In the end, it's all about pricing. During its Thailand launch, Nissan Kicks e-POWER is available in four different variants, with a base price starting at 889,000 baht to 1,049,000 baht.
When you convert the price, you get about INR. 21 Lakhs to INR. 24.8 Lakh.
If that's the case then, Nissan Kicks e-Power price in Nepal roughly translates to about 34 Lakhs to 40 Lakhs without tax. After all the inclusion, the price of the Nissan Kicks e-Power should be on-par with current Kicks pricing, maybe slightly more.
With every other manufacturer heavily invested in electric cars, Nissan's move might seem rather odd. However, it is a smart move all things considered, especially to those who don't want to quickly shift to full electric.
READ NEXT: 2020 Hyundai Ioniq Launched in Nepal: Premium Electric Sedan at an Affordable Price!