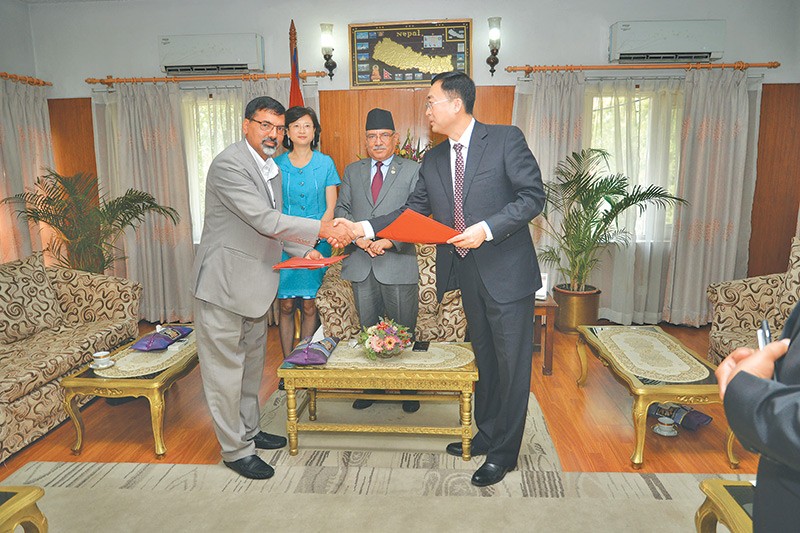 To resolve the perennial power crisis in Nepal, The Nepal Government sealed a major deal with China. This deal aims to establish Nepal as an electricity power exporter.
The Ministry of Energy has recently signed a Memorandum of Understanding (MoU) with China Gezhouba Group Corporation (CGGC) for the development of much-touted 1200MW Budhigandaki Hydroelectric Project.
Agreement
The agreement was signed between Energy Minister, Janardan Sharma and CGGC President, Lv Zexiang.
The agreement was signed at the prime minister's residence, in presence of Prime Minister, Pushpa Kamal Dahal and Chinese Ambassador to Nepal, Yu Hong.
The signing of MoU has formalized the Cabinet's recent decision to award the project to the Chinese developer without conducting international bidding.
The agreement does not bind Nepal Government legally or financially to hand over the project to China.
 The final agreement is yet to be signed.
CGGC- China Gezhouba Group Company Limited
According to a highly placed source at the Energy Ministry, the Chinese government was very keen on having a Chinese company develop the project, and had inquired about it with the former Prime Minister of Nepal.
Later, PM Dahal initiated the process to engage CGGC in the development of the Budhigandaki Hydroelectric Project, one the most strategic hydropower projects in the country.
CGGC is currently building 30MW Chameliya Hydropower Project in the far west and 60MW Upper Trishuli 3A Hydropower Project in the central region.
Project Model- EPCF (Engineering, Procurement, Construction, and Finance)
The storage project would be built under Engineering, Procurement, Construction, and Finance (EPCF) model. In this model, the contracting firm makes all the arrangements including mobilization of financial resources to build the project. This model is considered to be one of the most effective and efficient models for the development of huge infrastructure projects.
Project Initialization
CGGC will help arrange funds required to develop the project. The funds will be mobilized in the form of a soft loan or commercial loan from Chinese financial institutions on terms and conditions acceptable to the Nepal government. CGGC will also undertake the overall responsibility for the execution of the project. The Chinese developer, according to the MoU, will also conduct additional studies and investigations on the project if required.
Project Tenure
The Memorandum of Understanding has provided one year's period to the Chinese developer to conduct the assessment of the hydropower project and arrange necessary funds for its development.
Project Area
The project is presently acquiring land from locals of Dhading and Gorkha districts for the establishment of resources required for the construction of the project. The district administration offices of both the districts are currently extending compensation to owners of the land.
Edited by – Prabina Neupane