Over the years, I have written a lot of articles about the newly launched motorcycles and cars. But none have come close to the bike like the iconic Honda CB400SF. As most of the bike enthusiast might already know, Honda CB400SF is nothing like the other bikes in Nepal. It has a unique design, a powerful engine, superior engine and Honda's stamp of approval. I mean, it checks most of the boxes for being the perfect bike. Quite honestly, it's a feat in itself.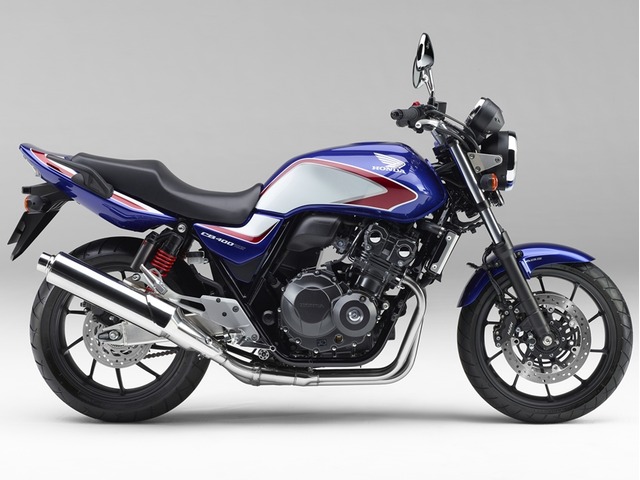 Alright, there are four major points about the Honda CB400SF. Firstly, Honda CB400SF is a 400cc superbike. Secondly, it's the bike that comes with "retro-cafe" design. Thirdly, it's a pretty pricy for a 400cc motorcycle. Honda CB400SF price in Nepal is Rs. 22,75,000. Lastly, this might be a little controversial, but the price is somewhat justified.
Honda CB400SF Overview
Honda CB 400 Super Four is a mammoth of performance. It is powered by a 399cc liquid-cooled, four-stroke, transverse four cylinders, DOHC, four-valve FI-engine. This can generate some hefty powertrain numbers. So, the engine can generate a max power of 53HP at 11000rpm and max torque of 40.18Nm at 7500rpm. All of this is mated to a 6-speed gearbox.
CB400SF comes with a high-tension steel cradle frame to bring things together. But somehow, it gets a normal telescopic fork on the front and single shock suspension on the rear. Furthermore, it gets a 2x 296mm discs on the front 120/60 ZR17 tires. Likewise, it gets a single 240mm disc on the rear 160/60 ZR 17 tires. Plus, it gets an 18-liters fuel tank which is decent. Moreover, ABS is available for the international variant (no ABS option in Nepal).
Honda CB400SF Design
Okay, the next most prominent thing is the design. Honda CB400SF boasts a "retro" design. Directly inspired by the Honda CB1000SF. It gets that retro vibe from the things like the circular headlamp, longer seats, retro-colors, chrome finishing among so many others. This can somehow be polarizing. Some do prefer the overall retro theme while others want an aggressive design. But keep in mind that if this one rolls on the street; people wouldn't be able to take their eyes off it.
This slideshow requires JavaScript.
Honda CB400SF's design looks massive, overwhelming, and aggressive in its own right. Personally, I would have preferred a slightly shorter seat length. And the exhaust is one of the best sounds I've ever heard!!!
Note: According to Honda, among the four CB400SF available in Nepal, one has been already sold! Likewise, Honda is prepping up to launch the new Honda CBR 650R in Nepal which will replace the old Honda CBR600RR.
Honda CB400SF Key Specifications
Engine: 399cc, DOHC, 4-valve, Liquid Cooled, Fuel-Injection
Max Power: 53BHP at 11000rpm
Max Torque: 40.18Nm at 7500rpm
Compression Ratio: 11.3:1

Transmission: 6-speed MT
Fuel Tank Capacity: 18L
Ground Clearance: 130mm
Front Tires: 120/60 ZR17 (2x 296mm discs)
Rear Tires: 160/60 ZR 17 (1x 240mm disc)
Braking: Dual Disc – No ABS!
Kerb Weight: 175 kg
Honda CB400SF Price in Nepal:

Rs. 22,75,000
Should You Buy Honda CB400SF in Nepal?
Damn, should you? I mean, if you can afford it, sure go for it. But most of us don't have a luxury of choosing a bike with the price tag of a Mahindra e20 car. As seen on the official Honda Superbike Facebook page, a lot of people are disappointed with the price. Yes, it is a hefty sum for a 400cc motorcycle. In retrospect, it is even more expensive in comparison to the KTM 390, Bajaj Dominar, or any other 400cc motorcycle.
While I do agree with you, but Honda CB400SF is not a normal 400cc motorcycle. It's a 400cc superbike. Being on that category, it must align with a lot of rules set forth by the Nepal Government. Thus, explaining its high price tag.
There are a lot of things to be considered. Honda CB400SF was first introduced in 1992. But then, it was only available for Japan. Furthermore, it comes with a rich legacy. So, with the price tag of Rs. 22.75 Lakhs, you don't just get the Honda Superbike, you also get the 28 years of the legacy!
Ultimately, only you can decide if Honda CB 400SF in Nepal is worth all that money.