Damn! I didn't think this day would ever come. First, NIU N gave a new definition to the "affordable electric scooter" in Nepal. Now, the tides have shifted to cars! Yes, we're seeing the first-ever affordable electric car. That's right, an electric car that's genuinely affordable. Why are we not talking about this?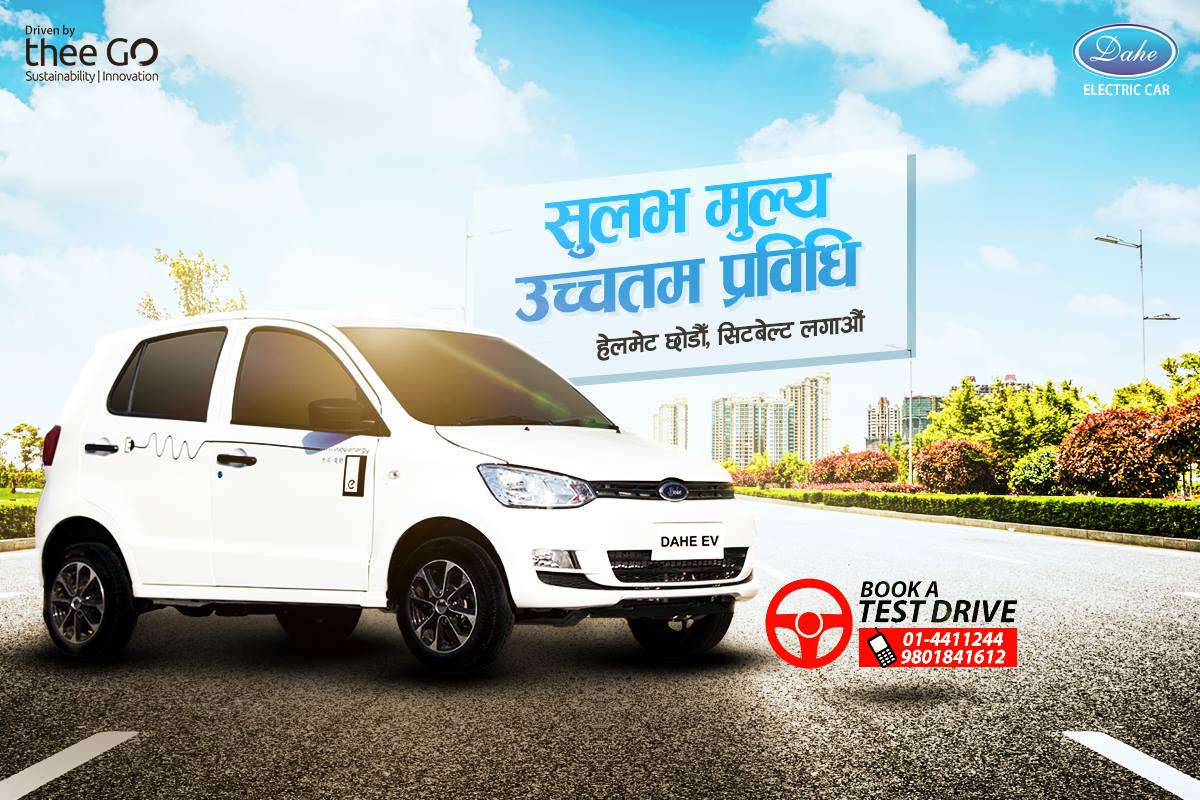 So, Future Green Energy (FGE), under the umbrella of Thee Go , has launched the first ever affordable electric car in Nepal. It's called the Dahe Electric Car which makes it an entirely new car brand to launch in Nepal. Furthermore, it comes in two different variants: DH 350 and DH 350L.
Get ready for this… As for the pricing, the Dahe Electric car price in Nepal is Rs. 14,90,000 for DH 350 (Lead Acid variant) and Rs. 17,250,000 for DH 350L (Lithium variant). Plus, to spice things up, there's an Introductory Offer with an additional discount!
| DH Model | Standard Price | Discount | Introductory Price |
| --- | --- | --- | --- |
| DH350 | Rs. 1490000 | Rs. 1 Lakh | Rs. 1390000 |
| DH350L | Rs. 1725000 | Rs. 1.35 Lakh | Rs.1590000 |
Dahe DH 350 & DH 350L Styling
Let's address the elephant in the room. Firstly, it's an electric car, secondly, it's affordable. So, how does it look? It looks good… Honestly, there are bound to be some cost-cutting to get the car to a certain price point, but what's they're offering certainly justifies the price. It isn't quite feature-packed as most fuel-driven cars, but it isn't as bare or featureless as most might think.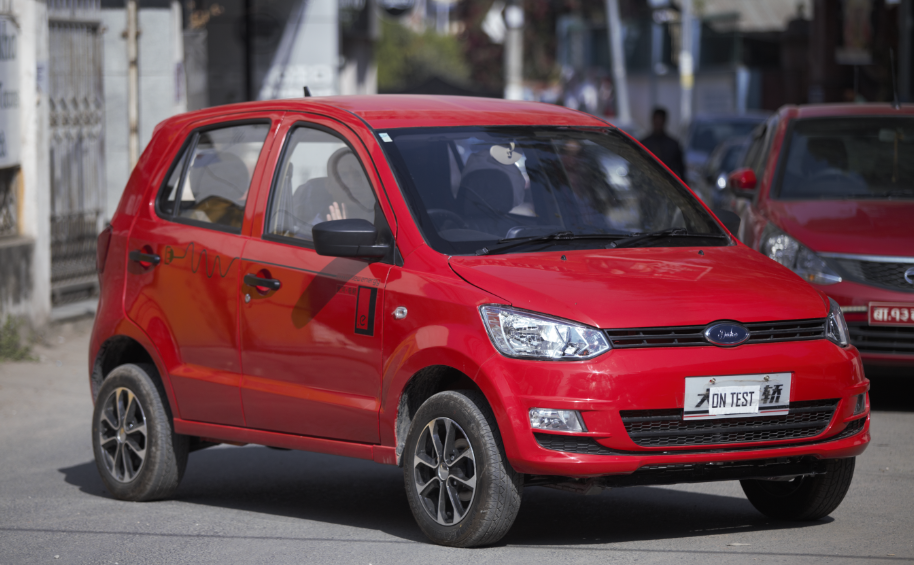 Talking about the styling, you get a quite attractive car. Moreover, you get a mixed look of a Volkswagen Polo 1.0, Hyundai Santro, and Tata NRG, all mixed together as one. It's just a fancy way of saying that the car looks damn beautiful.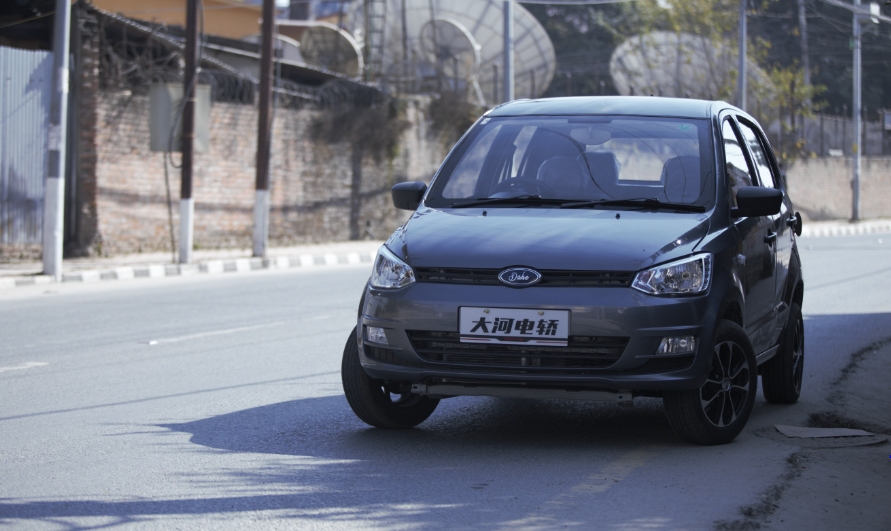 Dahe Electric cars are available in three different color shades: Red, White, and Grey. Personally, I prefer the color grey. It just makes the car more prominent and more attractive. That's just how I feel, but your opinions might differ from mine, so don't sue me.
Difference between Dahe DH 350 & DH 350L
Despite sharing a similar performance, there is a slight variation between the DH 350 and DH 350L. Dahe DH 350 is powered 72V/100Ah Maintenance-Free Lead-Acid Battery. You do get a driving range up to 100-120km. With a power charger, the total charging time is up to 8-10 hours. Did I say that the battery is maintenance free? I did? Good. Because that's an added benefit. Moreover, DH 350 (Kerb Weight: 828Kg) is slightly heavier than DH 350L (Kerb Weight: 680Kg).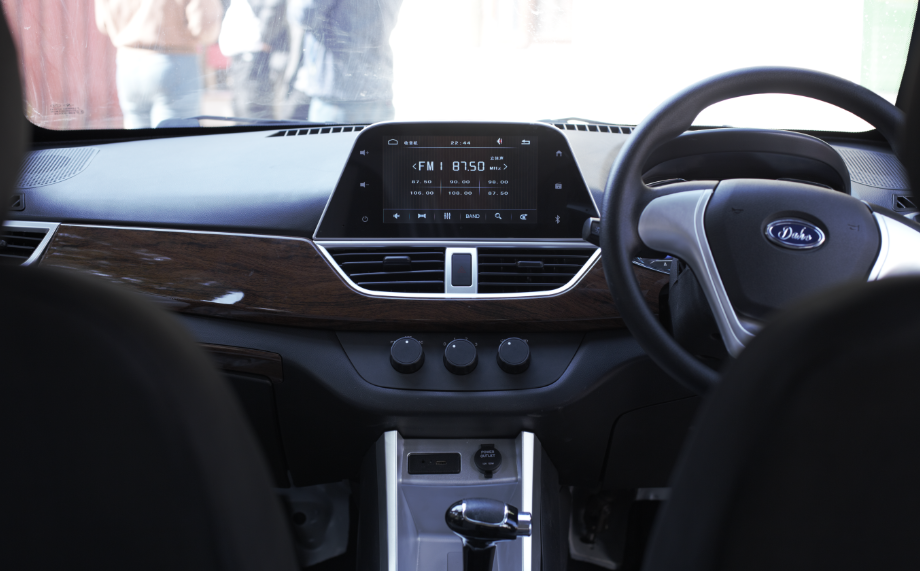 Likewise, Dahe DH 350L is powered by a 72V/9.6KWh Li-Ion Battery. With a power charger, the standard charging time is just 4-5 hours. Plus, you get up to a 120-150km driving range. Yes, more driving, less charging. That's the dream!
If anybody is wondering, it is Home-Charging enabled. This means that it can be easily charged in home, office, malls, and restaurants through the normal power socket. Imagine charging a phone or a laptop, yes, it's that simple!
Moving on to that features, you get a power window, power steering, Anti-Collison Bean, AC, Front Fog Lamp, Remote Control Lock, Reverse Camera, with 8-inch Multimedia Infotainment system. Rest of the similar features include an ABS Braking, Rear Wheel Drive, ground clearance, suspension, tires, among others. Additionally, you get 1 Year Warranty on the Lead Battery and 3 Years on the Li-Ion Battery.
DAHE DH350 / DH350L Key Specifications
Driving Type: RWD
Battery: 72V/100Ah Lead-Acid (Maintenance Free) / 72V/9.6KWh Li-Ion
Charging Time (Power Charger): 8-10hrs / 4-5hrs
Driving Range: 100-120km / 120-150km
Climbing Capacity: 17-18 Degrees
Suspension: FR: Independent Suspension, RR: Integral Axle
Ground Clearance: 160mm
Tire: 155/65R13
Kerb Weight: 828kg / 680 kg
Dahe DH 350 Price in Nepal: Rs. 13,90,000 (Limited Discount Offer!)
Dahe DH 350 Price in Nepal:

Rs. 14,90,000 (Normal Price)
Dahe DH 350L Price in Nepal: Rs. 15,90,000 (Limited Discount Offer!)
Dahe DH 350L Price in Nepal:

Rs. 17,25,000 (Normal Price)
Should I Buy Dahe Electric Car in Nepal?
Everyone in their right mind will not trust a new brand. Why should they? If they don't know the company, there are less likely to use their product. I won't say that the case is entirely different for Dahe. However, they have brought a product that's affordable as well as useful. As a consumer, that's an intriguing situation.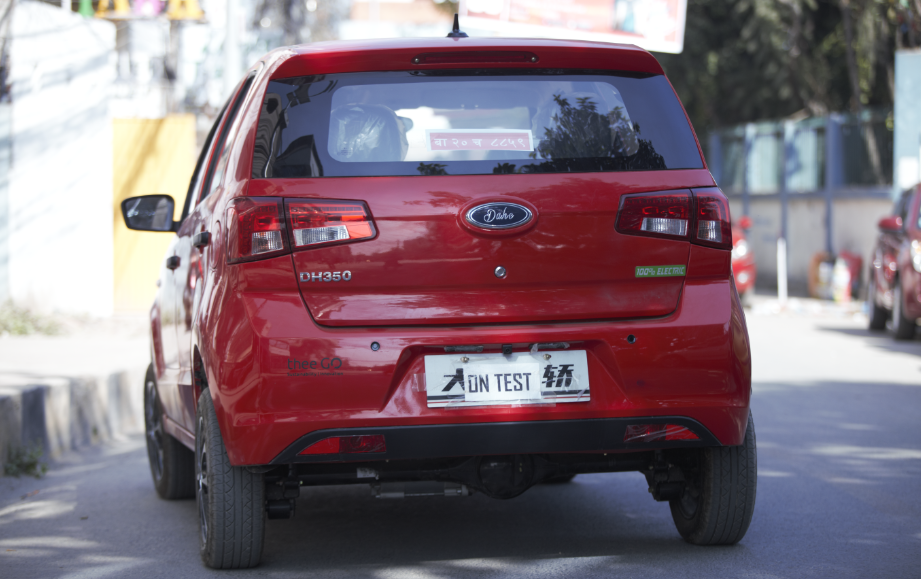 The question remains, should I buy DAHE Electric car in Nepal. The short answer, yes. Let's take a quick dive into the operational costs. Electric Vehicles have very low operation and maintenance cost. Since, Dahe EV in an electric vehicle, those perks apply to it as well. Furthermore, comparing it with a fuel-driven motorcycle, the operation cost is almost the same. It means that the amount that you spend operating an average motorcycle (service, fuel, etc.) can be used to get your first electric car.
Perhaps the greatest perk of them all, NO ANNUAL TAX! Yes, you heard it right. You don't have to pay a pesky dime in annual tax. That is the figurative cherry on the top!
Pricing & Financing
Wait… an electric car for a price for a motorcycle? You're probably thinking that the title is click-bait. Technically, it's not. The official slogan for the Dahe Electric Car is "Helmet Chhadauu, Seat Belt Laagauu".
According to this campaign, everyone should be able to afford an electric car. Since, most of the motorcycle comes under Three Lakhs, as a hardworking commuter, no one is willing to spend it on a car.
Price of a Motorcycle?
What if DAHE EV offered this electric car under Three Lakhs? In this never-before-heard scenario, you get the DAHE EV Electric Car with a down-payment of Rs. 2.98 Lakhs. That is the average cost of a motorcycle. After the down-payment, you'll be able to get financing over the time period of seven years (*standard interest rates may apply).
This sure seems like an exciting turn of events. I don't know about you, but I want to know more about this car. So, TechLekh Team will be reviewing this car very soon. So, stay tuned for that!
Interested? To Book Dahe Electric Car for a Test Drive, Click Here or Contact @ 01-4411244, 9801841612, 1660-015-2244 (Toll-Free).