Around four years back, Binit Sharma was just a typical youngster who has so many complaints and issues about numerous sectors of Nepal. But unlike any other normal youngster, he decided to take his small leap towards trying to make a change. Thus, today he stands as a proud founder of one of the best real estate portals of Nepal, "Basobaas."

Established in 2014, Basobaas was first born to be a data management platform for the existing real estate companies. "We were the tech people, and had no knowledge about the real estate companies." Binit shares, remembering the establishment days of Basobaas. But, they miserably failed to gain the trust of the real estate compies then, which made them rethink their business idea.
We were the first customer
After lots of brainstorming and a massive 7.6 Richter scale earthquake, Binit and his team decided to enter the actual real estate market and establish a full phased real estate portal.
"Since none of the agent and agencies wanted to use our portal, we decided to use it ourselves," Binit explains that massive decision of his in a simple manner.
However, the path the team had chosen was not an easy one. They had numerous amount of challenges and hurdles ahead of them. Their first step was to gain root level knowledge of the real estate field. Since they were a complete novice, they decided to take help from the experts, i.e., the local land brokers. Binit and his team had joined the local broker's group and used to hang out of them all day to get the details of the business.
After a year of research and homework, their team was finally ready to set the real estate on fire. On Feb 23, 2017, Basobaas Pvt Ltd was officially launched. And this time, they presented themselves as the best amalgamation technology and real estate business.
With their new website and mobile application they targetted to solve three major problems of real estate business:
Lack of a property marketplace with ease of use and or updated property database.
Lack of a way to generate and qualified leads for property owners, builders, and real estate agencies.
Lack of better customer service in the industry.
"With Basobaas, we provide a one-stop solution to every probable solution related to a property." – Binit Sharma
Basobaas as a platform
Basobaas provides a platform where the owners can list their property for sales or rent for free or a nominal charge. The Basobaas team then verifies the property to check its condition, facilities, and estimate the value of the property. The owners can either choose to display the price suggested by Basobaas team or display their own price (if any). The property is then listed in all the platforms of Basobaas, including their website and social media platform.
In addition to that, Basobaas also provides Brokerage services to the property owners. With some additional charges, property owners sign a contract with the Basobaas team. The expert team of Basobaas then handles all the procedures from bringing the prospective clients to see your property to handling their queries to finally sealing the deal with the best client. And while all these processes take place, you can enjoy your day to day routine without and hustles.
Likewise, getting a property through Basobaas is also an easy procedure. You just need to go to their applications and social media platforms and select a property you like. You can then contact the related contact person and see the property and take further steps.
In addition to that, if you are searching for a property and did not find any available, you can post your requirements to Basobaas through their web and mobile applications. The team will then contact you within a few business days. And all these services are free of cost.
Success so far and plans for the future
With an immense amount of hard work and effort, the Basobaas team has come a long way since their launch. They were awarded as the Best Startup Company in ICT Awards 2017, and have recently got funded by Emerging Classified Venture.
With over 1000 property listed in their applications for sales and an excellent reputation among consumers, Basobaas has been able to create a firm root in the Kathmandu valley. Now, they are planning to expand their roots by introducing their services to major cities outside the valley including Chitwan, Biratnagar, etc.
Furthermore, they also have ambitions to expand their company internationally. They are currently planning to start their venture Bangladesh and Dubai.
"Bangladesh is a fostering market for startup, their startup ecosystem is quite similar to that of Nepal, that why we believe launching Basobaas in Bangladesh will be a beneficial decision to our company.

Whereas, in the case of Dubai, our main target audience in Dubai are the Nepalese working there. As we know, a significant portion of our population is working in that region, and their main purpose is to provide a stable life to their family. We want to reach that portion of the population and help them in their journey of building a home," Binit shared his future plans.
We also had a QA session with Binit Sharma to know his journey, lessons, and Basobaas in detail.
Basobaas Team
Basobaas has a core team of five members: I, Binit Sharma am the founder of the company and also the President. Rajan Adhikari is a Director and also the CEO of Basobaas. Similarly, we also have Vishal Adhikari and Biplav Sharma in the Directorial team. Vishal Adhikari is also the CFO of Basobaas, whereas Biplav Sharma is the CTO. Furthermore, we have Pradip Pokhrel as the Vice President of Sales and Marketing.
We also have three managers in our team, Ankit Ghimire, Ukesh Dhusu, and Mahima Hada handling Sales/Rental, Engineering, and Marketing respectively.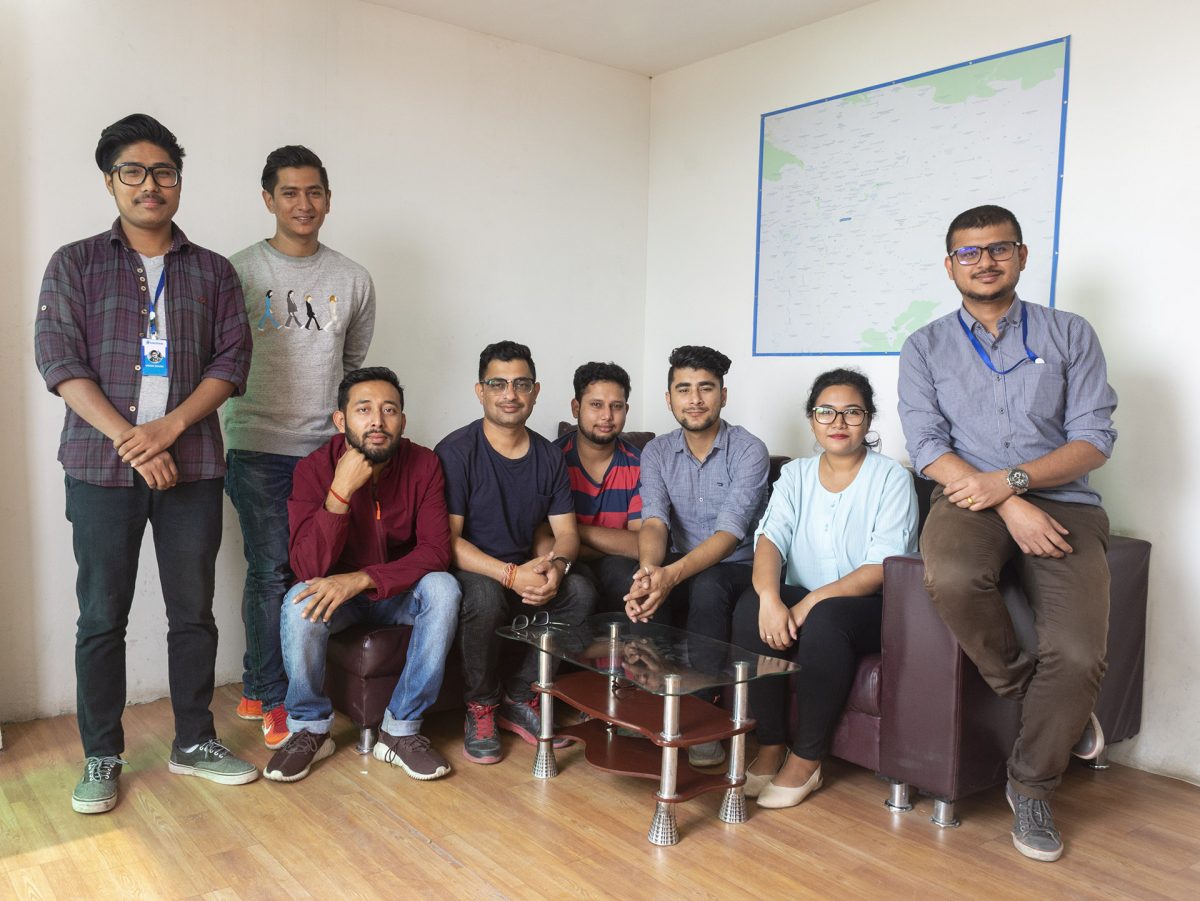 Currently, we have 25 members in our company who play a vital role in the success of Basobaas.
Q/A with Binit Sharma, Founder, and President, Basobaas
Q. How much does one have to pay to list their property on your platforms?
A: Not many people know that we have a group where people can list their property for free. Whereas, to list a property in our applications and social media platforms, owners have to pay Rs 5000. With that charge, our team visits your assets, evaluates it and also clicks photographs highlighting the facilities.
Q. How much does one have to pay to use Basobaas' brokerage services?
A: Our brokerage services start from as low as three percent. We that amount you can use the full services of Basobaas Realtors.
Q. Except buying and selling properties, what are the other facilities that Basobaas provides?
A: We also assist you in getting home loans. We have unofficial partnerships with multiple banks and with our expertise, we can help you get the house of your dreams in fewer complications.
Q. What according to you is the best feature of Basobaas, that makes it stand out?
A: We provide verified listings vetted rigorously to ensure accuracy unmatched by any other portals.
Q. When have you been the proudest of Basobaas and your team?
A: When we were able to sell a property that had been unattended in a website for 4 years in just one week.
Q. What are the first few failures you had faced with Basobaas?
A: When we were new in the business, there have been many incidents when we have believed in word of mouth and regretted later. Many time we have worked hard to bring prospective clients to property, only to realize that the property has been sold to someone else.
Q. What is the best thing about establishing a startup in Nepal?
A: Nepal has so many problems, and with each challenge, there are so many unexplored areas and opportunities. One just needs to know how to grab them.
Q. Where do we lack compared to other countries with such successful startup culture?
A: We lack in professionalism and motivation and always have an excuse for not working. We need to take our deadlines seriously.
Q. What is the most significant difference between being an employer and an employee?
A: Responsibilities. When you are working for someone else, you are only liable for the work assigned to you. But when you run a company, you are held responsible for almost every factor possible. You are the one your team looks after, and that can sometimes be very pressurizing.
Q. Currently, many international startups have been launched in Nepal. How much of a threat is it for the Nepali startup?
A: Honestly, it is a threat, and initially, even we were worried about the situation. But gradually we realized that Basobaas is born here, we have hands on the market, people, and so many factors that an outsider will take a long time to discover. Thus, it is not that easy for an outsider to completely take over the market overnight.
Yes, we have prepared for the worst, we have many plans about Basobaas which we feel will give an intense battle to any newcomer. And if we fail, we will have a satisfaction that we did our best.
My take on Basobaas
Undoubtedly, Basobaas is one of the emerging real estate portals of Nepal, and it deserves the success it has received so far. I have my personal favorites about Basobaas, making it stand out from other mediums providing similar facilities:
Basobaas sincerely sticks to their goal of reliable delivery. They visit the property site and examine the quality themselves to make sure that what clients see is what they get.
They do not charge any commission from the buyers. Unlike many agents and social media platforms, you do not have to pay the price while buying a property or getting it on rent.
Not every property are listed their application. They have a rigorous validation mechanism making sure that only genuine properties are provided to the customers.