We've come a long way since the early days of scooters in Nepal. Scooters are no longer considered as a cheap alternative to motorcycles. Rather, these pose a serious threat offering more for the price.
Yamaha Fascino 125 FI is just that scooter.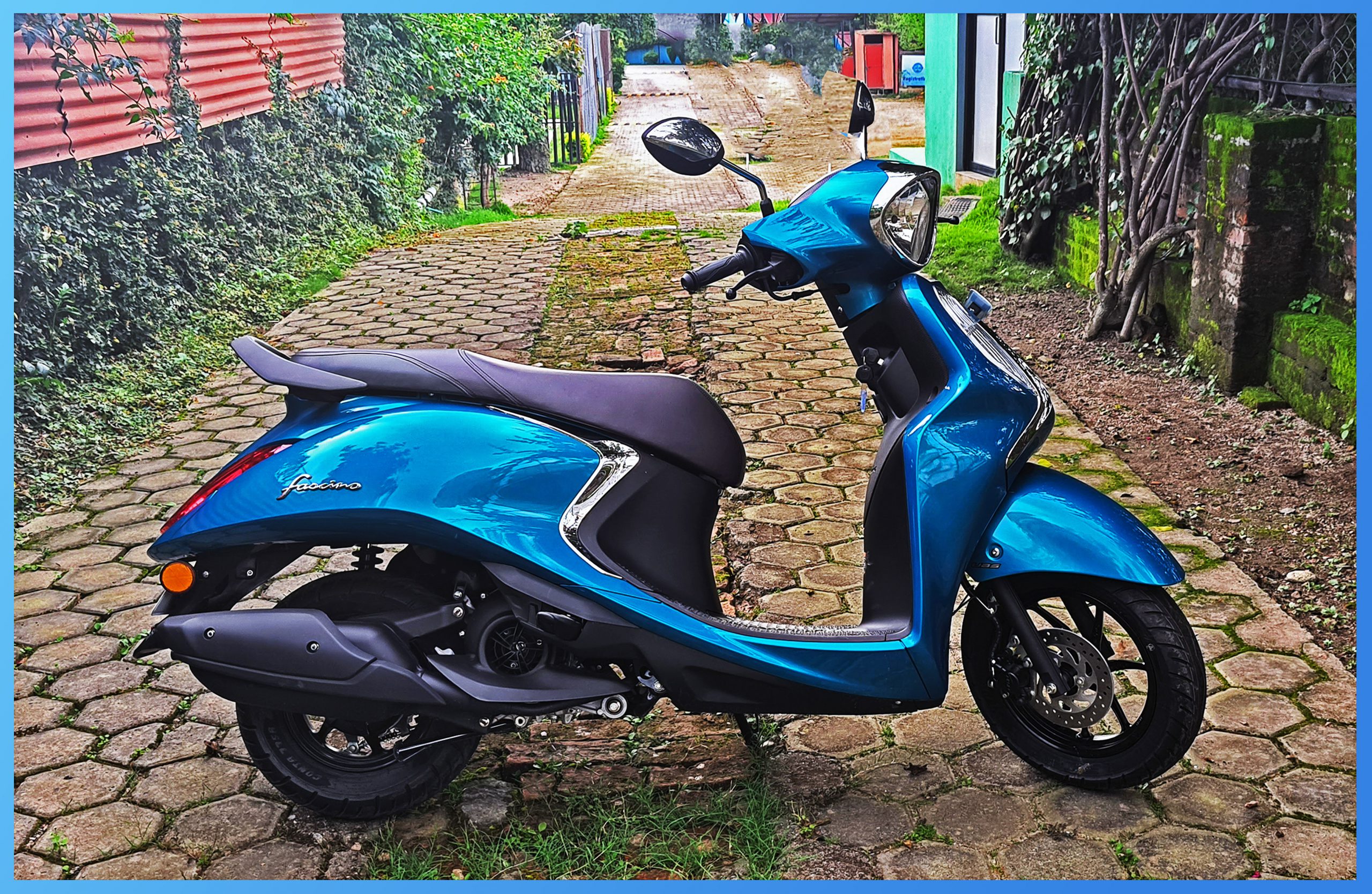 Yamaha introduced the new Yamaha 125cc scooter just a few months ago. Being the pioneers in FI technology, Yamaha Fascino 125 successfully became the first 125cc FI scooter in Nepal.
Interestingly, this is a second Yamaha scooter with the FI engine. Yamaha NMax 155 broke the barriers of expectations, offering some of the segment-first features neatly packed in the R15 v3 engine.
Now, Yamaha Fascino 125 has to follow up on the expectations set by its 155cc sibling.
So, does it though?
Most importantly, Yamaha Fascino 125 price in Nepal is Rs. 2,49,900. While it is an affordable FI scooter for its segment, the price is pretty steep for a scooter in general.
So, we do need to find out if it is worth the price.
We took the new Yamaha Fascino 125 for a spin. Maybe the answer is more transparent if we just ride the thing.
Yamaha Fascino 125 FI First Ride Review
Fantastic New Design
Let's start with the first thing that is noticeable, the neo-retro design.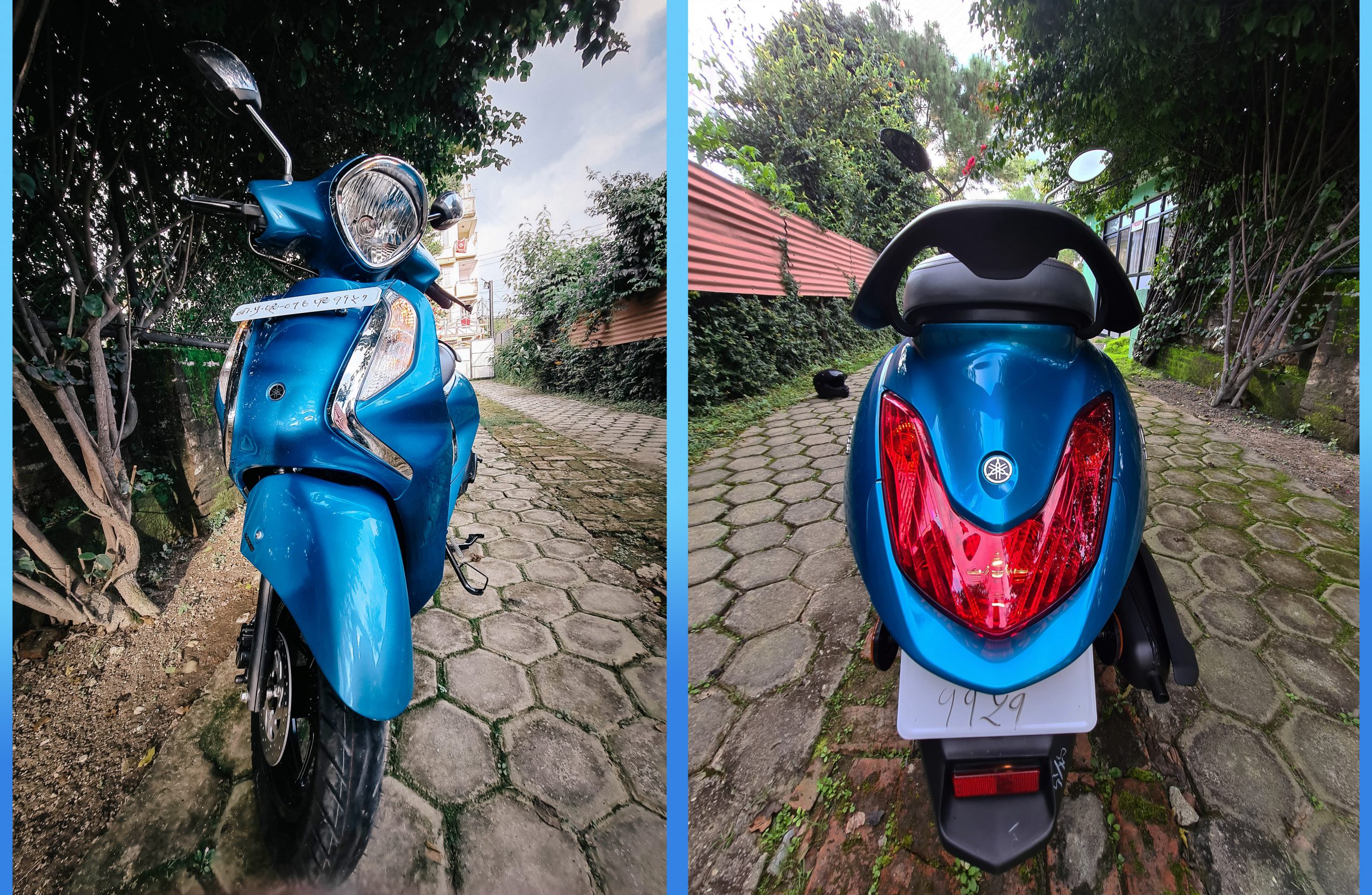 "Neo-Retro" is defined as the modern machine donning a style of a by-gone era. It was true for the previous Fascino 110 and it remains true for Fascino 125.

Yamaha Fascino continues to be the scooter for those who love the retro design.
Fascino features a visual impression of a "Classic European styling" with its bright colors and curvy design.
While it isn't a unibody styling, the uninterrupted curvy design along with a dash of chrome looks stunning!
Moreover, the concave-lens headlight, retro-styled analog instrument cluster, V-shaped tail light, faux carbon fiber on the dashboard, styled patterns on the footboard, dual-tone seat, and metal fenders show off its fashionable heritage!
Interestingly, the V-shaped tail light with integrated side indicators stands above everything else.
Additionally, Fascino features a halogen DRL on top of the front indicators.
On that note, it does not have any LED lights anywhere. Instead, it comes with a traditional halogen bulb.
Anyways, the rear section is the most defining aspect of this scooter. It gives Fascino a fresh look, helping it set apart from the competition. Surely, the overall design might be polarizing for some. However, we love it!
Yamaha has brought their A-game. Honestly, this shouldn't come off as a big surprise since Yamaha always tries to put extra care on style.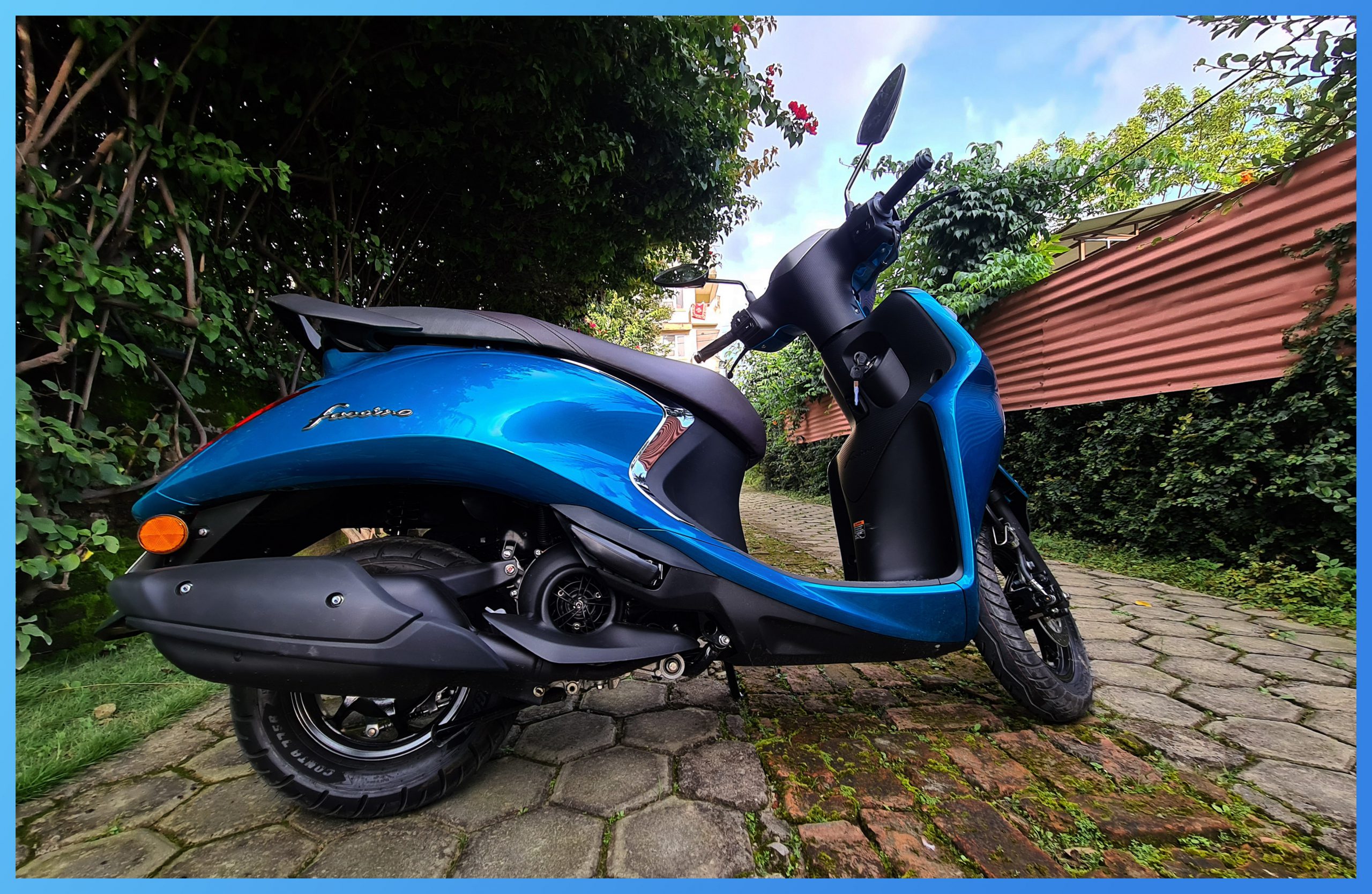 The company has successfully pulled it off here. The build quality, the style, the responsiveness of the switches, almost everything else feels solid!
Yamaha Fascino looks visually appealing with its curve along with its chrome accents. Yes, it does give off a Vespa vibe. Rest assured, it offers more than the rival.
Plus, the design does have a sense of originality and premium feel, which the predecessor lacked.
125cc Fuel Injected Engine
Yamaha Fascino 125 is powered by a new air-cooled, Fuel Injected, 125cc Blue Core engine.
Yes, it is the first BSVI compliant scooter in Nepal.
Fascino 125 BS6 can generate a max power of 8.2PS at 6500rpm and max torque of 9.7Nm at 5000rpm. On paper, it gives off a 30% increase in power output along with 16% more mileage.
Interestingly, the new FI system introduces three new technologies in this segment.
Smart Motor Generator (SMG)
Side Stand Engine Cut Off
Stop & Start System
Moreover, this new technology helps to add a new level of complexity to the 125cc scooters segment.
Yamaha Smart Motor Generator (SMG)
SMG technology adds an extra layer to the complexity of an FI engine.
Yamaha calls it a"one-touch-start"tech. It means the riders can simply start the engine with a single touch to a start button.
Compared to a Carburetor engine, you don't have to deal with the pesky traditional engine start noise anymore. Just press the electric start, the process is instantaneous.
In hindsight, the engine is now smoother, quieter, and more refined.
Yamaha Stop & Start System
Do you remember Hero's i3S Technology?
Well, Yamaha Stop & Start System works in that similar fashion.
Theoretically, it should work as a Smart Engine-Kill switch. Whenever you get to a traffic stop, the engine would automatically cut off after a specific interval of time.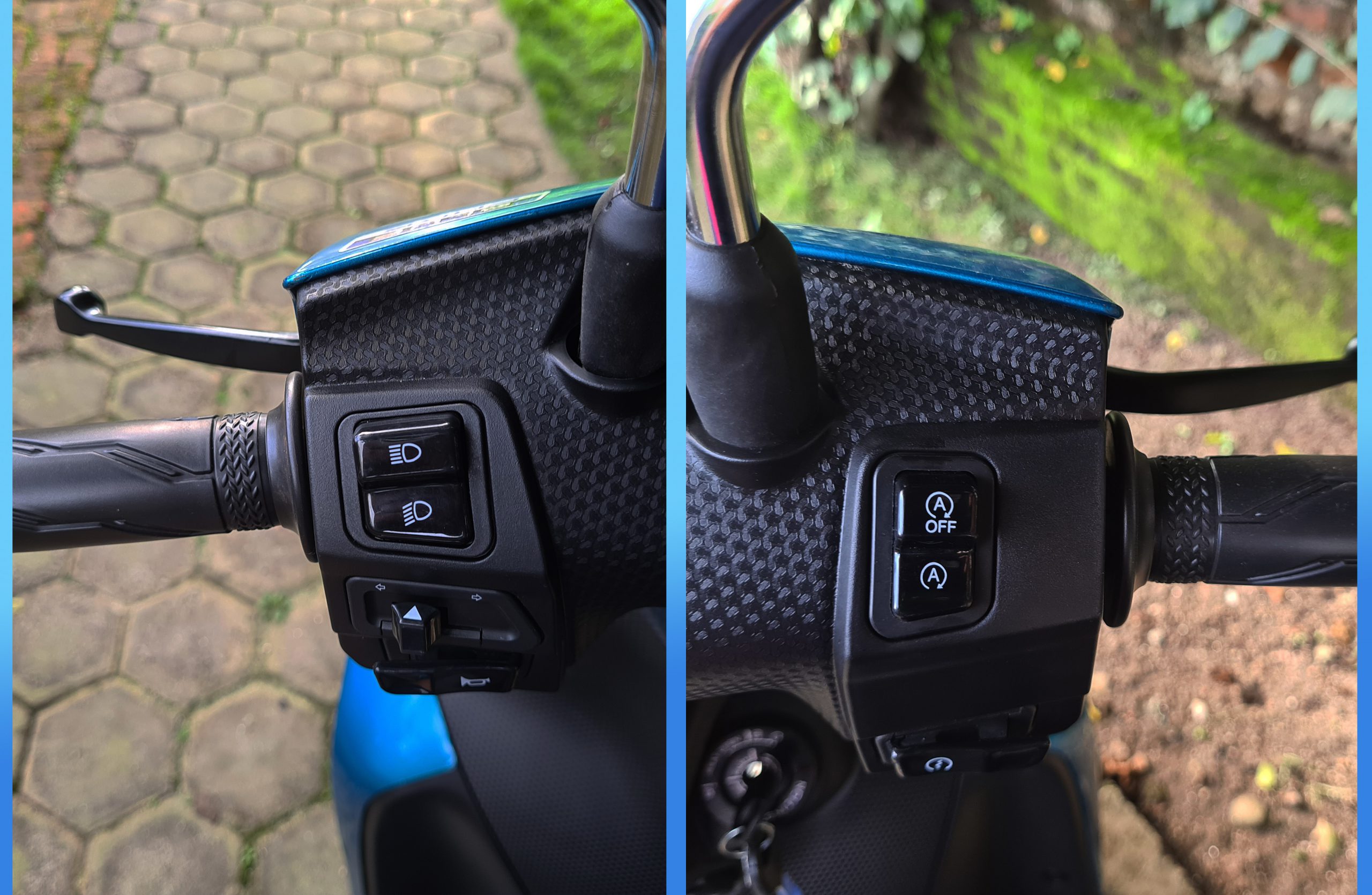 When you are ready to go, you simply pull on the throttle and get the engine going.
Yes, its that simple!
It should be noted that Yamaha opted for this instead of a standard Engine-Kill switch. It will be interesting to see its real-world performance.
Yamaha Side Stand Engine Cut Off
Side Stand Engine Cut Off is yet another new feature.
It is a pretty common feature in a two-wheeler with an FI engine.
We've already seen this feature in action in Suzuki Gixxer 250, Bajaj Dominar 400, and Yamaha NMax 155.
It does what the name says it does.
If you put the scooter on the side stand, the engine automatically turns off. Similarly, if you have the side stand on, you cannot start the engine.
Practical Features
Yamaha Fascino 125 is a practical scooter.
It comes with features and goodies to ensure its practicality. Let's take a quick look at the features on offer.
Yamaha Fascino 125 Feature Highlight
Front Disc Brake
Unified Braking System (UBS)
21-L Large Under Seat Storage
Lightweight Body at just 99Kg
Wider Seats & Wider Tyres
Multi-Function Key Switch
Front Storage Hook
Surprisingly High Ground Clearance
Easy to Grip Grab Rails
USB Mobile Charger (Optional)
Almost all the features included in the new Fascino comes from a practical standpoint.
These features are meant to serve you best on your commute. There's a reason why I emphasized on the 'commute' aspect.
Yamaha Fascino 125 FI First Ride Experience
We've only spent a few hours with the new Yamaha scooter.
So, this is just our Initial Impression of the Yamaha Fascino 125. Stay tuned for the Full Review.
The new 125cc FI engine features a new perky character. It is just a smooth, refined, and well-performing engine. It has a perfect balance between the power and torque figures.
Although, it doesn't provide decent feedback on a lower speed, typically 10-30 Kmph. So, you have to constantly push the engine over 40 Kmph to feel that power.
However, that isn't a bad thing.
Fascino shines between the 40-60 Kmph speed, putting out max power and max torque figures. For that reason alone, I preferred to ride the scooter at that speed.
Interestingly, it seems to struggle past 60 Kmph speed. Though, I wouldn't use the word struggle since the vibrations and sound are low, even at high speed.
The scooter noises that you normally expect, those are finally absent!
Next, we move on to handling.
Yamaha Fascino just weighs 99Kg! While it might not seem like much, it is a huge thing for the lady riders. It will be interesting to see how it unfolds in real-world scenarios.
The same can be said about the brakes as well.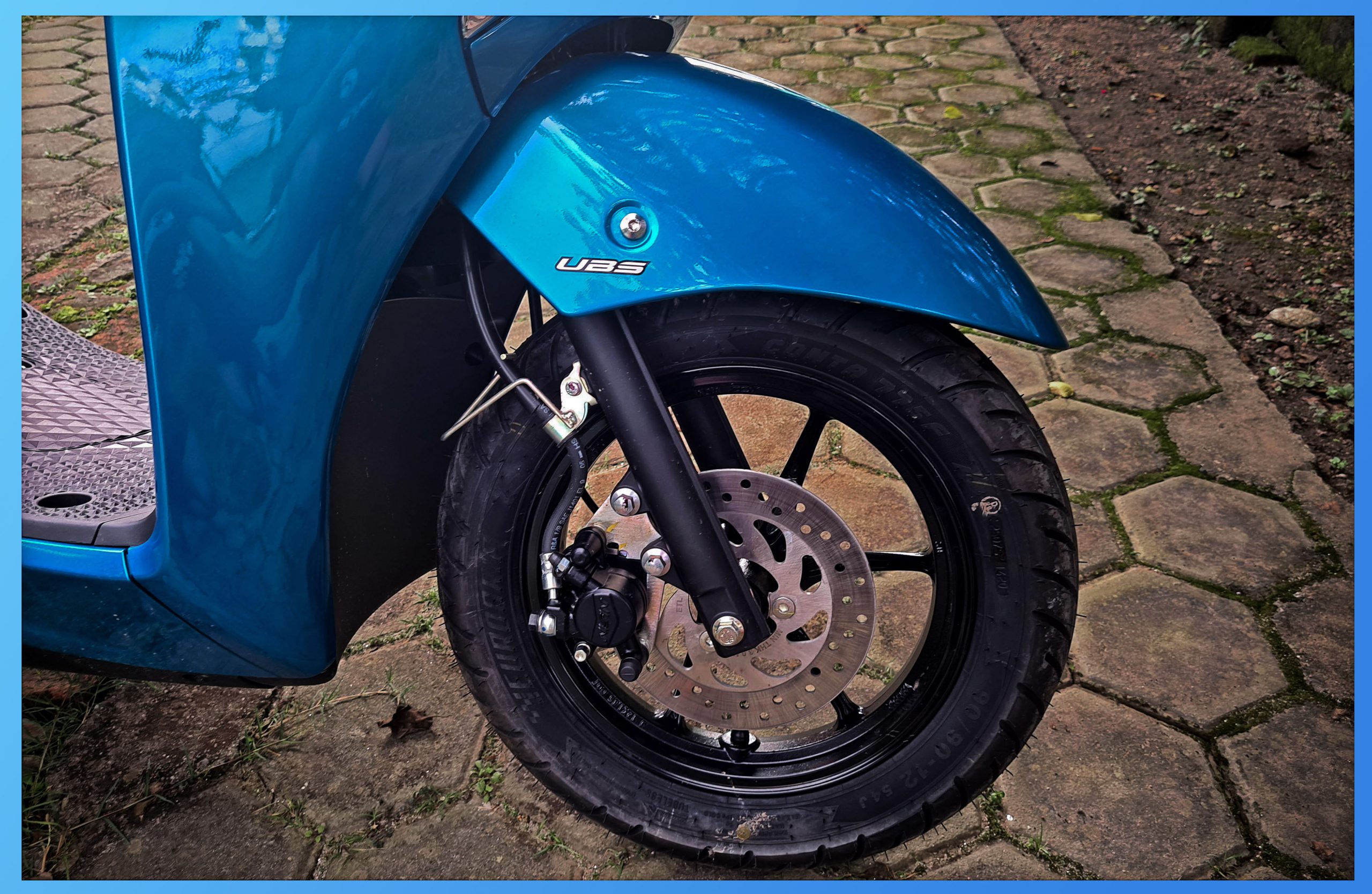 Yamaha Fascino opts in for a front disc only brakes powered by UBS. I'm pessimistic about the braking performance, but we'll see. But is it perfect though?
Let's not judge a book by its cover. I haven't spent much time with the scooter to give you a final take.
However, there are a few things I wasn't impressed with the Fascino 125.
Firstly, the halogen lights. Yamaha Fascino 125 is supposed to be the new 2020 upgrade. I get that Yamaha is going for a retro vibe, but still, an LED would be a nice addition.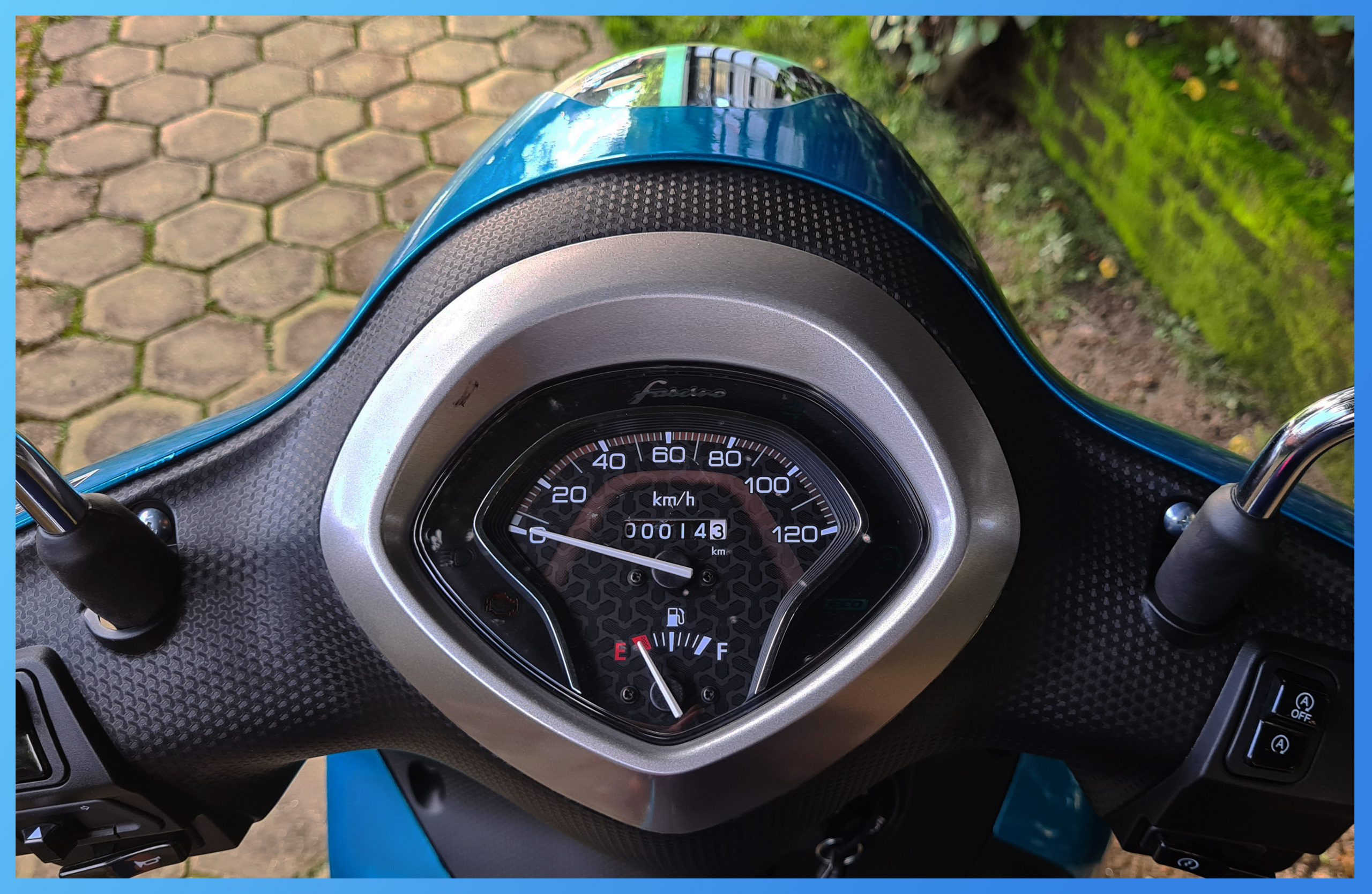 Secondly, the analog instrument cluster. Again, the same thing. I am completely on board with the analog cluster that adds to the retro vibe. However, I wish it could provide a bit more.
As an example, only if Yamaha added a 'Trip Meter', it would've been far more practical.
Yamaha Fascino 125 FI Specifications
Engine Type: Single-Cylinder, 2-valve, BS-VI complaint Fuel Injection
Displacement: 125 cc
Cooling System: Air-Cooled
Starting Mechanism: Electric Starter & Kick Starter
Max Power: 8.2 PS @ 6500 rpm
Max Torque: 9.7 Nm @ 5000 rpm
Top Speed: 80 Kmph
Fuel Tank Capacity: 5.2 liters
Mileage: 58 kmpl
Front Tyre: 90/90-12 – Disc
Rear Tyre: 110/90-10 – Drum
Tubeless Tyres: Yes
Braking System: Unified Braking System (UBS)
Suspension Setup: Telescopic Front Forks and Rear Swing Arm
Seat Height: 780 mm
Ground Clearance: 145 mm
Under Seat Storage Capacity: 21 liters
Colors: Red, Dark Matt Blue, Black, Copper, Yellow, Matte Blue, and Cyan Blue
Yamaha Fascino 125 Price in Nepal (FI): Rs. 2,49,900
Anyways, that brings us to the end of our First Impressions of Yamaha Fascino 125.
We are still testing it out. So, if you have any questions regarding Yamaha's next-gen scooter, do let us know in the comments down below.
Frequently Asked Questions
What is the price of BS6 Yamaha Fascino 125 in Nepal?
The new Yamaha Fascino price in Nepal is set at Rs. 2.49 Lakhs.
Where can I book Yamaha Fascino 125 in Nepal?
You can book Yamaha Fascino 125 today by contacting the nearest showroom. If you want to get the full list of Yamaha Dealers in Nepal, here's the complete list.
Which is better Yamaha Fascino or Honda Activa?
Yamaha Fascino is the overall better choice. While Honda Activa leads with just 0.6Nm torque, Yamaha Fascino offers all-rounder experience.
What is the mileage of Yamaha Fascino 125 in Nepal?
Compared to the current carburetor models, Yamaha Fascino 125 FI offers 16% more mileage. This brings the total mileage to 58 kmpl.
What are the new features in Yamaha Fascino 125?
Here's the list of Yamaha Fascino's new features:
Lightweight Body at just 99 kgs
Better handling with Telescopic Suspension
Improved braking performance with Unified Braking System (UBS) & Front-Disc (Optional)
21L Large Under-Seat Storage
Multi-function Key Switch
Larger Grab Rails
Retro-themed Design
Is Yamaha Fascino a good buy?
Yes. Yamaha Fascino offers newly redesigned styling with a significant performance boost at an irresistible price. In short, Yamaha Fascino is the whole package!