Vivo V15 Pro is a phone still shrouded in a lot of mystery. It is yet to launch internationally – the launch date is February 20. It is one of those crazy+innovative phones from Vivo that have won the heart of us tech enthusiasts. Vivo teased on their Facebook page that they will be bringing this smartphone to Nepal. Good for us, isn't it?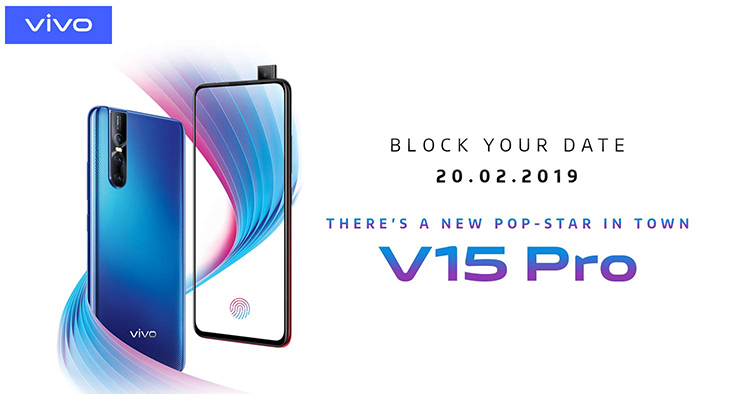 Vivo V15 Pro Specs
So, let me enlighten you with the specifications that we think are going to be inside this phone. Vivo V15 Pro will come with a Snapdragon 675 processor. This processor isn't the most powerful chipset you can find on the planet but the good news is: a recent geekbench score showed that the 675 beats even the 710 in AnTuTu.
What's more? The chipset supports front-facing or rear-mounted triple cameras with features such as portrait mode and 3D face unlock. And, more importantly, unlimited slow-motion videos of HD quality. Qualcomm has also said that they have employed software gaming enhancements that promise to deliver 90 percent reduced janks.
Vivo V15 Camera
We sort of have the idea for what the camera modules are going to look like. The V15 Pro will have a triple lens camera setup at the back, possibly a 48MP+8MP+5MP combination. The main sensor is expected to be a Samsung-made lens. That is a huge MP count but as we always tell you guys – higher megapixel doesn't always mean better cameras. We will have to test the V15 Pro ourselves to give you our verdict. And if this phone comes to Nepal, we probably will test it.
The other known facts about this phone are that it will come with a 6GB RAM and 128GB internal storage. These are beefy specs. Vivo V15 Pro is expected to come boasting attractive color gradients at the back-glass panel.
The most exciting part of the phone will be a selfie camera. It is expected to be a massive 32MP single lens that pops up from the top of the phone similarly to the selfie camera of the Vivo Nex. This means that we will get a real full-screen display on this phone. That'd be awesome. We don't know, yet, whether this phone will come with an AMOLED panel or an LCD.
We are excited to see these kinds of products being brought into Nepal. We hope that Vivo won't retract their promise as we are looking forward to testing this phone out in flesh.