The wait is finally over. Ladies and Gentlemen, Suzuki Burgman has been officially launched. The legendary Burgman makes its official entry in a 125cc category. The official launch was announced via their Facebook page at VG Suzuki Nepal. As for the pricing, Suzuki Burgman price in Nepal is Rs. 2,29,900.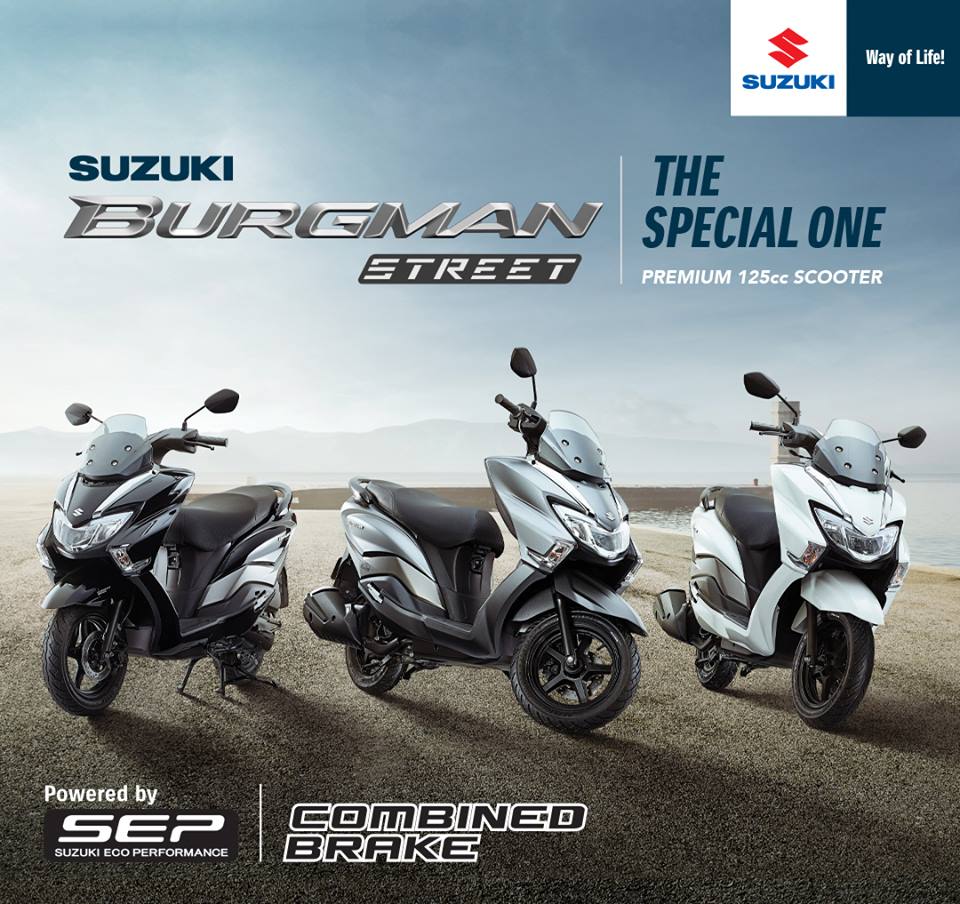 Suzuki is soon expected to join in the competition against 125cc segment scooter. Unlike a traditional scooter, Burman is a maxi-scooter meaning a touring scooter. It uses a larger frame and a higher capacity engine. Moreover, the engine is fixed to the frame, improving handling and acceleration. Thus, providing you with a more comfortable experience during longer rides.
Suzuki Burgman Street
Suzuki Burgman Street takes its inspiration from its sibling, the 400cc maxi-scooter known as Burgman 400. It comes with a 125cc, air-cooled, single cylinder engine. It is powered by Suzuki Eco Performance (SEP) for fuel-efficiency and good performance. Moreover, it generates a max power of 8.7PS at 7000rpm and a max torque of 10.2Nm at 5000rpm. Unfortunately, the engine is the same as the Suzuki Access 125. Meaning, it a 125cc scooter with a maxi-scooter design where the difference is purely visual.
This slideshow requires JavaScript.
Unlike Access 125, Burgman brings in more premium features in a scooter. A bright LED headlight, position lamp, tail lamps, chrome accent on its body parts, Combined Braking System (CBS), and the obvious maxi-scooter design.
"The Special One" from Suzuki comes in three different color schemes: Black, Grey, and White.
Suzuki Burgman Street Key Specifications
Engine Displacement: 124 cc
Maximum Power: 8.7PS @ 7000rpm
Maximum Torque: 10.2Nm @ 5000rpm
Mileage: 45kmpl
Front Brake: 12-inch Wheel with Disc
Rear Brake: 10-inch Wheel with Drum
Wheels Type: Alloy wheels
Fuel Tank: 6 liters
Suzuki Burgman Street Price in Nepal: Rs. 2,29,900
What do I think?
It is odd to see a 125cc engine in a maxi-scooter. Maybe Suzuki is planning to bring in Burgman 400 soon. I could see people flipping their heads for that legendary scooter. Until then, we kind of has to make do with the Burgman Street 125.
Looking at the specs sheet, you'll probably be very pessimistic about this entire thing. You get the same engine as the Suzuki Access. So, what's making you choose Burgman over Access? At this point, it may just be the aesthetics, design, and larger frame. But as the thing with Suzuki goes, you should never judge a book by its cover. And, Suzuki has proven time and time again that spec-sheet does not represent the real-world nature of that motorcycle. Maybe you should keep an open mind about everything.
Rest assured, it's a unique scooter. Build for the long, tedious journey while being comfortable and fun to ride. How this will play out with the Nepali consumers? Well, that remains to be seen. Especially going against competition like TVS NTorq, Honda Grazia and Vespa scooters that each offer something unique.
What do you think about the Suzuki Burgman Street? Are you a fan of the whole Maxi-Scooter? Tell us all about it in the comments down below!