Pros
Maxi-Scooter Based Design
Punchy Performance
Excellent for Long Rides
Perfect Scooter for Tall Riders
Practical Focused Features
Cons
Smaller 10-inch Rear Tyre
BS4-compliant Carburetor Engine
Under Seat Fuel Filler
Lack of Engine Kill Switch (fixed in BS6)
Basic Digital Instrument Console (fixed in BS6)
Suzuki Burgman Street 125 is one of the underrated scooters in Nepal.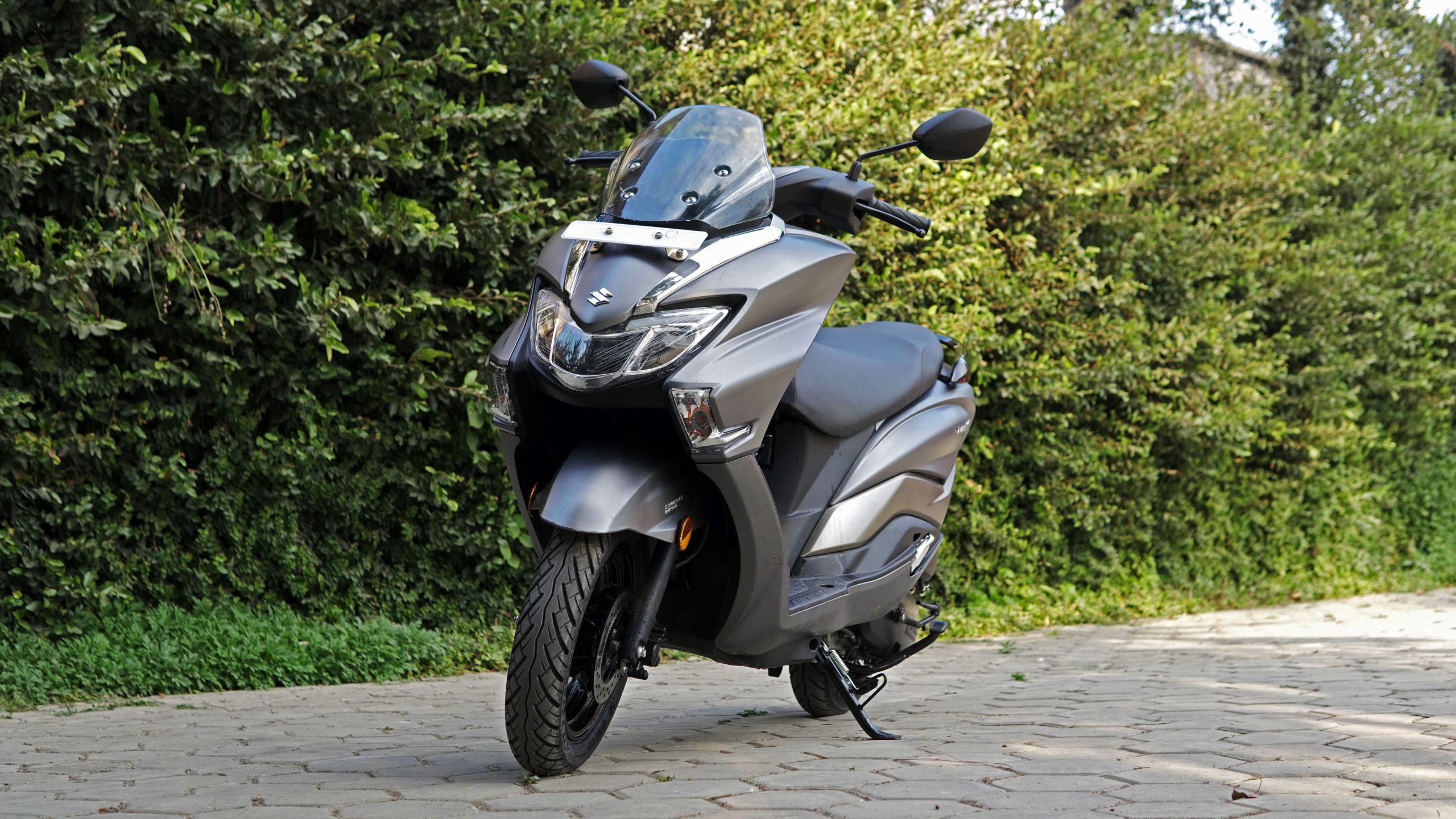 After testing it out for almost a week, I am rather confused about its lack of mainstream popularity despite being a killer offering for the price of just Rs. 2,37,900.
VG Suzuki Nepal, the authorized distributor of Suzuki scooters in Nepal, launched Suzuki Burgman Street 125 back in 2018.
During its initial launch, many (including me) considered it to be overpriced. However, I think we failed to see the bigger picture here.
Suzuki Burgman Street 125 was ahead of its time, both in terms of power and offerings. Almost two years after its initial launch, Burgman still holds strong against the growing competition.
Being the only 125cc maxi-scooter in Nepal, I suspect it will take a lot longer before Burgman 125 loses its competitive edge.
Regardless, we have thoroughly tested out the Suzuki Burgman Street 125.
If you were interested in this maxi-scooter, here is everything you need to know.
Suzuki Burgman Street 125 Specifications
Engine Type: Single-Cylinder, Carburetor, SOHC
BS6 Compliant: No
Displacement: 124.8 cc
Cooling System: Air-Cooled
Starting Mechanism: Electric Starter & Kick Starter
Max Power: 8.7 PS @ 7000 rpm
Max Torque: 10.2 Nm @ 5000 rpm
Top Speed: 91 Kmph
Fuel Tank Capacity: 5.6 liters
Mileage: 45 kmpl
Front Tyre: 90/90-12 – Disc
Rear Tyre: 90/100-10 – Drum
Tubeless Tyres: Yes
Braking System: Combi Braking System (CBS)
Suspension Setup: Telescopic Front and Mono Shock Swing Arm
Seat Height: 780mm
Ground Clearance: 160 mm
Under Seat Storage Capacity: 21.5 liters
Kerb Weight: 108 Kg
Colors: Matte Black, Matte Grey, Matte Silver
Suzuki Burgman Street 125 Price in Nepal: Rs. 2,37,900
Suzuki Burgman Street 125 Review
Maxi Scooter Design
By definition, a maxi-scooter is a large scooter with a larger frame and a longer wheelbase. Compared to a typical scooter, it sports a fixed dashboard with an extended handlebar.
Following those descriptions, Suzuki Burgman Street 125 is a 125cc maxi-scooter in Nepal.
Inspired by the iconic Burgman 400, the 125cc features a meaner aesthetic while trying to bring the same level of aggressive design at a reasonable price.
Suzuki Burgman Street 125 is available in three colors: Black, Grey, and White.
Parts Sharing
There is a story behind the reasonable price.
Both Suzuki Burgman Street 125 and Suzuki Access 125 share parts with one another, which includes its engine, switches, frame, among others.
Suzuki has been doing the same with its other lineups like the Suzuki Gixxer – Suzuki Intruder.
However, Suzuki Burgman is 10mm longer and 20mm wider than the Suzuki Access thanks to a slightly modified frame.
Additional Maxi Elements
Moving away from the shared components, there is a lot of new maxi-inspired design.
We have gone into detail about the design in our Suzuki Burgman Street 125 First Ride article.
In summary, the design is familiar to a maxi-scooter with its "larger than life" front section with its large LED headlamp and a large windshield.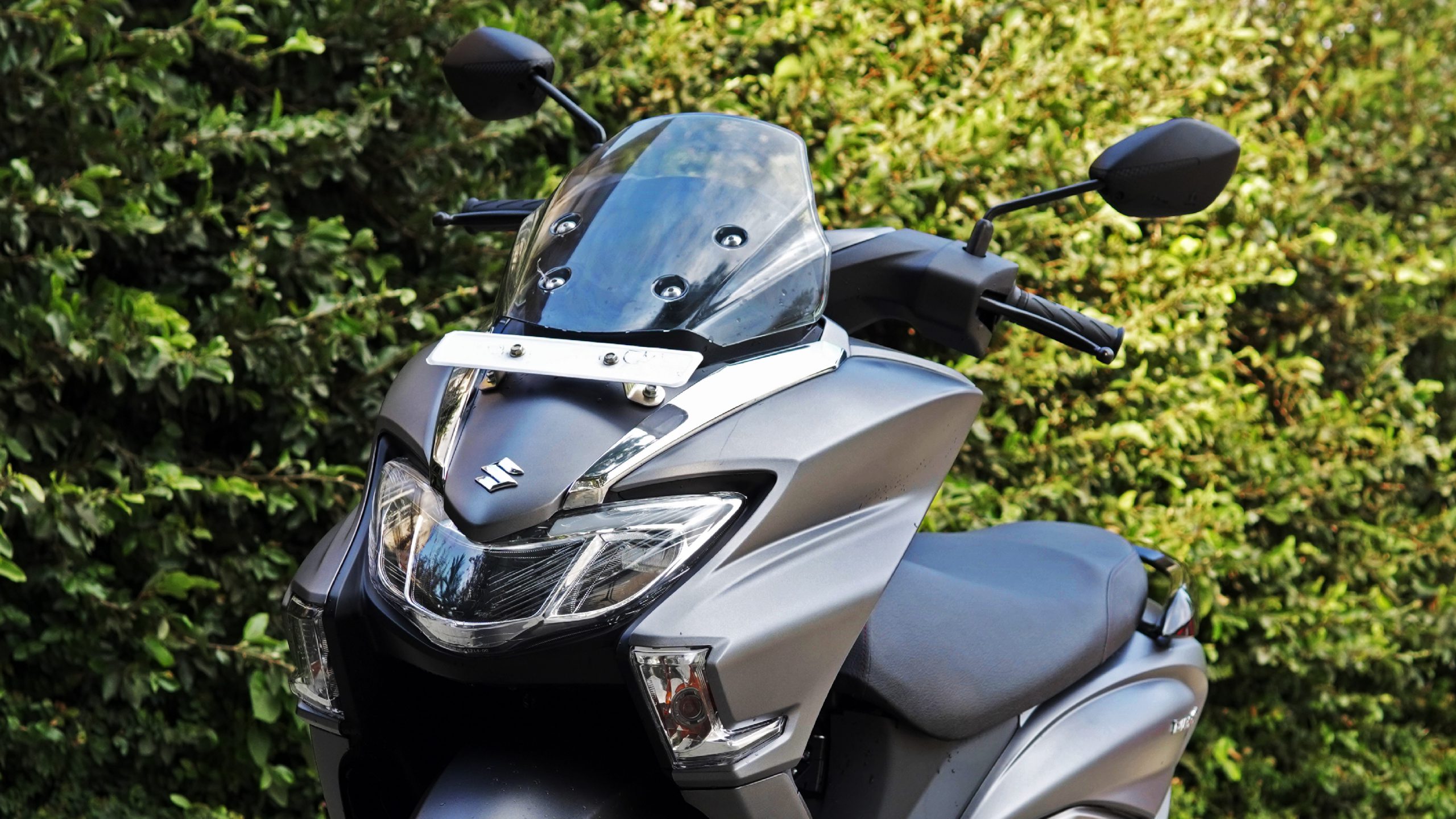 Talking about the LED headlamp, it provides enough visibility during dark conditions.
The fixed digital dashboard and protruding handlebar cement its maxi-scooter nature. Although, the handlebar felt smaller for a scooter of this caliber.
The side profile reconfirmed its beefy front, putting more focus on its elongated rear section.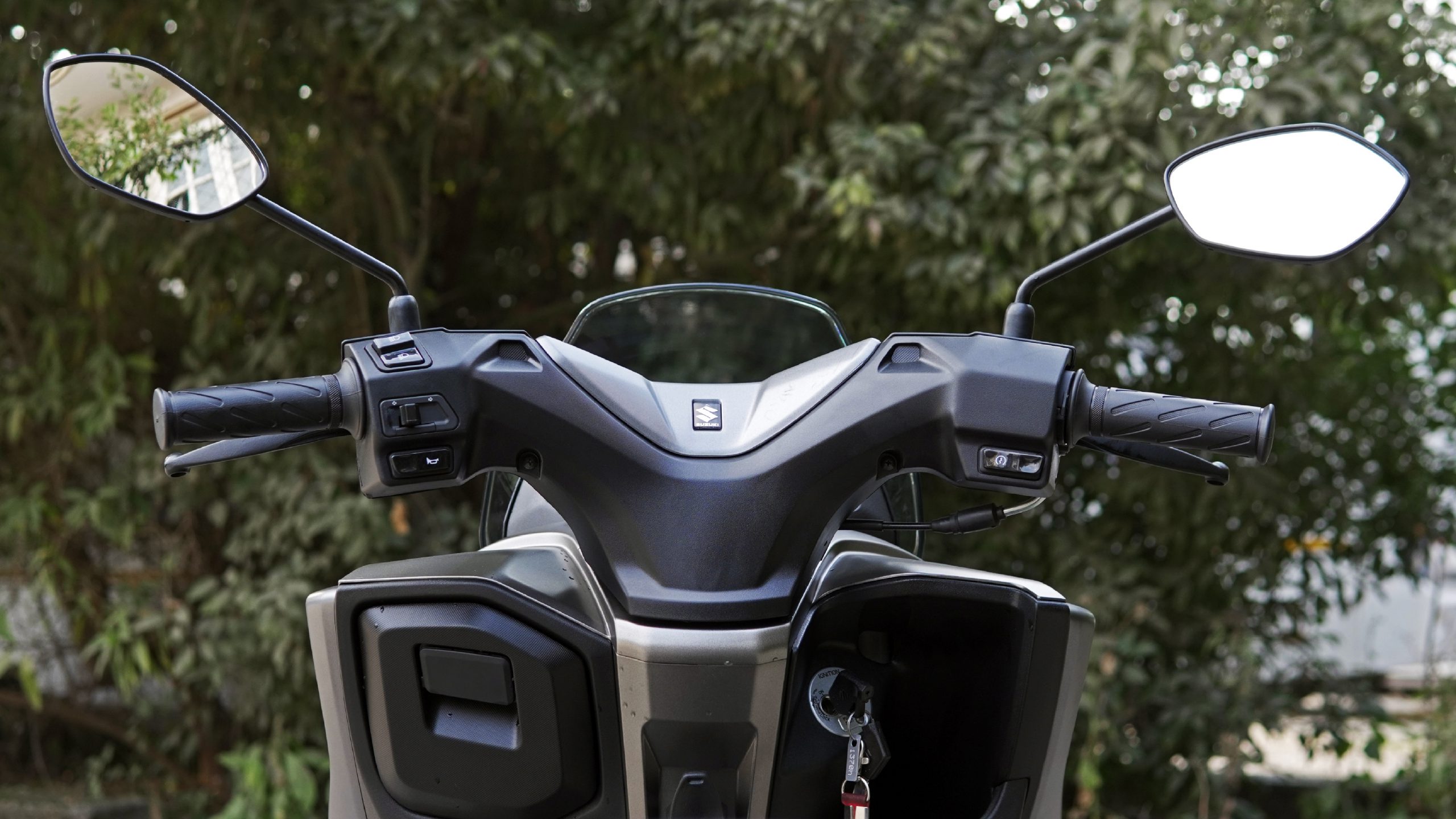 Interestingly, the longer tail section comes with a spacious footboard with enough space for slanted leg position for longer rides.
Suzuki Burgman Street 125 Design Highlights
Maxi-Scooter Inspired Design
Dual Paint Scheme
Large LED Headlamp with LED DRL
Body Integrated Bulbed Side Indicators
Fully Digital Instrument Console
Spacious Footboard with Slanted Leg Position
Longer and Wider Seat
Multi-LED Tail Lamp
Large Grab Rail
Sporty Muffler
Powerful Performance
Suzuki Burgman Street 125 is powered by a 124cc, air-cooled, carburetor engine with Suzuki Eco Performance (SEP). Moreover, it can generate a max power of 8.7PS at 7000rpm and max torque of 10.2Nm at 5000rpm.
Like I've said before, both Suzuki Burgman Street 125 and Suzuki Access 125 share the same engine. Both share the same BS4-compliant engine with the same performance feel with a negligible difference.
So, the performance comes with a punchy feel in both the mid and top end. However, the initial pickup is slightly delayed.
If you pull on the throttle, the pick up kicks in after a millisecond delay. Nevertheless, Burgman 125 continues to pack in impressive powertrain for the price.
Underrated Features
Regardless of what the competition might offer, Suzuki Burgman Street 125 is one of the most feature-loaded scooters in its segment.
Interestingly, it has enough features to a few of its competition to shame.
CBS Braking
Let's kick off the feature list with the braking.
Suzuki Burgman Street 125 features a front disc and rear drum combo. Interestingly, Suzuki has included Combi Braking System (CBS) as standard.
As per my experience, the braking does its job well.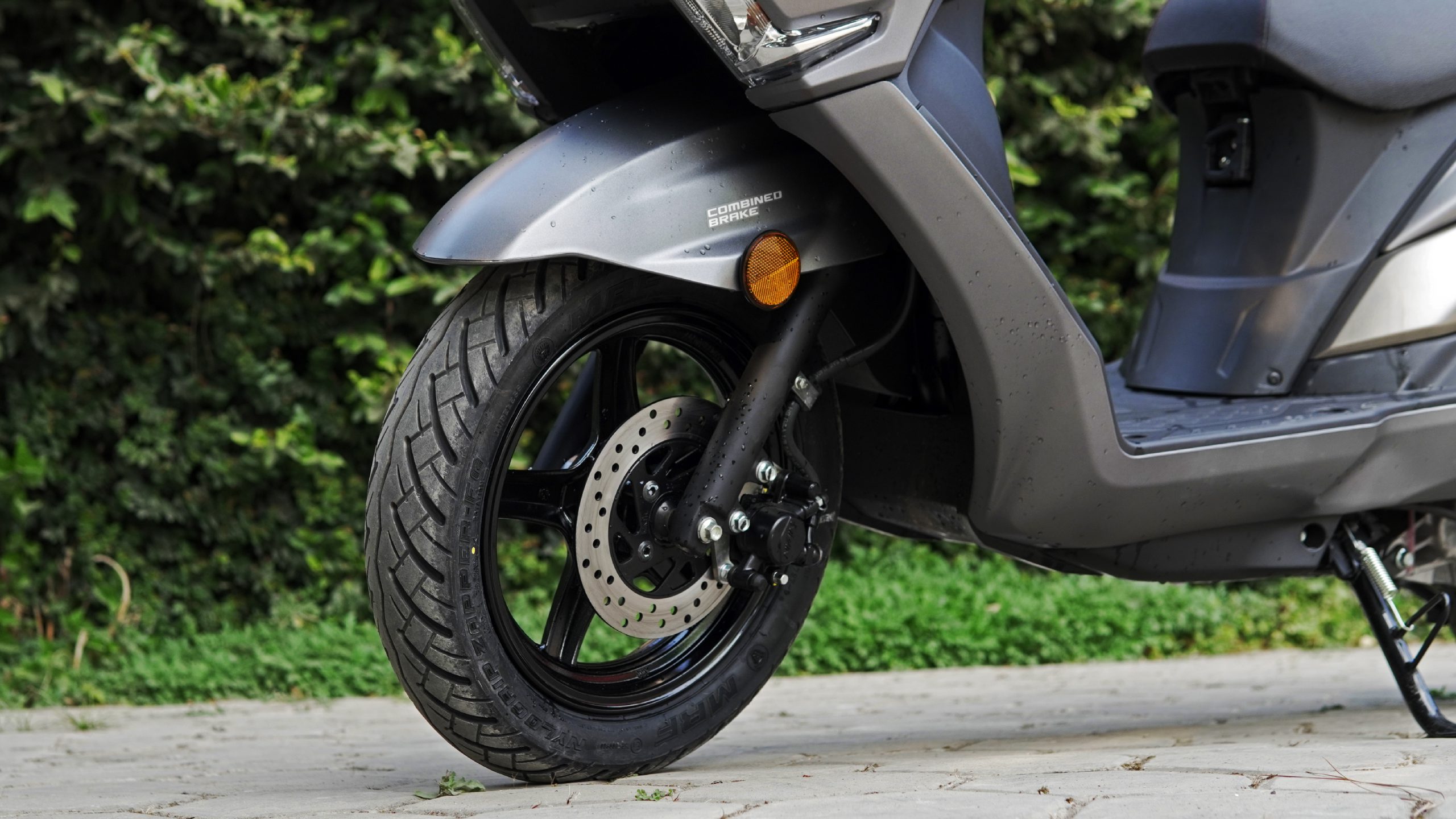 While the front disc is slightly more confident and inspiring than the rear one, both perform great together.
As far as braking performance is concerned, the experience is on par with Yamaha's Unified Braking System (UBS).
Suspension
Suzuki Burgman Street 125 comes with a standard suspension setup, with a front Telescopic and rear Mono Shock.
I thought the Burgman would possess a stiffer suspension feel since it is more so focused on touring.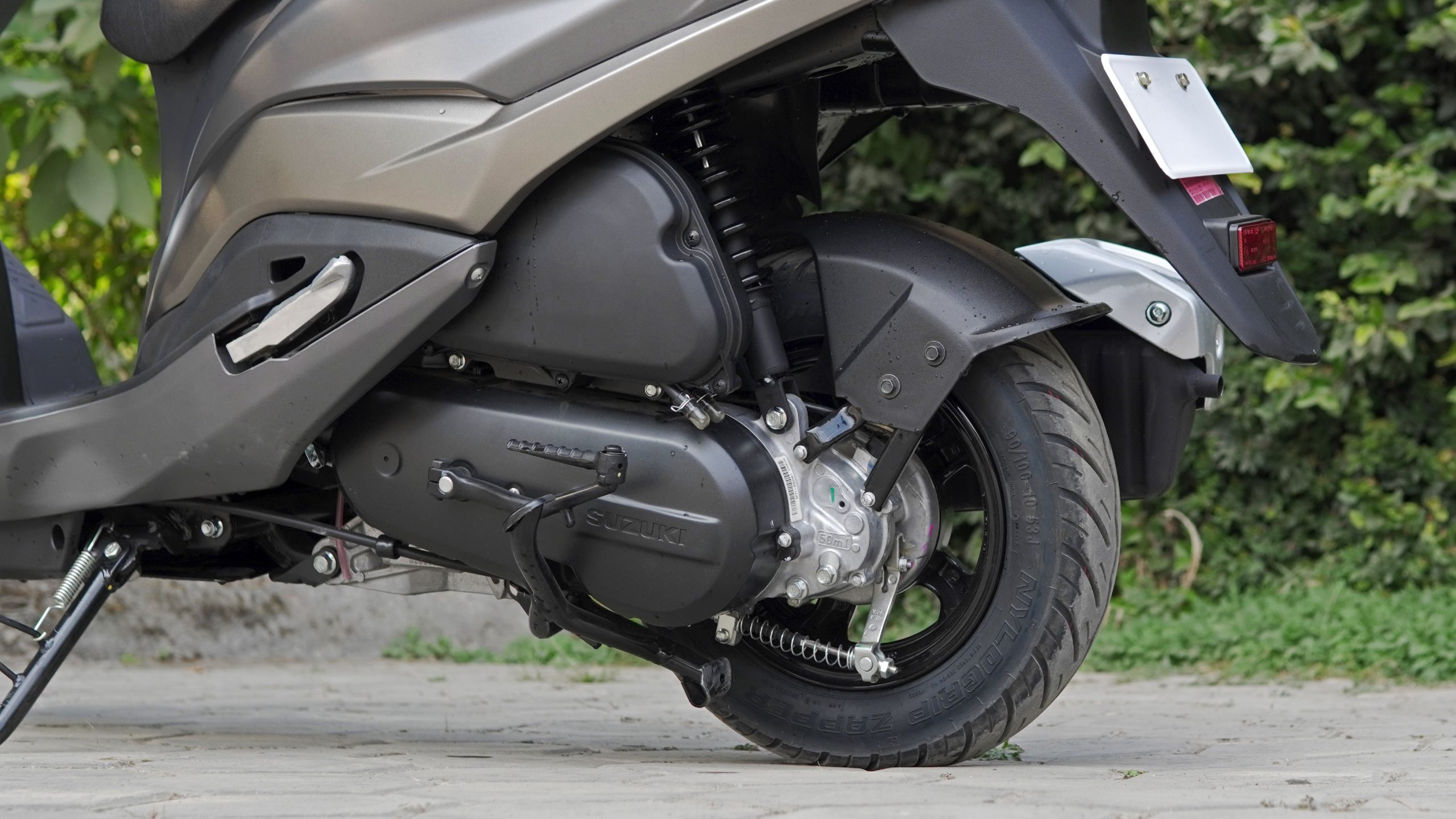 While I was correct with my initial assumption, I would put the experience right in between the hard and soft thanks to the comfortable seat.
So, the Burgman 125 can handle much of the bumps and potholes. However, there were a few instances where it couldn't.
Practical Storage
Suzuki Burgman Street 125 packs in a lot of storage space. Honestly, this is where this maxi-scooter shines the best.
You get two storage compartments on the front: a large glove box compartment (12V port) and decent sized cubby space.
Suzuki could have included a locking mechanism for the glove compartment, which would have made the front compartment more practical.
Moving under the seat, it sports impressive 21.5-liter storage. Unlike the other scooters in this segment, Suzuki Burgman can actually fit a Full Sized Helmet.
Fuel Tank
You can't talk about the under-seat storage without talking about the fuel tank capacity.
Unfortunately, the fuel filler is placed under the seat which does not look good for its touring appeal.
Suzuki Burgman Street 125 comes with a 5.6-liter fuel capacity, which boasts an average of 40-45Kmpl.
In comparison with the Access 125, Burgman will get lesser mileage due to its higher kerb weight at 108Kg.
Wider Seat
After the storage space, I love the Burgman seat the most!
These are wider and more comfortable seats for a long drive. Moreover, the riding position is upright where the rider's comfort remains constant even after hours into the ride.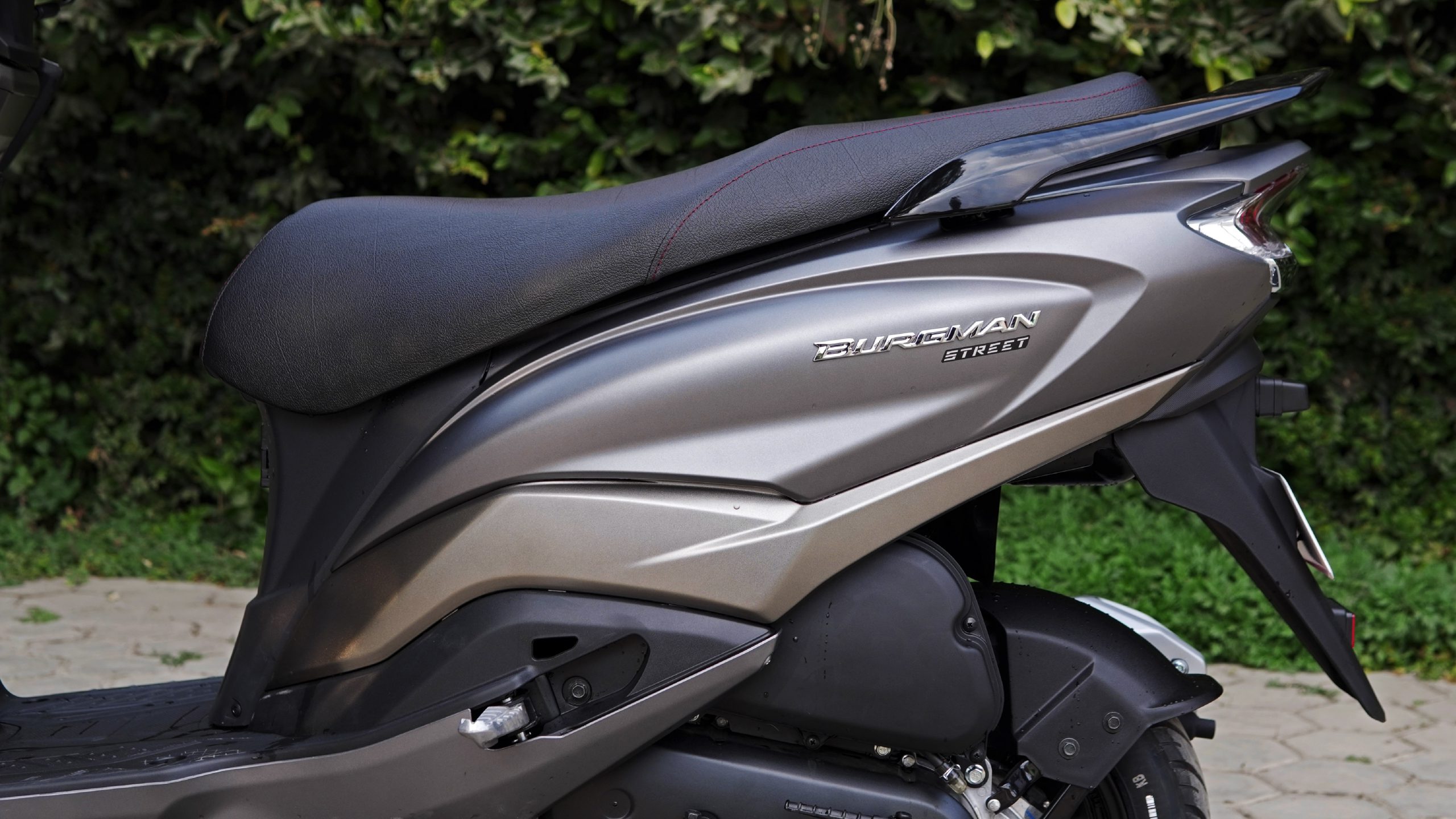 Additionally, the seat length ensures that both the rider and passenger get a quality experience.
Stylish Alloy Wheels
Burgman 125 features a 90/90 12-inch front tyre and 90/100 10-inch rear tyre. Both are tubeless, featuring stylish blacked-out alloy wheels.
I don't have any complaints regarding the front tyre. However, the rear 10-inch tyre is just too small! It ruins both the style and practicality of this maxi-scooter.
I would have appreciated at least a 12-inch wheel for the tyre to make things more uniform. Plus, I think that would have drastically improved its ability.
Other Features
On top of those interesting lists of features, the Suzuki Burgman also comes with Shutter Key with Central Seat Lock, Digital Instrument Console, Large Mirrors, among others.
Suzuki Burgman Street 125 Feature Highlights
Front Disc and Rear Drum
Combi Braking System (CBS)
21.5-liter Under Seat Storage
Glove Box with 12V Socket and Cubby Space
5.6-liter Fuel Tank
Wider and Comfortable Seat
Stylish Tubeless Alloy Wheels
Light Weight Body
Digital Instrument Console
Shutter Key with Central Seat Lock
My Experience
Real-World Performance
Suzuki Burgman is built on a promise of being a tourer, either it is on a highway or a cross-district ride.
Based on our tests, Burgman 125 lives up to that promise by offering a perky performance.
Like other Suzuki products, the performance is lively with good throttle response. Moreover, it excels both in mid-range and top-end performance.
I like the low-end feel too.
The scooter feels its best at 40-45Kmph speed. The vibrations are minimum, although not completely absent. Additionally, it isn't as refined as a FI engine, but it is close in that regard.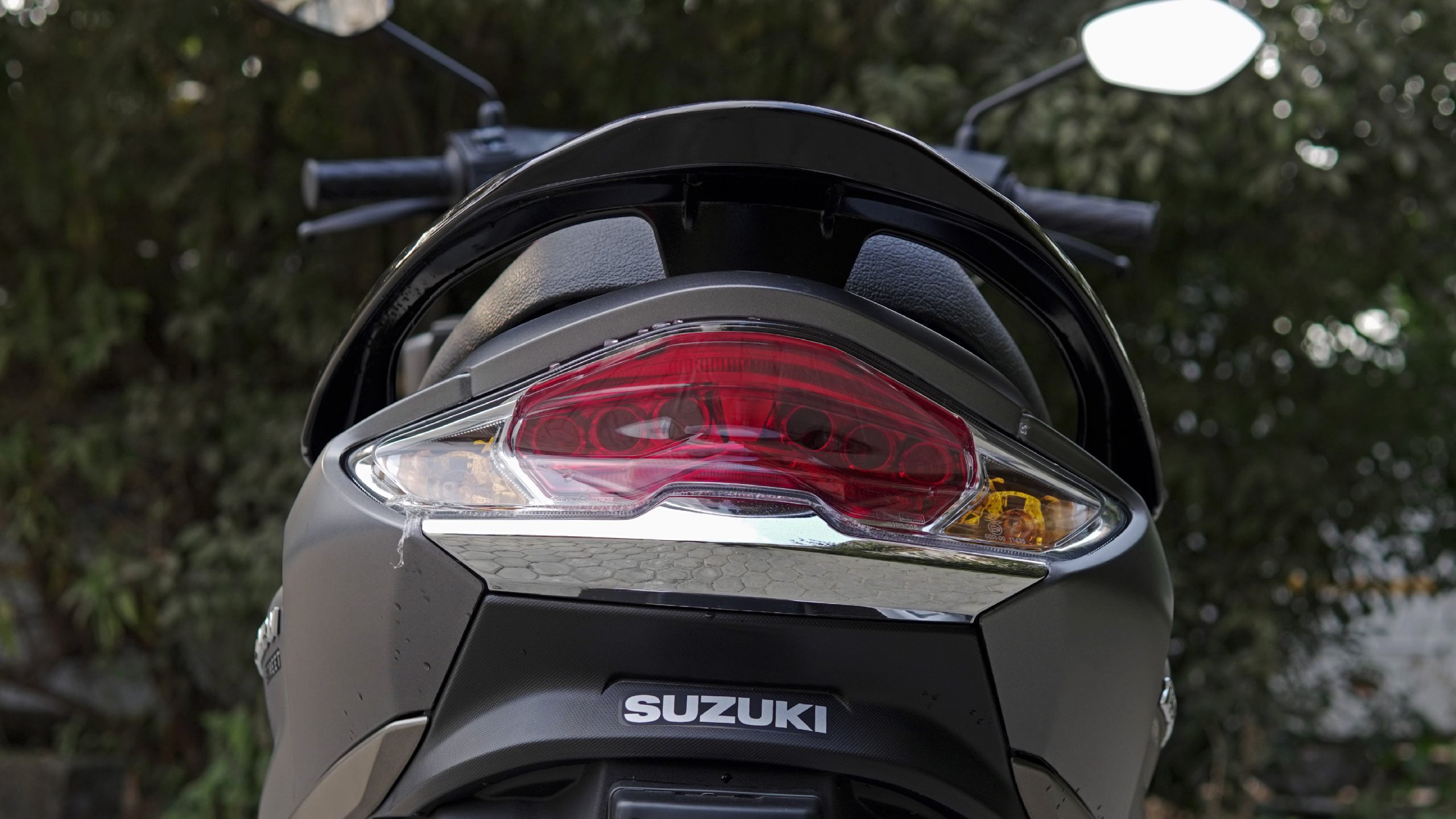 However, the delayed pickup feels like a shortcoming in an otherwise perfect scooter.
Overall, the new Suzuki Burgman Street 125 is punchy, responsive, and powerful. Nonetheless, there are places for improvement in the BS6 version.
Practical Scooter
After a week of testing, I came to a sudden realization about the practical reach of Burgman 125.
It has plenty of storage spaces, with enough boot space for a Full-Sized Helmet! Moreover, it does a great job with uncompromising comfort in longer rides.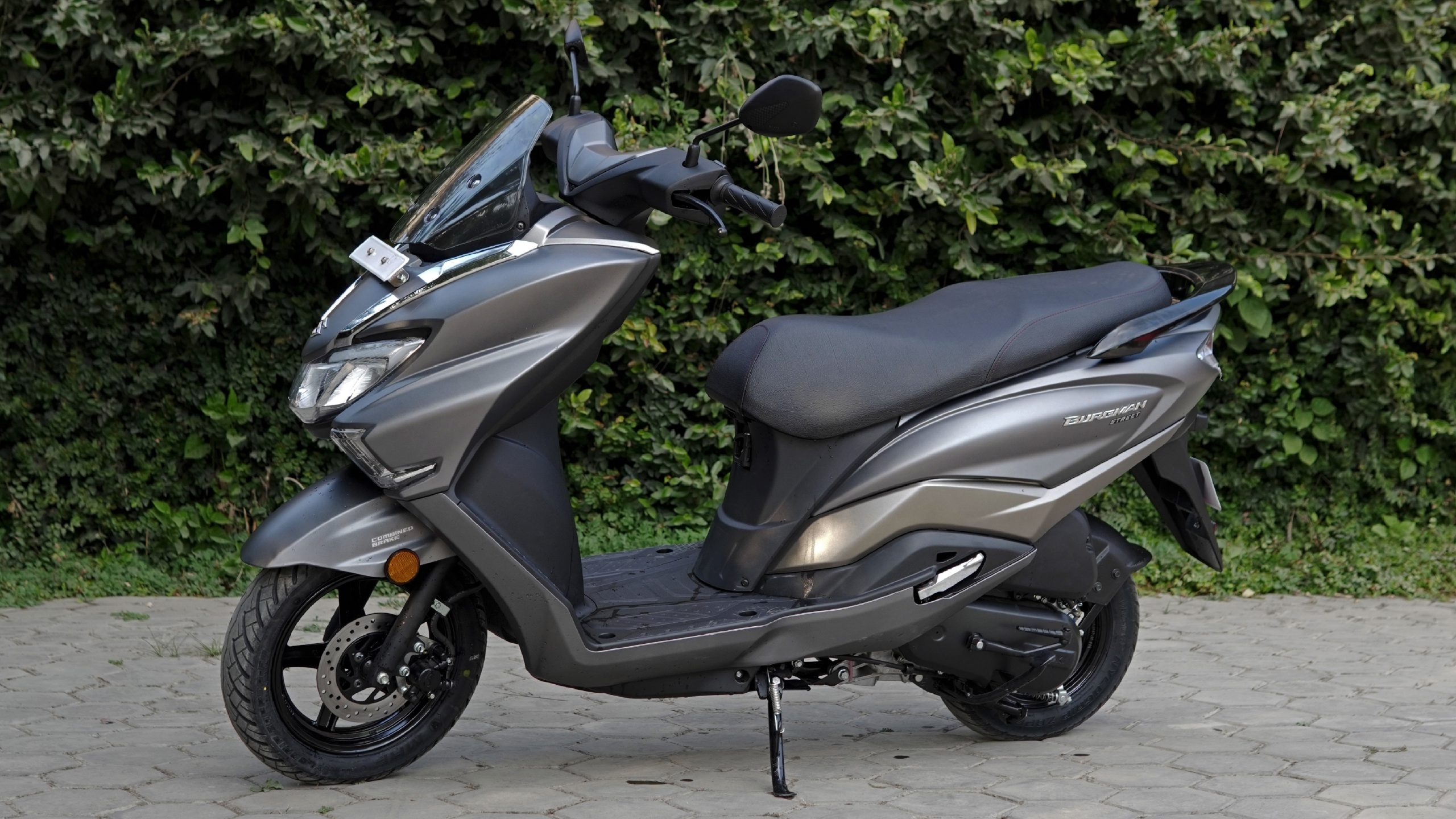 Despite its bulkier appearance, the scooter is easy to maneuver with excellent flexibility in heavy traffic or tight corners.
Interestingly, the protruding handlebar helps to keep the turn radius to a minimum.
All in all, I felt comfortable and relaxed while riding the Suzuki Burgman Street 125. Honestly, I think that is its biggest practical achievement yet.
Riding with Pillion
Wider Seat. Comfortable Riding Position. Plush Cushion.
These are all key ingredients for a comfortable riding experience. Unsurprisingly, the Burgman 125 successfully achieves almost all of it.
With that, pillion comfort is also much improved where riding with a pillion is a pretty fun experience.
I think the length of the scooter also helps in this regard.
Battle with the Competition
In our other articles, you will notice that we typically battle out the specs with other similar scooters.
However, Suzuki Burgman isn't like your typical scooter. It is supposed to be a maxi-scooter, bring out the same level of performance and features expected from a touring two-wheeler.
So, it wouldn't be fair to compare it with the likes of Yamaha Ray ZR 125 FI or TVS NTorq 125.
We'll leave that comparison for the Suzuki Access 125.
I would compare it with the Yamaha NMax 155, but that is also in a class of its own. Regardless, the Suzuki Burgman Street does come with a resembling experience as the NMax.
Space for Improvements
While the overall review is mostly praising the underrated character of the Suzuki Burgman, there are few spots for improvements.
Firstly, I wish Suzuki could've included bigger and wider 12-inch rear tyres which would have improved the stability and confidence in higher speeds.
Secondly, the digital instrument console could have featured more information.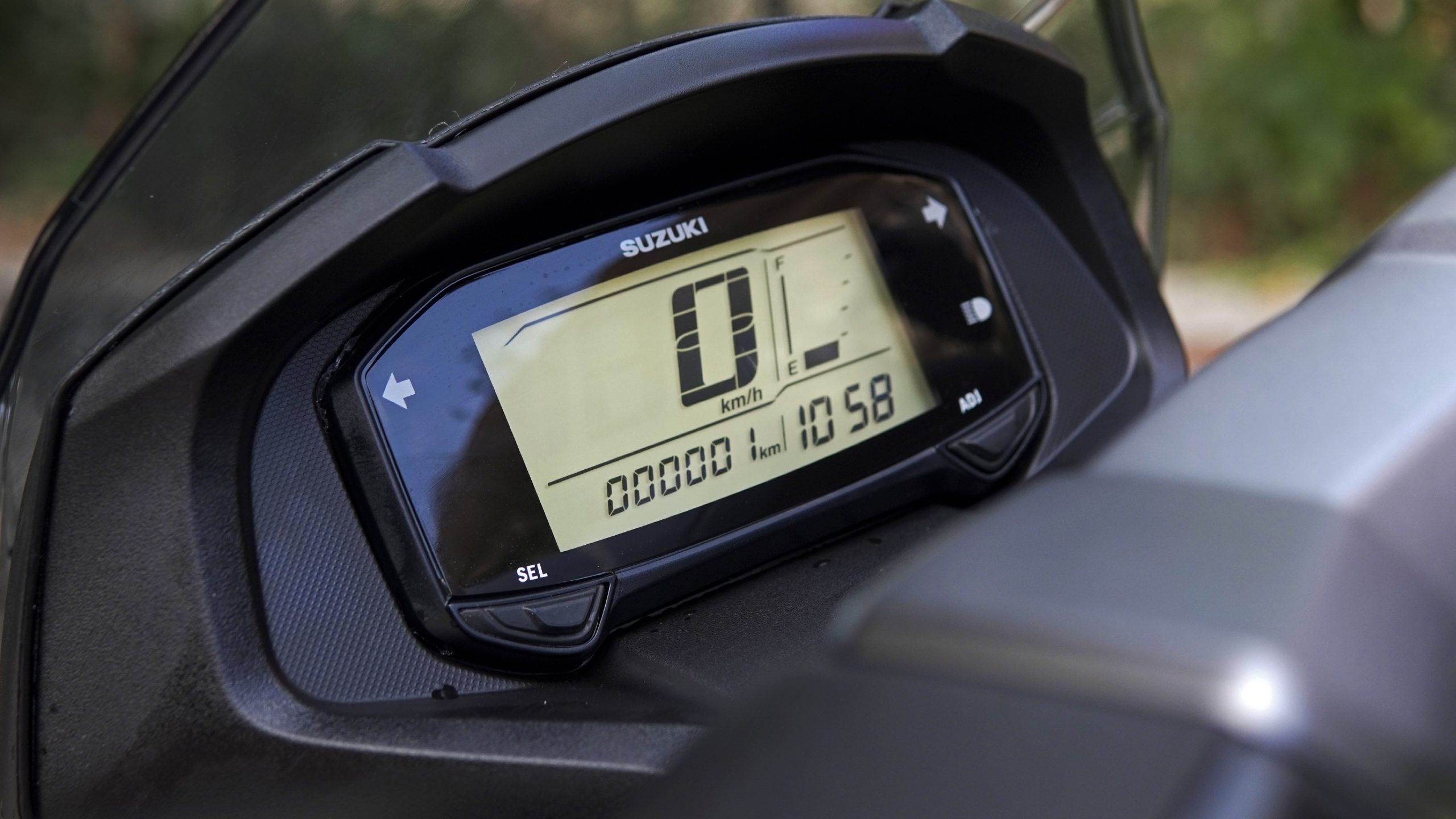 Finally, this scooter would more practical with an engine kill switch.
Nevertheless, these "spots for improvements" have been addressed in the Suzuki Burgman BS6 version.
Conclusion
Suzuki Burgman Street offers a punchy performance while trying to offer more features for the price.
If it weren't for the high competition in the 125cc segment, Suzuki Burgman Street 125 could have held the number one spot in our list for "Best 125cc Scooters in Nepal".
I love almost every aspect of this scooter.
If I had to recommend Burgman to someone, I would recommend it if you are a tall rider looking for a comfortable scooter. Or, you are someone who constantly travels long distances (maybe between the districts). Or, you want a different scooter over a traditional one.
If you are one of those individuals, then Suzuki Burgman Street 125 is the scooter for you.