The devil is coming faster than I expected. Just two days ago, I was drumming away on my keyboard about the supposed return of the Poco F1 and how Xiaomi's esoteric sales strategy made me go berserk. Today, we got a reliable intel that the Poco F1 will be restocked at 12:00 pm on Daraz tomorrow. I can see many of you smirking in front of your screens. After all, Pocophone is arguably still the best phone that you can buy at the price.
The price is still unknown. You'll have to wait for Poco F1 to go live on Daraz tomorrow to get more details.
Poco F1 supreme performance
The performance that Pocophonee delivers at this price point is unparalleled even nearly a year after its release. Snapdragon 845 is still a powerhouse, second only to the new Snapdragon 855 processor. 6GB RAM is still more than sufficient, and 64GB internal storage is the gold standard that most people are fine with.
If you are worried about the cameras on this phone, you should see MKBHD's blind camera comparison test. And if that video doesn't get your hopes up, you can always download Google Camera apk. From what I know, this camera uses the same 12MP Sony sensor found on the Pixel phones, so the Google Camera software and processing should drastically improve the quality of your photos.
Should You Buy It?
The only reason that should give you a pause to buy this phone is the build quality and design. The build quality is not terrible, but the back plastic cheapens the phone's feel on the hand. But before you decide that you won't buy a plastic phone, just think for a second how many seconds you have used your phone without a case. After you slap a case, it doesn't matter whether your phone was made of gold or silk, it will be the case that you will feel. So, IMO, the build quality shouldn't be that big of an issue for you.
Pocophone vs. Samsung Galaxy A50
One thing that you should know though is that the game has changed a little in 2019. Samsung came smashing with its midrange and budget smartphones this year with super-competitive prices and specs. And I have used and wrote about many of those phones (I am kinda angry because there are so many phones and I have to write about every single one of them). While I would point anyone towards Pocophone had they asked me which phone they should buy for 35K in 2018, the field has become a little crowded this year. Right now, I am talking about the Samsung Galaxy A50.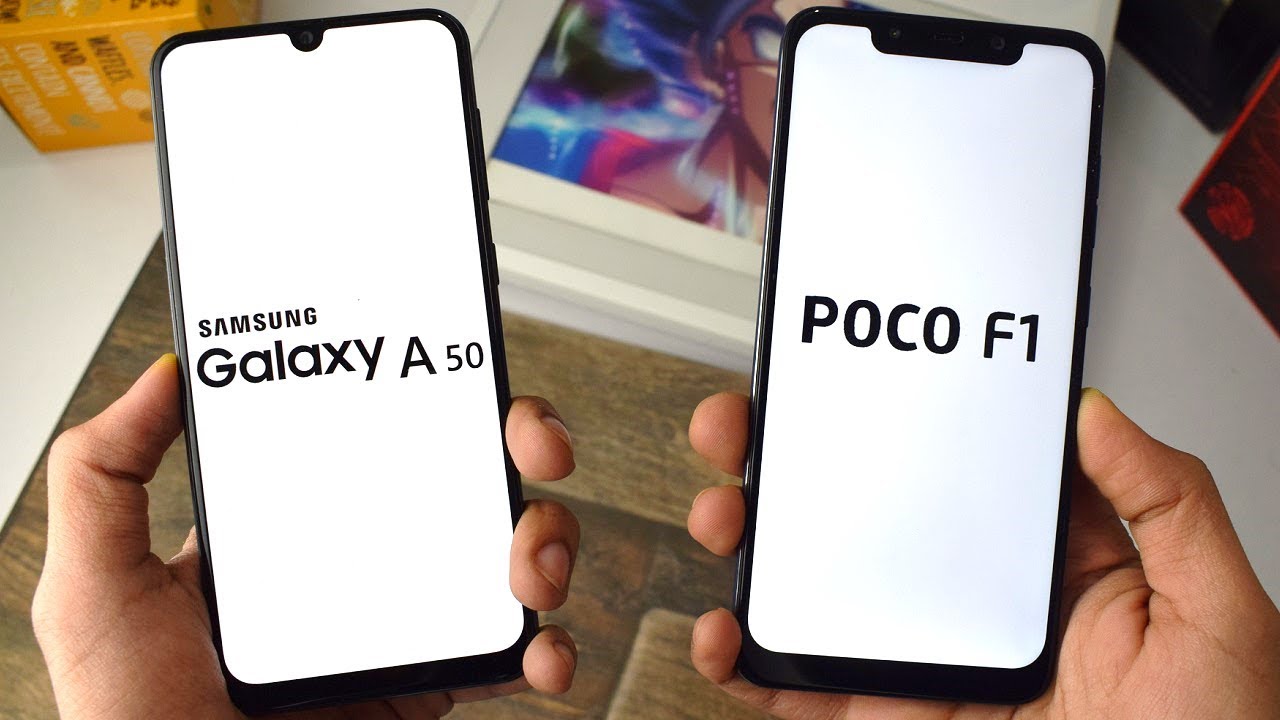 If you are a gamer and need the absolute best performance, you should definitely buy the Pocophone. But if you are not a gamer and someone who wants an overall pleasing experience rather than full hammering on performance, you should look at the Samsung Galaxy A50 too. For starters, this phone has a competent triple lens camera and an in-display fingerprint sensor.
These are cool things to show off. Even better is the screen of this phone. It is an FHD+ AMOLED panel that is the best screen in the price without a doubt. Once you see an AMOLED panel and an LCD panel side by side, you can't unsee the difference. The phone feels a little better on the hand. OneUI, Samsung's skin on top of Android, is a joy to use now. And the best part is that Samsung Galaxy A50 is IP 68 water and dust resistant. This is a feature that I haven't seen in phones twice the price of the Galaxy A50.
Conclusion
In conclusion, Poco F1 still gives you the best bang for your buck without a doubt but there are other phones that should be on your Radar too.
Honor has some options that you can consider.
Oh, and if you want to buy the Poco F1, you'd be happy to know that the price will be dropped slightly. You may get the phone at around 33K.