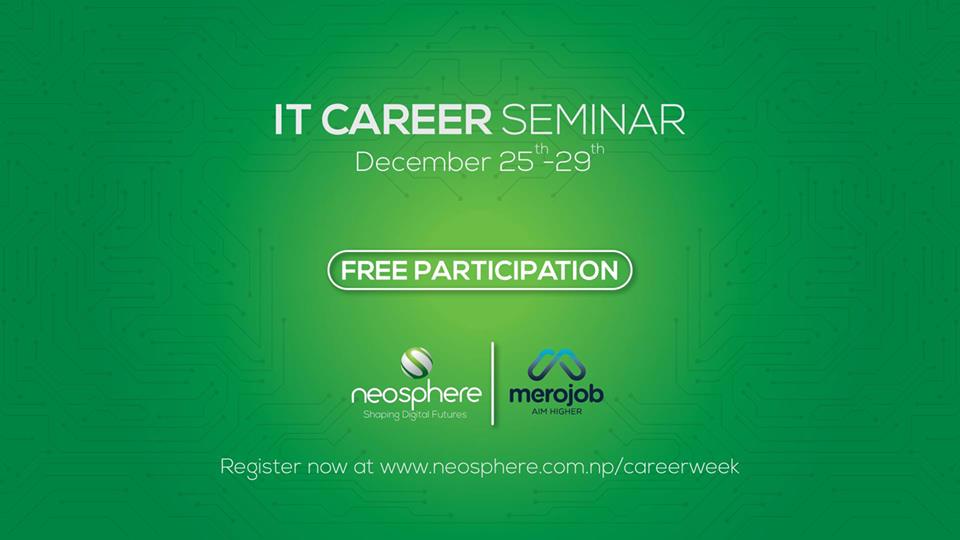 Neosphere, a high-end IT institute in Nepal is hosting an IT Career Seminar from 25th December 2017. It was recently opened with an aim to harness multi-dimensional facets of IT at all levels. Neosphere plans to train and develop professional expertise and skilled manpower in the field of Information Technology in Nepal.
The IT Career Seminar starts from 25th December and will last for 5 days, i.e. 29th December. During the seminar, experts from different fields will share their experiences and also deliver lectures on a wide variety of IT courses.  The seminar has been designed in such a way that, attendees can get knowledge of various aspects of IT industry. Each day of the week is programmed to answer all the question related to a specific career in IT.
Participants can register for the seminar as per their interest. A participant can register for multiple session if desired. There will be a session on each day of the seminar and each session will run for two hours.
The detailed schedule of the seminar are as follows:
Dec 25 (10:30 AM) – Career in Software Development
Dec 26 (10:30 AM) – Career in Computer Graphics and Animation
Dec 27 (10:30 AM )  – Career as a Network Specialist
Dec 28 (03:00 PM) – Changing Landscape of Software project management
Dec 29 (03:00 PM) – E-Commerce and Entrepreneurship
Seminar Schedule

How to Register?
In order to register for this event, first, click on this link. Now you will be on the event page where you can find the "Register" button for all the above-mention sessions. Click on the Register button, and fill up the form. Voila! Now you can attend the seminar.
The registration for this event is completely FREE. However, seats are limited, and if you interested to attend the event, then hurry-hurry, up-up. Additionally, Neosphere is also providing some free giveaways to participants for early bird registrations.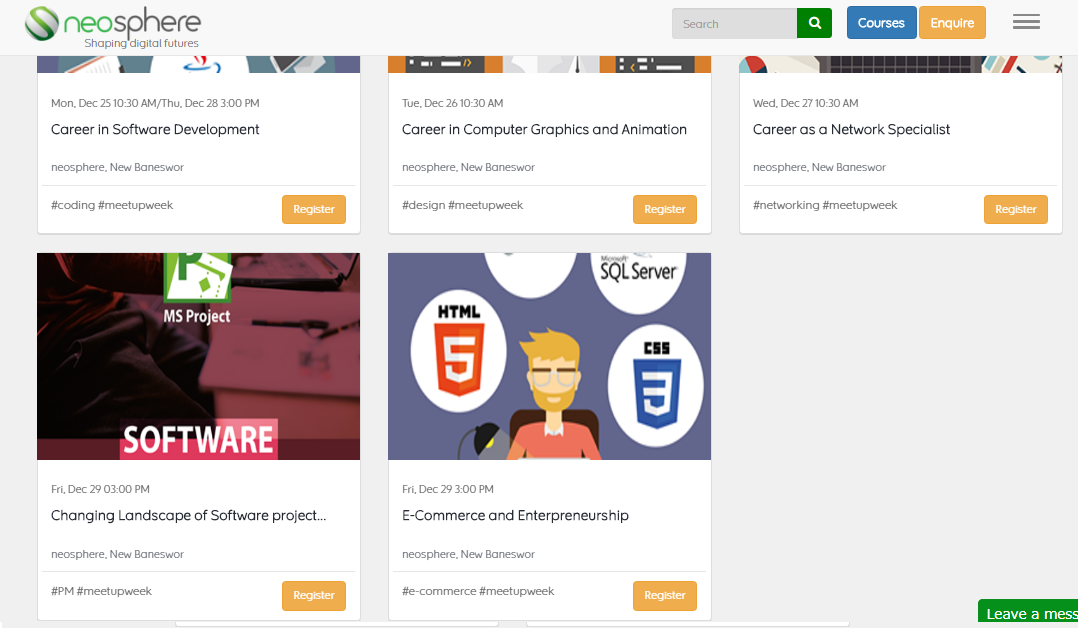 Note that, it is not necessary to attend all the sessions. You can pick the ones of interest, and participate.
Event Details
I.T. Career Seminar
When: December 25 – December 29
Where: Neosphere, New Baneshowr, Kathmandu
Registration: FREE