Mobile phones have become an integral part of our lifestyle. There's a need to stay connected and informed. For this, we need to choose between various carriers available in Nepal.
One of the more popular carriers of Nepal is Ncell. They boast one of the best data speeds and network coverage in Nepal. And, they offer lots of varieties and options when it comes to SIM cards.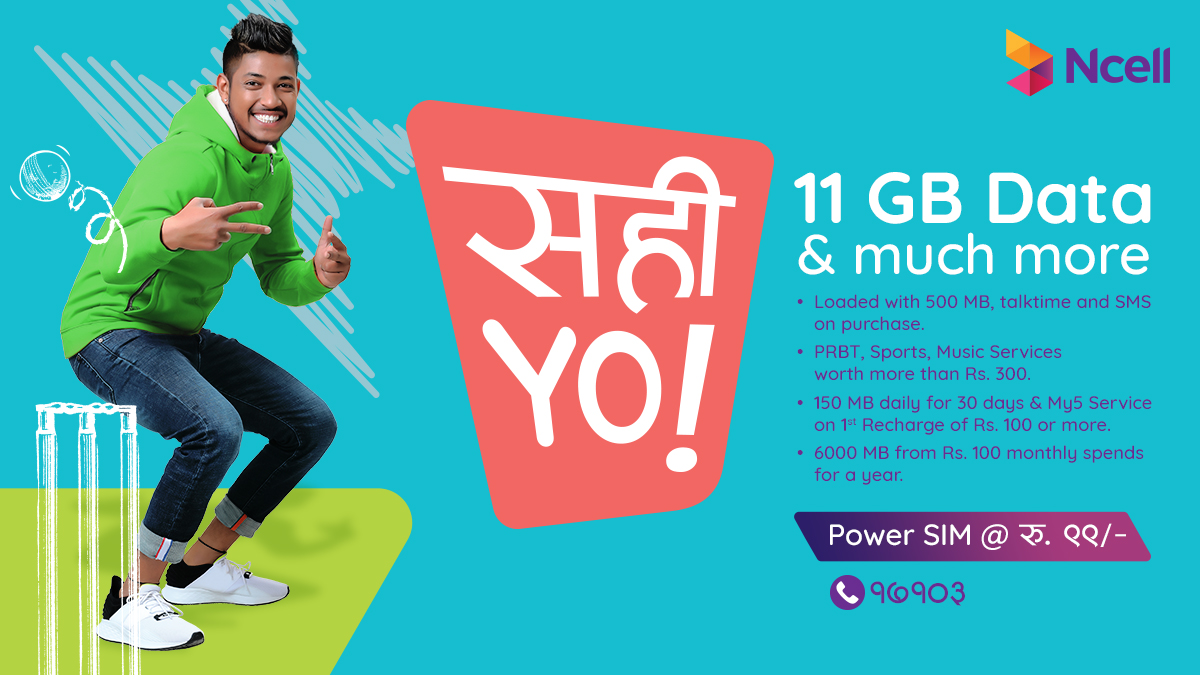 Recently they came up with "Sahi Yo! Power SIM" loaded with lots of features and offers. You can already guess by its name, it's meant for power users who need multiple features at low cost.
I got on for myself to see what the SIM really has to offer and here's my experience of the Power SIM having used it for a week.
Ncell Power SIM
Ncell Power Sim is an all-in-one sim loaded with data packs, exclusive music packs, and gaming packs, along with a host of free services.
If you want most of what Ncell has to offer then this is definitely the SIM you're looking for. So, let's see how you can grab one for yourself.
How to Get Ncell Power SIM
It's really easy to get yourself one of these SIM cards. First, you need the following things:
Original Citizenship Card for verification
1x Passport-sized photo
Student ID card
Rs. 100
With all of this in place, you can head to the nearest Ncell center or any authorized Ncell resellers. But, I advise you to go to the Ncell center because they have a very good precaution measure in place for the COVID. I felt very reassured inside the Ncell center when I was processing for the SIM card.
Ncell mentions that student ID cards ar required to purchase this SIM card but they might have relaxed this rule due to the pandemic. I was able to get the SIM card even without the student ID. I didn't even need to fill the form, it was filled up by the representative digitally.
Yes! Normally we need to fill the form but I guess Ncell is making it easier due to COVID. This hugely drops the time required to acquire the SIM as I was done in about 10 mins. And, of course, you need to pay Rs. 100 before you get the SIM card.
Then there's another option too. You can register for the Ncell SIM online. You need to fill the form online and then submit it. Afterward, you'll receive a code that you'll have to submit to a Ncell Center and get the SIM card in turn.
Ncell Power SIM Benefits
Pre-loaded features
With the Ncell Power SIM, you get plenty of pre-loaded benefits. The firsts of which are available immediately with the purchase of a SIM card and are as follows:
Main balance of Rs. 20
500 MB Data (250 MB 4G + 250 MB GPRS)
100 SMS within Ncell network
10 Mins talk-time within Ncell network
PRBT, Sportsie, Sports Video Portal, Daami Music, and Hungama Music Pro worth Rs. 300
The 500 MB data 10min talk time is valid for 7 days. So. you have to use it up within 7 days of SIM activation. Likewise, PRBT, Sportsie, Daami Music, and Hungama Music Pro are valid for 30 days.
First up I tested how the free PRBT service works. So, the PRBT service is free for 30 days but you will have to pay for a PRBT tone other than the default PRBT tone. I was charged Rs. 12.77 when I selected the most popular PRBT and apparently the most popular Bollywood tune is "Ye Kaisa Nasha Hai".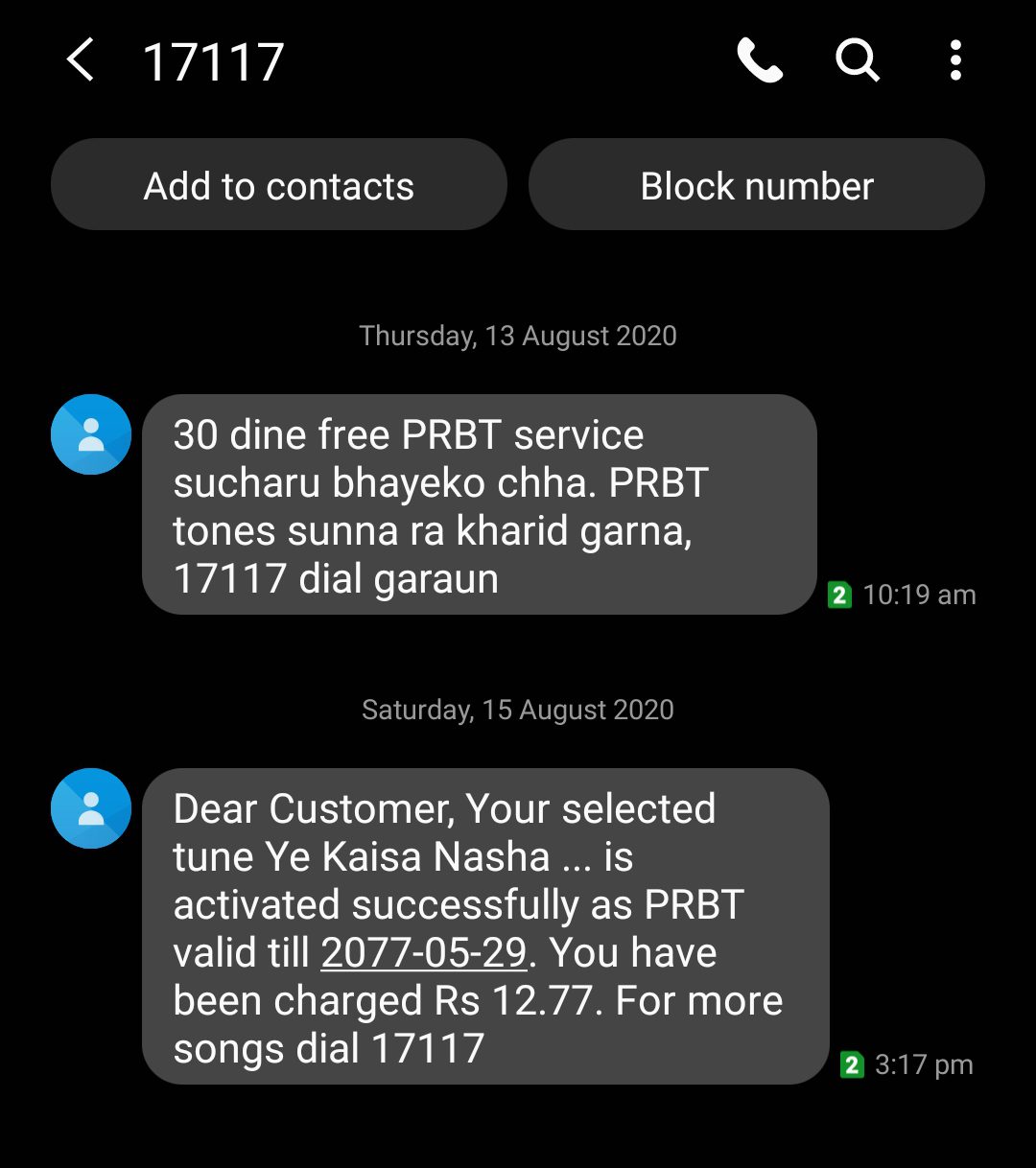 Then, I got the confirmation for 30 Days free Sportsie portal service and Hungama Music Pro. You can easily download the Hungama Music app from the link provided by Ncell.
Then, you need to register to the app via your phone number to enjoy 30 days of Hungama Music Pro. With the Pro account, you can download songs and store them locally for offline access.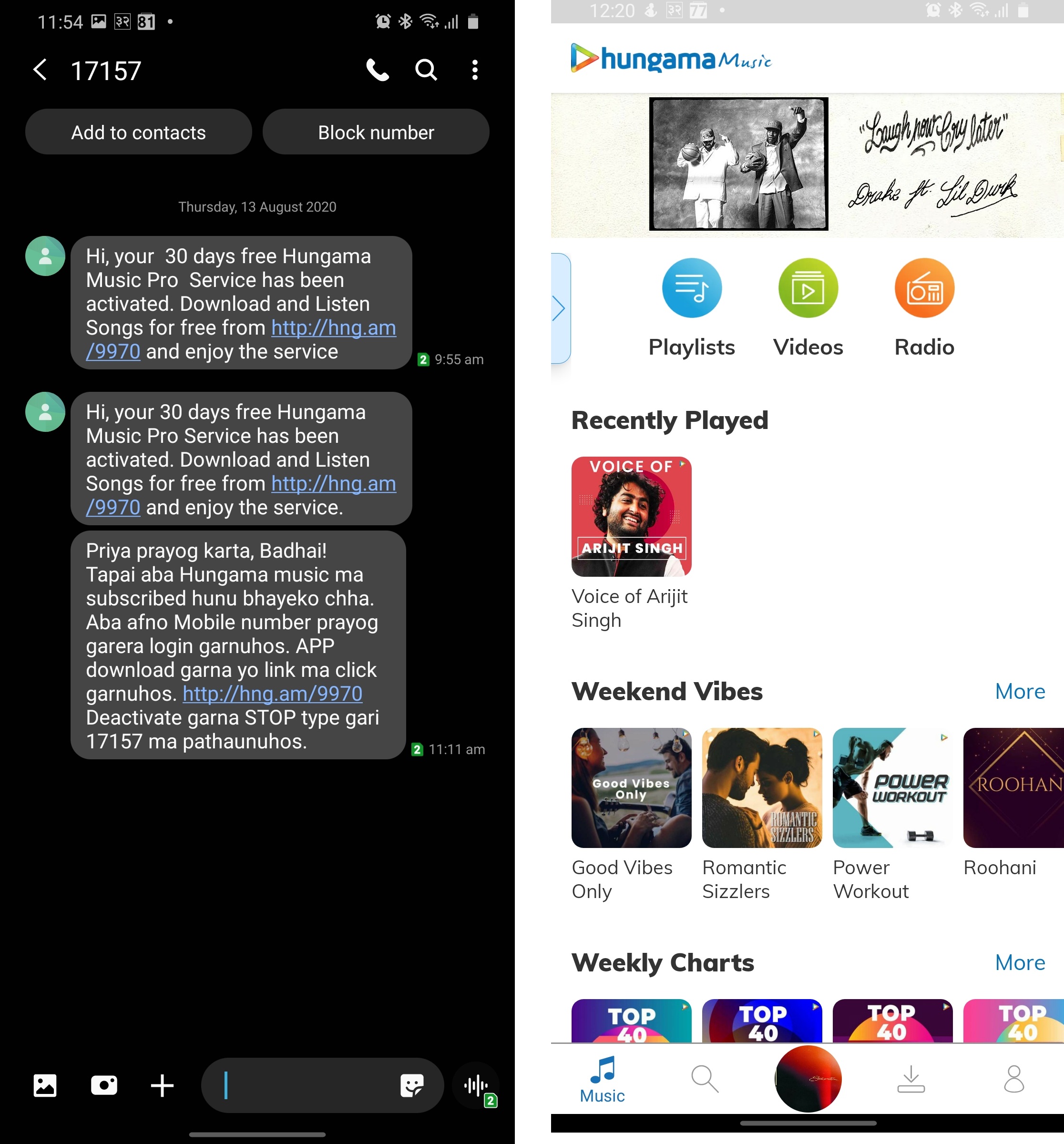 Then, I stumbled upon a little problem with Sportsie as I was getting an error when I tried to access the portal via the link provided by Ncell in the confirmation message.
So, I did some digging and was finally able to access via this link: https://sportsie.com/ncell. Sportsie is a news portal for sports fanatics where you can stay up to date with all the sports news.
As for the Sports Video portal I hopped on to it, but I was still getting asked to subscribe to a plan. I went ahead with the subscription thinking it would recognize my SIM and activate the service but I was still asked to confirm OTP for the payment. So, I didn't go through with it.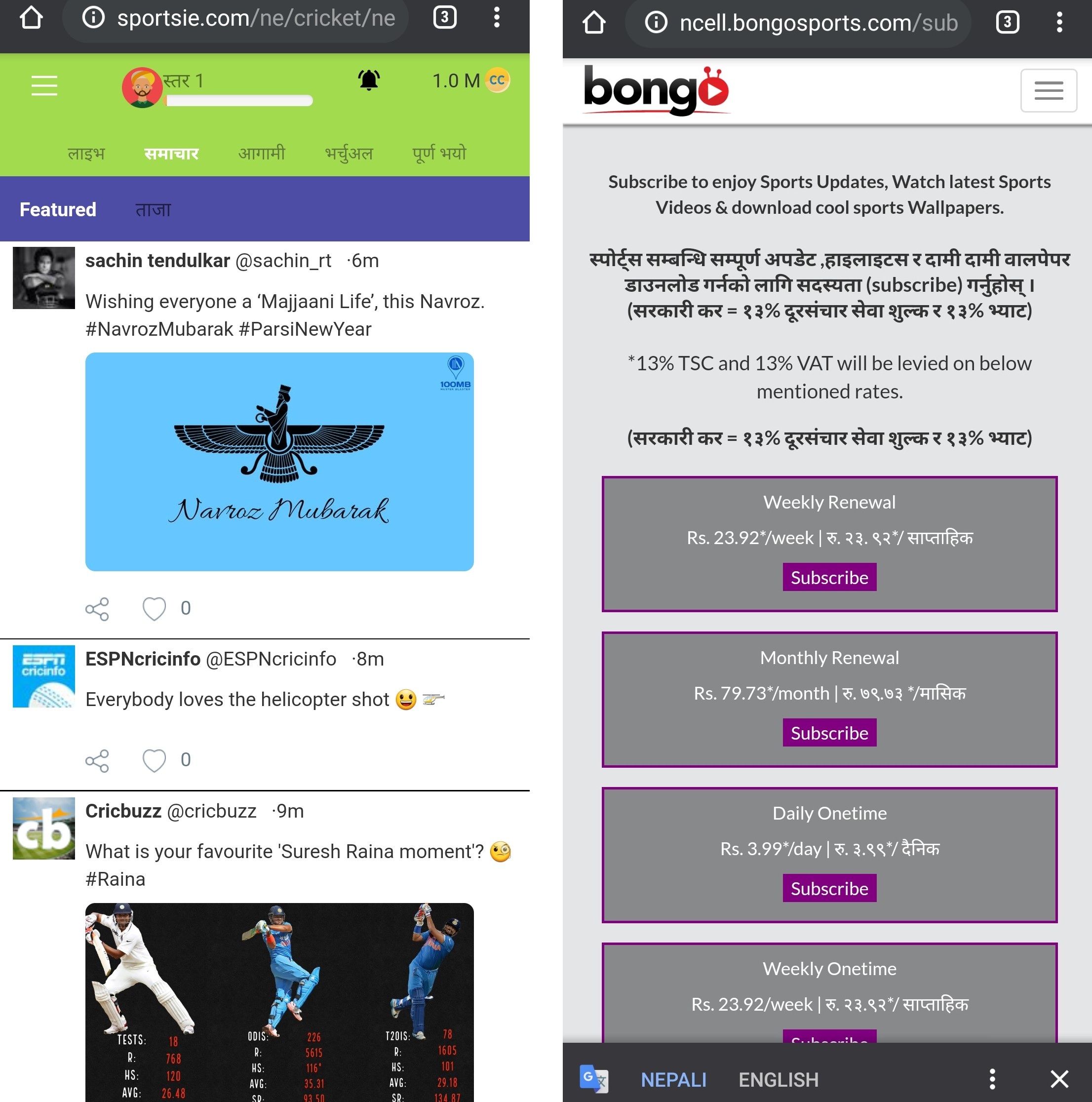 Do remember that, you can only access Sportsie service via data network and not via Wifi.
However, I did not get a similar confirmation for the Daami Music. So, I downloaded the app from the Play Store but there was no option to register for the app via the Ncell number.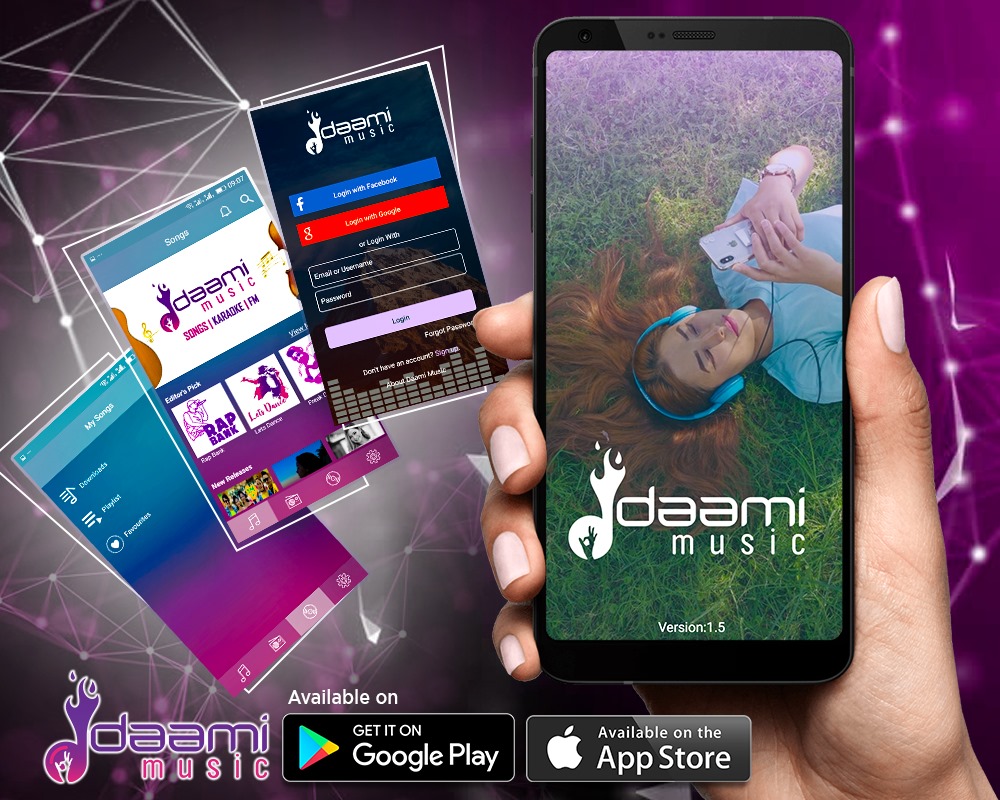 I still went ahead with my email id in the hopes that I could somehow redeem the 30-day free Daami music but didn't find any option to do so.
Same Day Recharge Bonus
To get the next set of bonuses you need to recharge the SIM with at least Rs. 100 on the same day. I topped up Rs. 100 which actually recharges balance by Rs. 98.14 but it still activates the next set of bonuses which are as below.
Sahi_Yo_150MB (150MB daily data for 30 days)
My5 service for 12 months
SEE_My5_30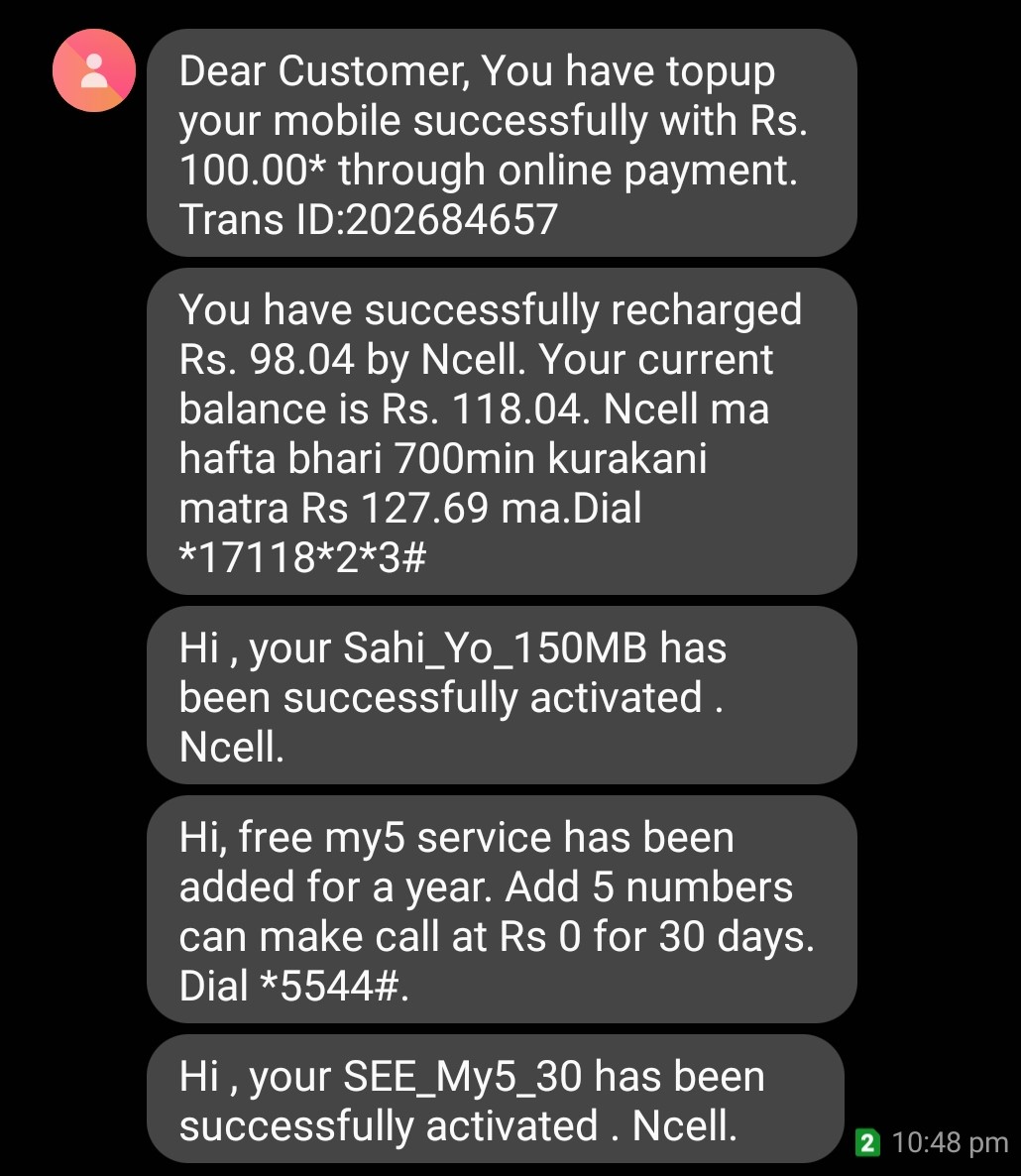 As mentioned above, you get 150 MB daily data for 30 days which totals 4500 MB data. Then, this also enables Ncell My5 service for a year which normally costs Rs. 20/month.
Furthermore, you can add 5 numbers to Ncell My5 and enjoy free calls to those numbers for 30 days. After the 30 day period, it will cost Rs. 0.99/min which is the normal rate under My5 service.
Get Data on Using Main Balance
Next, with the Ncell Power SIM, users are entitled to get a bonus data of 500 MB (250 MB all time + 250 MB 4G) on every spending of Rs. 100 for 12 months. So, you're basically earning while spending.
This is similar to Smart Cell's bonus data on recharge. While Ncell has a fixed 500 MB data bonus on the spending of Rs. 100, Smart Cell's bonus data grows exponentially with the recharged amount.
To see how much you've spent during the month, you can dial *17136#.
Exclusive Gaming and Music Pack
Then the Ncell Power SIM users get exclusive access to the Gaming pack and Music pack. You can simply dial *17103# to buy Gaming Pack and Music Pack.
Gaming Pack costs Rs. 110 (excluding taxes) and it will provide 2GB data valid for 7 days and free 7 days subscription of digital services like Playlive, Gamespark, and Games Plus.
Similarly, Music Pack costs Rs. 105 (excluding taxes). In this pack, customers will receive 2GB data valid for 7 days and a free 7 days subscription of Hungama Music Pro and Daami Music.
Final Thoughts on Ncell Power SIM
Ncell Power SIM provides lots of bonuses and features for an affordable price. Especially if you top-up Rs. 100 within the first day, you can enjoy up to 11GB Data and free calls for 30 days within Ncell My5. Then, there are extra data and talk time benefits.
Furthermore, it's great for people who are constantly gaming or streaming music. And, it's even better for people who are constantly using social media. Except for bonuses, Ncell boasts the fastest 4G speed and good network coverage.
So, it is definitely one of the best starter SIM cards out there.