MSI GL63 8SE is a brand new laptop from MSI with RTX graphics cards. MSI launched this laptop at CES 2019 alongside GE and GS series. There are very few RTX laptops in Nepal as of now. In fact, all of those are from MSI. The GL63 8SE is the cheapest of the bunch and costs Rs. 2,12,000.
Build & Design
The Laptop uses a similar chassis to the MSI GL63 8RC. And it's a well-built laptop, the keyboard deck uses plastic, the bottom is also plastic and everything else is plastic, the only thing aluminum is the top lid. It feels solid and durable. There's no real flex in the chassis or the keyboard deck. There's some flex on the screen but its not significant.
Overall it feels really solid, but when you look at it it is not that appealing, mostly because of its matte finish and the washed out color. It looks slightly dirty even when it's new, so yeah when you look at it it's not the best but it is pretty solid though. And also the way they've built this laptop, it is certainly not light and thin, it is just robust.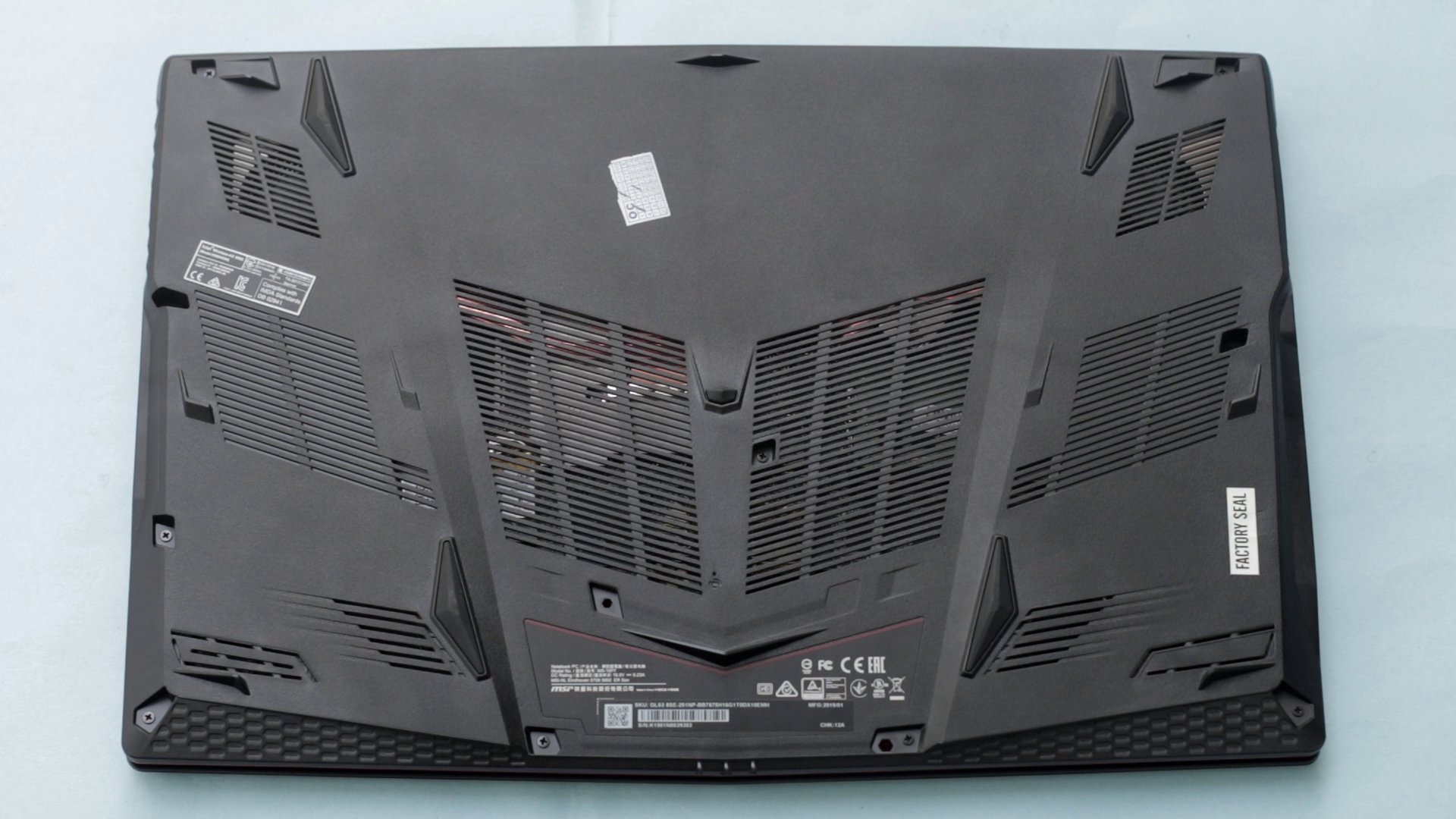 It's really easy to get inside this laptop. There are 10 screws, and once you're in you will get access to the two m.2SSDd, RAM and other standard stuff. The port selection is quite good, you have ethernet, HDMI, mini display port, USB 3 Gen 2, USB Type C and headphone jack on the left. Whereas you get the SD Card reader, and 2x USB 3 Gen 1 on the right. However, the UBS Type C doesn't support Thunderbolt 3. Except that I'm satisfied with the port selection on this laptop.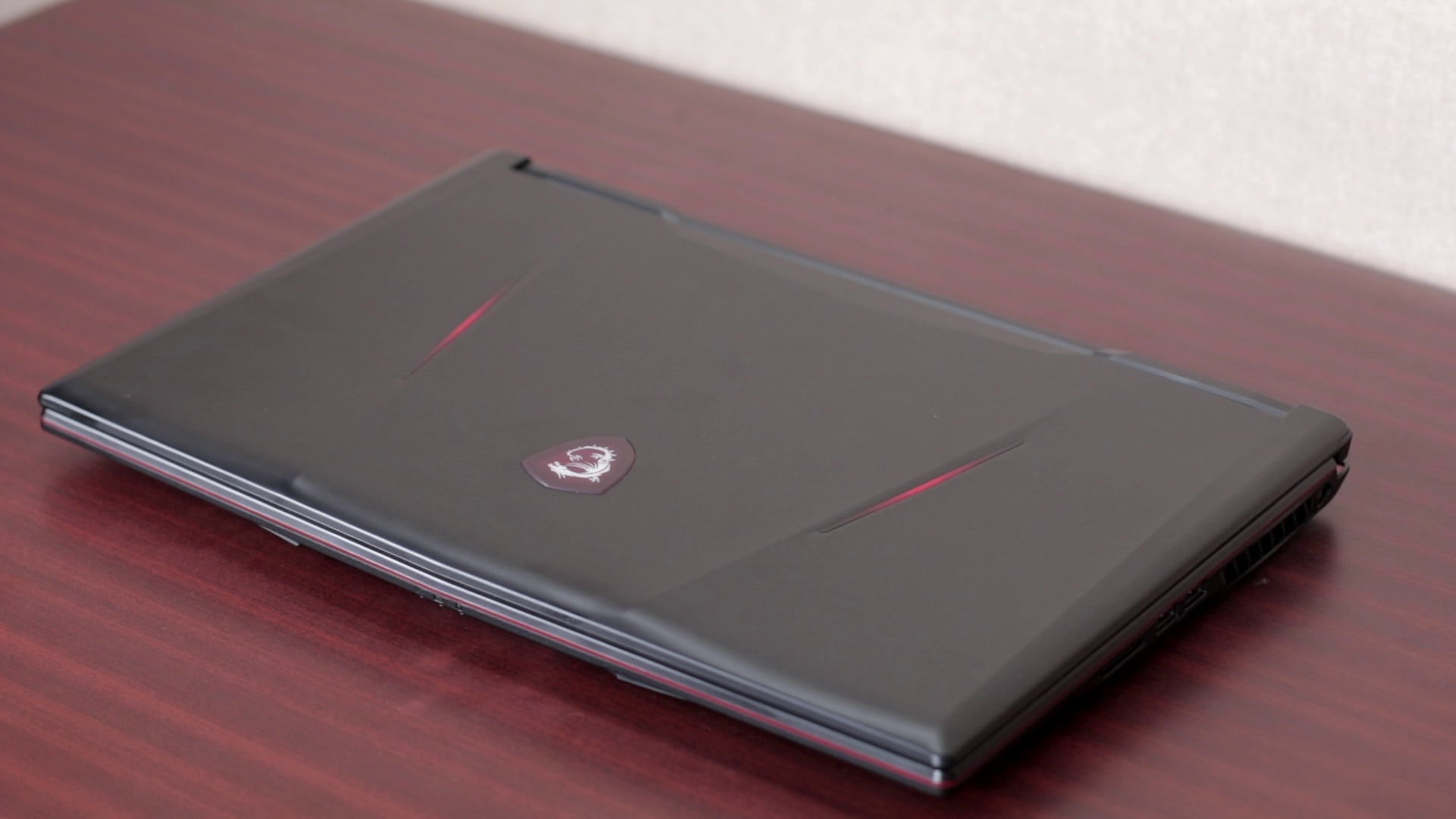 The keyboard deck is made of plastic and has a soft touch finish which will wear out in the long term. Personally, I do not like this soft finish because it catches fingerprints very easily and looks dirty pretty quickly as well. For the top lid, it is aluminum so it won't wear out that quick but it certainly catches prints really easily due to that soft finish.
Display
Talking about the screen, it's a 15-inch, 1080p panel with a refresh rate of 60HZ. Yeah, that is really disappointing. For 2 lakhs 12 thousand, this screen really doesn't justify the price tag. And the color is not good as well. The official website claims that it has 94% NTSC coverage, but I think that it's true for the 144HZ version of this laptop. This model with a 60HZ panel seems similar to the GL 63 8RC, it's really bad.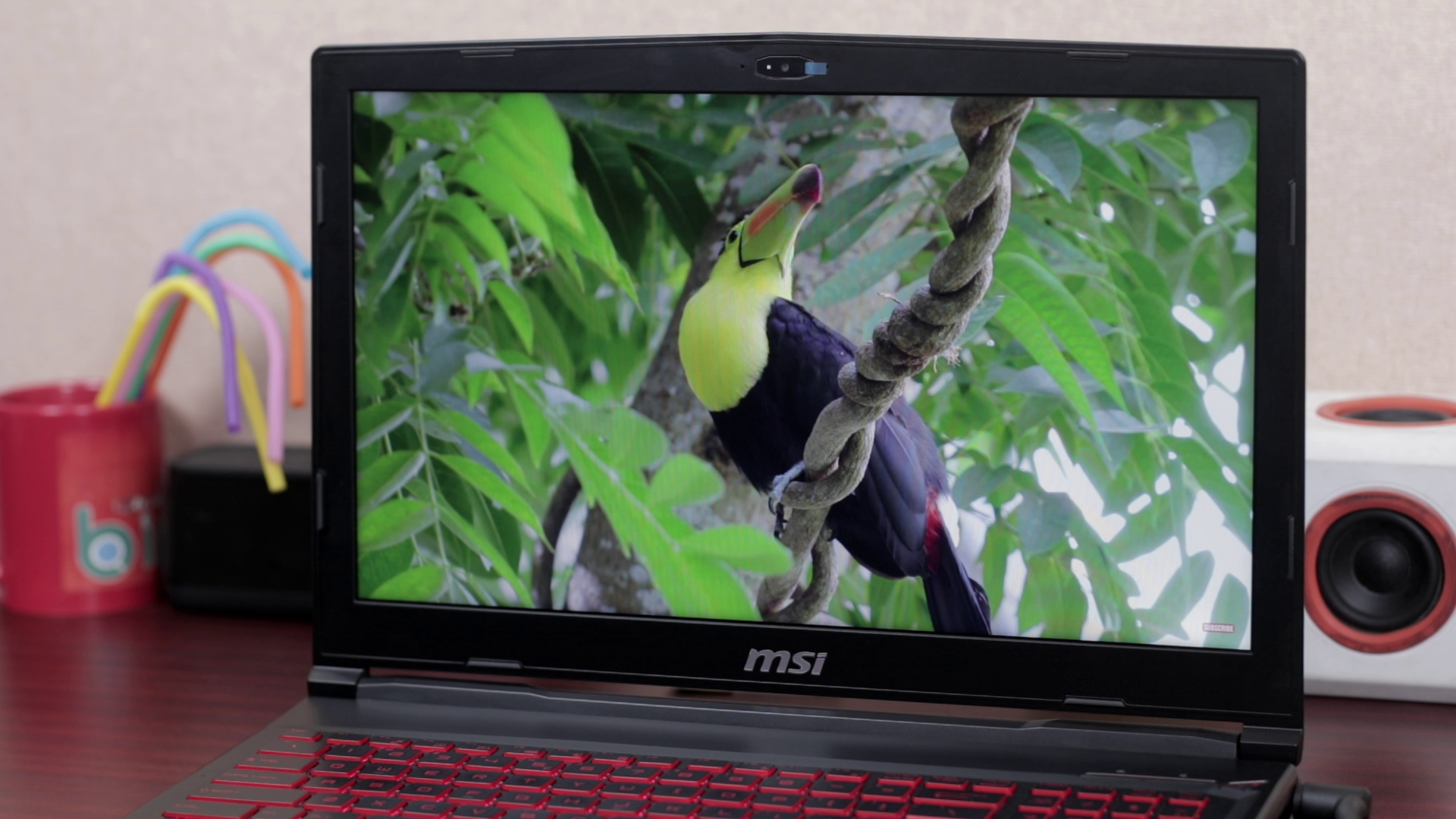 If you're a content creator and really need something with good color accuracy, this laptop will not serve you that well. You will notice the color shift pretty easily, the screen gets bright but the color reproduction is really below par. The Predator Helios 300 has a better screen than the MSI GL63 8SE.
Keyboard & Touchpad
Well, the keyboard is really nice on this laptop and that is to be expected from MSI. They use the SteelSeries keyboard and they are always good. The keys are solid, the key travel is really adequate, the buttons don't feel mushy, well it's not quite clicky but the feedback from the keyboard is really nice. And also the keyboard is backlit but it's not RGB, you're stuck with a single red color.
The overall layout of the keyboard is quite good, but one thing you may not like is the windows key. Its shifted to the right side and is normal for MSI laptops. I actually like this change though, it kind of prevents the accidental touches on the windows key. You'll get used to this keyboard quite quickly.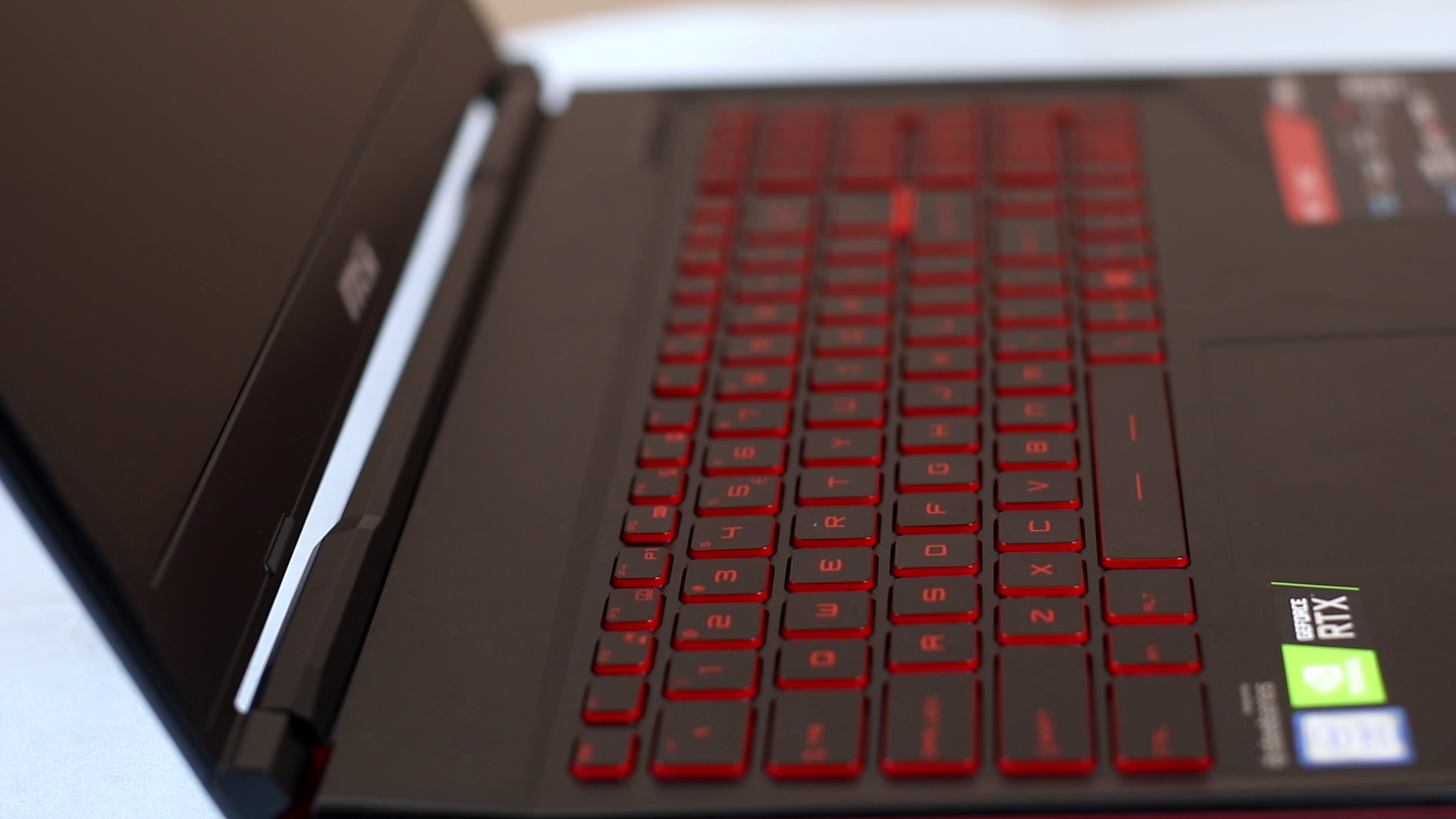 But the trackpad is a different story. It's a plastic surface and for this price tag this trackpad is really bad, the tracking itself feels really weird and doesn't feel accurate whatsoever. The buttons don't have good feedback, it feels mushy and you do not get a good experience. However, this actually uses the Microsoft precision drivers and you get all of those gestures but the trackpad really feels cheap andIi think it should have been better for this price tag.
Performance
Now, this laptop runs an RTX 2060, a regular RTX 2060 not the MAX Q version. So the performance is really good on this device. Along with the Intel 8th Gen Core i7 8750H this laptop has 16GB of RAM, 256GB SSD, and a 1TB HDD.
We ran games like Battlefield 5, Just Cause 4, PUBG, and Dota 2 on highest settings. All of these Games ran pretty smooth on ultra settings. The BF5 had an average fps of 85, likewise just cause 4 had an average fps of 75 and highest we got was 96. Similarly, we were hitting an average fps of 100 and max fps of 125 on PUBG (Max settings).
On Dota 2, we were getting an average fps of 115 in max settings. Well, all of these games can certainly hit constant 120 fps or even 144fps, but this screen is only a 60HZ screen so you cannot really take advantage of that performance with this laptop.
Thermal
One thing that really impressed me is the thermal management on this laptop. There are plenty of places for heat flow and there are actually 4 heat sinks, two on the back and one on each side. Even during a long gaming session, the GPU temperature was hovering on 65c and the CPU was within the 80s. There was no thermal throttling and its really because of the chassis, and good air flow.
Also, you can use the turbo boost mode that cranks up the fan to its maximum, it helps you decrease the temperature by 4-5 degree Celsius at max. The fan noise is audible during idle on this laptop so it's normal that it gets very loud during gaming. And, while using the turbo boost mode, it gets really loud.
Speaker
Well, the speaker is loud, and that's the only way you can cancel the fan noise during idle. I'm really surprised that the speaker is loud even though it's on the bottom but the sound is particularly not that good, it feels hollow and kind of lacks clarity and richness. But I would say that most of the people would be okay with this speaker.
Battery
Talking about the battery life, its a 51Whr battery and it's really average. It gave me like 3 hours and 20 mins of battery life while watching youtube videos on 50% brightness and 50% volume on balanced battery settings. Since it's a gaming laptop I guess it's pretty average battery life.
Conclusion
So, this laptop can perform exceptionally well. The RTX cards give you enough power to run games at more than 120 or 144 fps with good graphics but since the screen is only a 60Hz screen, you cannot really take advantage of that performance. Well, you could use an external monitor but you'll need to shell out extra cash for it.
Also, this laptop doesn't have the best of screens, it is really mediocre. 3ms response time is great for games but the color accuracy is really poor, you won't want to do color accurate works on this laptop. The screen gets bright but the color quality is really disappointing, so you should check the screen for yourself if you're looking to buy this laptop.
And at last talking about the price tag, this laptop costs you 2 lakhs 12 thousand Nepali rupees and that is roughly 1860 USD. And for this price, you could get a laptop with GTX 1070 and higher refresh rate screen or you could even get one with 1080. So, for now, I think everyone should hold out on buying an RTX laptop. The older laptops with the 1060s and 1070 are the better option if you're really in need of a budget gaming laptop.