Continental Trading Enterprises, the authorized distributors of KIA Motors in Nepal, held an event at Hotel Annapurna to introduce the 4th Generation Kia Sportage. Since its introduction in 1993, Kia Sportage is the one of the bestselling compact SUV in the global market. With the impeccable legacy, it's only fair the company introduced the new and improved Kia Sportage in Nepal.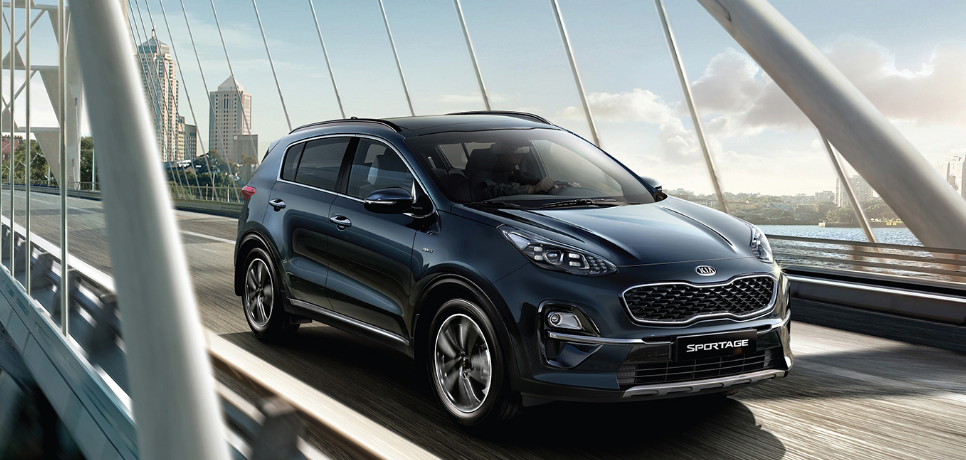 According to the press release, the cars will be imported from South Korea. It will be available in both Petrol and Diesel engines in four different variants: LX PTL, LX PTL AT, LX DSL, and GT Line DSL. For the base variant, Kia Sportage price in Nepal is Rs. 69.9 Lakhs only. Furthermore, only LX PTL and GT Line DSL variant is available for purchase while the remaining two is expected to be available by next month.
Kia Sportage Overview
Online pictures of Kia Sportage don't do justice, you need to look at it to know that it's even more impressive in-person. Its top selling point is definitely the sporty design. You get exterior enhancements like LED Fog lamps, Tiger Nose Grill, Chrome Garnish, Rear Trim Accents with Dual Tip Exhaust, and much more. Importantly, you get the visual appeal of a modern, yet sporty SUV topped off with all the fancy features.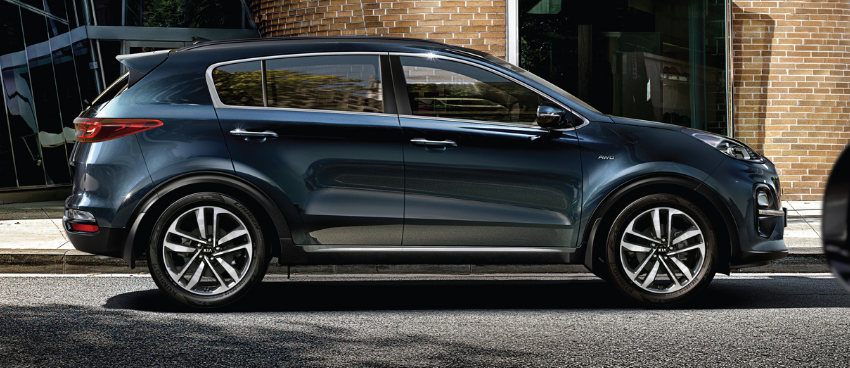 Kia Sportage is available in eight different colors: Clear White, Snow White Pearl, Patina Gold, Fiery Red, Sparkling Silver, Steel Grey, Mercury Blue, and Cherry Black.
Kia Sportage Performance
Since the Sportage comes in different configurations, the performance is slightly different. The petrol engine is powered by 2.0L DOHC, 1999cc engine capable of producing 155PS power and 19.5kgm of torque.
Likewise, the diesel engine is powered by 2.0L CRDi, 1995cc engine capable of producing 175PS power and 41kgm of torque. Furthermore, the petrol variant is front-wheel drive while the diesel variant is a rear-wheel drive. Another list of improvements includes improved suspension, Drive Mode Selector, and larger stylish wheels.
Kia Sportage Features
Get ready for this, Sportage is packed with a lot of interesting features. You get stuff like Airbags, Keyless Entry, Dual Zone Full Auto Temperature Control, USB or Wireless Charging Station, Fully Folding Rear Seats, Heated Seats, and advanced Infotainment System with Voice Recognition. Nonetheless, you get a range of ultra-high-quality standard features and a wide selection of optional extras Panoramic Sunroof, Fog Lamps, Heated Steering, Adjustable Seats, Paddle Shifters, Leather Seats, etc. Contact the nearest Kia Showroom for the complete details on the optional features.
This slideshow requires JavaScript.
Additionally, Sportage is well-equipped with top-class safety features. Features like Vehicle Stability Management (VSM), Cruise Control, Hill Assist Control (HAC), and ABS comes as standard across all the variants.
Kia Sportage Key Specifications
Engine: 2.0L DOHC Petrol / 2.0L CRDi Diesel
Transmission: 6-Speed Manual & Automatic / 8-Speed AT (GT Line)
Max Power: 155Ps @ 6200rpm / 178Ps @ 4000rpm
Max Torque: 6kgm @ 4000rpm / 41kgm @ 2750rpm
Ground Clearance: n/a
Seating Capacity: 5
Safety: Airbags, ABS, ESC, DBC, EPB, HAC, ISOFIX
Tires:225/55R 18" Alloy / 245/45R 19" Alloy (GT Line)
Kia Sportage Price in Nepal (LX PTL):

 Rs. 69,90,000
Other Variants:
Kia Sportage Price in Nepal (LX PTL AT):

 Rs. 74,90,000

Kia Sportage Price in Nepal (LX DSL):

 Rs. 86,90,000

Kia Sportage Price in Nepal (GT Line DSL):

 Rs. 1,10,90,000
Final Thoughts
Kia Sportage nails the design. Everything looks and feels unique that stands out from the rest. It throws always the generic compact SUV design which deserves a major thumbs up! Moreover, the ton of features just backs up the already amazing car.
Most importantly, it checks the boxes for being a great family car. Large Storage? Check. Attractive Looks? Check. Awesome Features? Check. Value for Money? Well, it depends. Given available options, KIA tries to cram a lot of features in the Sportage. However, most of the premium features are sideline for the GT Line. Yes, the car company do reserve some of the features for the top variant. I don't have any problems with that. What I do have a problem with is excluding some basic features.
For example, you don't get LED headlights or even a fog lamps in the base variant. Considering that every new car in 2019 comes with LED lights. And a car with Rs. 69.90 Lakhs price tag comes with halogen lamps. This is ridiculous! Other than this minor issue, Kia Sportage looks promising.