Is Jeep Wrangler launching in Nepal? And, that too along with Jeep Grand Cherokee?
If you have noticed, Jeep Nepal has been teasing these SUVs for quite some time. Once you look at their official Facebook page, the names of their next models become more apparent.
If that wasn't already enough, both Jeep Wrangler and Grand Cherokee were recently spotted at a customs office in Birjung. Hence, confirming it is indeed happening, maybe sooner than later.
So, let's look at a quick look at everything special about the Jeep Wrangler in Nepal.
Jeep Wrangler Overview
Design
Jeep Wrangler has one of the most recognizable designs in the auto industry.
Starting with the exterior styling, it gets the iconic Jeep grille. Interestingly, Jeep is so confident in their grille design, Wrangler doesn't feature any sort of logo or emblem on the front.
Unlike other Jeep models, Wrangler comes with a boxier design, like the flat room design.
It also has a mix of new-meets-old styling, especially with the newer vented bonnet and older hood latch. Moreover, it comes with an 18-inch alloy tyres.
As expected, it features a door-mounted spare tyre at the rear.
Talking about the interior styling, the off-roading theme continues in the inside. It's a mix of leather and plastic with long term durability in mind.
Performance
In the international market, Jeep Wrangler is powered by either a 3.6 Pentastar V6 engine or a 2.0 Turbo-petrol engine.
Unfortunately, Jeep Nepal has not disclosed the powertrain yet. However, it is confirmed that the Wrangler is mated to an 8-speed automatic transmission. And of course, it will feature 4×4 off-roading capabilities!
Jeep Wrangler will get a 41.8-degree approach angle, 21-degree break-over angle, and 36.1-degree departure angle.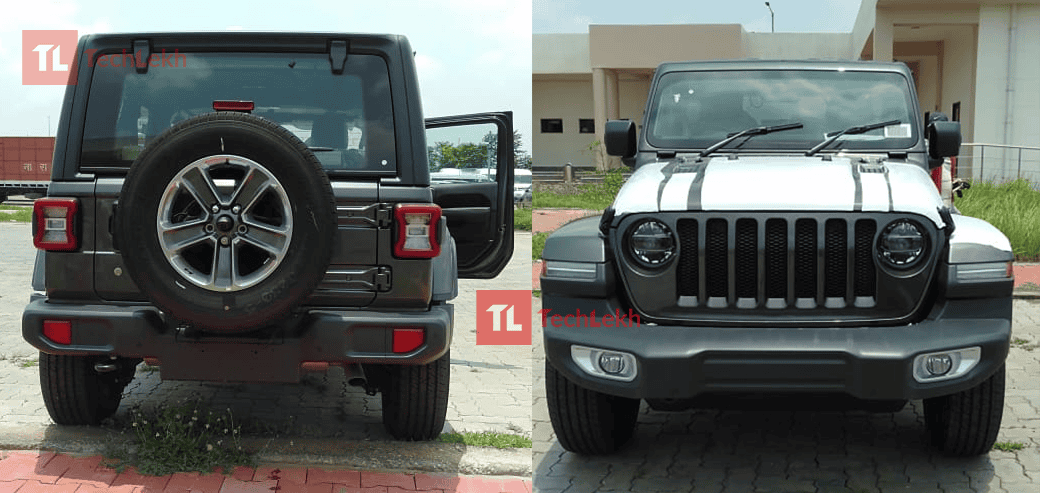 Features
As of this writing, we're still not clear on the specific variant that will launch in Nepal.
However, Jeep Wrangler will come with an 8.4-inch touchscreen infotainment system with Apple CarPlay and Android Auto. Additionally, it will also get a 7-inch TFT LED display, dual-zone climate controls, remote key access, and so much more!
Plus, it will be customizable to match multiple off-roading personas.
You could remove the roof or the windshield or anything else for that matter. The customizability helps to enrich the overall experience.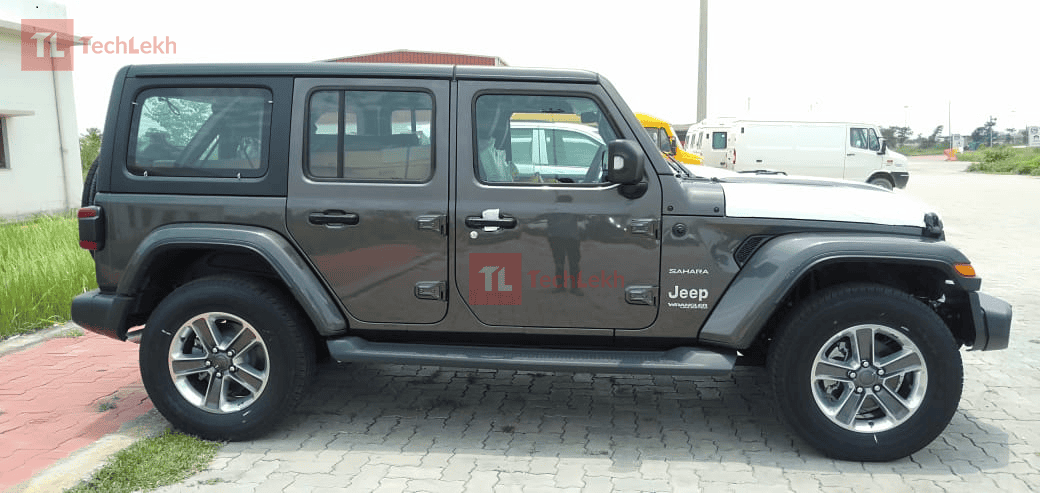 Safety
Talking about the safety features, Jeep Wrangler will get the latest and greatest.
It will include safety features like the Anti-Lock Braking System (ABS), Brake Assist, Rear Parking Sensors, Rear Camera, Electronic Stabilization Control (ESC), Electronic Mitigation, Hill Assist, among others.
There are going to be plenty of other interesting safety features, which will be revealed during the launch.
Jeep Wrangler Price in Nepal and Availability
There's just so much to unpack here.
Life Automobile Private Limited, the authorized distributors of Jeep vehicles in Nepal, finally got the ball rolling to launch the new Jeep models in Nepal.
Jeep Wrangler price in Nepal is expected to start at Rs. 2.3 Crore to Rs. 2.5 Crore, making it one of the most expensive off-road SUVs in Nepal.
This is just a guessing point at this time, but we'll know for sure when it gets the official launch. Talking about the launch, there hasn't been any fixed dates. However, Jeep Wrangler will launch sometime this year in Nepal.
Naturally, Jeep has gained considerable popularity and dominance with just one model. Just imagine the possibility of two more!
Jeep Wrangler made for the off-roads, unlike the Jeep Compass Trailhawk. With the expected price like this, Jeep Wrangler offers so much more than just quirky looks.
Okay, there is a lot to unbag about the new Jeep Wrangler in Nepal.
We cannot elaborate further on the features of Nepal-bound Wrangler unless it gets officially launched in Nepal.
However, we will link out a video of Doug DeMuro's review of the 2018 Jeep Wrangler.
Although that is an older version of the Wrangler, Doug goes into in-depth details, which will help you get the full picture of the upcoming newer model.