Pros
Premium Metal Feel Body
Retro Look with Chrome Finishing
Practical Features
BS6-compliant FI Engine with Good Low-end and Mid-range Performance
Dual Exhaust with Sharp Exhaust Note
Cons
Should have been Priced Aggressively
Use of Plastic Components in Some Part
Hard Seat with Uncomfortable Experience for Pillion
Lackluster Top-end Feel
After months of anticipation, Jawa Motorcycles finally made its debut in Nepal. Despite the overwhelming excitement surrounding its launch, Jawa opened itself to a polarizing reception.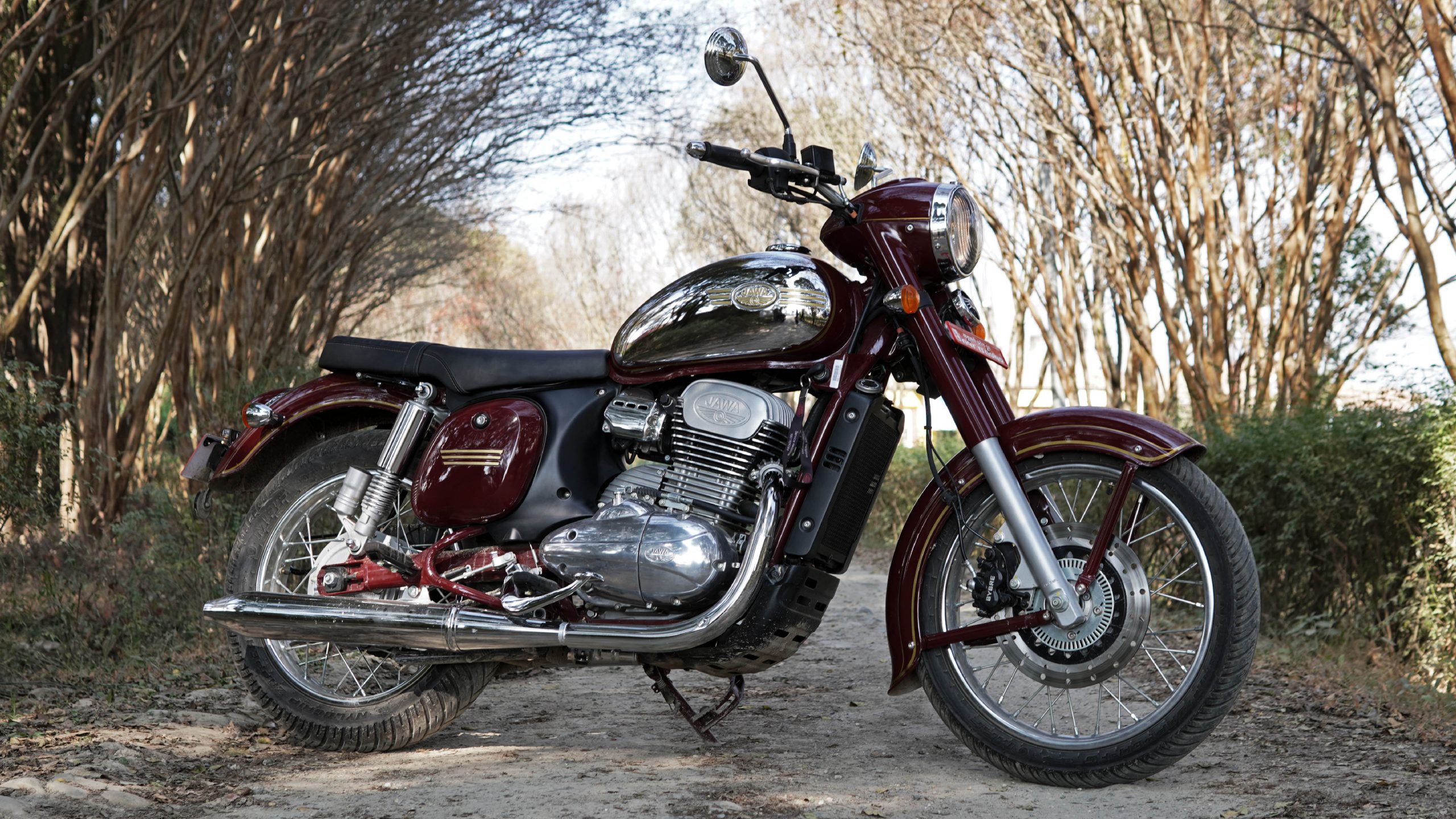 While the mixed action wasn't aimed at Jawa designs or specifications, it was more so about the pricing.
Agni MotoInc Pvt. Ltd., the authorized distributor of Jawa motorcycles in Nepal, launched the Jawa Classic in two variants for a price of Rs. 6,48,500 (Single Channel ABS – Drum) and Rs. 6,76,500 (Dual Channel ABS – Disc).
Compared to the outgoing competition, Jawa Classic felt "overpriced" with many vowing to never go for the Jawa again.
Is it a valid opinion? Is Jawa Classic really that expensive?
Today, we find that out and more in our Jawa Classic full review.
Jawa Classic Specifications
Engine Type: Single-Cylinder FI Engine
BS6 Compliant: Yes
Displacement: 293cc
Cooling System: Liquid Cooled
Starting Mechanism: Self Starter Only
Max Power: 27 BHP
Max Torque: 28 Nm
Gearbox: 6-Speed
Top Speed: 135 Kmph
Fuel Tank Capacity: 13-liters
Mileage: 37 kmpl
Front Tyre: 90/90-18 – Disc
Rear Tyre: 120/80-17 – Disc
Tubeless Tyres: Yes
Braking System: Single-Channel ABS (Dual-Channel ABS Optional)
Suspension Setup: Telescopic and Twin Hydraulic
Seat Height: 765 mm
Ground Clearance: 165 mm
Kerb Weight: 170 kg
Colors: Jawa Maroon, Jawa Black, Jawa Grey
Jawa Classic Price in Nepal: Rs. 6,48,500 (Single-channel ABS) / Rs. 6,76,500 (Dual-channel ABS)
Jawa Classic Review
Eye Catching Retro
Talking a quick glimpse at the new Jawa Classic, it takes inspiration from a motorcycle of a gone-by era. To be more precise, it is inspired by its own motorcycles from the 1970s upon bringing back the retro charm.
The metallic paint, shiny chrome finish, curvy styling with the circular elements helps to bring out its classic look.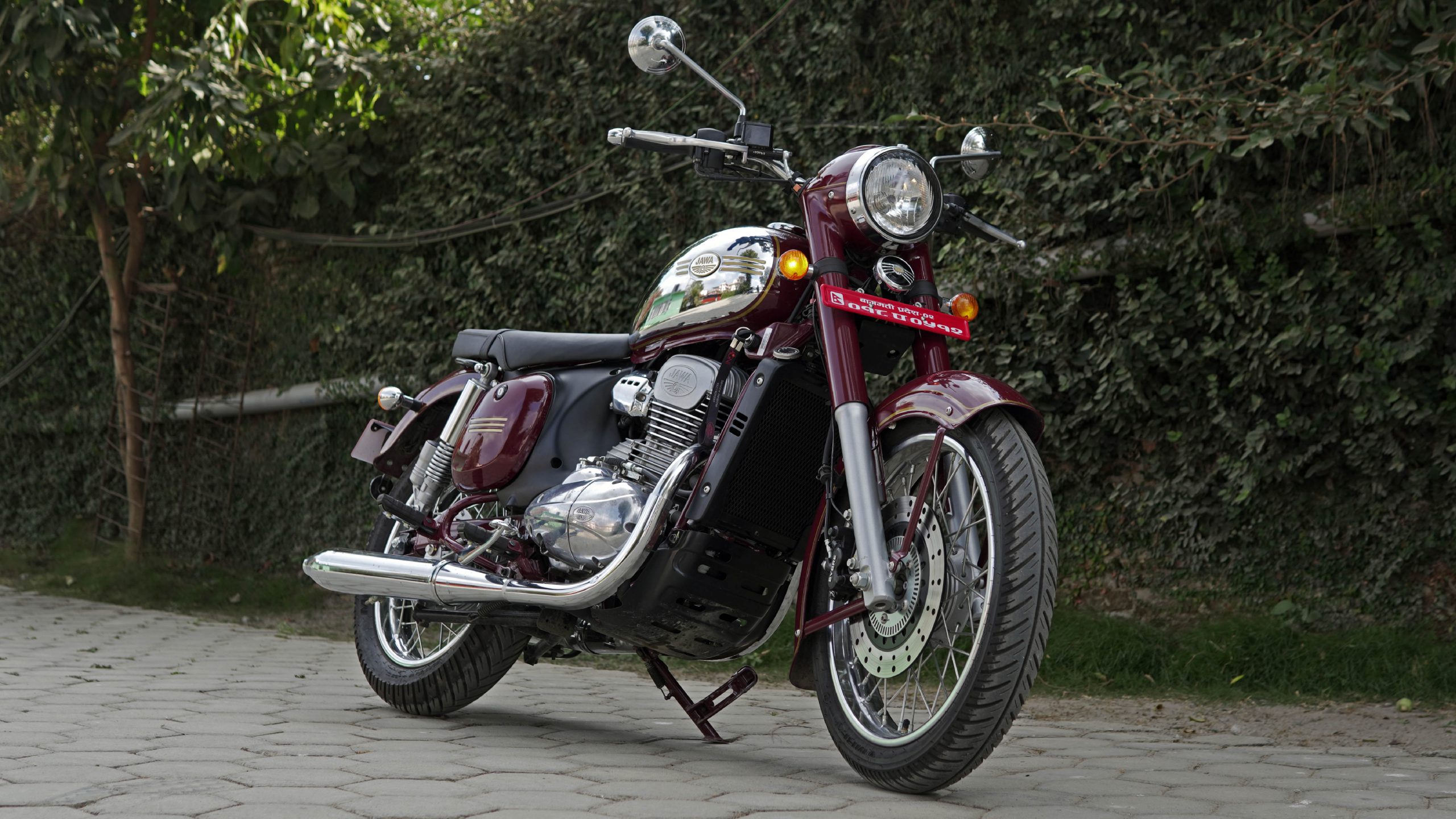 I love that despite having a traditional single-piece handlebar, it is placed differently for a uniquely original look.
It results in every eye being locked on your motorcycle's classic beauty.
For the most part, the Jawa Classic features a metallic build with a few use cases of plastic. Nonetheless, the overall build, including the fit and finish, is on-point with its legacy.
Classical Elements
Let's talk about those classical elements.
Starting from the front, it gets a circular halogen headlamp, smaller circular bulbed indicators, and chromed circular mirrors.
The circular elements are a part of its old-school appeal, a trademark of the Jawa motorcycles. These elements are brought together by the iconic Jawa logo placed right at the center.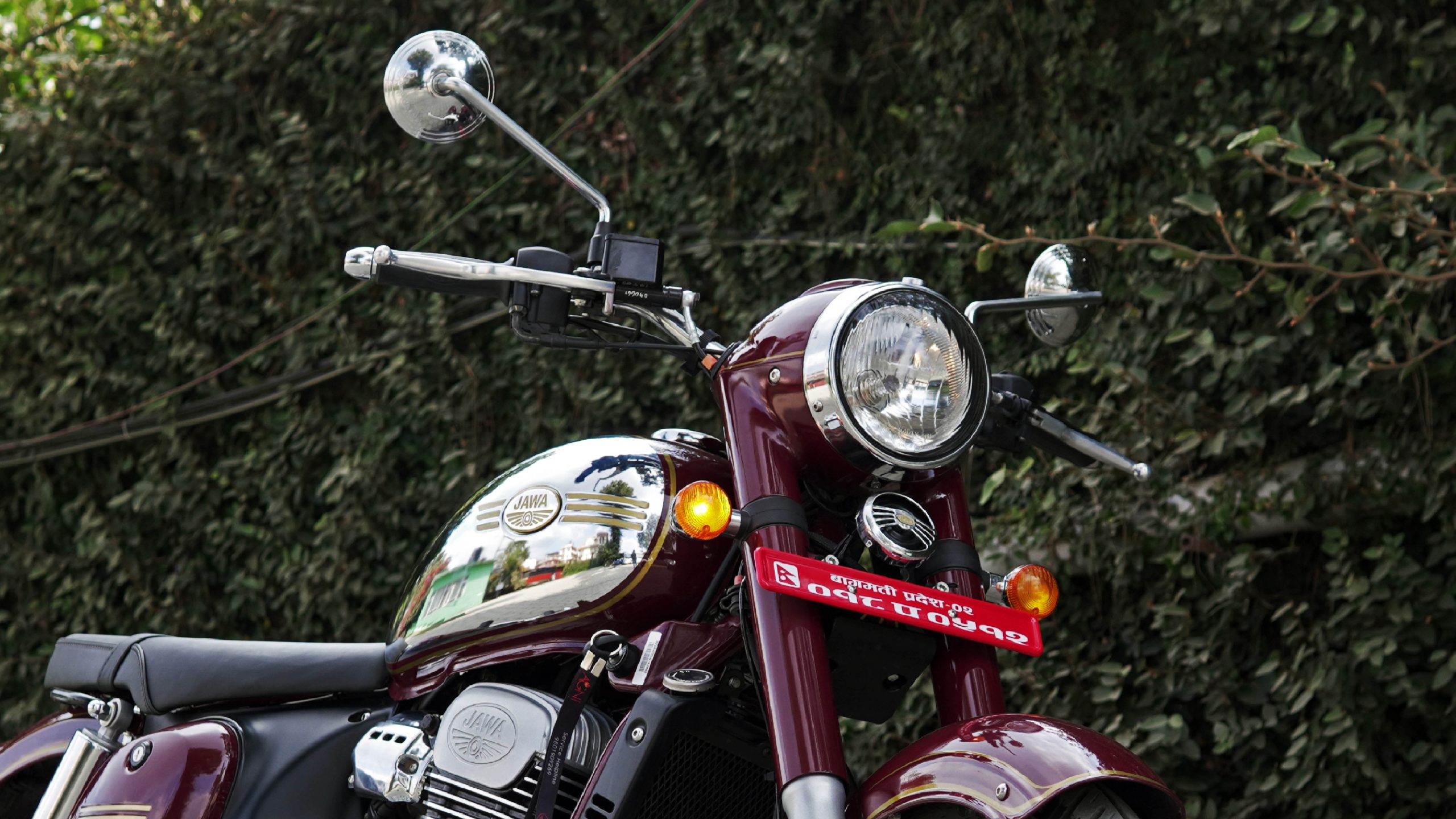 Looking at it from the side, the Jawa Classic looks more beautiful than ever.
You will notice a shiny chrome on the fuel tank, a large metallic engine, a long dual-exhaust port, metal levers, and classical spoke wheels.
However, Jawa Classic does not lean too hard on its retro-ness. Elements like the LED Taillamp and Front Disc affirm its modern character.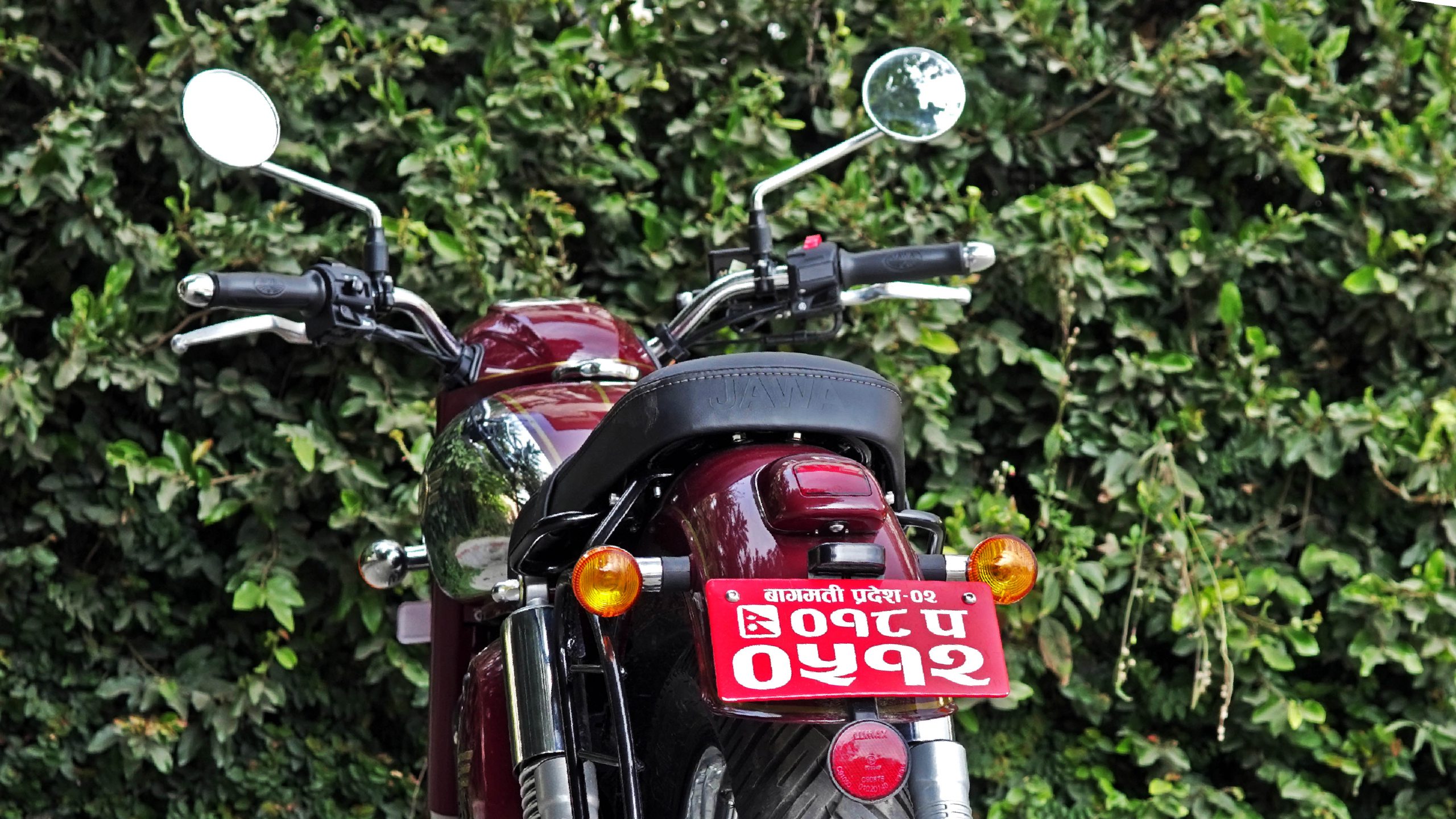 Jawa Classic is available in three different color options: Jawa Maroon, Jawa Black, and Jawa Grey.
ALSO READ: Suzuki Intruder 150 Review: Suzuki Gixxer Experience in a Cruiser Body
Logos Everywhere
While the Jawa Classic features a unique style, it goes a step further to cement its legacy for the newer generation.
There are more than ten Jawa logos scattered all over this retro machine.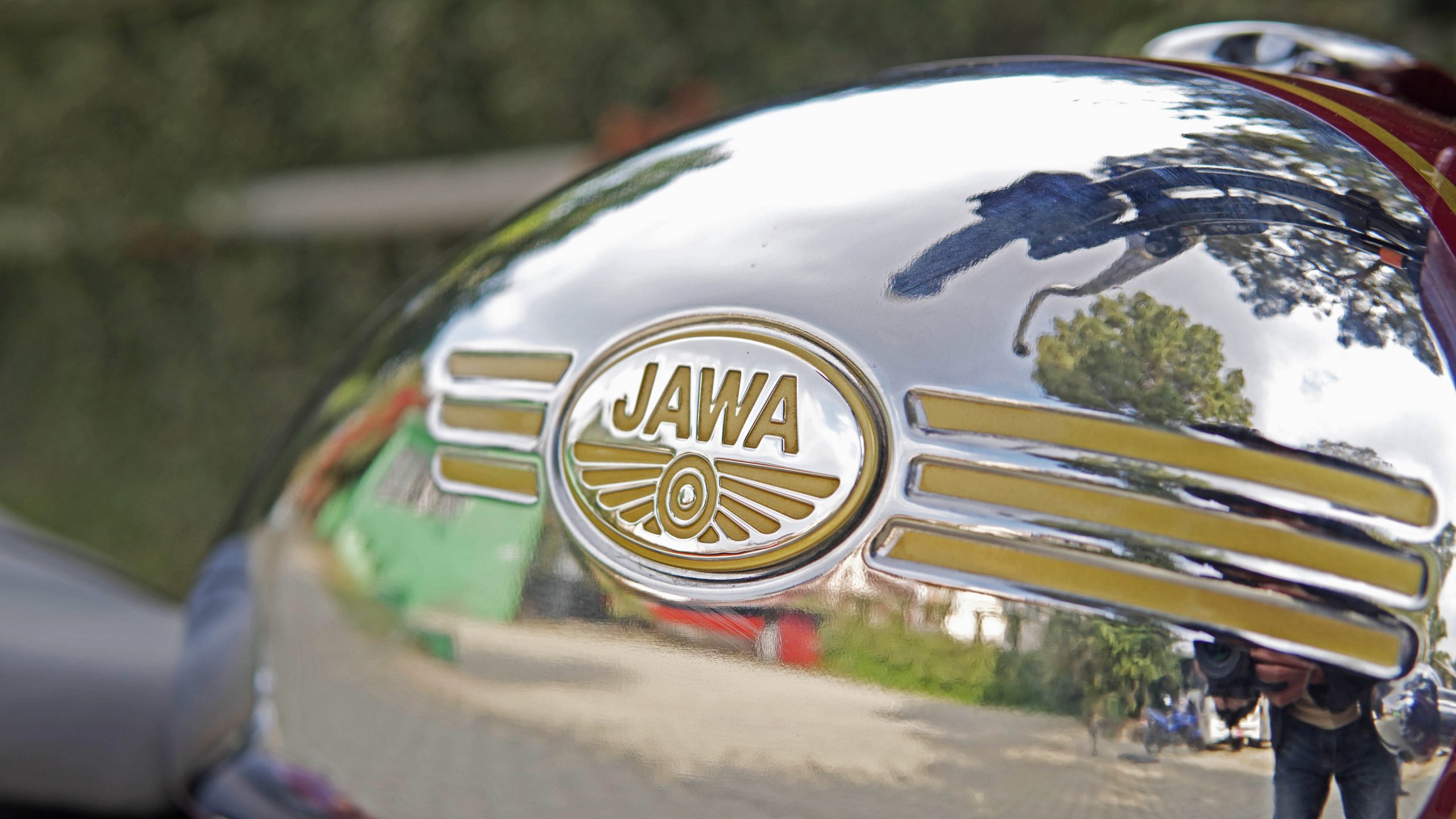 Maybe Jawa doesn't want the on-lookers to confuse it with the competition. Maybe, this was the only way to ensure its recognition in the brand new market.
Jawa Classic Design Highlights
1970s Inspired Retro Design
Excellent On-Road Presence
Circular Headlamp with Circular Indicators
Chromed Mirrors
Premium Metal Body Feel with Chrome Finish
Unique Single-Piece Handlebar
Large Engine-Housing with Metallic Finish
Dual Exhaust System
Classic Spoke Wheels
Single-Piece Seat
BS6-Compliant Engine
Jawa Classic is powered by a 293cc, Single-Cylinder, 4-Stroke, Liquid-Cooled, FI engine. It can generate a max power of 26.51PS and max torque of 28Nm. Moreover, it is mated to a 6-speed transmission.
Yes, the new Jawa Classic comes with a BS6-compliant Fuel-Injection engine. Despite featuring an FI engine, Jawa Classic does not get "FI features" like the Side-Stand Engine cutoff.
Moreover, I want to highlight three important aspects of the Jawa engine: Liquid-Cooling, Fuel-Injection, and DOHC.
It should be noted that these three elements are completely absent in the competition.
ALSO READ: Bajaj Avenger 160 ABS Street Review: Stellar Design But Mediocre Performance!
Modern Features
Jawa Classic is heavily inspired by its retro heritage, trying its best to look like a motorcycle from the 1970s.
That might give off an impression as if Jawa focused much of its energy on its looks rather than its features.
Fortunately, that isn't the case here. Jawa Classic includes lots of modern features, making it a valid competitor in its segment.
Braking Performance
Jawa Classic is available in two braking options: Front Disc and Dual Disc.
The front disc variant gets a traditional front disc and rear drum combo matched with a Single-Channel ABS. Whereas, the dual disc variant gets a Dual-Channel ABS.
For the review, we had the Front Disc only variant.
The braking performance is as one expects from a traditional configuration. While the front brake is precise and confident inspiring, the rear brake is spongy and lackluster.
The rear brake needs an extra push for more reliable stopping power. On top of that, the motorcycle feels less confident at higher speeds due to the lack of ABS in the rear.
Fortunately, you don't really think about Jawa Classic has a high-speed cruiser so you can overlook that aspect.
However, I would still go for a one with the rear disc option regardless.
Suspension
Moving to the suspension setup, Jawa Classic gets a front Telescopic Hydraulic Fork and a rear Twin Shock Hydraulic with Gas-Charged Canister.
The suspension setup is pretty standard, so not much to write about. Nonetheless, the retro styling of the suspension is on point with the retro aesthetics.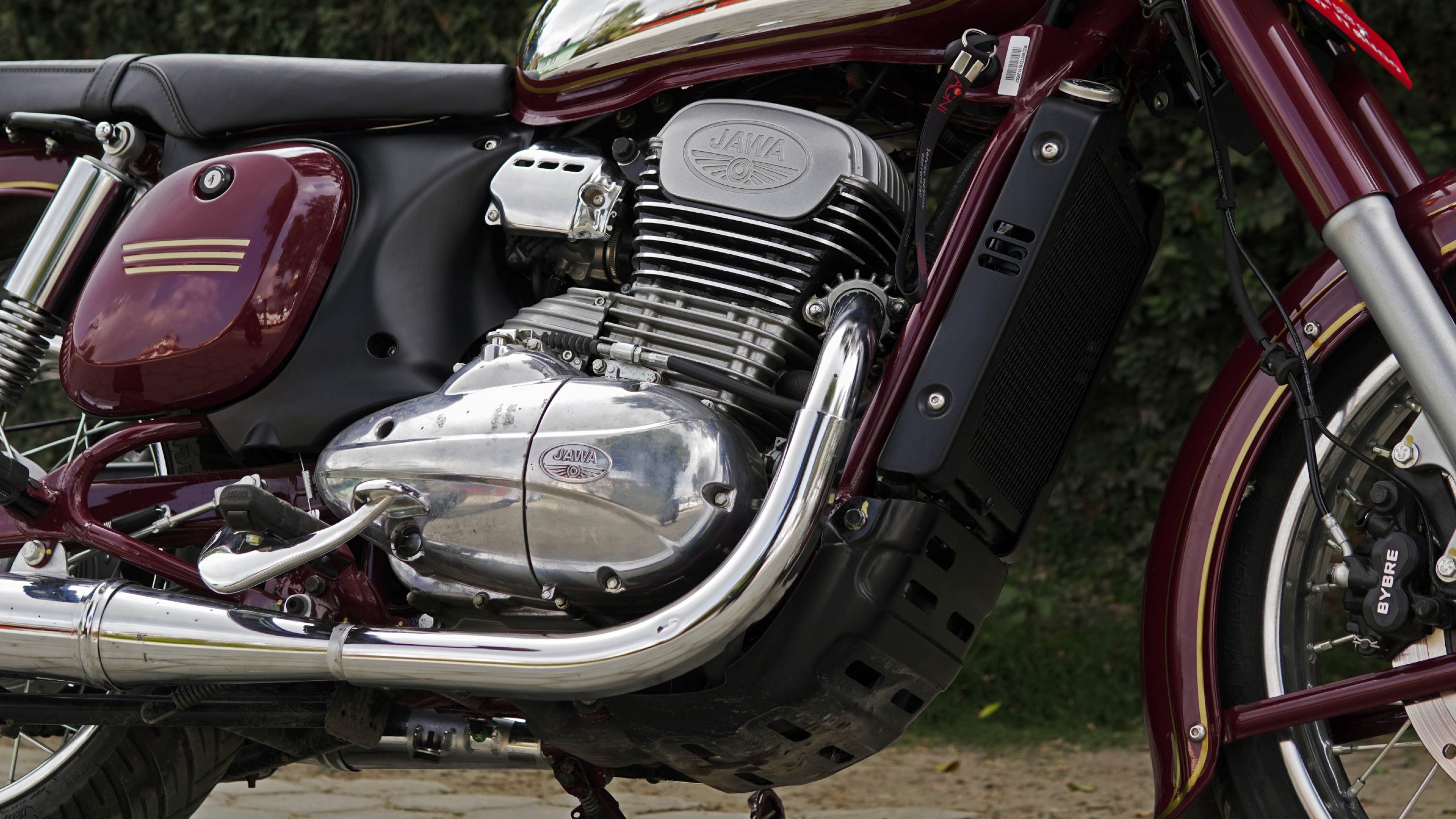 It shines best on good roads like the highways and comparatively lesser so on rough terrains.
As expected, the suspension setup has less travel distance, putting the experience on a stiffer side.
ALSO READ: Suzuki Gixxer 155 Review: An Underrated Masterpiece!
Retro Seats
I think the seat could have done a much better job at offsetting the hard suspension feel.
Both Royal Enfield Classic 350 and Bajaj Avenger 220 ABS sport similar setups. However, the experience is made more comfortable with the comfort-focused seating cushion.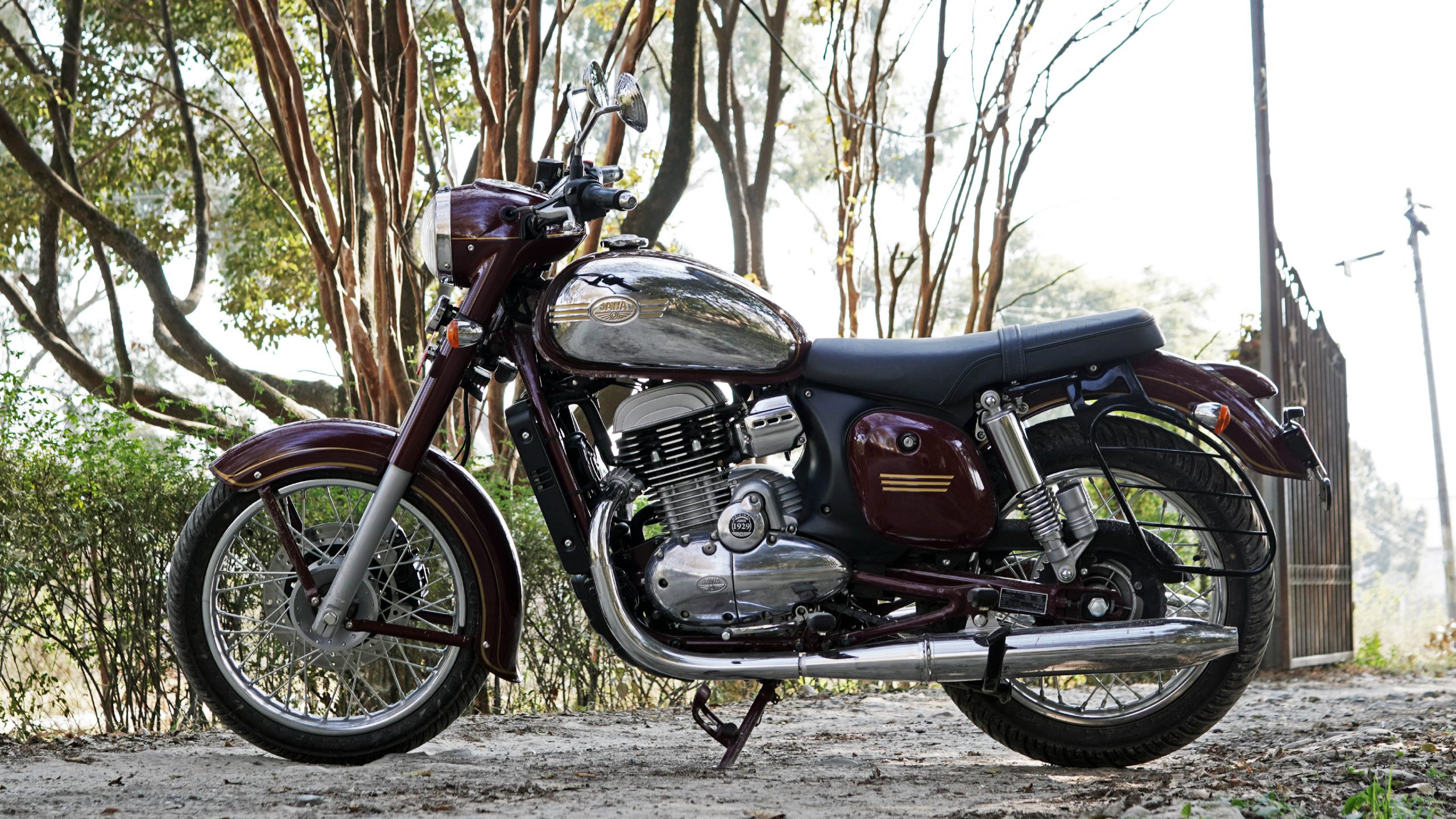 Unfortunately, the Jawa Classic went for a different path. The seat matches well with the style, but it isn't much for comfort.
The lack of comfort isn't noticeable in a short-distance trip. But you will need to take quick breaks in between your adventure to rejuvenate your comfort in a long-distance trip,
Fuel Tank Capacity and Mileage
Jawa Classic comes with a 13-liter fuel tank capacity.
Based on our test, we average mileage between 35-38 Kmpl. Since the Jawa is powered by a Fuel Injected engine, the mileage is expected to be more accurate and consistent.
I think if you ride it well enough, you can easily squeeze out a 455Km -494Km range on a full tank.
As for the bad aspect, the fuel cap is disconnected which takes you back from the premium experience.
Tyres
Jawa comes with a 90/90 18-inch front tyre and a 120/80 17-inch rear tyre. Both tyres are tubeless and offer decent road grip.
I do wish Jawa could have gone with a radial tyre on the rear. Regardless, the on-road is good enough.
Other Features
As stated before, Jawa Classic includes retro-fitted elements like the Halogen Bulbs and Inverted Analog Instrument Cluster with Digital Odometer.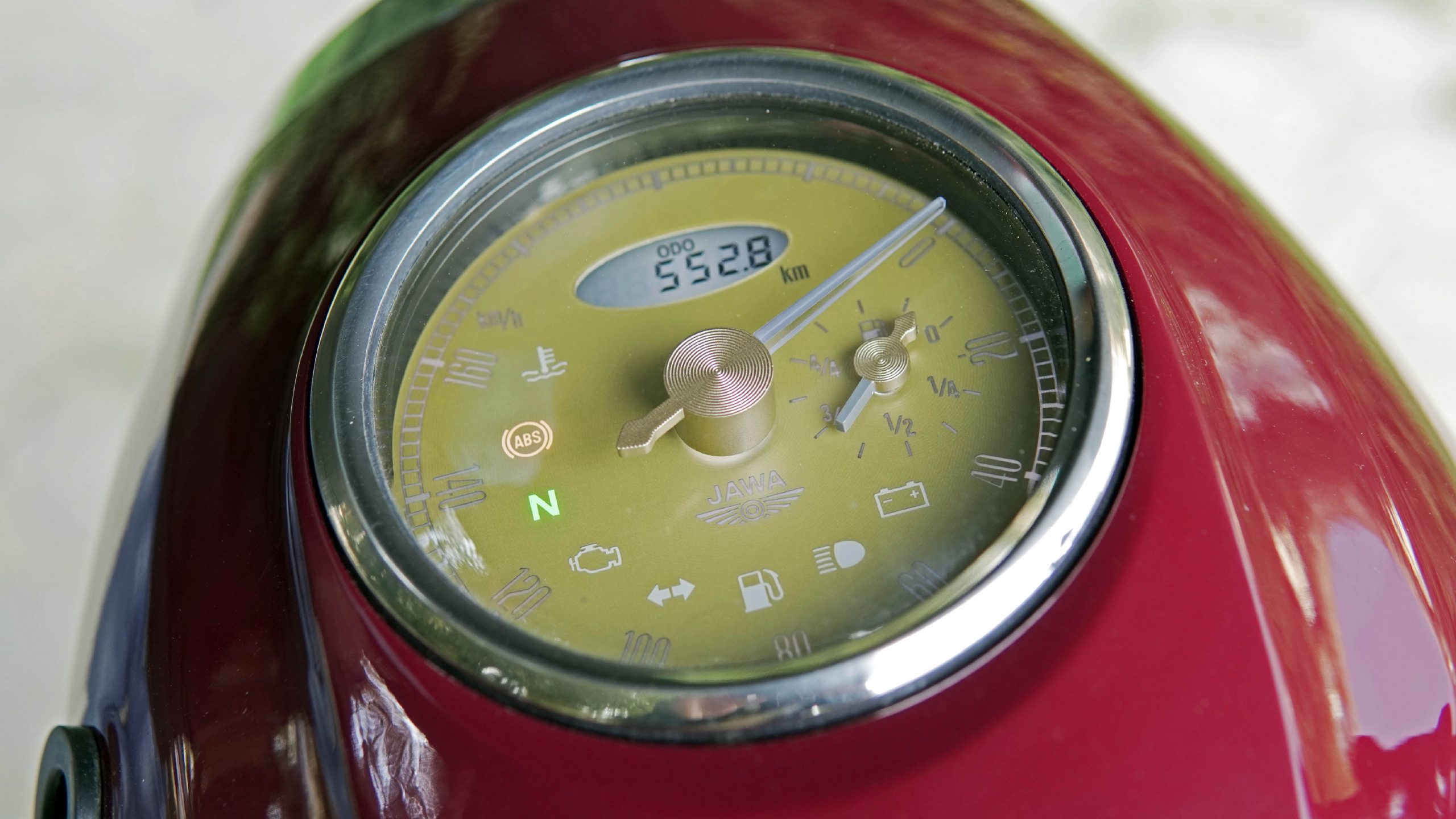 The halogen headlamp does the job well with the night time visibility. Both high beam and low beam provide good visibility on darker roads.
I still prefer an LED over halogen, but it is passable for a retro motorcycle.
Similarly, the inverted analog cluster looks cool but it is fairly difficult to read while riding the motorcycle.
Additionally, I wish Jawa could have included Trip Meter alongside the Odometer in the Digital Console which could've been an added advantage.
Jawa Classic Feature Highlights
Halogen Headlamp with LED Taillamp
Inverted Analog Cluster
Metal Levers with Heavy Clutch Feel
13-Liter Fuel Tank
Standard Braking (Disc Optional)
Single-Channel ABS (Dual-Channel ABS Optional)
Telescopic Front and Twin Shock Suspension Setup
Classic Spoke Wheels
My Experience with Jawa Classic
Powerful Performance
So far, we have been praising the new Jawa Classic for its next-gen engine, retro looks, and new features.
But, how does it perform in the real world? Before that, we have to talk about its FI engine.
Jawa Classic features the most refined engine in this segment, putting its competition to shame. Moreover, the level of vibrations is low at an average rpm.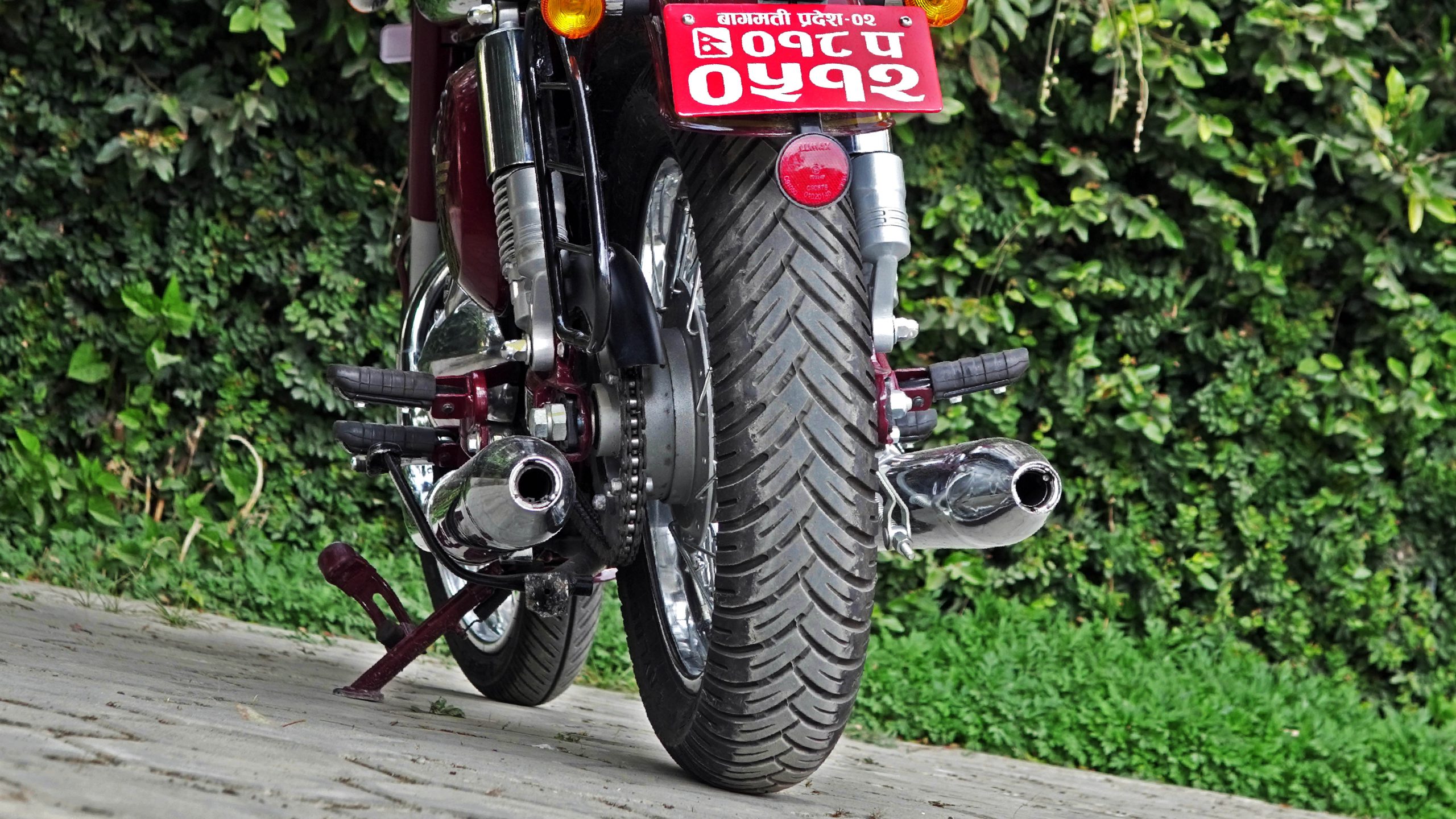 Moving into details, it gets no vibrations in lower rpm and high vibrations in higher rpm. When the vibrations kick in, it always starts from the footpegs moving its way to the handlebar.
There is a slight delay when the torque kicks in, as an experience that feels similar in a scooter.
In order to feel the pickup, the rider must always pull hard on the throttle.
So, you end up with two interesting scenarios: either go hard on the throttle and embrace the vibrations or go for easy on the throttle and make the most from the engine refinements.
It should not signify the lack of performance in the 293cc. Frankly, it is quite a punchy performance.
Going into detail, the first gear has the shortest travel. The power and torque only kick in the second and third gear.
I didn't spend much time changing gears or even at the higher gears, especially the fifth and the sixth gear. I managed to cruise at 80Kmphl on sixth gear without any major vibration on the handlebar or the mirrors.
So, it mixes well with its cruiser nature, making it one of the most fun experiences.
Being a cruiser focused motorcycle, you must work slightly more to get the experience of that performance. Regardless, it is still better than the competition in most regards.
Practical Handling
Upon further testing the Jawa Classic in real-world scenarios, the results were surprisingly interesting.
Initially, the motorcycle looked intimating.
And, I kept second-guessing myself about its practicality and its use in daily driving. However, I am happy to report that the Jawa is surprisingly fun to ride, with a good sense of practicality in real-world scenarios.
Thanks to the 165mm ground clearance and 170Kg kerb weight, the motorcycle feels practical and light enough to easily maneuver through a bad road, traffic, and tight corners.
My confidence did waiver slightly during a sharp climb in Jhanda Park. But that was mostly due to my concerns over its weight and short travel of the first gear.
The engine does not overheat in traffic stops. Even if it does, the in-built radiator does a great at cooling the engine.
As my time with the bike went on, I felt more comfortable and relaxed. I started to forget about everything in no time and started to enjoy the true Jawa experience.
Riding with Pillion
Unlike my other pleasant experience with the Jawa, I did not enjoy my experience with a pillion passenger.
The seat is already short and hard, adding a pillion on a long ride to the list makes the entire experience troublesome.
Interestingly, I think Jawa does not want you to put a pillion either, subtly hinted by an absence of pillion rest.
So, I would resist putting passengers, especially if you plan on going on a long journey.
Battle with the Competition
Jawa Classic goes all-out against the likes of Royal Enfield Classic 350, where both motorcycles try to offer a similar retro charm.
Jawa Classic 300 vs Royal Enfield Classic 350
Let's make it fair with a direct comparison with the spec sheet.
Jawa Classic is powered by a 293cc, Liquid-Cooled, Fuel-Injected, BS6-compliant engine against the 346cc, Air-Cooled, Carburetor, BS4-compliant engine in Royal Enfield Classic 350.
With the help of a 6-speed transmission, Jawa 300 comes out on top with almost 7 PS more power. Additionally, it comes with more practical features, a lightweight body, and a higher ground clearance.
Although Jawa Classic is better than the Royal Enfield's current offering in Nepal, it has its flaws too.
Almost Perfect
Jawa Classic ruined its initial launch hype because of its high pricing strategy.
It had all the valid reasons to do so, offering so much over the competition. Nonetheless, it felt like a money grab than anything else.
That pricing keeps it away from being an almost perfect retro charm.
Personally, I believe that the pricing is on point.
But Jawa Nepal could have seized the opportunity with an aggressive pricing strategy, which would have been a win-win situation for everyone.
Conclusion
Jawa Motorcycles carries an iconic legacy, one which might be forgotten if it fails to resonate with the younger generation.
In that sense, Jawa Classic is perfect in almost all regards. However, it feels as if it is being held back due to its pricing.
In retrospect, Royal Enfield is expected to increase its price on the upcoming BS6 models where the pricing is expected to match alongside the Jawa motorcycles.
If Royal Enfield Classic is priced well-below the Jawa Classic, the Jawa might always be an almost perfect motorcycle.