Pros
Sporty Street Cruiser Design
Premium Metal Body Feel
Excellent Highway Performance
Comes with Single-channel ABS as Standard
Most Comfortable Rider Seat
Cons
No Rear Disc option
Overpriced for a BS4 Engine!
No Pickup Feel at all
Poor Rear Disc Braking Performance
Lack of Confidence in Uphill & Downhill
Bajaj Avenger continues to be one of the popular cruiser offerings in Nepal.
Suzuki Intruder and UM Renegade are also among the popular choices. However, both cruisers fall short in comparison with the Bajaj Avenger.
To keep its appeal, Bajaj continues to update its Avenger. So far, Bajaj has launched the Bajaj Avenger in 150, 180, 220 options. Bajaj Avenger 160 ABS comes as the fourth iteration with that name.
While it is good to see something get updated quite frequently, it only confuses consumers in the longer run.
Even Bajaj Pulsar 150 and Bajaj Pulsar 220 hasn't gotten so many updates as its Avenger siblings.
In hopes that Bajaj will mostly continue with the new Avenger, HH Bajaj has recently launched the Bajaj Avenger 160 ABS in Nepal.
The new updates bring forth new changes; like a new 160cc engine, new paint colors, new features, and new price.
Bajaj Avenger 160 ABS Street price in Nepal is Rs. 3,29,900. It is quite a drastic price hike, especially compared to the previous 2018 Bajaj Avenger 180 (priced at Rs 2.71 Laks).
Does the new Avenger actually justify the price? Additionally, what does it bring to the table?
We will try to answer all that and more, in our Bajaj Avenger 160 ABS Review.
Bajaj Avenger 160 Street Specifications
Engine Type: Twin Spark, 2-valve, Carburetor, DTS-i engine
Displacement: 160.37 cc
Cooling System: Air Cooled
Starting Mechanism: Self Starter and Kick Start
Max Power: 15 PS @ 8500 rpm
Max Torque: 13.5 Nm @ 7000 rpm
Gearbox: 5-Speed
Top Speed: 100 Kmph
Fuel Tank Capacity: 13 liters (3.8-liter reserve)
Mileage: 45 kmpl
Front Tyre: 90/90-17 – Disc
Rear Tyre: 130/90-15 – Drum
Tubeless Tyres: Yes
Braking System: Single-Channel ABS
Suspension Setup: Telescopic With Anti Friction Bush and Twin Shock Absorber
Seat Height: 737 mm
Ground Clearance: 169 mm
Kerb Weight: 154 kg
Colors: Ebony Black and Spicy Red
Bajaj Avenger 160 Street Price in Nepal: Rs. 3,29,900
Bajaj Avenger 160 ABS Street Review
Roadster Design
Bajaj Avenger 160 ABS Street comes with a "Roadster" or "Sportster" inspired design. All that fancy name is a clever way to call it a street-focused cruiser.
Compared to the Avenger Cruise model, the Street model is more city-focused featuring modern yet sporty design.
Interestingly, we have already seen this design before, sharing uncanny resemblance with the 2018 Bajaj Avenger 180.
Body Design
Starting on the front, the Avenger 160 comes with pretty familiar elements yet again.
Unlike other brands, Bajaj has always shied away from drastic design changes. It was evident in the new Bajaj Pulsar BS6 as well. For better or worse, it is true for the new Avenger.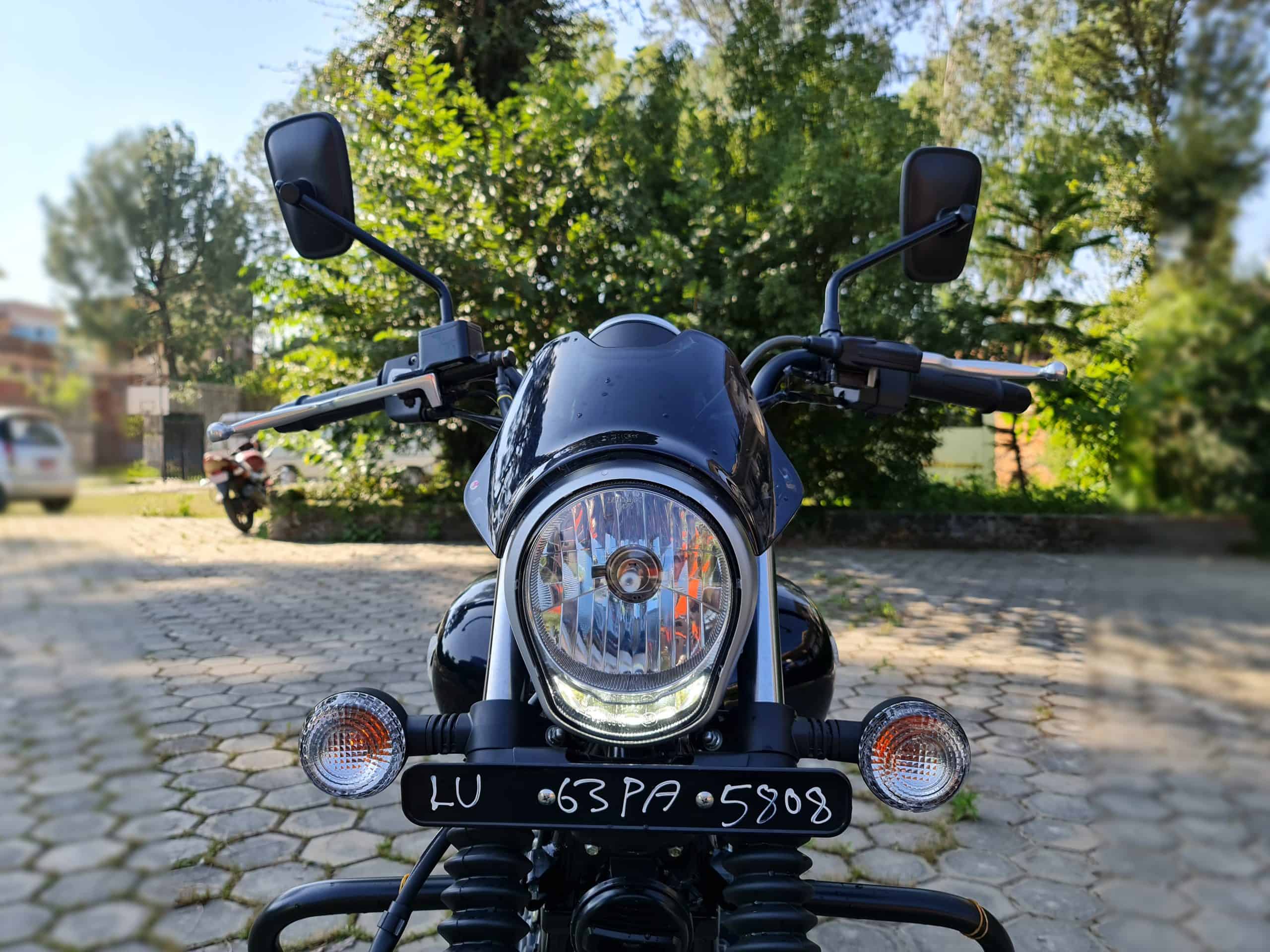 On the front, it gets a single-piece street-control handlebar, blacked-out visor, LED DRL strip, and black suspension cover. Staying true to its promise, Bajaj Avenger 160 beautifully pulls off a Sportster feel, especially with the blacked-out visor.
The unique "Roadster" styled headlamp and side-indicators are still halogen bulbs. However, visibility is top-notch.
Moving to the side profile, the Avenger Street still reserves the classic cruiser look.
The front-set foot position, the long low-slung seat, and 12-spoke alloy wheel design reinstates its iconic heritage. Nonetheless, it does bring the classic design into the modern era.
Adding to the overall design, there are additional elements that help bring out the sporty feel.
The metallic body along with glossy paint helps Avenger 160 stand out from the past models. Moreover, the design is so simple yet beautifully done.
Coming to the rear section, there aren't any noticeable changes.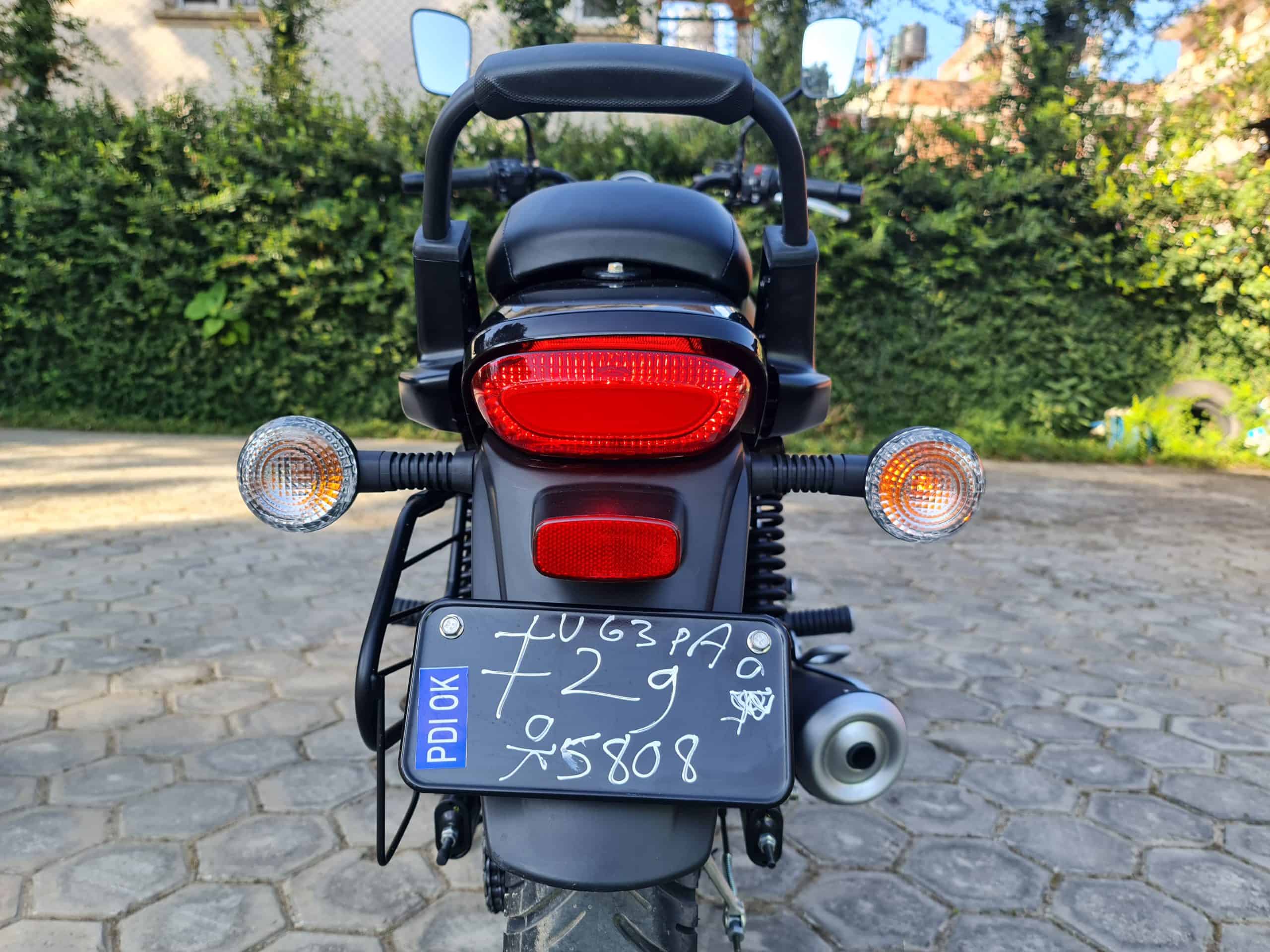 It still comes with a halogen tail lamp with a unique design to give off a LED-like appearance. Additionally, the new Bajaj Avenger also features a sporty grab bar as standard.
ALSO READ: Suzuki Gixxer 155 Review: An Underrated Masterpiece!
Other elements help pursue the premium feel like a distinctive blacked-out exhaust and blacked-out alloy wheels.
Love it or hate it, Bajaj always brings a killer color combo to the table.
Bajaj Avenger 160 ABS Street is available in two colors: Spicy Red and Ebony Black.
Bajaj Avenger 160 ABS Design Highlights
Sporty Street Focused Design
Beautiful Metallic Body with Attractive Colors
Roadster Headlamp
Low Slung Seat
Front Suspension Cover
Sporty Pillion Rest / Grab Bar
12-Spoke Alloy Wheels
Blacked Out Visor and Exhaust
Cruiser Performance
Bajaj Avenger Street 160 is powered by a 160.37cc, 2-valve, Air-cooled, DTS-I Engine.
It can generate a max power of 15PS at 8500rpm and a max torque of 13.5Nm at 7000rpm. Moreover, it is mated to a 5-speed gearbox with a 13-liter fuel tank capacity.
On a direct performance comparison with the previous 180cc engine, the 160cc engine generates 0.5PS less power and 0.2Nm less torque. Theoretically, it is still the same engine with similar experience on offer.
Unfortunately, the new engine is still a BS4-compliant carburetor engine!
Bajaj Avenger 160 is already available in the BS6-compliant FI engine in the Indian market. However, the one recently launched in Nepal is still a carburetor.
Bajaj Avenger 160 ABS Engine Highlights
BS4-compliant Carburetor Engine
160cc DTS-I Twin Spark Engine with Air-Cooling
Excellent Mid Range Performance
Features
Bajaj Avenger 160 ABS claims to feature a new design. However, most of the features were already present in past Avenger models like 150 and 180.
Nonetheless, these features are noteworthy which comes with a sense of practicality.
Braking Performance
Bajaj Avenger 160 features a traditional braking system, with a 280mm front disc and 130mm rear drum. Moreover, it gets additional support from single-channel ABS.
Normally, I would complain about this, but the Avenger 220 comes with the same configuration.
Talking about the brake experience, I like the front brakes. It provides ample bite, with improved braking performance thanks to the single-channel ABS.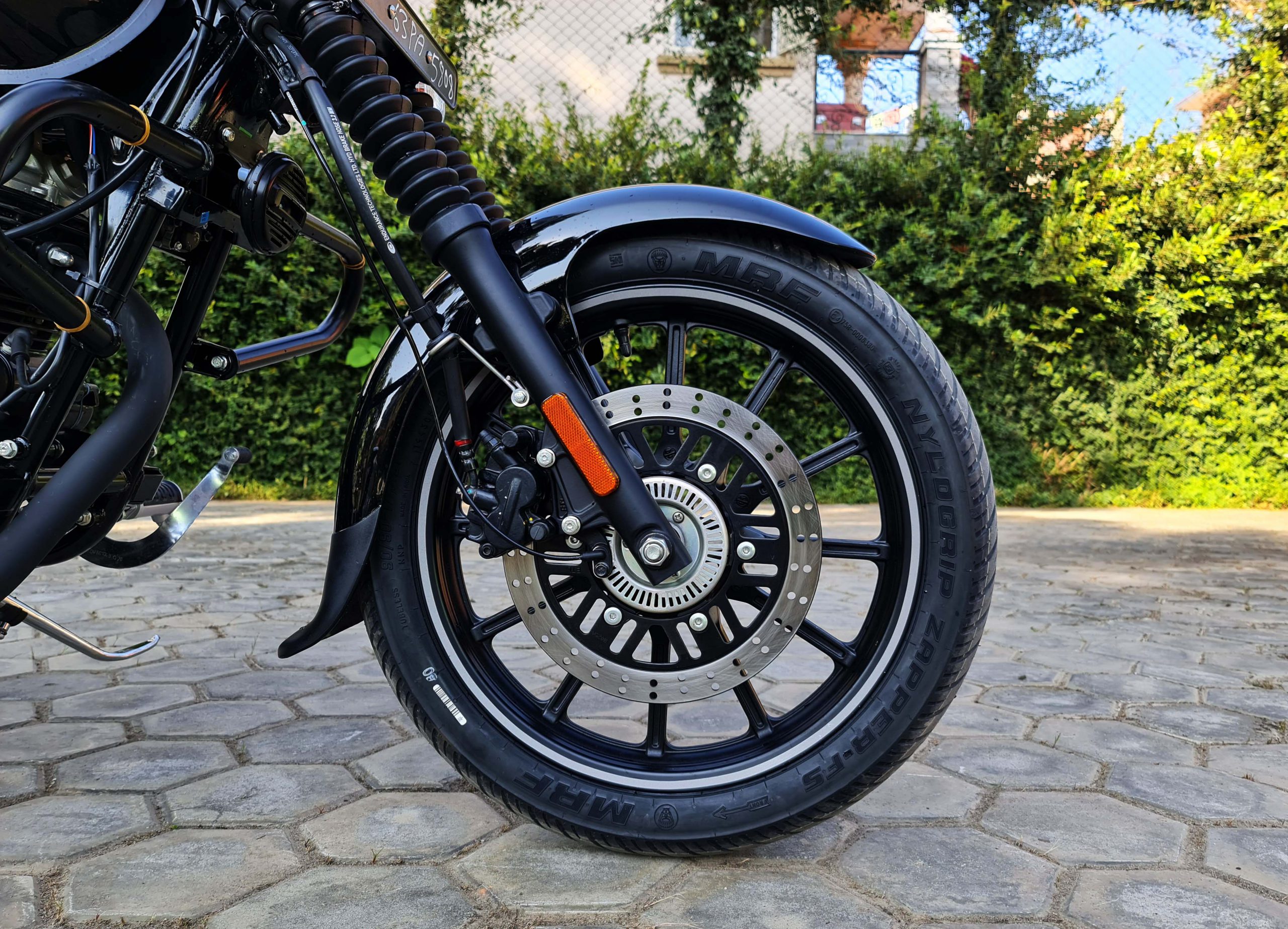 Unfortunately, the same cannot be said about the rear brakes. The drum brake completely lacks in feel and does not provide confidence-inspiring performance.
In normal traffic conditions, the rear brake gets the job done. However, I didn't rely much on it during high-speed runs on the highway.
It might be due to the front-set position, but Bajaj should have included a Dual Disc option.
Wider Tyres
Like any other cruiser, Bajaj Avenger features a larger front tyre and a smaller rear tyre. It comes with a 90/90 17-inch at the front and 130/90 15-inch tyres at the rear.
These tyres are tubeless, but not radial. Nonetheless, the tyres complete the overall muscular and sporty look of the Bajaj cruiser.
I don't have any complaints about the tyres, but there were few instances where the rear tyre felt a bit slippery. This wasn't in a street or a highway, rather a typical muddy road. Interestingly, it only happened when there was a pillion.
Suspension
The suspension is matched with a standard setup, with a front telescopic and rear twin shock absorber.
Moreover, you get a black front suspension cover alongside a black-colored twin shock absorber which improves the overall look of the cruiser.
Talking about the experience, the suspension is surprisingly good.
My initial thoughts were the lack of travel in rear suspension would result in a tougher ride experience. However, that wasn't the case at all.
ALSO READ: Bajaj Pulsar NS 160 ABS First Ride: Surprising Experience
The setup was comfortable enough for a smoother ride. Even if there is a bumpier road, the onboard cushioning helped absorb most of the impact for a more comfortable ride.
Fuel Tank Capacity
Bajaj Avenger 160 ABS comes with a 13-liter fuel tank among which 3.8-liter is reserved. Interestingly, Bajaj claims a mileage of 45Kmpl, which is good enough for a cruiser of this caliber.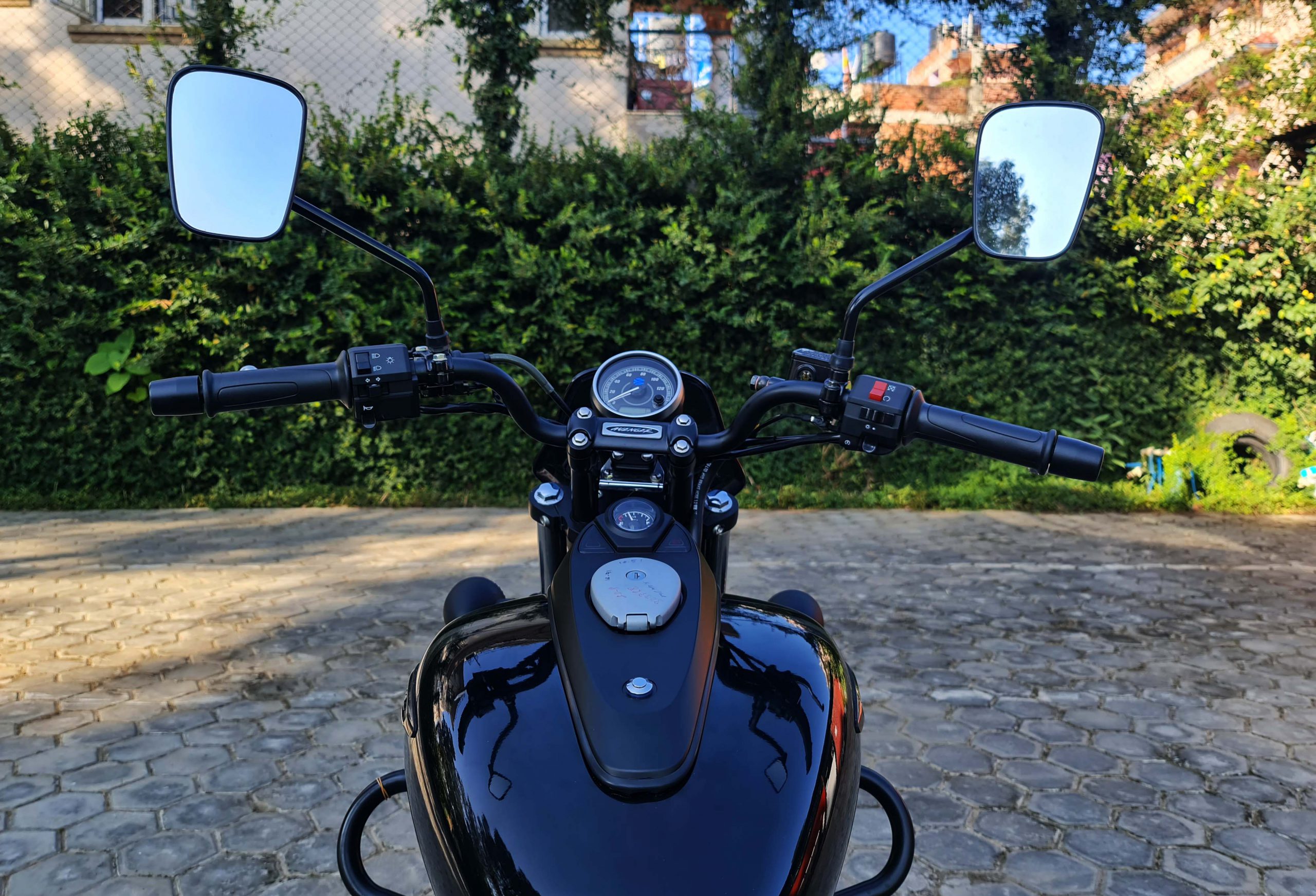 During our test, the Avenger 160 ABS did not live up to the claim, falling shy at just 35Kmpl.
To be fair, we weren't riding the Avenger as most riders would. So, I fully expect you to get more than 35Kmpl out of this.
Seat Position and Comfort
Let's come to my favorite aspect of the new Avenger 160: low sung seat.
There is a minute of a learning curve, but once you do, you instantaneously fall in love with it! The seats are well-cushioned, providing ample space and comfort for the rider.
Whether you go for a quick ride or a long one, the seats are super comfortable with little to no complaints!
However, I would have loved a wider seat for the rear passenger. The narrow pillion seat is comfortable but needs a little getting-used-to.
Other Features
Avenger 160 gets a 55W Roadster Design Headlamp with a lower LED DRL. Moreover, it gets the classically styled side indicators.
As far as visibility goes, I love it! The 55W halogen lamp does a perfect job in any road condition. Honestly, this is the only bike where a halogen bulb makes sense.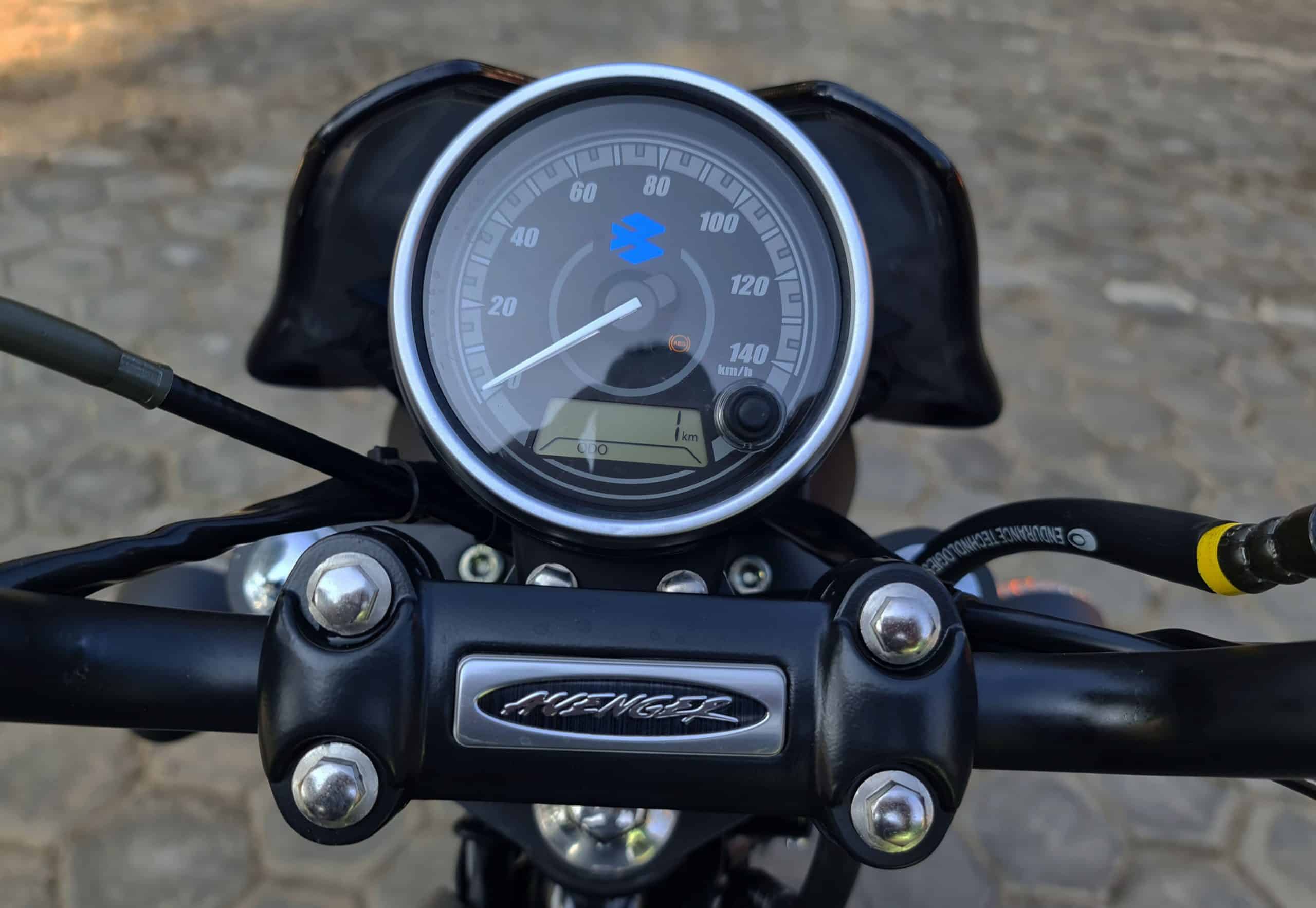 Moving to the analog cluster, it gets an analog styled instrument cluster with a small secondary display (with Odo and Trip meter info) with the ABS indicator.
Right on the fuel tank, you get yet another piece of instrument console on display. You get access to information like Neutral, Side Indicator, High Beam Indicator, etc., which feels practical.
However, I still wished Bajaj included the sidelight indicator on the upper cluster instead of the lower one.
Additionally, the Avenger 160 features vertical rearview mirrors which provide ample visibility, even with a pillion!
If you haven't experienced a cruiser before, the 737mm seat height, 167mm ground clearance, and front-seat footpegs might feel awkward at first.
Again, there is a slight learning curve. But you overcome it really quickly.
Anyways, the low seat height and decent ground clearance are practical and well thought out.
Bajaj Avenger 160 ABS Street Feature Highlights
Premium Metal Body Feel
Roadster Street Graphics
Street-Control Handlebar
Roadster Design Headlamp
Single-Channel ABS
130/90-R15 Wider Rear Tyre
Comfortable Seats
Long Low Sung Seat
Relaxed Riding Stance
My Experience with Bajaj Avenger 160 ABS Street
Bajaj Avenger 160 ABS Street feels like an excellent 160cc cruiser on paper. However, the experience is a little different.
It's a sort of a "Expectations vs Reality" scenario, where the expectation didn't match with the reality.
Ironically, it happened with the Bajaj Pulsar NS160 ABS as well.
Mediocre Pick-Up
The pickup is non-existent.
Typically, we expect the pickup to kick in lower gears, right? Well, not in Avenger 160 ABS.
The pickup experience feels mediocre, completely lacking in low-end feel. Moreover, the expected punchy performance from a DTS-I engine isn't there.
I would love to tell you more about the RPM in detail but Bajaj Avenger does not come with an RPM indicator.
If I had to guess, I'd say that the pickup kicks in past 4000rpm.
Power Heavy Performance
While the engine has been carried over from the Pulsar NS160, it has been tuned to match the cruiser riding style. Additionally, Avenger 160 ABS gets an air-cooled system instead of an oil-cooled one.
The overall performance also seems different. It does not seem to have a good low-end performance. Even though the base-heavy exhaust tries to give off that feel.
The mid-range performance seems excellent, where the max power truly shines. Interestingly, there are hints of torque, but it's not enough to blow your mind.
The engine feels refined and matched with the classic Pulsar feel. However, if you do try to push it then the vibrations kick in. Fortunately, the vibrations are minor, and will not affect the experience.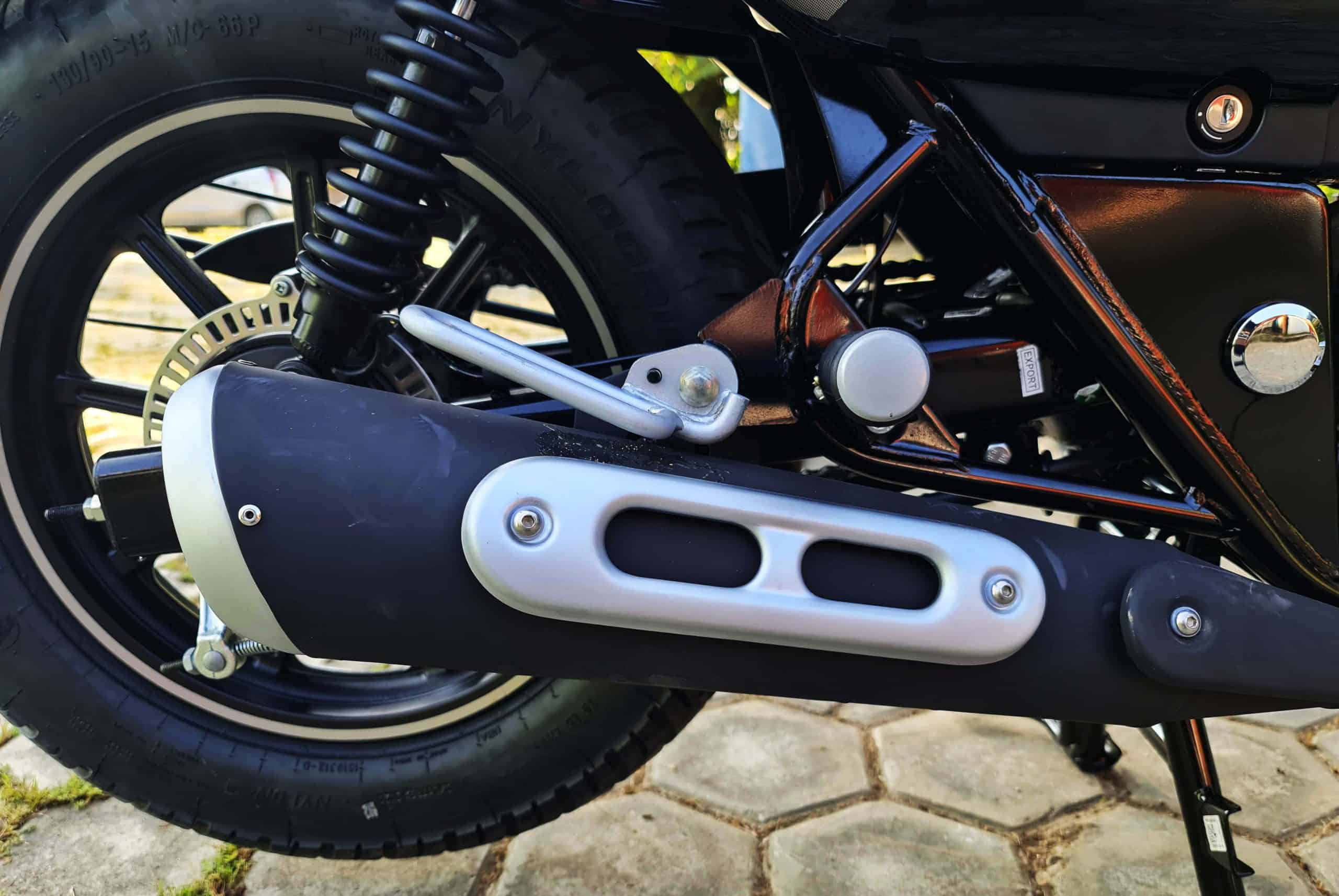 Talking about the gear shift, it is smooth with a heavier clutch feel. Moreover, the gear interval is pretty sweet, with little to no requirements for a continuous gear change.
Among the 5-speed gearbox, Gear-1 has the shortest travel with no torque on offer. Based on our testing, the Gear-2 feels more ideal for hill climbs. Similarly, the Gear-4&5 are more reliable in highway riding.
But the Gear-3 provides the best of both worlds experience, for adequate city riding use.
Additionally, the Avenger does carry the ability to instantaneously carry the motorcycle regardless of the gear position.
Mixed Practical Experiences
The ride position feels different but more comfortable.
Bajaj Avenger 160 ABS shines through, especially on highways and wide roads. Since it was built with that in mind, it shouldn't come as a big surprise. However, I can't say the same for the handling and maneuvering.
Cutting corners in tight roads feels a bit too complicated, even though it does get the job done. Furthermore, the handling is good for most cases but seems unwell at times.
I did notice my confidence flutter a bit during hill climb and hill descent.
While it does climb up the hill, it does so after maxing out the throttle. Funny enough, the low sung seat which is a cruiser feature, comes across as a disadvantage during a hill descent.
Add that with a heavy pillion and poor drum brakes, it's a recipe for disaster.
Riding with Pillion
Like cutting corners, riding the new Bajaj Avenger 160 ABS with a pillion is tricky.
The low sung seat comes as a disadvantage with a heavier pillion on the back. The weight seemingly multiples adding to the inconvenience of the front set footpegs.
If you accidentally try to tilt the Avenger, the combined body weight is strong enough to overpower your poor legs.
Battle with Competition
Among the few available cruisers, Bajaj Avenger goes head-on against the likes of Suzuki Intruder.
Both belong to the 150-160cc cruiser segment, with each one offering something different.
Bajaj Avenger 160 ABS vs Suzuki Intruder 150
There are considerable differences between the Bajaj Avenger 160 ABS and Suzuki Intruder 150. Everything from the ride quality to the riding position feels different, and almost everything feels entirely different.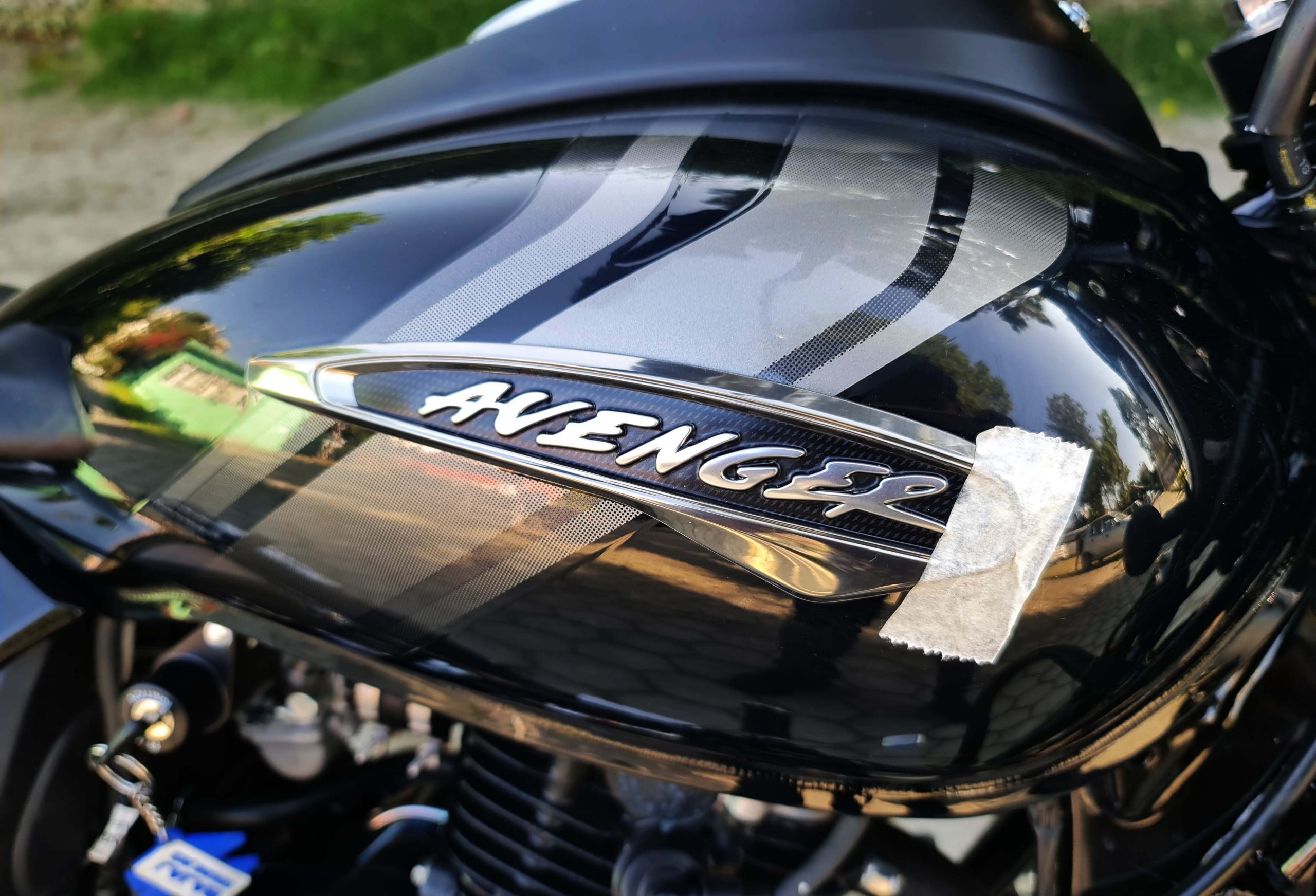 Bajaj Avenger feels more premium with the metal finish, relatively easy handling, and sporty design. However, it lacks torque, falling flat in city riding conditions. Furthermore, the rear brake comes with ridiculously lackluster performance.
In contrast, there are considerable improvements in Suzuki Intruder.
Firstly, the engine feels more punchy and torque heavy, making the ride feel more alive and enjoyable.
Secondly, the dual-disc brakes are god-send!
Suzuki still nails the performance of the brakes, with extra bite in the rear tyre. Plus, the added single-channel ABS is the cherry on the top!
In terms of design and practicality, Bajaj Avenger 160 ABS looks relatively more promising. In terms of performance and braking, Suzuki Intruder 150 comes out on top,
Inconveniences
I have already covered most of the inconveniences separately. Nonetheless, I am going to summarize it in a few quick words.
Bajaj Avenger 160 ABS is lacking in performance right alongside the braking feel. While these aren't noteworthy inconveniences, it is just enough to affect the overall experience.
In hindsight, the overall look and feel of the cruiser are worthy enough to ignore its flaws.
Conclusion
This brings us to the conclusion.
After testing out the new Bajaj Avenger 160 ABS, I still ended up with mixed reactions.
I mean, it is a good cruiser with excellent design on offer. However, it lacks two quintessential aspects: performance and brakes.
Moreover, the pricing doesn't really allow us to ignore those facts as a simple cost-cutting. Still, the look and feel of the bike isn't really available in the competition.
After careful consideration, I strongly think that the Bajaj Avenger 220 Cruise would be a wiser choice. Bajaj Avenger 220 offers more power and a tad-bit of more features, without any compromise in Avenger feel.