Digital signatures are making records much secured and managed for many companies across the world. The digital signature is a unique data attached electronically to an electronic document or message which ensures that no alterations are made to it. It has become a global practice to use the digital signature in the documents as it provides the highest level of security and universal acceptance.
ICT Association of Nepal has penned an MoU for the Digital Signature Certificate (DSC) with the Nepal Certifying Company (NCC) at its head office today. By doing so, it has become the first IT organization to implement the usage of Digital Signature in Nepal. The MoU was signed by Mr. Bhesh Raj Poudel, President, ICT Association of Nepal and Mr. Biplav Man Singh, Chairman, Nepal Certifying Company.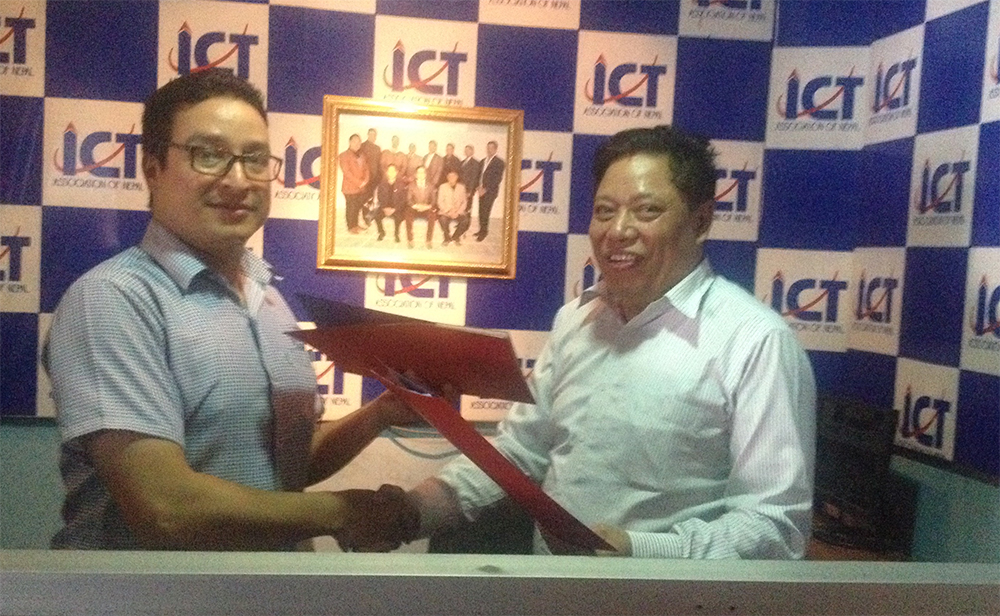 During the event, Mr. Bhesh Raj Poudel said, "Usage of digital signature has become a global trend as it makes transactions much authentic and secure. Moreover, this technology has helped everyone to dematerialize the use of paper which has played a vital role to promote the concern and consciousness regarding paperless green environment. Our company has always aimed to support the concept e-Nepal. I am sure that implementing DSC in our organization will contribute to this concept and helps us to move forward to achieve our goals in more secure way."
Mr. Biplav Man Singh said, "It is a great pleasure for us to provide DSC to ICT Association of Nepal, one of the prominent IT Company in Nepal. We are glad that ICT Association of Nepal has stood to be first IT organization to understand its value and make use of the digital signature. This deal further emphasizes our aim to promote the usage of digital signature all over the country to make Digital Nepal."
NCC has been issuing DSC to various organizations in Nepal. According to, Mr. Biplav Man Singh, the company has issued more than 50 DSC to various organizations in the country. For further information about the DSC, you can pay a visit to NCC website.