Huawei P20 Pro, the first smartphone with a triple camera is by far one of the best premium smartphones. It caught a lot of attention with its DxO Mark rating of 109; the highest among any smartphones and proved to be the best smartphone for mobile photography. Now, the OnePlus 6 is a cheaper flagship smartphone designed to compete against the likes of Huawei P20 Pro, iPhone X, S9 Plus, and others.
Primarily known as the flagship killer, OnePlus 6 is quite a respectable flagship smartphone of 2018. But, how does it stack up against the best flagship smartphone of 2018? Let's find out!
Huawei P20 Pro Vs OnePlus 6
---
Specs
The Huawei P20 Pro takes an early lead in the specs department, partly due to its triple camera setup and larger battery. It also has more internal storage out of the box; 128GB compared to OnePlus 6's 64GB. Also, the P20 pro comes with IP67 rated water resistance whereas we do not get any sort of IP rating on the OnePlus6.
Also, there's a stereo speaker on the P20 Pro but OnePlus features an underwhelming bottom firing single speaker. P20 Pro clearly has a better speaker than the OnePlus 6.
Specs

| | Huawei P20 Pro | OnePlus 6 |
| --- | --- | --- |
| Display | 6.1-inch OLED | 6.28 inches Optic AMOLED |
| Screen Resolution | 2240 x 1080 pixels (408 pixels-per-inch) | 1080 x 2280 pixels (402 pixels-per-inch) |
| OS | Emotion UI 8.1 (Android 8.1 Oreo) | Oxygen OS 5.1.8 (Android 8.1 Oreo) |
| Internal Storage | 128GB | 64GB |
| MicroSD Card Slot | No | No |
| Chipset | Kirin 970 | Qualcomm Snapdragon 845 |
| CPU | Octa-core (4×2.4 GHz Cortex-A73 & 4×1.8 GHz Cortex-A53) | Octa-core (4×2.8 GHz Kryo 385 Gold & 4×1.7 GHz Kryo 385 Silver) |
| GPU | Mali-G72 MP12 | Adreno 630 |
| RAM | 6GB |  6GB |
| Rear Camera | Triple: 40MP; 20MP; and 8MP |  Dual: 16 MP; 20 MP |
| Front Camera |  24MP |  16 MP |
| Video | 2160p at 30 frames per second; 1080p at 30 fps; 720p at 960 fps |  2160p@30/60fps; 1080p@30/60/240fps; 720p@480fps |
| Bluetooth Version | 4.2 | 5.0 |
| Ports | 3.1; USB-C | 2.0; USB-C |
| 3.5mm Jack | No | Yes |
| Fingerprint Sensor | Yes | Yes |
| Water Resistance | IP67 | No |
| Battery | 4000mAh | 3300mAh |
| Colors | Black/Blue/Pink Gold/Twilight | Mirror Black |
| Price | 99900 | 71000 |
Build & Design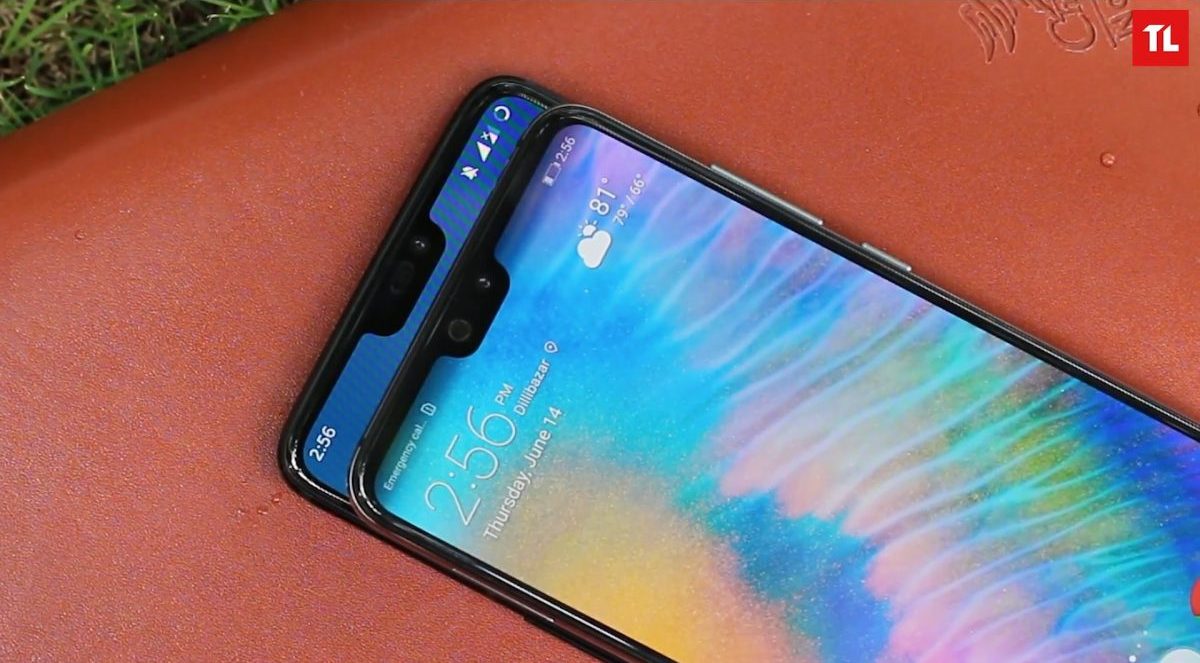 Moving on to the build and design, with the P20 Pro you get a metal frame with a glass panel on the front and back. Looks and feels very premium. I absolutely love the twilight version but the blue color also looks fantastic. With the OnePlus 6, you are getting a glass panel on the front and back with an aluminum frame and it looks equally good. Now both of these phones have a notch at the top, Huawei's notch looks much more subtle than the OnePlus 6 as it has a much smaller notch. However, OnePlus 6 has almost no chin at the bottom whereas we have a fingerprint sensor on the bottom chin of the P20 Pro.
Talking about the water resistance, the P20 Pro has an ip67 certification, so the P20 Pro has a slight edge over the OnePlus 6 as there's no certification for water resistance on the OnePlus 6. Now, Design is subjective and comes down to personal preference but the triple camera setup on the back of the p20 pro is definitely more attractive than the OnePlus's dual camera setup. Also, the P20 pro is much easier to hold and use than the OnePlus 6 as it is much narrow than the P20 Pro. So, yes! I do prefer the build and design of the P20 Pro
Verdict: Huawei P20 Pro
Display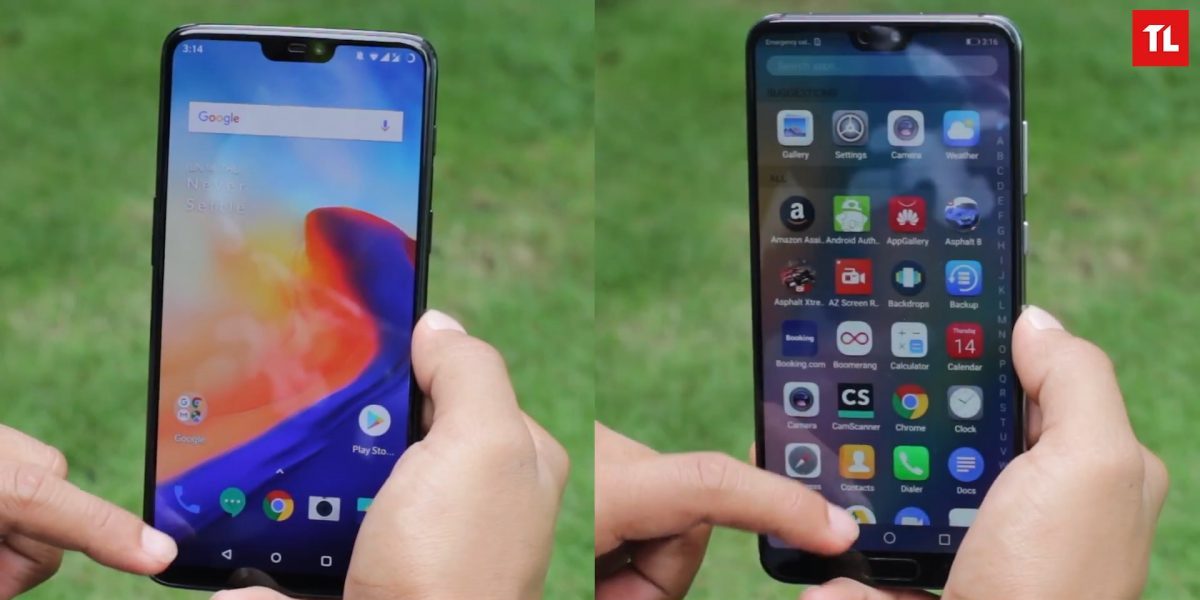 Huawei's P20 Pro comes with AMOLED screen measuring 6.1-inches with a screen resolution of Full HD+ (1080 x 2240) and 18.7:9 ratio. OnePlus has avoided jumping to Quad HD for the last couple of years and continues to do so, with the OnePlus 6 offering Full HD+ at 2280 x 1080. This means you won't notice much difference in sharpness, if any at all, between the OnePlus 6 and the P20 Pro.
The OnePlus 6 has a 6.28-inch AMOLED display with a 19:9 aspect ratio screen, making it a little taller than the P20 Pro. As mentioned previously, both of these devices have a notch at the top of their displays. OnePlus' Display settings option is really good which let you choose from a number of different preset calibrations, including DCI-P3 and sRGB. Similarly, you can change between Vivid, Normal, Warm, and Cold profile on the P20 Pro.
Both of these displays are really good. OnePlus 6 offers more popping colors whereas the P20 Pro offers more natural color. Therefore, this will come down to your personal preference. However, during my brief usage, I noticed that OnePlus 6's display looks a little flat than the P20 Pro. Meaning, the texts look slightly sharper on the P20 pro. I loved the display on both of these phones but I slightly prefer the cooler and sharper profile of the P20 Pro.
Verdict: Draw
Performance, Battery Life, and Charging
The P20 Pro has Huawei's own Kirin 970 Processor. It is the first mobile processor with a dedicated NPU (Neural Processing Unit). Huawei's camera is backed up by the NPU for artificial intelligence (A.I) tasks. Also, the P20 Pro is equipped with 6GB RAM.
The OnePlus 6 goes with the latest Snapdragon processor, the 845. It is backed up by 6GB of RAM and doesn't have anything to deal with A.I.
Some benchmarks test show a slightly more power at play for the Snapdragon, but it's not enough to suggest that OnePlus 6 is superior – not when the everyday performance is super smooth on both of the devices. Both P20 Pro and OnePlus 6 offers 6GB of RAM to keep things going smoothly no matter what you throw at it: games, apps, and multitasking.
Moving into battery life, the P20 Pro has a beefier 4,000 mAh compared to the 3,300 mAh battery. P20 Pro outshines OnePlus 6 in battery life as it can last up to 2 days. In our testing, the P20 pro outlasted OnePlus 6 comfortably. Even under heavy usage, P20 Pro manages to last an entire day but we had to charge the OnePlus 6 before the end of the day. Our heavy usage includes more than 2 hours of PUBG, Plenty of social media, Spotify and Cellular data.
Both of these phones support fast charging, Dash Charging on the OnePlus 6 and Super Charging on the P20 Pro. Now, OnePlus 6 charges from 0 to 100 slightly faster than the P20 Pro but considering that P20 pro has a much larger battery, the P20 Pro is a true winner when it comes to charging.
It's a close match when it comes to real life performance but the Huawei P20 Pro edges out OnePlus 6 in terms of Battery and Charging.
Verdict: Huawei P20 Pro
Camera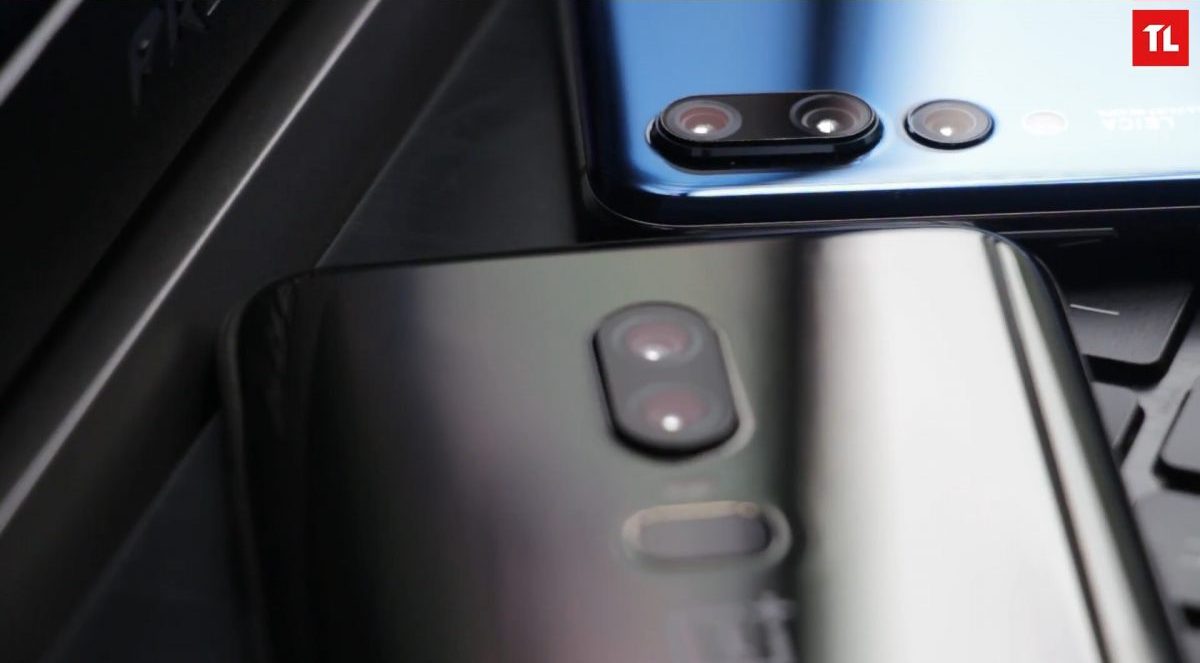 With the Huawei P20 Pro, we are getting a triple camera setup with an f1.8 aperture 40MP RGB sensor, f/1.6 20MP Monochrome Sensor, and a f/2.4 8MP telephoto lens. And among these three sensors only the telephoto lens is optically stabilized, whereas the two remaining sensor use AI stabilization.
Now on to the Oneplus 6 we have a dual camera setup with f1.7 16MP and 20 MP lens. And both of these are optically stabilized.
OnePlus 6 cannot really compete with the Huawei P20 Pro when it comes to the camera department. The 40 MP RGB sensor on the P20 helps to capture awesome details and the 5x hybrid zoom is really impressive. P20 Pro is the best camera among smartphones right now and I've been impressed with its real-life performance. P20 Pro tries to capture lifelike pictures and thus, it offers natural colors. However, if you want to capture pictures with more popping colors, Huawei lets you do that by switching to Vivid and Smooth color mode on the Camera settings. But you're stuck with the same color profile option on the OnePlus 6, generally its bright and has vibrant colors – not accurate. Also, OnePlus 6 tends to overexpose most of the times, thus you'll get punchier colors and more visible noise.
Now, let's talk about that crispy zoom option on the P20 Pro. You'll get 3x optical zoom and 5x digital zoom on the P20 Pro. The details are well preserved and noise is well under control in 3x optical zoom and 5x digital zoom is also equally convincing. This provides the users with more room to play with the P20 Pro's camera. You do have the zoom option on the OnePlus 6 but it cannot match the pedigree of P20 Pro.
In low light conditions, P20 Pro is miles ahead of the OnePlus 6. Though OnePlus 6 has improved camera, the low light prowess of the P20 Pro is exceptional. P20 Pro manages to keep the noise level really low and provides nice details to the images even under the low light situation. More than that it handles highlights and shadows really well in night conditions. The OnePlus 6 cannot match the detail level of P20 Pro and the noise level makes the image less appealing. Another exceptional low light feature of the P20 Pro is its night mode. This mode exposes the lens for 4 seconds and balances out the shadows with the lights to a sensible degree – a mode no other competitor can match. This mode is kind of an HDR mode for night shots; it'll provide you with more details and balanced exposure.
This slideshow requires JavaScript.
Onto the portrait mode, there's not much to differentiate between the P20 pro and the OnePlus 6. Both of these phones perform really well. But, the P20 Pro's edge detection is far better than the OnePlus 6. You'll get more consistent blur on the edges of the subject with the P20 Pro. This doesn't mean that the OnePlus 6 is bad but the P20 Pro does the job really well. Also, you'll lose some details due to the aggressive blur on the OnePlus 6's bokeh mode. Overall, Huawei P20 Pro is the best camera smartphone out there and OnePlus 6 cannot really compete with it.
However, things look better for the OnePlus 6 when it comes to front camera and videos. We have the 4k option on both of these devices but you do not get the 4k 60fps option on the p20 pro and also there's no stabilization option on 4k. Whereas you get 4k 60fps option on the OnePlus 6 and has a very good OIS. There's slow-mo option on both of the devices but you get 960fps option on the p20 pro which is not available on the OnePlus 6. OnePlus 6 only offers 240fps slow motion feature. P20 Pro wins the Slow Mo round! Photos from the front camera look better on the OnePlus 6. In one of the included samples, the skin looks more natural on the OnePlus 6 and is better than the p20 pro on overall. However, there's no bokeh mode on the OnePlus 6 which is available on the P20 Pro.
Video from the front camera is debatable but I prefer the p20 pro because of its wider field of view. Its better for vlog than the OnePlus 6. The OnePlus 6 sits right on your face and gives you less of the background and it feels awkward and annoying at the same time.
Verdict: Huawei P20 Pro
Software and Updates
P20 Pro rocks a latest Android 8.1 Oreo, with Huawei's EMUI 8.1 UI on top. Whereas, the OnePlus comes with the Oxygen OS on top of Android 8.1 Oreo. Stock Android fans will obviously prefer the Oxygen OS but Huawei's EMUI has some neat features. And recently, Huawei has been really active when it comes to updates. EMUI vs Oxygen Os is the matter of personal preference.
Huawei has an inbuilt pedometer that counts the daily steps; it's really useful for the health freaks. Furthermore, you get Huawei Health if you want to step up your health game. A standout feature that I really like about the P20 Pro is their battery saving mode. There are two intensity levels and with the Ultra power saving mode, you can really make it last longer. And, with the option to darken the interface colors, P20 Pro really outshines in battery optimization.
We do get a power saving mode on the OnePlus 6 but it's not as emphasized as it is on the P20 Pro. Similarly, OnePlus 6 gives you dark mode as a customization option.
Since both of these devices feature a notch, there's an option to hide the notch on both smartphones as well. A unique feature on the OnePlus 6 is the option to use gestures instead of the navigation bar.
Talking about such unique features there are plenty of to play within Huawei P20 pro rather than the OnePlus 6. Most of them are useful and you'll appreciate that its available.
Verdict: Draw
Price
Currently, the 64GB variant of the OnePlus 6 is available for NRs. 71,000 and the base variant (128GB) of P20 Pro is available for NRs. 99,900. If we compare these prices with international prices then the P20 pro has better pricing than the OnePlus 6. OnePlus 6 is supposed to be a value flagship but at this price tag, OnePlus is no more a flagship killer. Thus, P20 Pro is a better phone for its price tag in Nepal.
Verdict: Huawei P20 Pro
Overall Winner:

Huawei P20 Pro

The OnePlus 6 is definitely a good flagship. In some areas, it can go head to head with the P20 Pro but P20 Pro crushes its competitors with the triple camera setup, bigger battery, and super fast charging. Truth be told, both of these are an excellent phone but Huawei P20 Pro seems to a better choice if you're looking for the best flagship. Thus, the Huawei P20 Pro is our winner for this comparison.

What do you think about both of these devices? Which one would be your pick? Let us know in the comments below!