With the theme "Dive into Digital", Huawei Nepal hosted "Huawei Connect 2021", the company's annual industry event, on November 16 at the Kathmandu Marriott Hotel.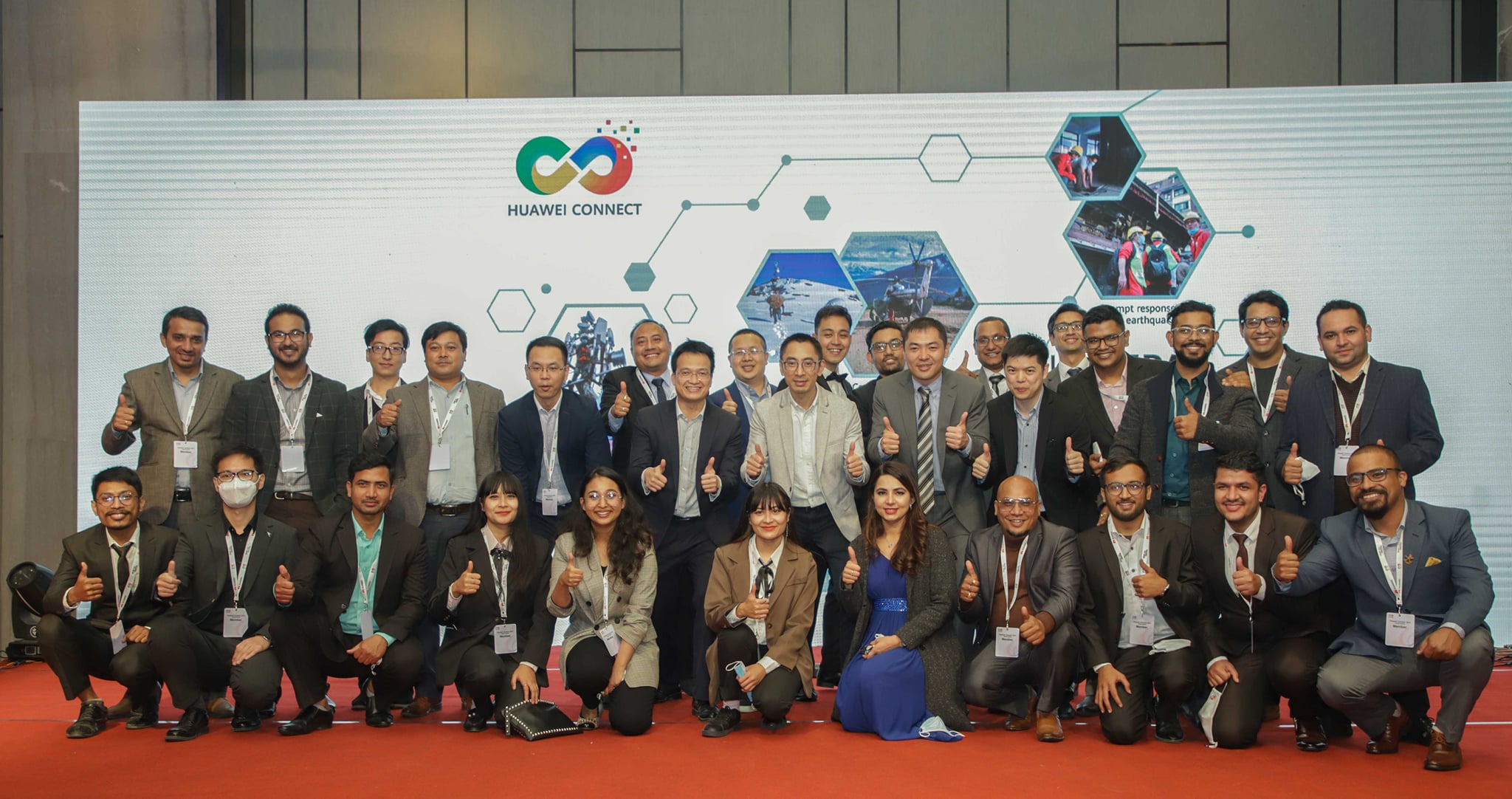 Huawei and its partners in Nepal discussed the practical use of technologies such as mobile and fixed broadband, data centers, digital solar power, cloud service, and 5G in Nepal's all industries during the event.
During the program, Huawei delved into industrial realities and presented its knowledge and success stories. They also showed off their cutting-edge products and solutions, which are assisting in the digital, low-carbon, and intelligent development of a wide range of industries.
The event was held in the presence of guests of honour Joint Secretary from the Ministry of Communications and Information Technology, Mr. Anil Kumar Dutta, ICT industry stakeholders from the telecom and ISP sectors, professors from TU, and KU, and other distinguished guests. The event featured lectures from international speakers from Huawei and Huawei's business partners in Nepal.
Huawei Connect 2021 Nepal Keynote
The program began with welcome remarks from Mr. Zhang Zhengjun, Huawei Asia Pacific Vice President and Huawei Nepal Chairman of the Board. Mr. Zhang (Jun) emphasized that during the pandemic, digital technology and connectivity had become a necessity for everyone throughout the world, and that improved connectivity and computing would play a key role in accelerating economic recovery and growth.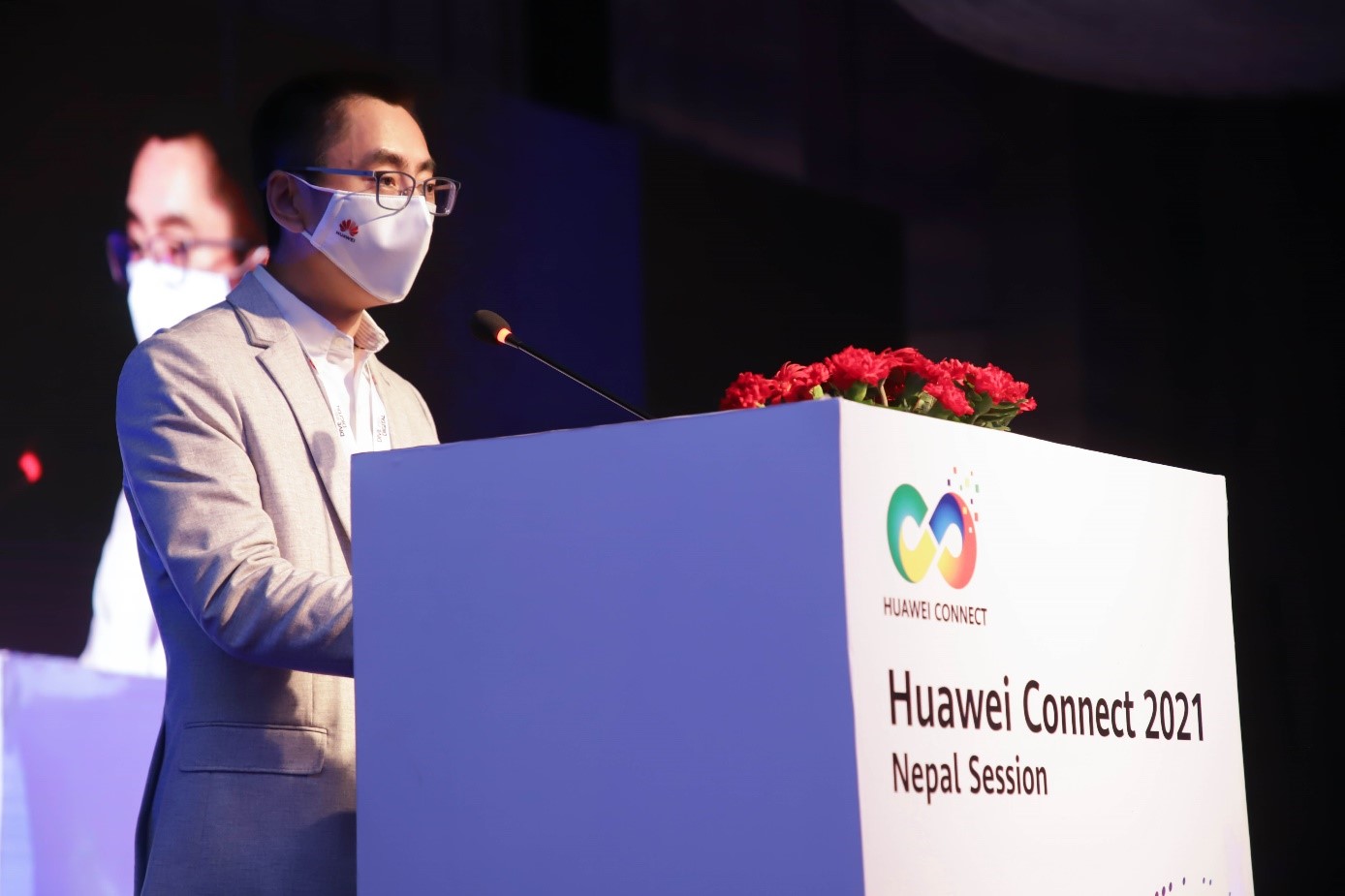 He also expressed his confidence in Nepal's potential to develop digital talents, as well as his desire for Nepal to become a regional data center hub.
Joint Secretary Dutta addressed at the occasion, highlighting the importance of reliable and widespread digital connectivity and bridging the digital gap for post-pandemic recovery. He also lauded Huawei, praising the company's contribution in 4G expansion even during the pandemic period.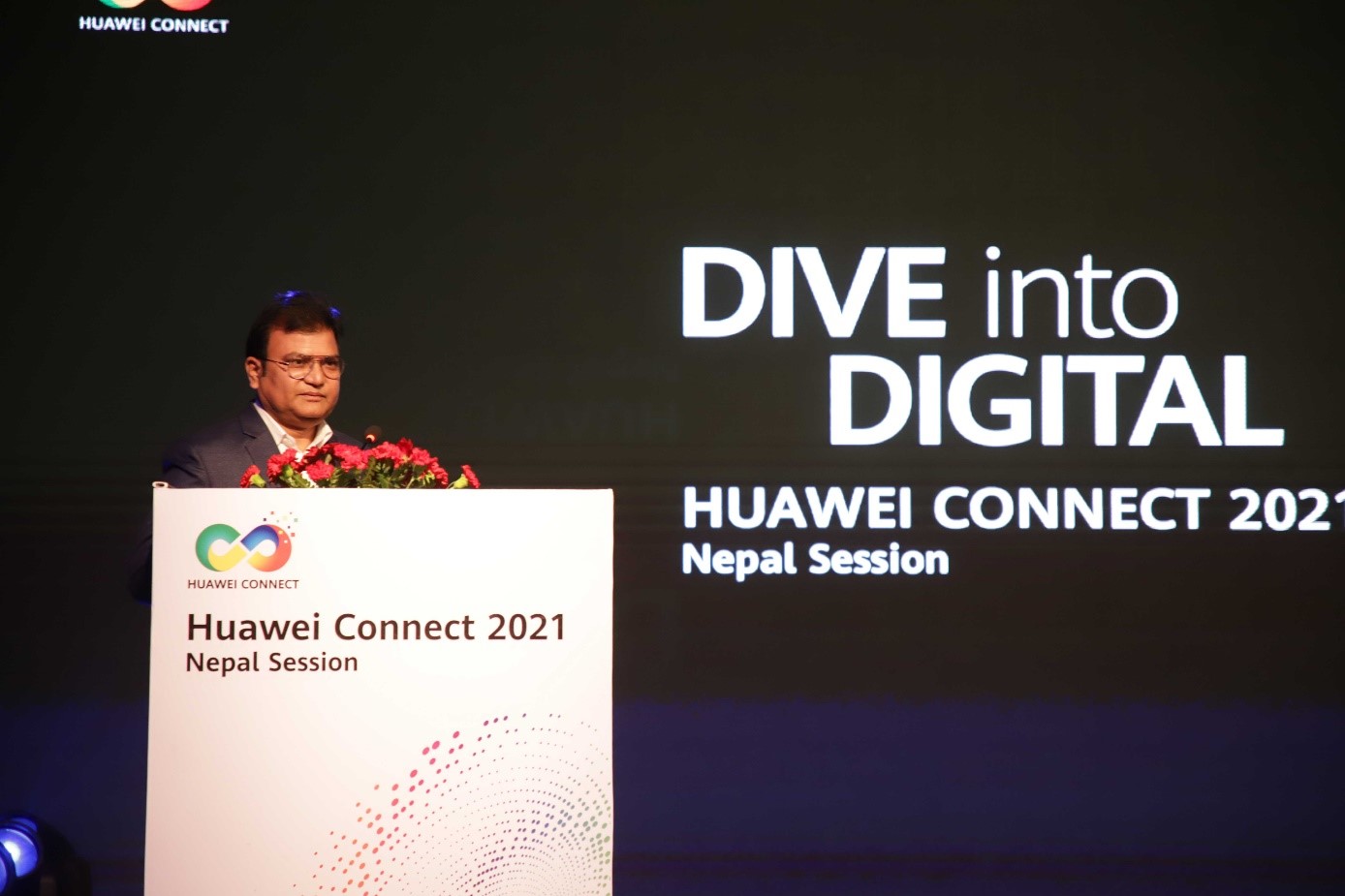 MoU Signing Ceremony — Tribhuwan University IoE & Huawei
Huawei also announced the start of its cooperation with the Tribhuvan University Institute of Engineering (IoE) at the ceremony. Huawei intends to develop 10,000 digital talents over the next five years as part of its Digital Talent Development Ecosystem initiative.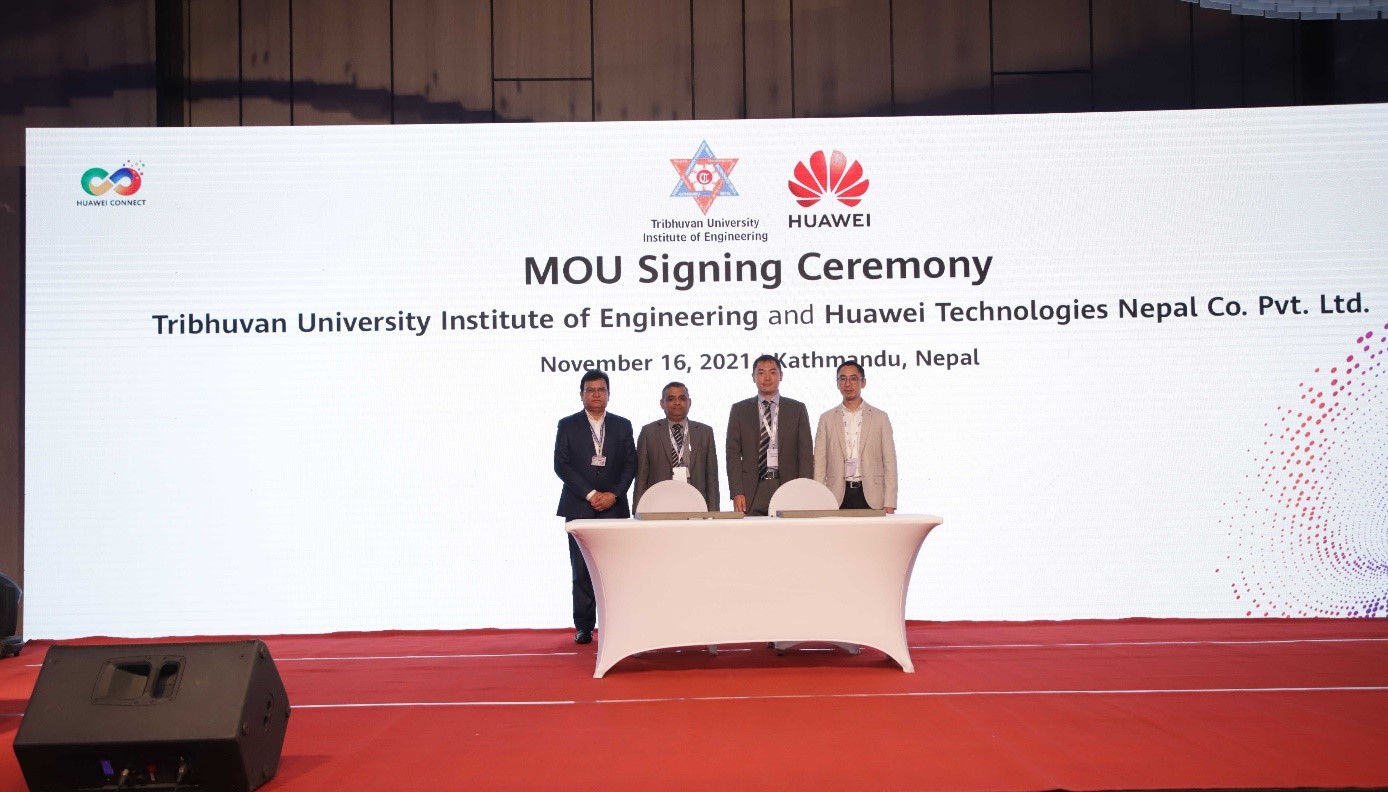 According to Huawei, the company will build Huawei Nepal ICT Academy, a state-of-the-art ICT lab where students will have access to the latest technologies and Huawei's certification programs while also getting to attend classes delivered by Huawei experts, in collaboration with IoE.
Acting Dean of IoE, Prof. Dr. Chintamani Pokharel and Huawei Nepal CEO, Mr. William Zhang signed the MoU. The signing ceremony was witnessed by Joint Secretary Dutta and Mr. Zhang Zhengjun.
Huawei Darwin Exhibition Hall Online Visit
A virtual tour of Huawei's Darwin Hall — its 5G exhibition hall located at the company's Shenzhen headquarters — was also featured in the event. During the online visit, Mr. Dorian Lawson, senior expert at Huawei, discussed the practical uses of 5G ranging from AR tourism to rural telemedicine and rural education.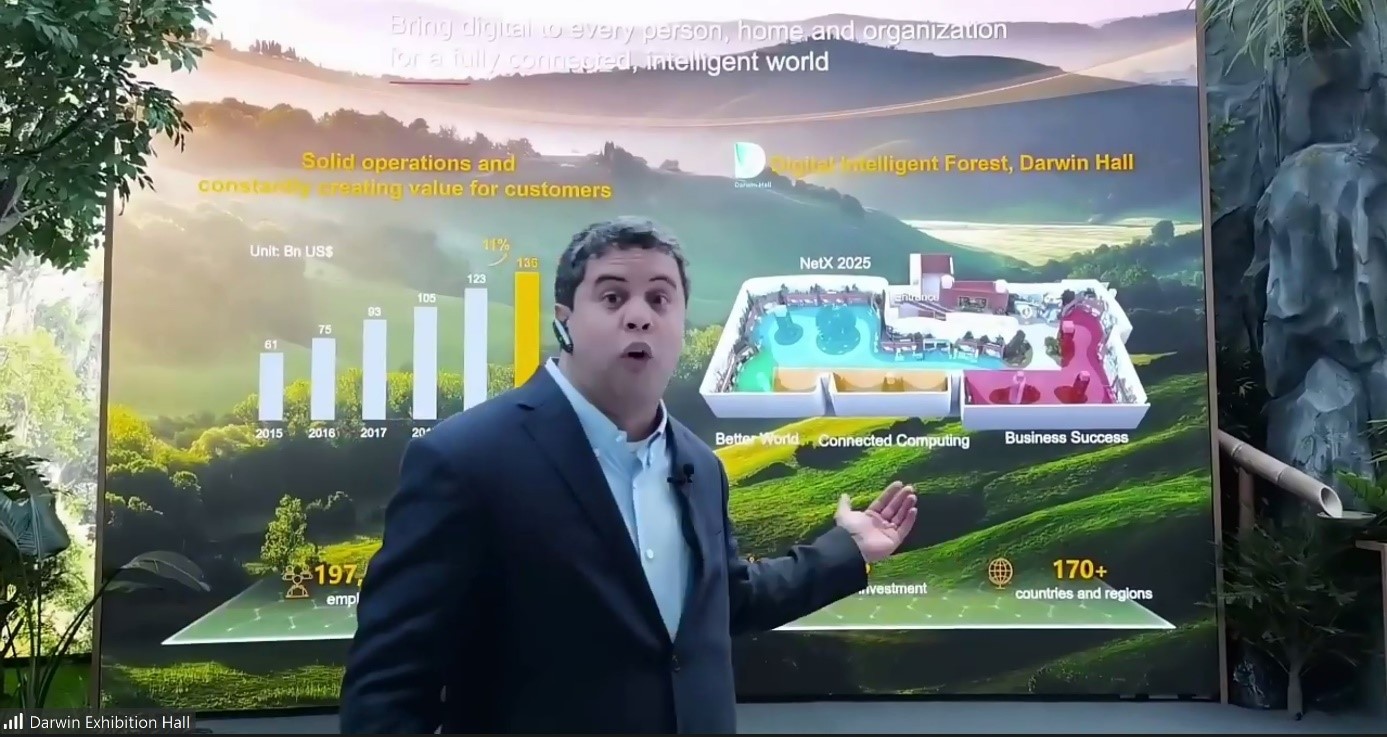 Heading to the F5G
Mr. Justin Chen, Senior Solution Manager, Huawei Asia Pacific Internet Service, delivered a presentation on ISP trends and Huawei's end-to-end solution for ISP businesses. The presentation emphasized the new concept of F5G fixed networks broadband and its future.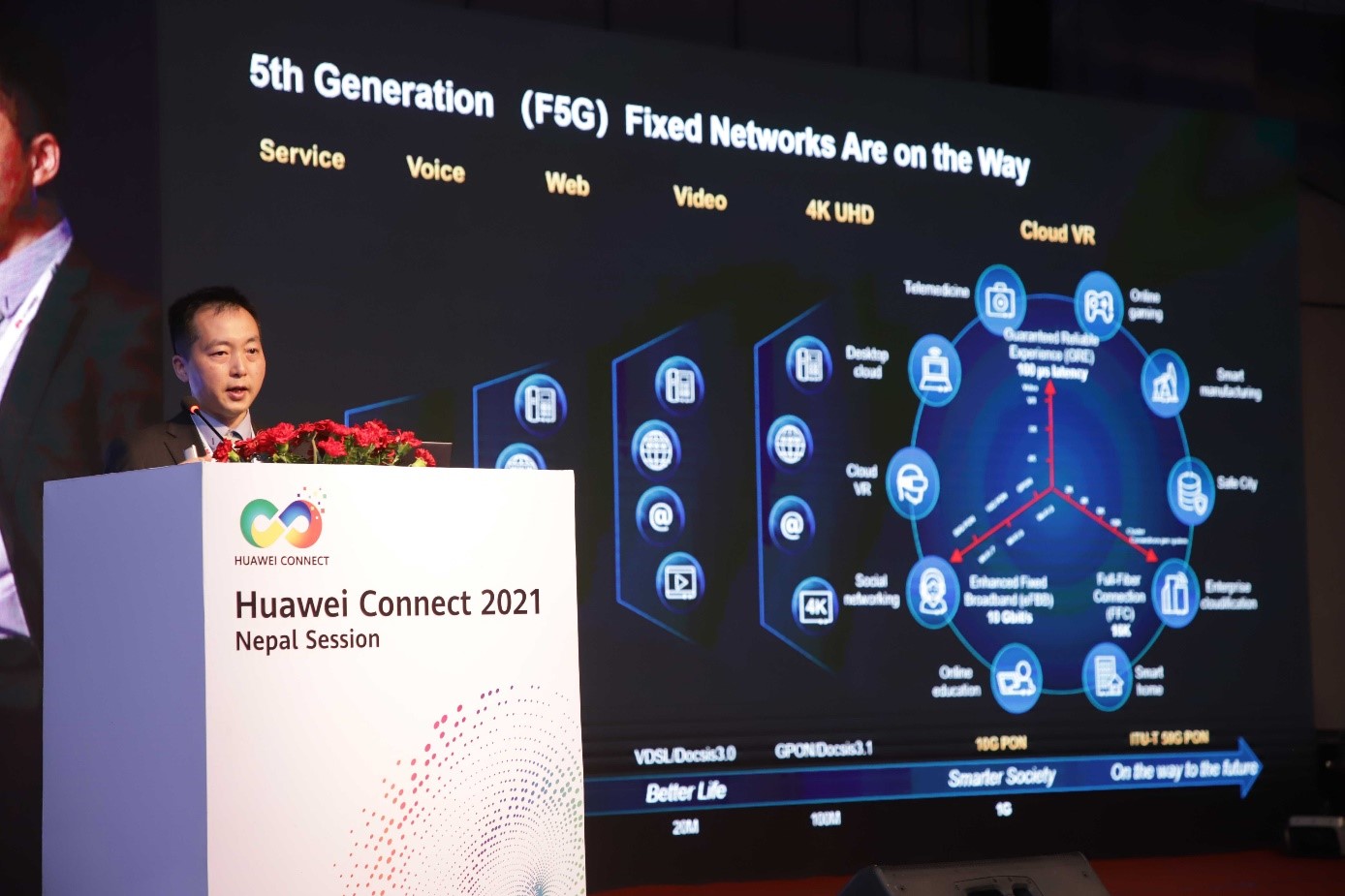 He shares how Huawei's latest technologies and solutions are aiding Nepali ISPs in expanding and forecasting growth.
Dish Media Presentation & New Business Launch
Mr. Sudeep Acharya, Managing Director of Dish Media, a leading home TV service provider that has been making inroads into the ISP market with DishHome Fibernet, spoke about the company's ambitious goals in the ISP sector and expressed trust in Huawei's ISP solutions.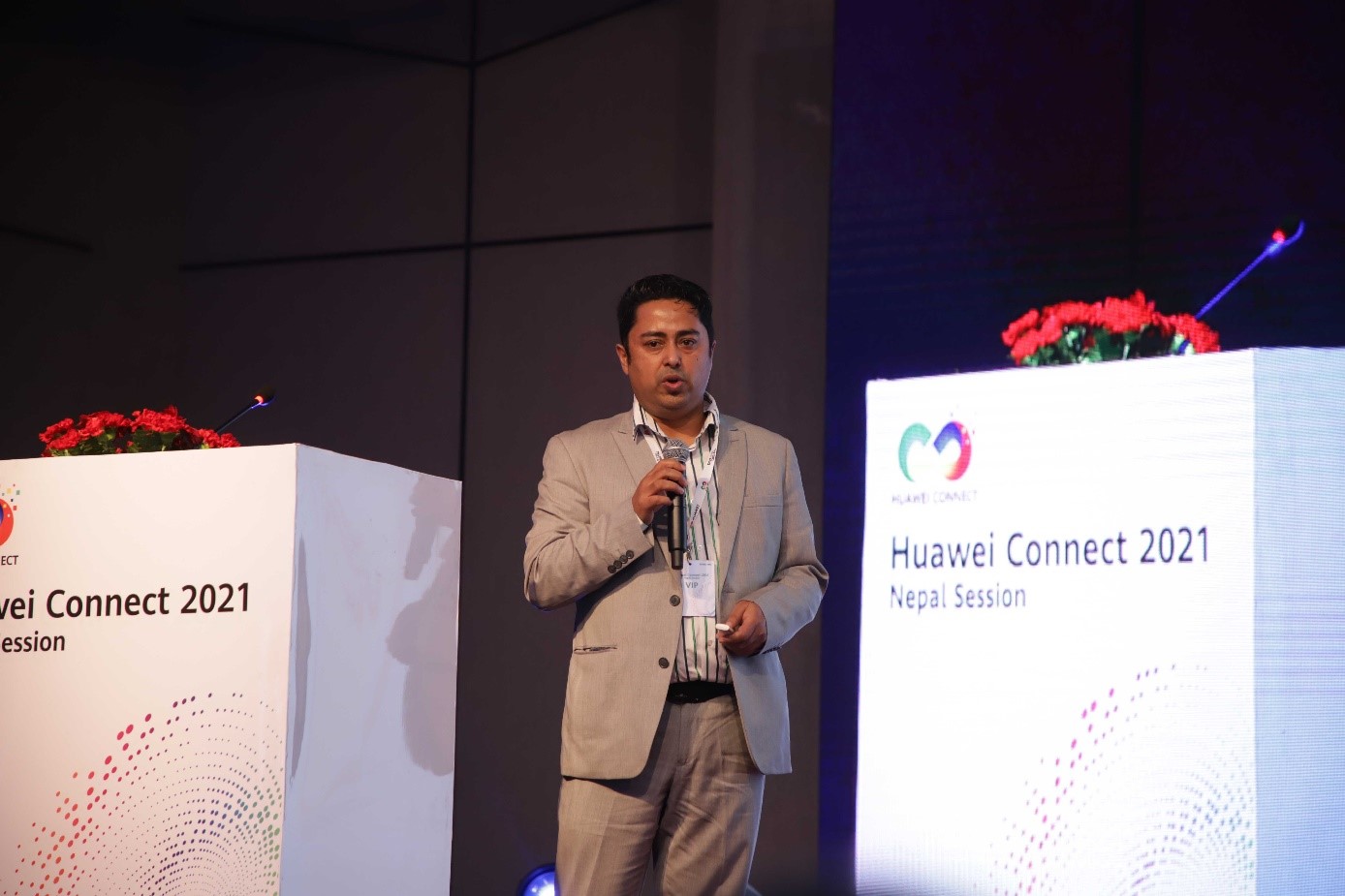 Mr. Sven Willig, COO of Dish Media, and Mr. Manoj KC, CTO of Dish Media, talked about how the company has grown to be a major participant in the Nepali ISP industry. They also discussed some of their products, including Fibernet Combo Packages, DH GO, IPTV, and DH 4K Streamer.
Huawei Data Center Solution and Experience Sharing by Ncell
Mr. Soma Shekhar Veeranna, Regional Director Data Center Facility Solutions, Asia Pacific Region, Huawei, gave a presentation on Huawei's prefabricated modular data center and indoor data center.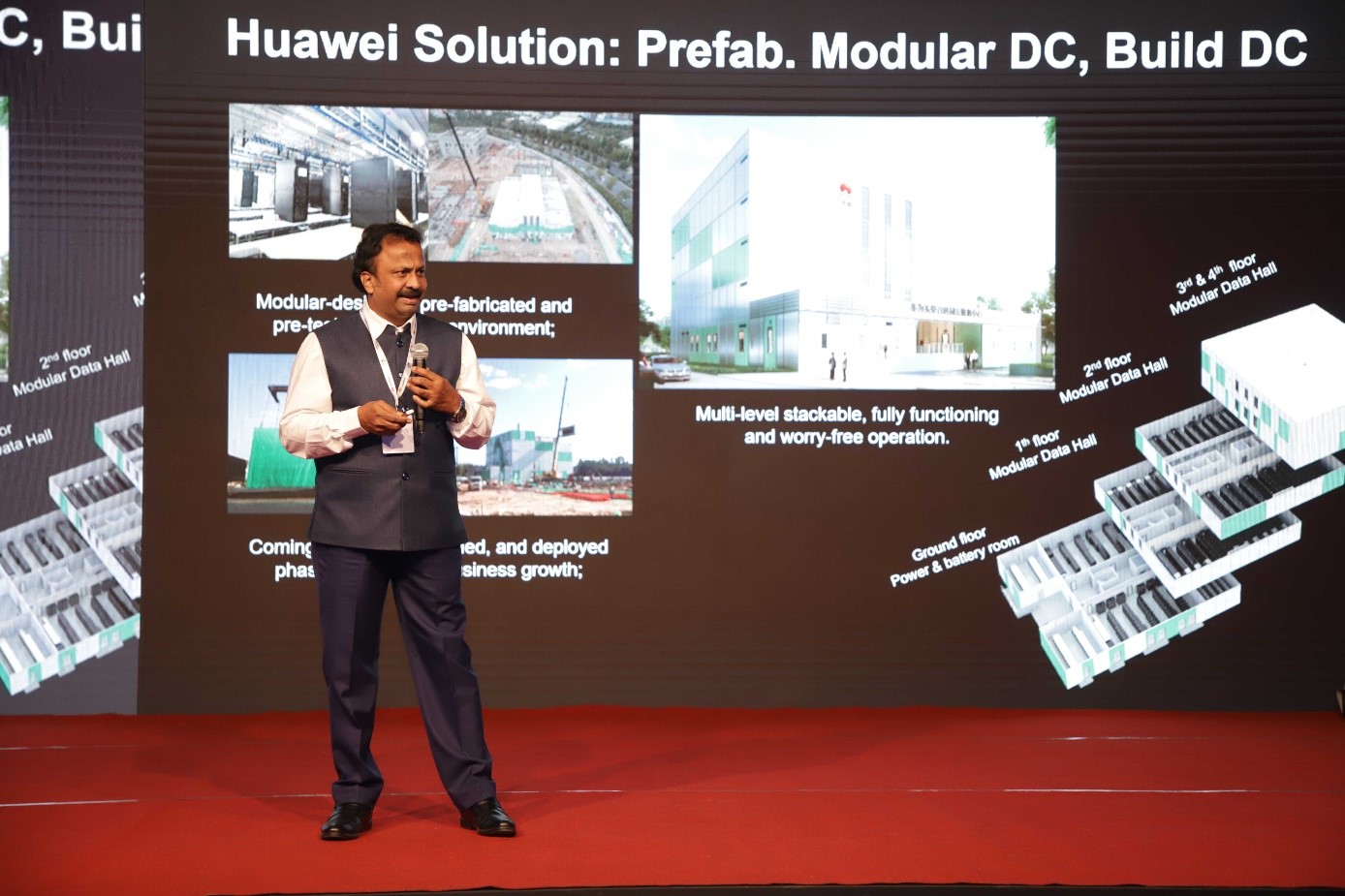 Ncell, which has deployed Huawei's pre-fabricated data center in Nakkhu, was represented by Mr. Deependra Shah and Mr. Ranjan Sharma. They shared their experiences in building South Asia's largest IDC (integrated data center) and their ambitions to expand Ncell's data center service business.
Huawei Digital Power, Building a Low-Carbon Society
Mr. Leo Huang, Solution Director, Huawei Asia Pacific FusionSolar solution, shared his presentation on Huawei's digital solar power solution. The emphasis of the talk was on the importance of energy-efficient solutions.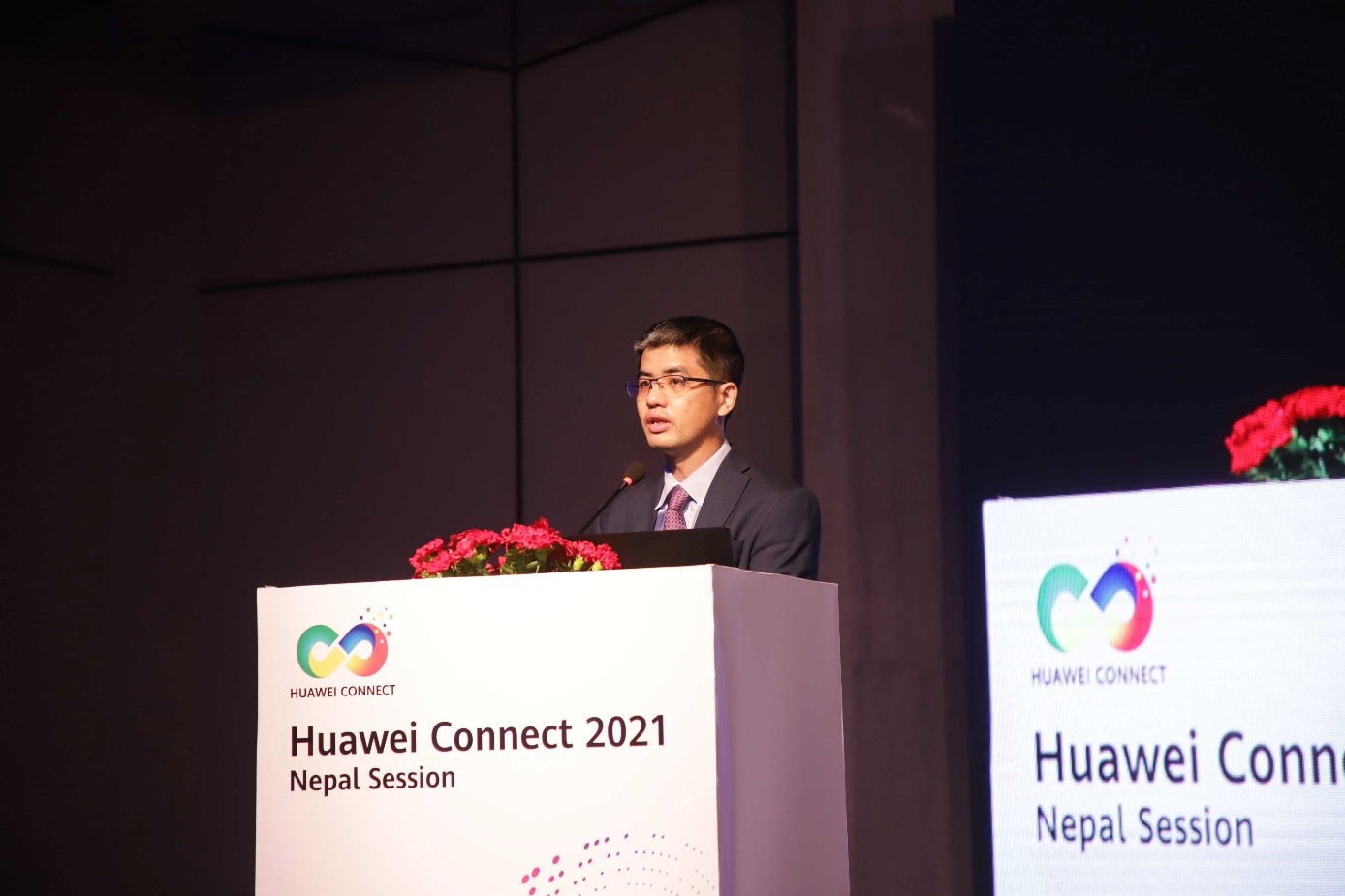 Huawei believes that the global trend of "Carbon neutrality" and solar power as one of the primary sources of renewable energy has a promising future. Mr. Huang was certain that Huawei's digital solar solution would assist Nepal in achieving energy sector transformation.
Huawei Cloud Presentation and Experience Sharing by its Partner Applyjob.com
Mr. David Liu, Managing Director, Huawei Cloud Asia Pacific Emerging Markets, gave a presentation on Huawei's "Everything as a service" model for public cloud business. Mr. Liu gave an overview of Huawei Cloud's full stack products and solutions.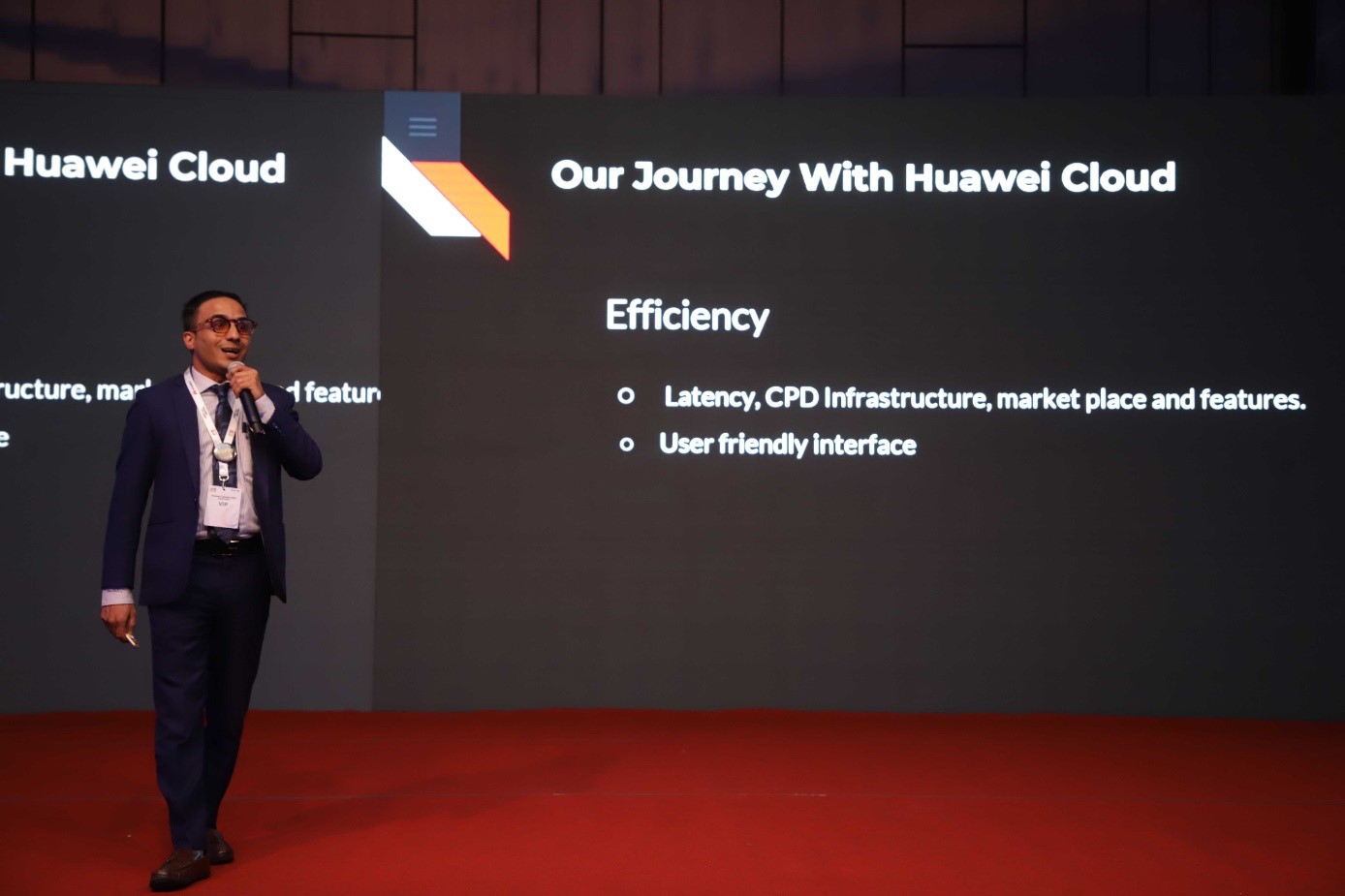 Mr. Sushil Pandey, CEO of Applyjob.com & Soft9, one of Huawei's cloud partners, spoke about his experience working with Huawei Cloud, describing it as "faster, more efficient, and more user-friendly" than the competition.