The longing for the online shopping platform with variety of items on display for the Nepalese people around is slowly being taken over by Gogazzab.com. This site in no time is able to set its pace to be the first online mega store of Nepal. With the intention of providing the best value of payment made by costumers Gogazzab stands out fulfilling the demands of the hovering costumers all around only to get the items of their choice. It sums up various brands of electronic goods ranging from personal care items, watches to the electrical appliances like refrigerator and much more as per the necessity. The readers willing to explore their keen interest can get the books as per their choice as well. It gives you a convenience to shop from anywhere throughout Nepal. In short span of time, gogazzab is able to set a benchmark in the online business trend of Nepal.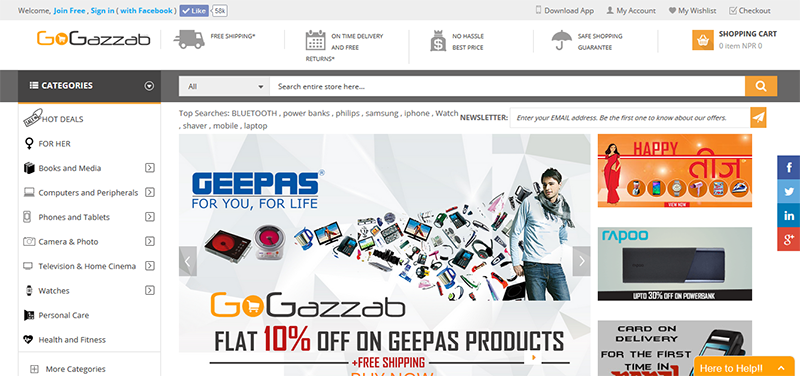 Now, the shopping is right only a tap away. You can shop the products from mobile app available on Android and iOS. It consists of wide variety of electrical appliances and is a free shipping platform. But if the order is less than Rs.1200 you are charged some charges. The delivery of the products within Kathmandu Valley is within 3 days and that for outside valley is within 3-4 days depending on the distance of your location. One can make their choices of payment on delivery. They can do by bank transfer or cash on delivery or card on delivery depending on the feasibility of the costumers. This site is not only constricted to buying the products by costumers. But one can also register as a vendor and can display and sell their products as well. Some policies and conditions should be met up before displaying one's product.
Thus, GoGazzab (P) Ltd. with the motto 'Re-defining the Way Nepal Shops' targets Nepalese market with providing delightful experience to the customers. Gogazzab.com is a cutting-edge online shopping platform offering a wide variety of products providing large list of choices that one can have, unbeatable prices and hassle free experience to its customers when shipping through it.
Additional Information
Address: Lamatangin Marg,Baluwatar-4(opp of NRB), Kathmandu
Phone No.: 01-4432259, 01-4426838