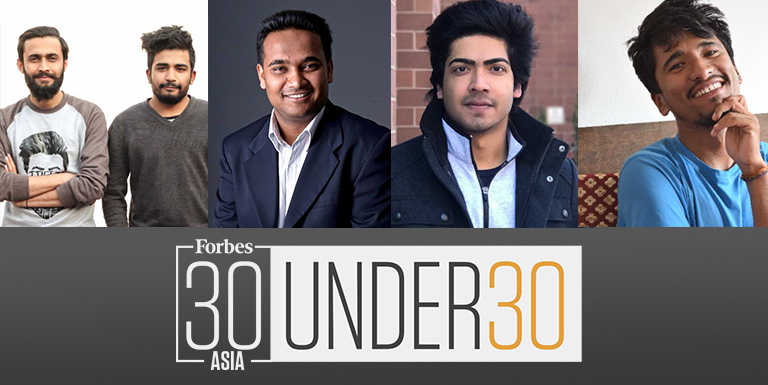 Five young Nepali entrepreneurs Aashish Acharya, Sabin Bhandari, Ravi Kumar Nepal, Prabhat Yadav, and Surya Karki made it to the 2017 edition of Forbes Asia "30 Under 30."  Forbes recently published the list which includes 300 young – entrepreneurs, innovators, and game changers – in 10 different categories.
Surya Karki and Ravi Kumar Nepal made it to the list in "Social Entrepreneurs" category whereas Aashish Acharya and Sabin Bhandari were selected in "Retail & E-commerce" and Prabhat Yadav in "Media, Marketing & Advertising."
Surya Karki is the founder of Nepal's Diyalo Foundation that provides free education to children living in rural areas of the country. The organization also works in the development of sustainable energy and farming by offering related training and services to the rural residents.
See Also: Ncell Brings New Year 2074 Offers
Another Nepali entrepreneur who has also made it to the list in the same category is Mr. Ravi Kumar Nepal, who along with his wife founded Code for Nepal. The organization aims to increase digital literacy and use of Big Data in the country. Last year, the duo launched nepalmap.org, to make data more accessible to the public. They have also established more than 25 schools in rural villages of Nepal.
The famous YouTuber and founder of Explore Gadget, Prabhat Yadav is the next representative from Nepal to have made the list. He is the only YouTuber from Nepal to receive Silver Play Button award for reaching 100,000 subscribers. He introduced his YouTube channel in 2012 and creates videos about latest technological gadgets. He currently has more than 400,000 subscribers on his channel.
See Also: NTC Brings Exciting New Year 2074 Offers
The pioneers of online apparel stores in Nepal are the next addition to the list. Aashish and Sabin founded ThreadPaints in 2012. The idea was one of its kind thus established itself in the market in no time. Today it stands as one of the most popular online stores, selling almost everything from t-shirts designed by local designers to watches, bags, shoes and much more. The company has been running "T-shirts for Relief" to help people affected by the devastating earthquake of 2015.
"The 30 under 30 Asia list took almost six months to put together. In addition to receiving thousands of nominations online, we tasked our dozen correspondents and researchers from every corner of the region to find the best of the best young entrepreneurs making waves in their respective industries,"  Forbes said.