Nepal Rastra Bank, the central bank of Nepal, has directed all licensed digital payment service providers in the country to implement interoperability. It will enable all users to make payments to and from any payment providers which was previously not possible.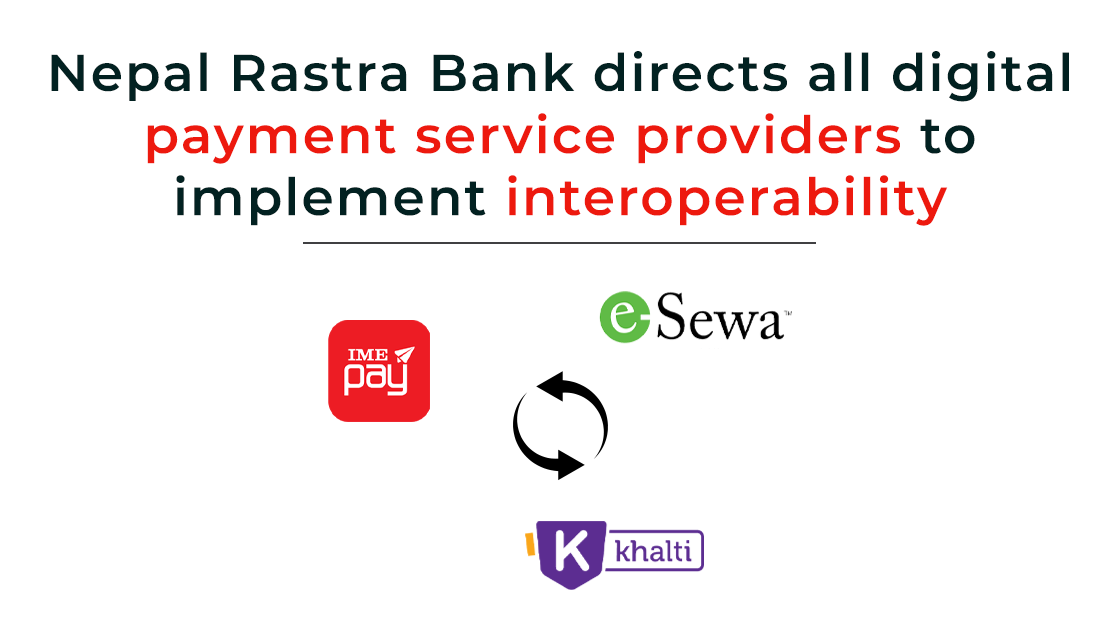 Nepal Rastra Bank (NRB) reports that digital payments in Nepal nearly doubled in the first quarter of the current fiscal year 2078/79. While growth is positive, the inability to conduct online transactions from one digital wallet to another can be inconvenient at times.
The central bank's interoperability directive will resolve this issue, making the payment system more convenient and secure, which will also increase public accessibility.
Nepal Rastra Bank issued a circular on the implementation of payment system interoperability on February 4, 2022. The implementation will affect all retail payment services, including digital wallets, mobile banking apps, and QR codes created by licensed payment service providers and payment system operators.
This means that users can now transfer money seamlessly and securely from one wallet, such as eSewa, to another, such as Khalti, IME Pay, or any other digital wallet in Nepal.
"Interoperability is an excellent initiative by Nepal Rastra Bank for the FinTech industry. Interoperability between PSPs was necessary, and we will also implement this system shortly."

—Amod Bhattarai, business development head of IME Pay
Implementation
We asked Amod Bhattarai, IME Pay's business development head, how the system would work.
"There are two possible approaches to this," said Bhattarai. "IME Pay can use it by integrating it with all PSPs in Nepal or by using the national payment switch launched a few months ago by Nepal Rastra Bank and NCHL (Nepal Clearing House Ltd.)."
"The first option," he said, "poses some challenges for all PSPs, as it requires us to make agreements and integrate the system with each PSP in Nepal individually."
"The second option is preferable due to its efficiency. All PSPs can be integrated into the national payment switch, and we can switch through it, thereby ensuring the interoperability of all PSPs," Bhattarai added.
NRB Interoperability Circular
The central bank has directed all licensed payment-related institutions to implement it within the next six months. Institutions can make agreements with one another to facilitate interoperability.
According to the NRB's circular, retail payment system operators should not restrict access to their payment systems to other retail payment system operators.
The circular states that the operator may temporarily suspend access to other payment systems if the operator finds that the other payment system poses security risks or system risks such as liquidity risks or operational risks. However, the operator must immediately notify the respective system operator and Nepal Rastra Bank, giving a clear reason and supporting documents.
Additionally, the circular said that the payment system operator cannot prohibit payment system providers, other payment system operators, or payment service users from participating in other payment systems. It can't set different rules for each participating institution or limit access based on the institution's size or volume of transactions.
When a bank or financial institution functions as a settlement bank, it must operate its settlement account without discriminating against or interfering with the services of non-bank payment service institutions, said NRB in the circular.
The bank or financial institution can suspend the settlement account's operation if the bank or financial institution believes it poses a risk to the bank or financial institution. Following the suspension, the institution must immediately notify the central bank, stating the reason and basis for the action, the central bank said in the circular.
Payment system operators and payment service providers are responsible for protecting and securing the data of users who use interoperability. According to the circular, they must also make sure that the data will not be used for any other reason.
READ NEXT: Hamro Patro TeleHealth Service Received Over 500 Calls Within Its First 3 Months of Launch