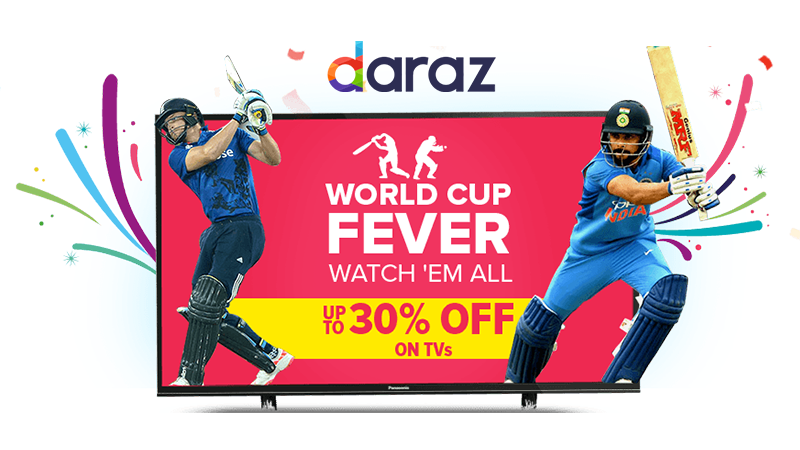 ODI cricket world cup starts this May 30th. It will last until 14th July. Of course, many cricket fans in Nepal would tune into their televisions to watch this clash of the titans in England and Wales. So, keeping this in mind, Daraz has introduced a new offer called 'Watch 'em all'.
What is the offer? Well, you are getting some discounts on TVs. How much discount? Daraz says you can get up to 30% off on TVs.
Of course, 30% is the maximum rounded off discount%. The discounts vary from as low as 2% to 33%. The price range of the devices that you can get the discounts with varies greatly. Daraz has made categories of these TVs in terms of price: TVs under Rs. 25000, TVs under Rs. 55000, TVs under 75000, and others.
Daraz Watch 'em All Offer
Under 25000, you have plenty of 32″ and many TVs from brands like Technos, Wega, and Videocon. I would suggest you not buy a 32inch TV because it would soon start to feel too small, but if you are short on cash and can't wait to see the world cup, go have a shot at it. Just don't buy anything below 32″. If you want to know what to look for when buying a TV, read our TV buying guide.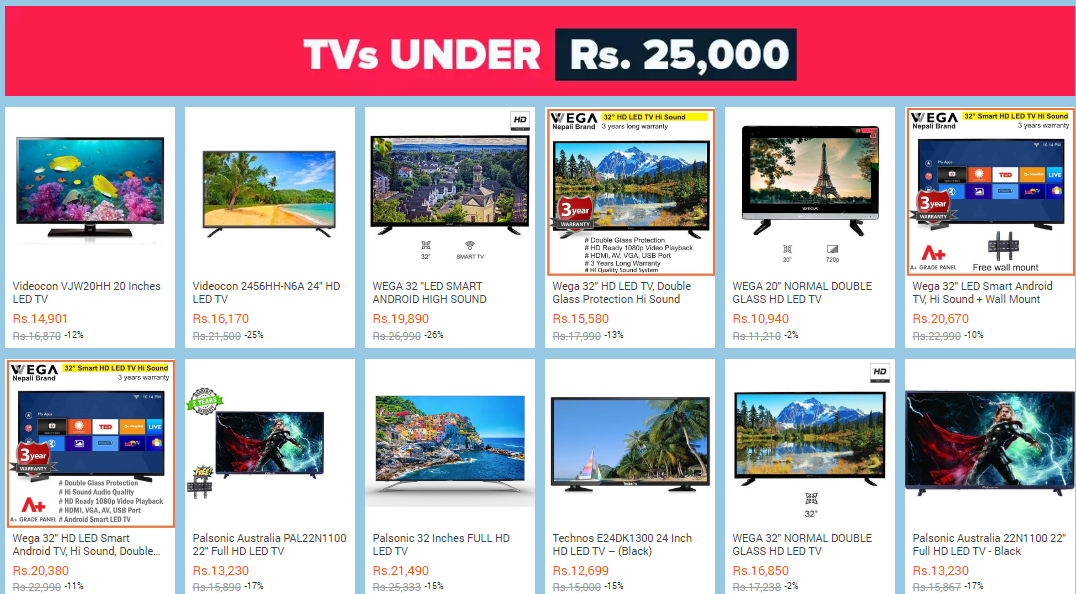 When you verge into the territory of TVs inside 55K, you can buy a SMART TV. And I will always recommend that you do that. Because you can then watch your favorite YouTube videos from your TV and it will be an enjoyable experience for many. But as you will buy a TV probably once in 10 years, I suggest you spend some good cash and think of it as an investment.
Our Picks
If you want me to pick some TVs for you, here is one from Palsonic that costs just Rs. 43,400. It is a Full HD screen with speakers tuned by Harman Kadron. And then there's this Rowa one.
If you are ready to spend above 55K on your TV then I suggest you look for some good brands like LG, Samsung, and Sony. We have collected some of the best TV deals on Daraz of this past January. The list is available here. Look for TVs like that. Gun for Smart TV's and at least a Full HD resolution. Also, pay attention to the power of the speakers. Try to find a TV whose speakers are rated above 10W.
It's better if you try finding the TV that you like rather than looking for the largest discount. That's the piece of advice that I will leave you with for now.