It has been a while since we've talked about a new dirt bike. As far as dirt bikes go, we are seeing the launch of a new dirt bike every other month. In the last month alone, we've seen the launch of the new dirt bikes like Runner Hawk, CX 250R, and CX 250S. Well, that isn't the only new dirt bike in town.
Crossfire brings in the all-new dirt bike in Nepal. According to the Crossfire's official Facebook page, Crossfire GR7 is a new upgrade to the populated dirt bike genre. It comes with the new looks and comfortable suspension to match that classic dirt bike moto. So, Crossfire GR7 is now available in Nepal. As for the pricing, the Crossfire GR7 price in Nepal is Rs. 5,27,000.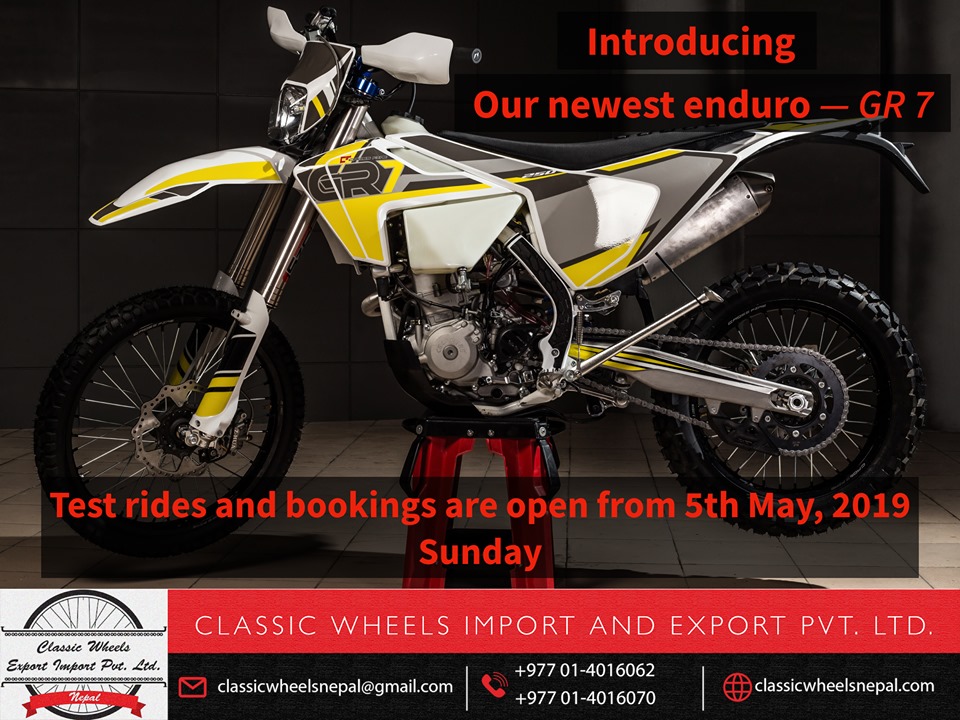 According to a spokesperson for Crossfire, an initial offer price of Rs. 5,19,000 is just temporary. This initial price is expected to get a significant price hike after a certain interval of time. So, if you are indeed planning to buy the new Crossfire GR7 in Nepal, now might be the perfect time to do it.
Crossfire GR7 Overview
As far as the looks are concerned, Crossfire GR7 takes no shortcuts! The overall design seems to be inspired by the likes of classic era dirt bikes. Consider it like the retro dirt bike with the modern features sprinkled into it. As of this writing, Crossfire GR7 comes in a single color variant: White-Yellow
Crossfire GR7 is powered by 250cc liquid-cooled engine. Furthermore, the cooling system also includes a double radiator, air circulating radiators, and assisting fans with overflow coolant reservoir. Moreover, The engine can generate a max power of 30bhp and a max torque of 23Nm. Talking about the powertrain numbers, these are great numbers for a 250cc engine. With these kinds of numbers, riders should expect to get awesome pickup along with fast acceleration!
Since Crossfire has advertised new suspensions, you might want to know more. In Crossfire GR7, you get a front telescopic suspension with 300 mm travel. Likewise, you get linkage spring preload with fully adjustable compression rebound rear suspension with 120 mm travel.
Is this new suspension setup any good? Well, I don't know. But be sure to take this one out for test ride to see if the new suspension matches your riding style.
Crossfire GR7 Features
I have addressed how most of the dirt bikes launched in Nepal have eerie similarity with one another. A simple consumer won't be able to differentiate one from the other. Fortunately, this isn't the case for the Crossfire GR7.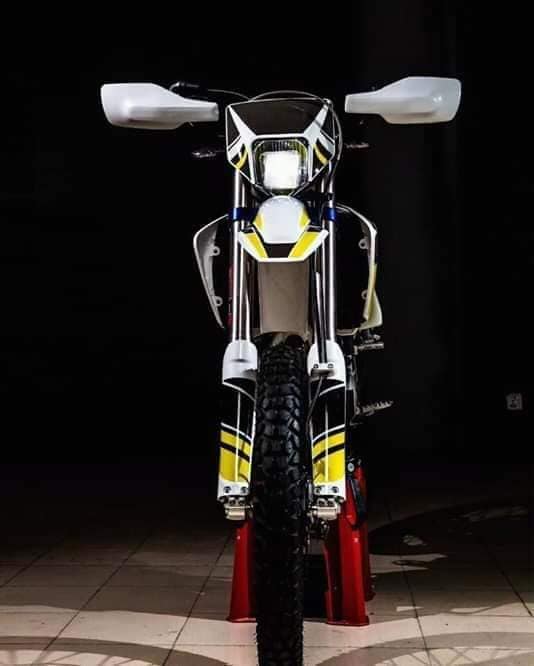 Crossfire GR7 comes with enough unique features to set it apart. It comes with the classic halogen headlight, LED tail lamp, LED turning lights, Upside-Down Forks and a digital instrument display. Another list of features includes CNC Triple Clamp, Pillion Support Handrails, Skid Plate, Flexible Hoise Coils, Self-Cleaning Foot Pegs, and Cubic Headlight. Furthermore, the digital instrument cluster comes with a white text on the black background like the one in Yamaha FZS v3.0. Additionally, it gets a Brembo Braking system (Wavy Braking) which is only unique to the new Crossfire GR7.
Crossfire GR7 Key Specifications
Displacement: 249.6cc Liquid-Cooled Engine
Mileage: 30kmpl
Max Power: 30.15BHP
Torque: 23Nm
No. of gears: 6
Fuel tank: 10L
Tires: 3.0-21 inch (Front), 4.6-18 inch (Rear)
Braking: Front Disc and Rear Disc (with Brembo Braking)
Seat Height: 940mm
Ground Clearance: 330mm
Kerb Weight(kg): 107kg
Crossfire GR7 Price in Nepal (Dirt):

Rs. 5,27,000
Crossfire GR7 Price in Nepal (Motard):

Rs. 5,37,000
---
Should I Buy Crossfire GR7 in Nepal?
Look, it's a relatively new dirt bike. Despite many attempts, I wasn't able to test ride the Crossfire GR7. So, if I couldn't really answer "Should I Buy" question based on the spec sheet alone, it would be unfair to everyone.
However, I will point out that the Crossfire GR7 looks and feels like a breath of fresh air. It is different and unique when compared to a traditional dirt bike. Since the GR7 is said to be imported from the USA, there are certain elements which haven't been seen before. I mean, it looks like a retro dirt bike with a modernized design. Moreover, it seems like a lot of people do agree with this.
Factor in the design, the performance, and the suspensions, the initial price tag of Rs. 5,19,000 seems way underpriced! I shouldn't even say this but Crossfire should actually ask for more! It's hard to believe that Crossfire GR7 offers way more for that asking price. I mean, who does that???
Honestly, Crossfire GR7 seems like a new great addition to the iconic Crossfire RM series. Despite sharing some parts of the engine with the RM Series, GR7 is original in its own right. That being said, response to the new Crossfire GR7 has been positive so far. So, don't take my word for it, but go and test it out for yourself!
If you want to test ride the new Crossfire GR7, it is currently available for a test ride across all Crossfire Showrooms.