The Government of Nepal is on a path to further promoting the EV sector in Nepal. 
The Ministry of Physical Infrastructure and Transport has issued an official gazette through the Department of Printing. The special provision allows fuel systems to be modified into environmentally friendly alternatives.
The notice references Vehicle and Transportation Management Act 2049 Article 39.
Article 39 (I) states that vehicles in operation shall not be altered without proper permission. Colors, structure, engine, or chassis changes can only be done after taking the approval of the concerned authority.
Furthermore, Article 39 (II) states that the authority shall make all the necessary inquiries into the matter before giving the approval. After getting the approval, there was a provision to charge an additional 50% of the motor vehicle registration as a chargeable fee.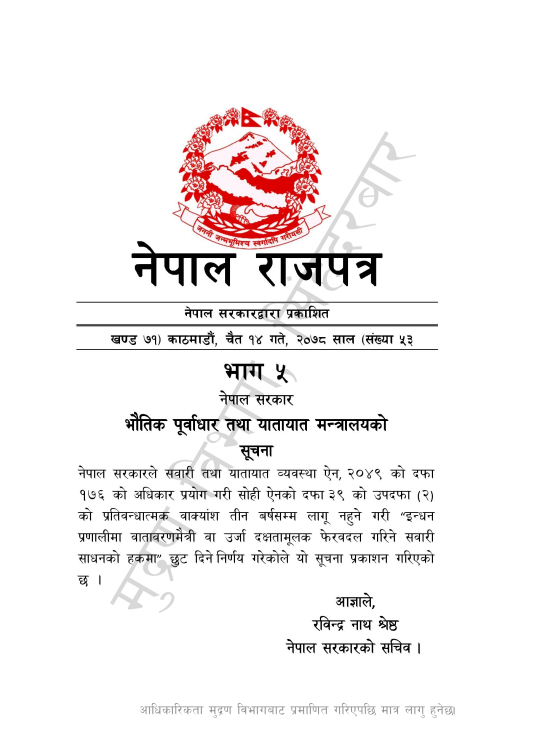 Converting older petrol/diesel vehicles into electric vehicles was already difficult. Plus, the additional fee created a major inconvenience for those interested.

Hence, the governing bodies have decided to exempt Article 39 (II), including the extra chargeable fees. Moreover, the exemption will be valid for 3 years.
Putting it into simpler terms, you can now convert old fuel-driven vehicles to eco-friendly alternatives. While you do require appropriate permission to do so, the extra charges have been waived.
Finally, the overall process has been made simpler. 
ALSO READ: Understanding Electric Vehicle Tax Structure in Nepal: Past and Present!