Apple launched its new MacBook Air in March. The new MacBook Air 2020 brings upgraded hardware and a redesigned scissor mechanism keyboard with a reduced price. Currently, the new MacBook Air 2020 is available for pre-order in Nepal.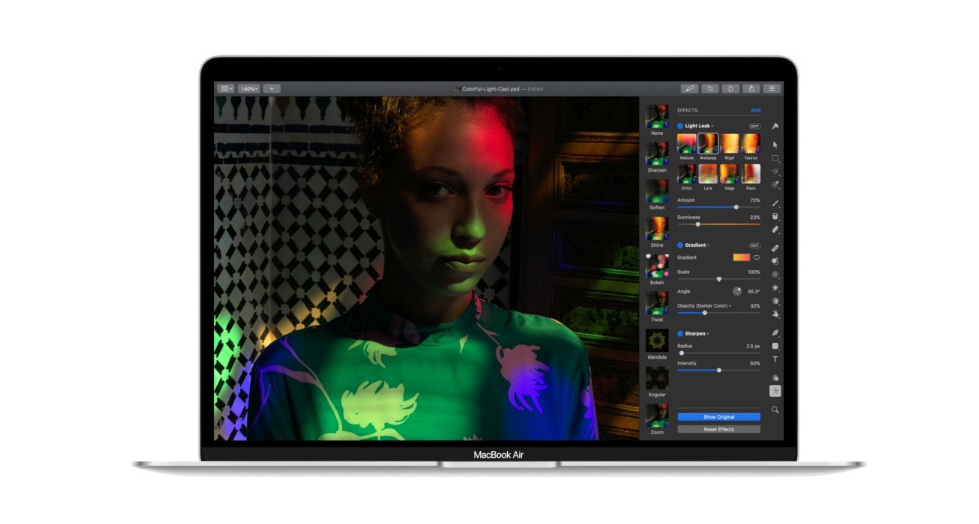 There are 2 variants of the MacBook Air 2020: 10th Gen i3 with 256GB storage and 10th Gen i5 with 512GB. The price of the MacBook Air 2020 in Nepal Rs. 159,500 and Rs. 203000 respectively.
So, let's see what MacBook Air 2020 has to offer!
MacBook Air 2020 Specifications
Display: 13.3-inch (diagonal) LED-backlit display with IPS technology; 2560-by-1600 native resolution at 227 pixels per inch with support for millions of colors
CPU: 1.1GHz 10th Gen Intel Core i3/1.1GHz 10th Gen Intel Core i5 processor
GPU: Intel Iris Plus Graphics
Memory: 8GB/16GB RAM, 256GB/256GB/512GB/1TB SSD
OS: macOS 10.15.5
Ports: Two Thunderbolt 3 (USB-C) ports, 3.5mm headphone jack
Keyboard: 78/79 keys keyboard with Touch ID
Battery: 49.9 watt-hour battery, 30WW USB-C Power Adapter
Misc: 720p FaceTime camera, Bluetooth 5.0, 802.11ac Wi-Fi wireless networking; IEEE 802.11a/b/g/n compatible
Bluetooth
Colors: Gold, Silver and Space Grey
Apple MacBook Air 2020 Price in Nepal: Rs. 1,59,000 to Rs. 2,03,000
Apple MacBook Air 2020 Overview
Build and Design
The design of the new MacBook Air remains the same. It looks elegant and premium with a solid unibody aluminum chassis. But, it still has the chunky bezels like 2019 models.
It is slightly thick than the 2019 model, and it weighs slightly more at 1.29kg compared to the 1.25kg weight of the 2019 model. And, it's also not the most lightweight laptop anymore.
The ports are very rare on the MacBook Air 2020. There are two Thunderbolt 3 ports on the left side and a headphone jack on the left.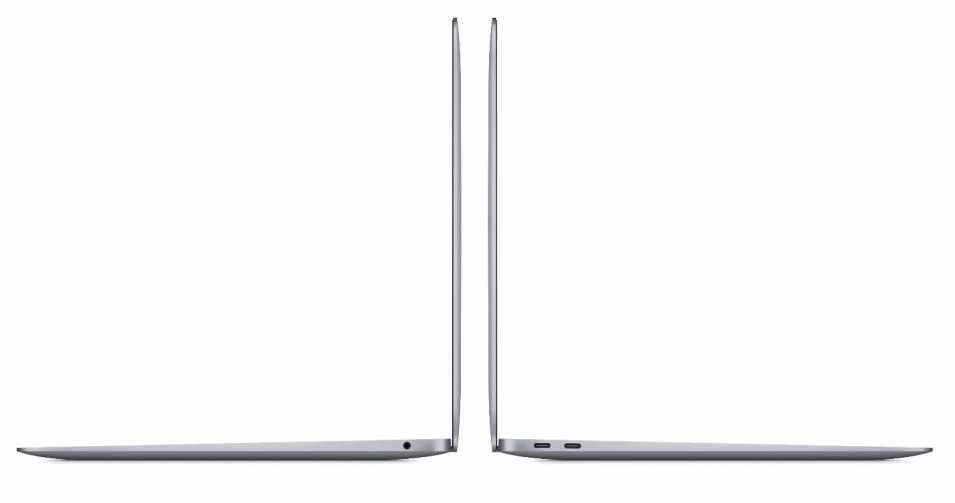 You can charge the laptop via one of the Thunderbolt 3 port and use the other one for peripherals.
Then we get dual speakers that flank the keyboard and for as long as we know, these have been the best speakers on any slim laptops.
Though there are no changes in its design, the most awaited change comes in the form of the new Magic Keyboard.
This replaces the 4th gen Butterfly switches. Magic Keyboard features a redesigned scissor mechanism with 1mm of key travel for a comfortable and stable key feel, while the new inverted-"T" arrangement for the arrow keys makes them easier to find, whether users are navigating through spreadsheets or playing games.
Nothing has changed with the touchpad, it is still one of the best trackpads you can get on any laptops.
Touch ID
MacBook Air 2020 retains the Touch ID. Touch ID makes it easy to unlock your Mac with a single press without needing to enter a password.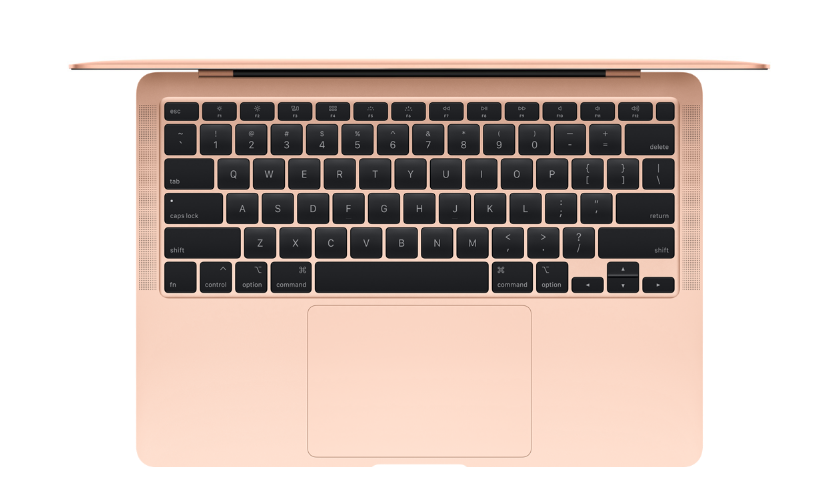 Display
The display on the 2020 13-inch Macbook Air is the same display from the previous gen. It includes a 13.3-inch IPS Retina display with a 2560 x 1600 resolution, along with P3 color gamut support which is essential for accurate colors for photographers and digital creatives.
It also comes with Apple's True Tone technology which alters the colors of the display according to the ambient light you're working in.
Hardware
The biggest difference with the MacBook Air 2020 comes with what's underneath the hood.
The MacBook Air 2020 comes with the three processor options: 1.1GHz dual-core 10th generation Intel Core i3, 1.1GHz quad-core 10th-generation Intel Core i5, and 1.2GHz quad-core 10th-generation Intel Core i7.
But, only i3 and i5 variants are available in Nepal right now.
The base variant now gets 256GB storage instead of 128GB and the i5 variant comes with 512GB storage. Then there's 8GB of 3733MHz LPDDR4X onboard RAM on both of the variants.

These 10th-gen CPUs are, of course, faster than the previous 8th-gen chips, but they are also bundled with integrated Intel Iris Plus GPUs with up to 80 percent faster graphics.
The new GPUs on the MacBook Air 2020 support the ability to connect to one of Apple's high-end Pro Display XDR monitors at full 6K resolution.
Battery
The MacBook Air 2020 comes with a 49.9 watt-hour battery. The battery is the same as the previous model. This thing can last about 10 hours during normal usage. So, it's more than good for colleges and offices. You don't even need to carry a charging brick.
However, there are other ultraportable Windows laptops with more battery life.
ALSO READ: MacBook Pro 13″ (2019) Receives Price Cut in Nepal – Now Starts at Rs. 1.65 Lakhs
OS
The latest version of macOS is 10.15 known as macOS Catalina.
There have been some changes from the previous version which is known as Mojave (10.14). Apple has eliminated the iTunes app and is now split into three apps: Music, Podcasts, and TV.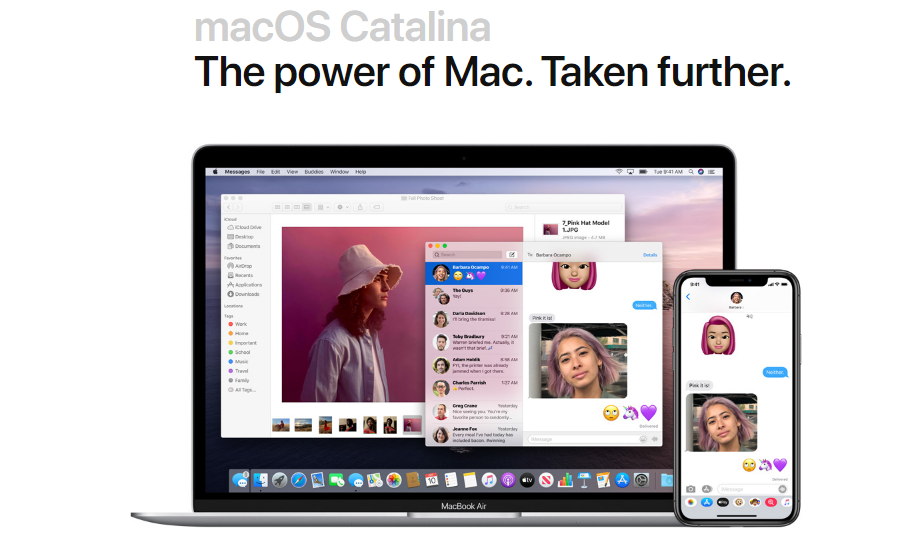 Then there is a new sidecar feature that lets you turn your iPad into a display for your Mac. macOS Catalina also steps up the security in macOS. Apple's security protocol named Gatekeeper checks all your apps for known security issues. New data protections also require apps to get your permission before accessing the documents.
MacBook Air 2020 Price in Nepal and Availability
There are 2 configurations of 13-inch MacBook Air 2020 available in Nepal.
| MacBook Air 2020 | Price in Nepal |
| --- | --- |
| 1.1GHz 10th Gen i3/8GB/256GB | Rs. 159500 |
| 1.1 GHz 10th Gen i5/8GB/512GB | Rs. 203000 |
The new MacBook Air provides you a big upgrade in terms of the new magic keyboard and quad-core CPUs. If you're into video editing then you will definitely need to get the quad-core version or you can also opt for MacBook Pro 2019 which is available for cut-price.
Surely, Apple products are premium products but you can easily get a beast gaming laptop for the price of these MacBook Air. Or you could even get a powerful XPS 13 from Dell.
To prebook the 2020 MacBook Air models, please visit the online shop of EvoStore or OlizStore.
What do you think about the new MacBook Air 2020? Let us know in the comments!
More on Gadgets: