With the ongoing curfew, the only salvation we have against this boredom is the Internet. Netflix, Counter-Strike and Instagram are the three pillars of a vicious circle that's kept me away from the torturous clutches of boredom. But lately, I've been finding openings that may soon leave me vulnerable. Know what it is? The opening I speak of is termed "Slow Internet Connections!".
Just reciting these words sends chills down my spine. High ping, slow buffers and hundreds of seconds wasted to load a single picture! Oh, Lord how do I save myself? Well, there's no definite solution but I found something interesting that could shelter from this problem.
Worldlink announced a new 5G offer recently that could well prove to be the solution. And before I get started, do understand that it has nothing to do with the cellular 5G network.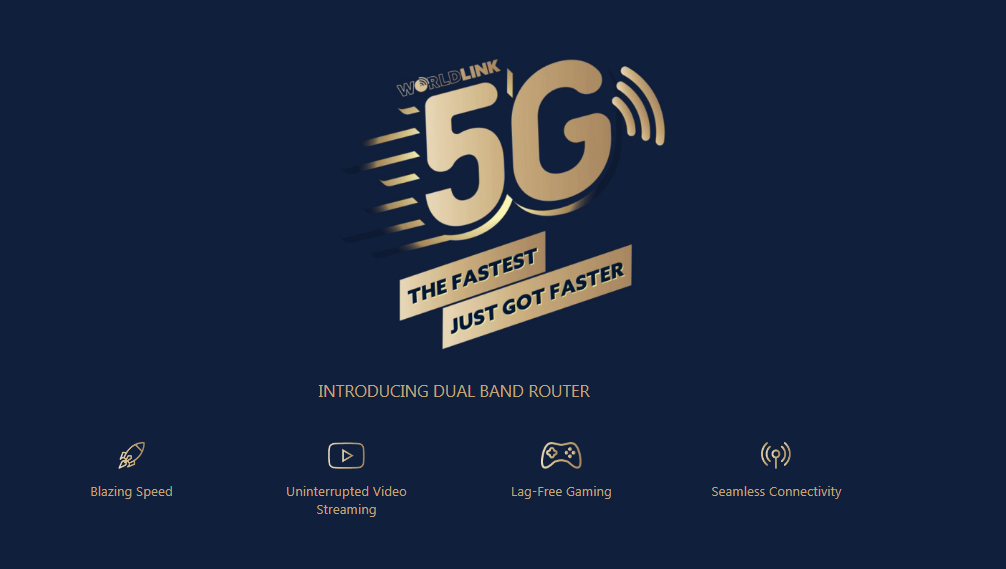 So, what is this 5G I speak of?
5G in this scenario refers to the 5 GHz bandwidth network. A router, the one that we typically use is of 2.5GHz (single band); it transmits signals that usually travel long distances through a congested pipeline. The Dual-Band Router that WorldLink is boasting about is capable of transmitting 2 signals: a 2.5GHz and a 5GHz.
The difference is that 5GHz signals travel through a less congested channel that technically provides faster routing; meaning improved speed. Unfortunately, the coverage of 5GHz signals is confined to a small radius. You absolutely need to be around your router all the time for better coverage. This simply implies that you won't be able to use your neighbor's WIFI that you may have gotten access to!
A dual-band router can switch in between 2.5GHz and 5GHz signals for wide coverage. If you're near to the router, just switch to 5GHz to get better speeds. As you further away, switch to 2.5GHz for as much coverage. The only defect is that you'll have to switch manually!
Tell me more About the WorldLink Offer
Well, since it is sort of an upgrade scenario, it'll be a little bit more costly. Existing users who already use the 40Mbps or higher plan can simply upgrade by paying Rs 1,000 more; which is a win-win situation by the way. You're just paying for the additional router charge; which usually costs a lot more than you'd expect.
New customers will be charged extra for setting up, wires and the usual network mumbo-jumbos. Here's a compiled list of the offers:
(For New Users)
| | |
| --- | --- |
| 40 Mbps (2 TV's) | Price |
| 3 Months | Rs 5,800 |
| 12 Months | Rs 18,900 |
| | |
| --- | --- |
| 40 Mbps (3 TV's) | Price |
| 3 Months | Rs 6,200 |
| 12 Months | Rs 19,200 |
| | |
| --- | --- |
| 60 Mbps (3 TV's) | Price |
| 3 Months | Rs 8,100 |
| 12 Months | Rs 27,000 |
One Time Internet Set-Up Charges
| | | |
| --- | --- | --- |
| Set-Up Charge | 3 Months | 12 Months |
| Drop Wire | Rs 500 | Free |
| Fiber Router Rental | Rs 1,000 | Rs 1,000 |
| Refundable Deposit | Rs 500 | Rs 500 |
One Time NetTV Set-Up Charges
| | | |
| --- | --- | --- |
| NetTV | Activation Charge | Deposit |
| Primary TV | Rs 500 + VAT | Rs 500 |
| Secondary TV | Rs 1500 + VAT | Rs 500 |
So, is 5G Router the Silver Lining You Should Cling on to?
Well, yes and no actually. What I mean is that opting to a 5G router doesn't necessarily mean that it'll exponentially increase your internet speed. It'll be slightly faster since the channel won't be that congested. But you can't entirely expect blazing fast speeds.
If you're currently satisfied with your package and aren't all in need of improvement in speeds, don't upgrade. For now, the congestion in the network could well be due to the corona infestation. And besides that, network speeds don't only depend on the type of router you are using. There are tons of other factors that come into play.
And, oh! I nearly forgot to mention, not all devices support the 5GHz router signals. You need to make sure that the device you are using is fairly capable of using the 5GHz signals for maximum usage. You can either google about it or search for it in the descriptions of the device in the box itself.
So, that's it on the 5G dual-band routers. Do you like what WorldLink's been preaching about? Feel free to mention your thoughts in the comments down below.