Voxcrow, a voice-based communication service provider in Nepal for organizations, is celebrating its fifth anniversary today (February 1, 2023). Popular for its call center software GetDesk, the service provider has been helping organizations provide better customer support since its launch five years ago.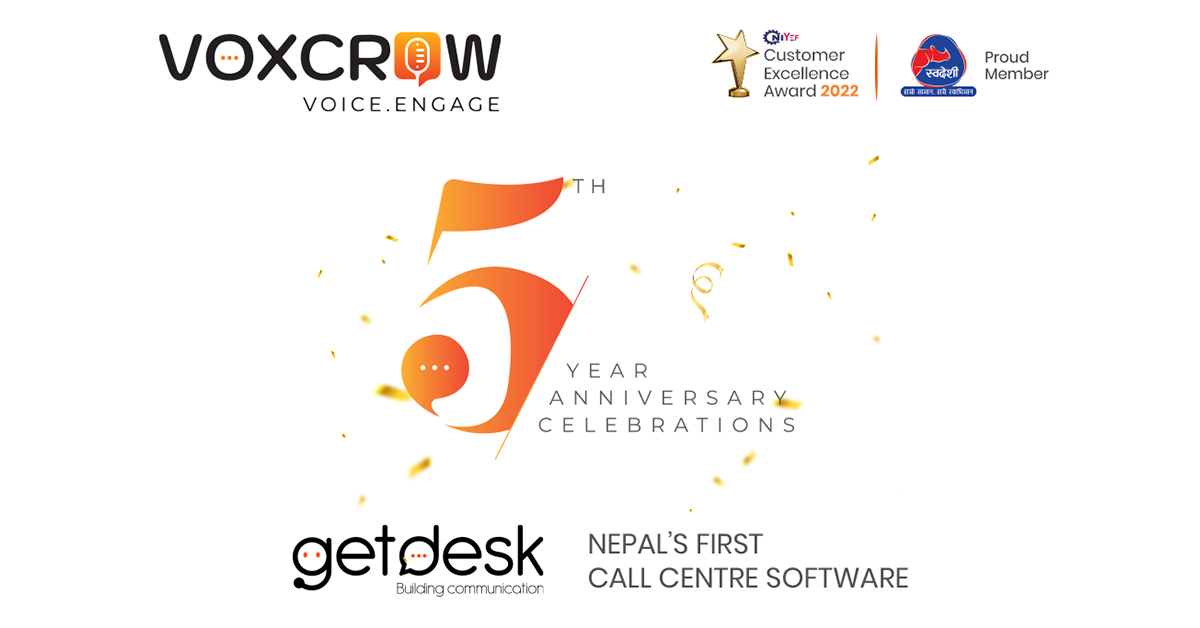 Founded in 2018 by Sushant Rai and Dipesh Regmi, Voxcrow aimed to revolutionize the way organizations manage their calls and launched its flagship product GetDesk. GetDesk is a call center application that helps organizations manage hundreds of phone calls without hassle.
GetDesk is designed to handle incoming and outgoing calls for businesses, offering features such as data-driven decision-making, real-time agent monitoring, efficient workflow, call insights within the business, and more.
Milestone
Voxcrow has achieved great success in a short period of time, with a growing number of companies and corporate houses adopting its GetDesk technology. Starting with Foodmandu as its first customer five years ago, the company has since assisted over 85 businesses and organizations in managing hundreds of thousands of calls through its GetDesk software.
In 2022, Voxcrow also introduced Ringaze, a new voice-based communication technology that utilizes SIP (Session Initiation Protocol) numbers. The same year, the company received the Customer Excellence Award 2022 from CNIYEF, recognizing its efforts to enhance customer service experiences through its voice-based communication solutions.
Furthermore, Voxcrow received an investment of Rs. 10 million from CNIYEF Nepal Start Up Fest 2022, solidifying its growth and continued advancements in the field of communication technology.
GetDesk
The company behind GetDesk claims that it is ideal for organizations that handle a large volume of daily phone calls. They charge a setup fee ranging from 40,000 to 50,000 rupees for these types of organizations.
"In recent times, 85+ businesses and organizations like Phonepay, Buddha Air, Norvik Hospital, Tilganga Eye Center, Care Nepal, Foodmandu, Bhoj, Aramex, Garima Development Bank, Shangrila Development Bank, Moco Wallet, City Express, Sipradi, CG Holding, Biz Bazaar, and Pathao Nepal, as well as the National Identity Card and Registration Department under the Ministry of Home Affairs, have been taking the services of customer service center management through Voxcrow's GetDesk – Call Center software."

— Sushant Rai, chief executive officer of Voxcrow
GetDesk is offered in two editions: basic and business. According to the company, after the setup, the service of GetDesk can be availed at 4,000 to 5,000 per user per month.
Voxcrow claims that personal privacy can be protected by using GetDesk.
READ NEXT: Samsung Galaxy A14 5G with Exynos 1330 Launched in Nepal