Pros
Muscular and Aggressive Styling
Super Refined RT-FI Engine
Bright Headlight Visibility
Feature-Loaded Offering
Includes Practical Features like GTT and Riding Modes
Cons
Rear Brake Lacks Good Feedback
Rear Tyre is Bit Slippery
Room for Improvement in Off-road Performance
This is a detailed review of the TVS Apache RTR 160 4V BS6.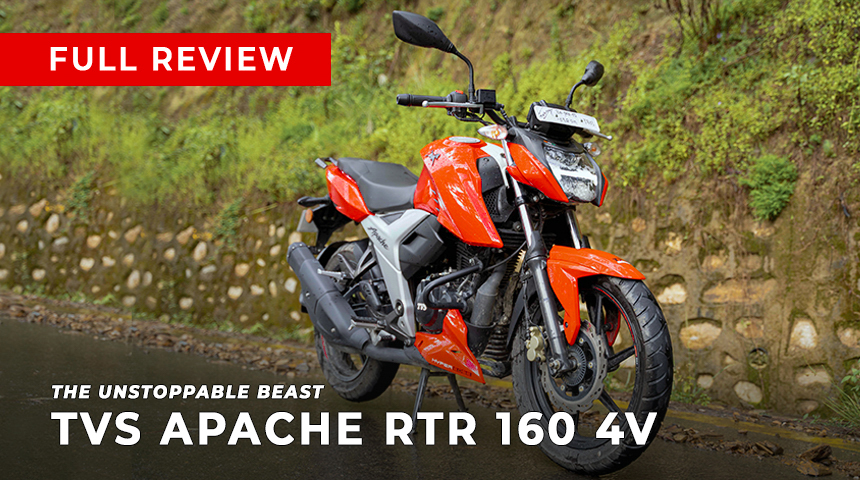 TVS Apache RTR 160 4V has come a long way since its initial launch.
It has gone through many changes. And, each iteration has refined its overall features, styling, and offers.
Now, it is finally what it always wanted to be.
Unstoppable.
Jagdamba Motors, the authorized distributor of TVS motorcycles in Nepal, hopes to continue being unstoppable with the TVS Apache RTR 160 4V BS6.
The new variant introduces familiar features and styles. Moreover, it finally gets the much-awaited BS6-compliant FI badging.
With an introductory price of Rs. 3.79 Lakhs, the Apache RTR 160 4V will set a new benchmark for the 160cc segment.
Is it as unstoppable as TVS claims it to be? More importantly, does it justify its new price?
After spending more than a week with the latest TVS offering, we will share our thoughts on this.
This is the TVS Apache RTR 160 4V Full Review.
TVS Apache RTR 160 4V Specifications
Engine Type: SI, 4-stroke, 4-valve, Oil-cooled Engine
Emission Standard: BS6
Displacement: 159.7 cc
Cooling System: Oil-cooled with Air Assist
Starting Mechanism: Self-Starter Only
Max Power: 17.55 PS @ 9250 rpm
Max Torque: 14.73 Nm @ 7250 rpm
Gearbox: 5-Speed
Top Speed: 114 Kmph
Fuel Tank Capacity: 12 liter
Mileage: 35-40 kmpl
Front Tyre: 90/90-17 – Disc
Rear Tyre: 130/70-R17 – Disc
Tubeless Tyres: Yes
Braking System: Single-Channel ABS
Suspension Setup: Telescopic Forks and Mono Shock Suspension
Seat Height: 800 mm
Ground Clearance: 180 mm
Kerb Weight: 146 – 147 kg
Colors: Racing Red, Racing Blue, and Racing Black
TVS Apache RTR 160 4V BS6 Price in Nepal: Rs. 3,79,900
TVS Apache RTR 160 4V BS6 First Ride
BS6 Design Changes
There is no major difference between the BS6 and BS4 iterations. The familiar design is something we have seen in the BS4 ABS variant.
It is based on the "Draken" concept.
The design has been refined and simplified, especially with the hints of the bigger TVS Apache RTR 200 4V.
However, there is a neat trick to separate BS6 and BS4.
Just look at the front LED headlamp section.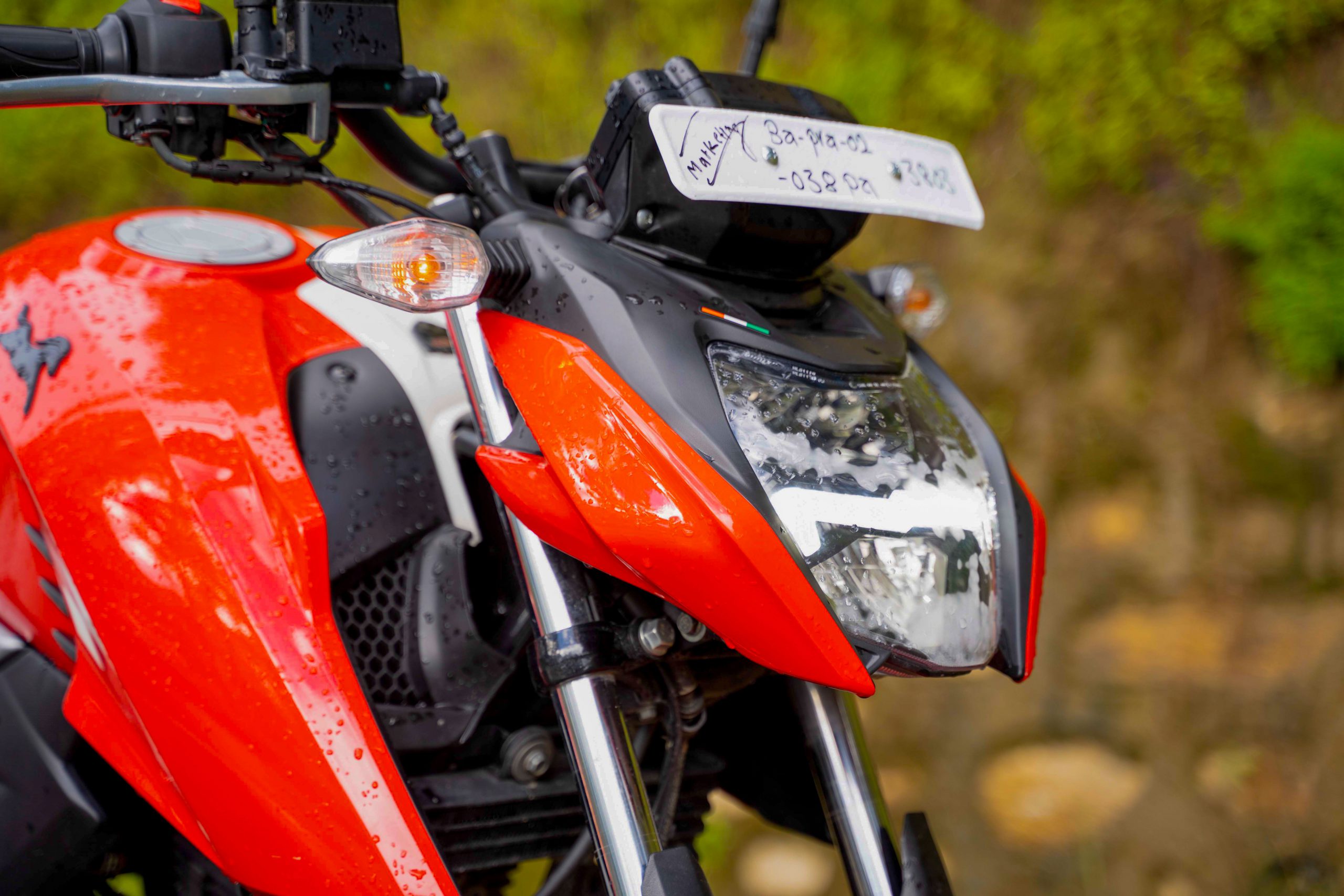 TVS has moved the LED DRL from the eyebrows to the center of its "ant-head" shaped headlamp.
It still looks polarizing, but it is a huge improvement over its predecessor.
And, the overall design has aged gracefully. It continues to look modern, aggressive, and sporty.
Unchanged Elements
Other than this, the rest of the elements continue to remain unchanged.
Signature elements like a muscular fuel tank, aggressive tank shrouds, an off-placed fuel tank, and a double-barrel exhaust are still there.
It gets the same single-piece seat, split-type grab rails, and a sleek LED tail lamp.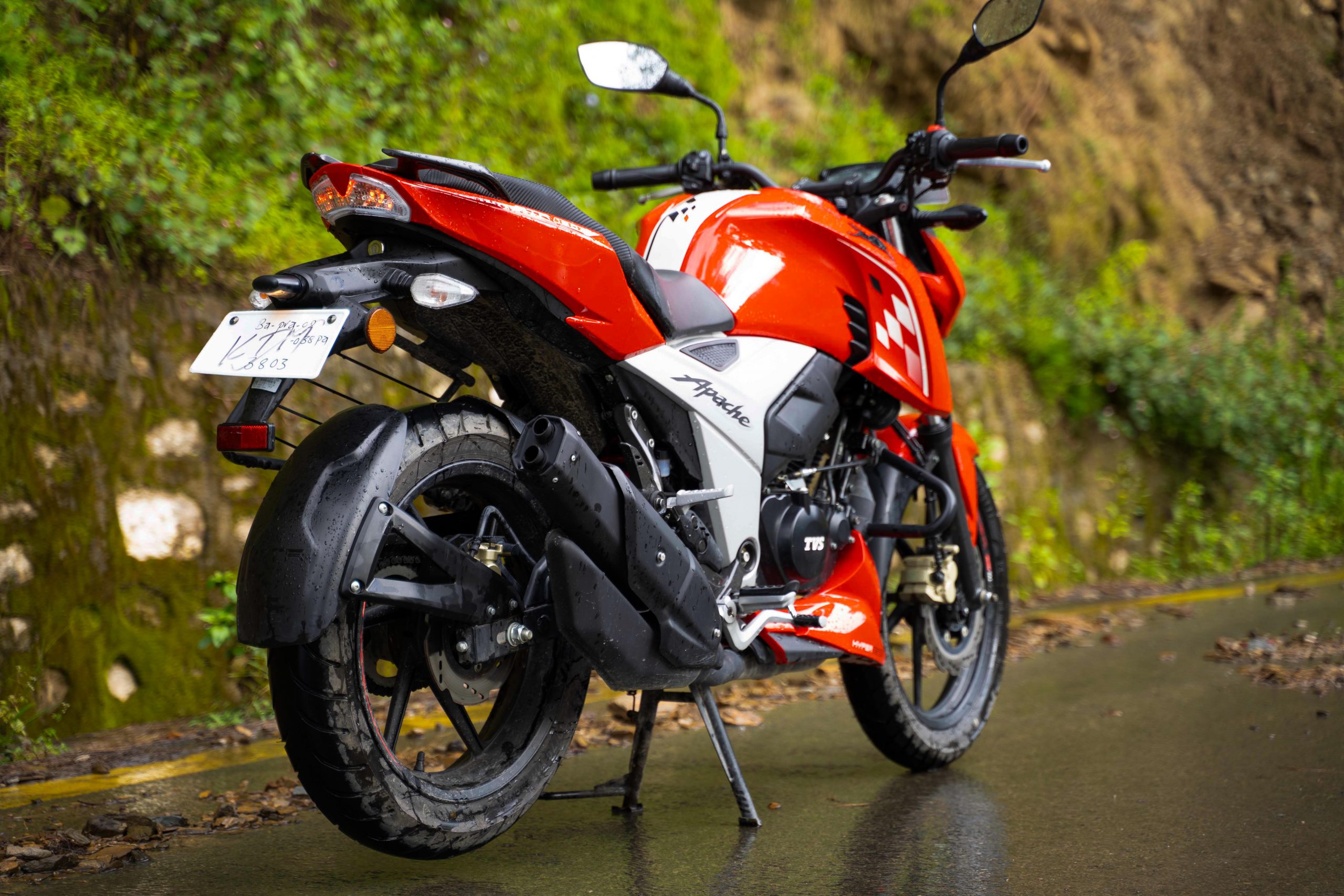 Moreover, the combination of Metallic Paint and Sporty Graphics is tastefully done.
Additionally, TVS Apache RTR 160 4V comes in three different colors: Red, Blue, and Black.
Performance
TVS Apache RTR 160 4V BS6 is powered by a 159.7cc, Single-Cylinder, 4-valve, Oil-cooled, SOHC, FI engine. It can generate a max power of 17.55PS at 9250rpm and a max torque of 14.73Nm at 7250rpm.
Moreover, it is mated to a 5-speed gearbox with a 12-liter fuel tank capacity.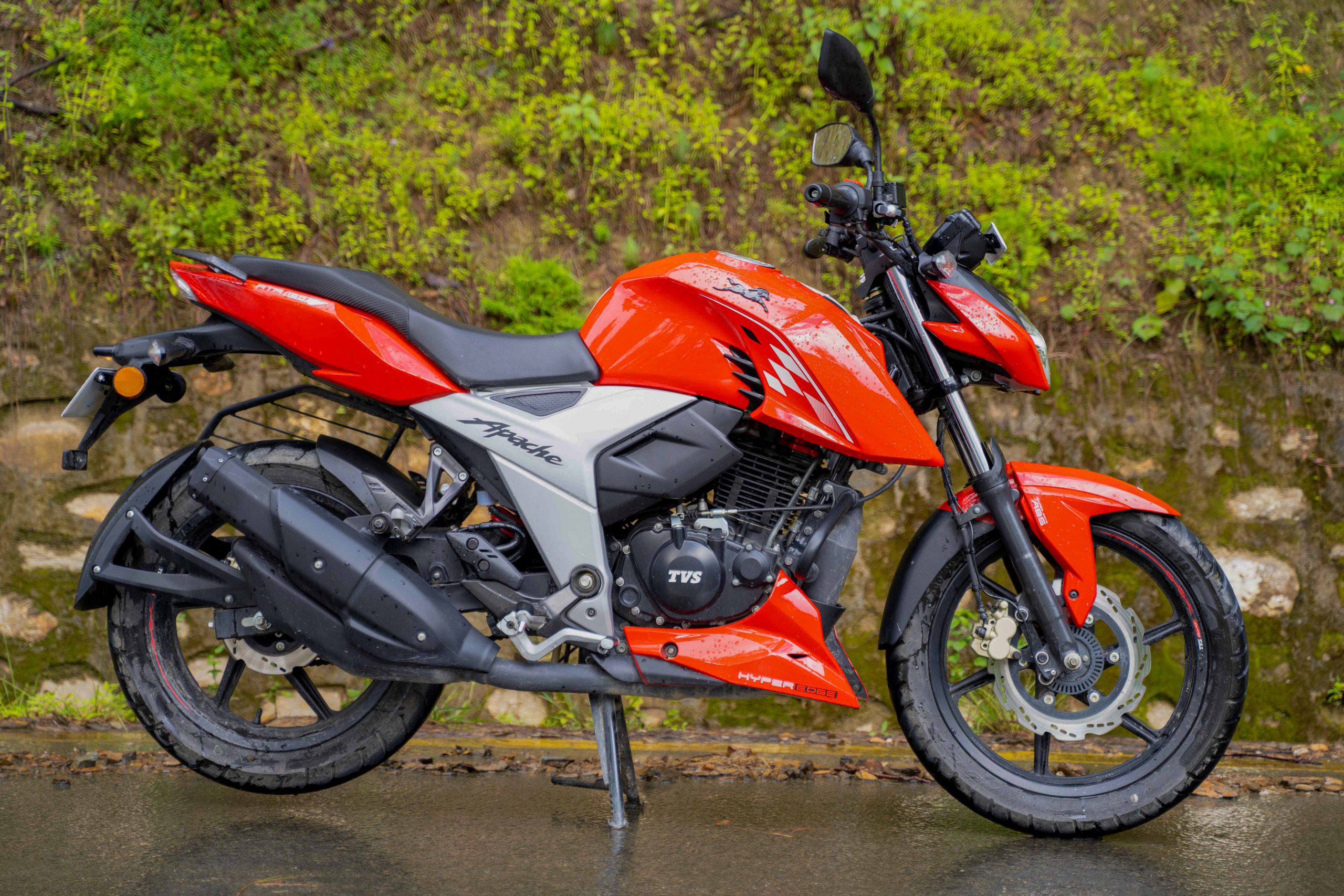 TVS didn't change much on the overall design.
Rather, it put its energy into refining the engine performance.
Usually, BS6 bikes have a trend to get a decrease in powertrain figures. However, that is not the case here.
Apache RTR 160 BS6 now generates 0.93PS more power with an increase in RPM limit. Due to this, the bike feels more open than before, bringing back the punchiness!
Plus, it now includes 3 Riding Modes, which we will discuss in detail in a bit.
Additional Details
It is built on a Double Cradle Split Synchro Stiff Frame.
The dimensions are 2035mm in length, 790mm in width, and 1050mm in height. Moreover, the wheelbase sits at 1357mm.
TVS Apache RTR 160 4V has a ground clearance of 180mm. Moreover, the kerb weight is 146kg.
Familiar Features
TVS Apache RTR 160 4V introduces game-changing features, which include Glide Through Traffic and Riding Modes.
It was already a practical motorcycle before. However, the new feature update takes it up and notch.
Braking Performance
TVS Apache RTR 160 4V features Dual Disc Braking.
The 270mm front disc and the 240mm rear disc are Petal Type Discs with Single-Channel ABS.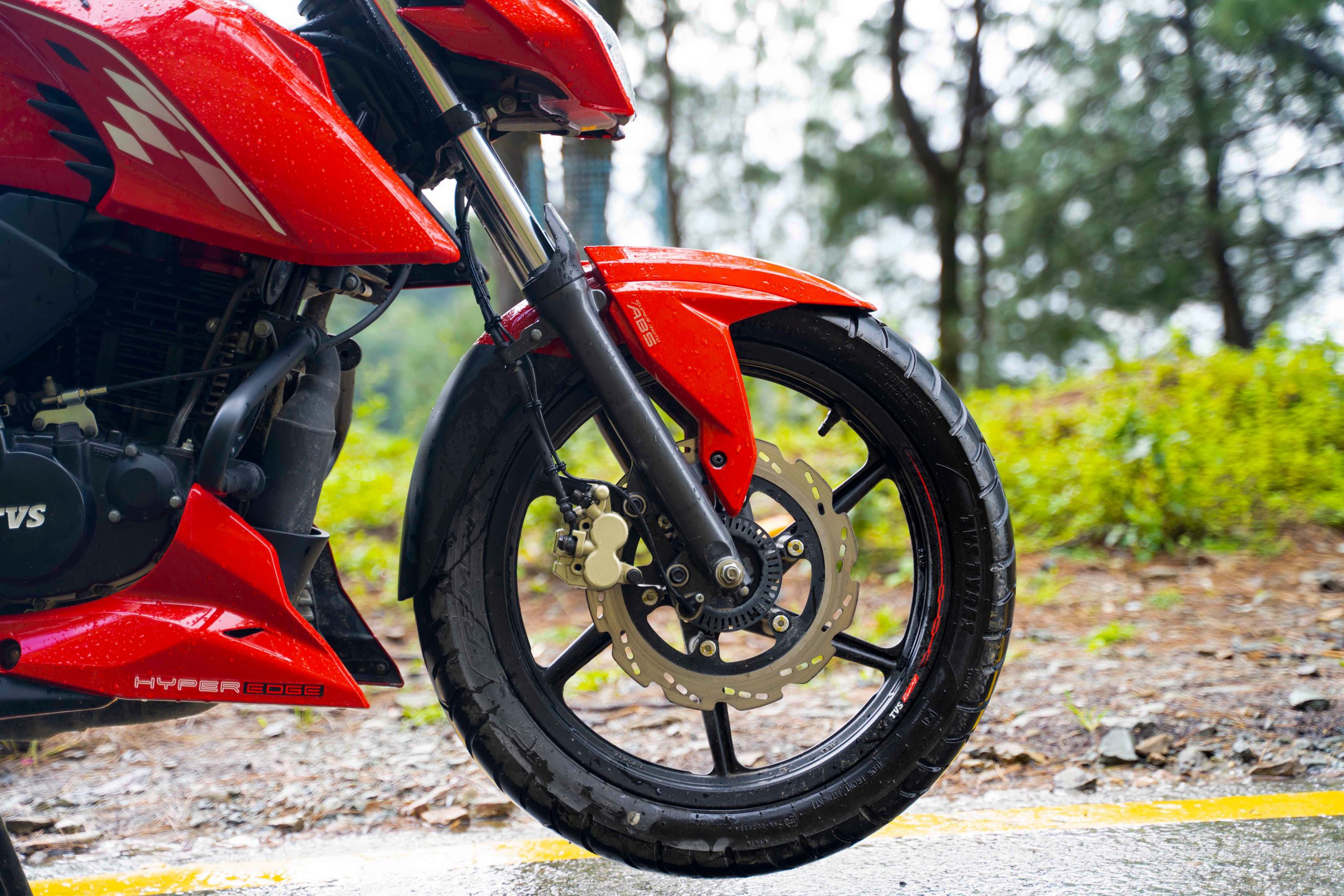 The initial braking performance is good.
Moreover, the braking feedback is excellent on city roads and highway riding conditions. However, the rear brakes do not provide adequate braking feedback.
It will be apparent during off-road situations. The rear wheel-lock problem still exists.
Hopefully, TVS will address this in the future.
Tyres
The tyre sizes are the same as before.
Both 17-inch tyres with a 90/90-section at the front and 130/70-section at the rear. Interestingly enough, the rear tyre gets a Radial tyre.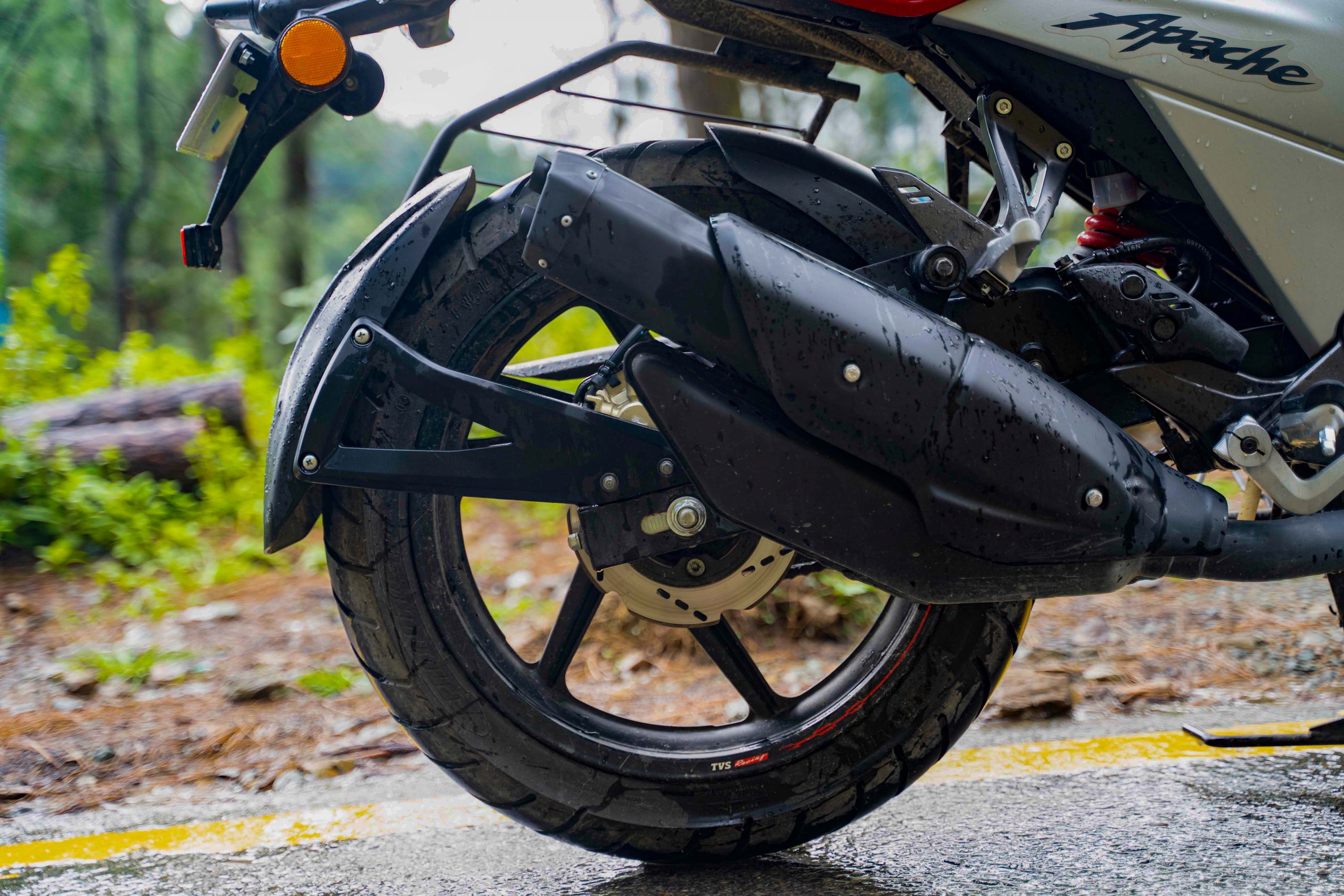 While the rear tyre still slips on occasion, the frequency of slippage has been drastically reduced.
The tyre performance has been improved, but it could have been better.
Suspension
The suspension setup is Telescopic Forks at the front and Mono Shock at the rear. Unfortunately, it misses out on Front Adjustable Preload like the 200cc sibling.
The setup does have a stiffness to it. Nevertheless, there is a hint of softness.
It helps maintain stability at higher speeds on highways. However, it might create a bit of annoyance during off-road conditions.
While the seat cushioning does help absorb a lot of the bumps, it wasn't enough in some situations.
Seat Comfort and Pillion
It sports a Single-Piece Seat with a Two-Level finishing. It gets adequate seat cushioning with improved seat cushioning.
As for the aesthetics, it gets a Dual-tone finish to enhance its premium feel.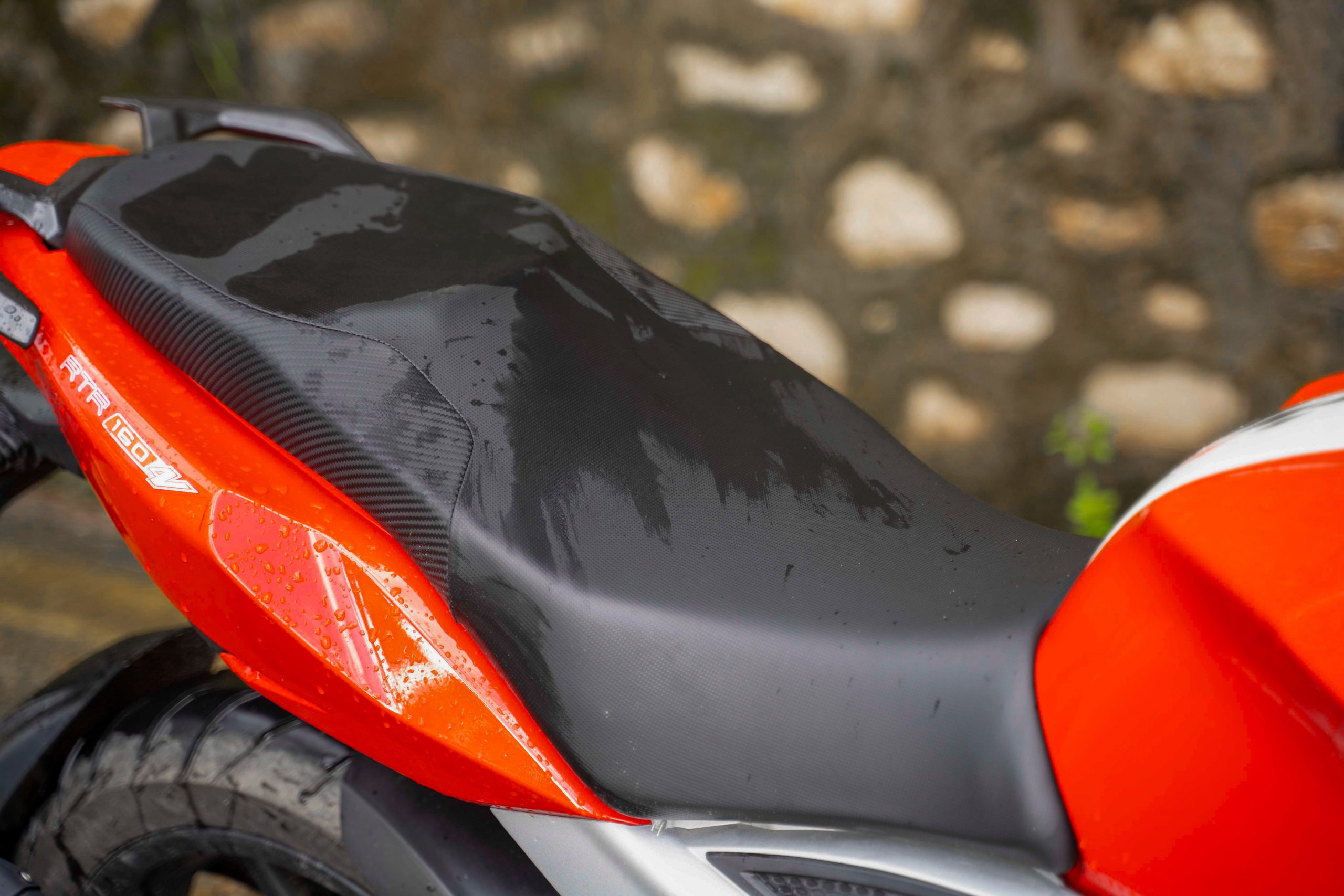 Talking about the seating position, it is very comfortable for both pillion and rider.
During long rides, we had to shift our seating position a few times. Except for those instances, it remained comfortable for the most part.
Fuel Tank Capacity and Mileage
TVS Apache RTR 160 4V gets a 12-liter fuel tank capacity.
The BS4 iteration was notorious for being low on mileage. Fortunately, TVS has managed to improve on this.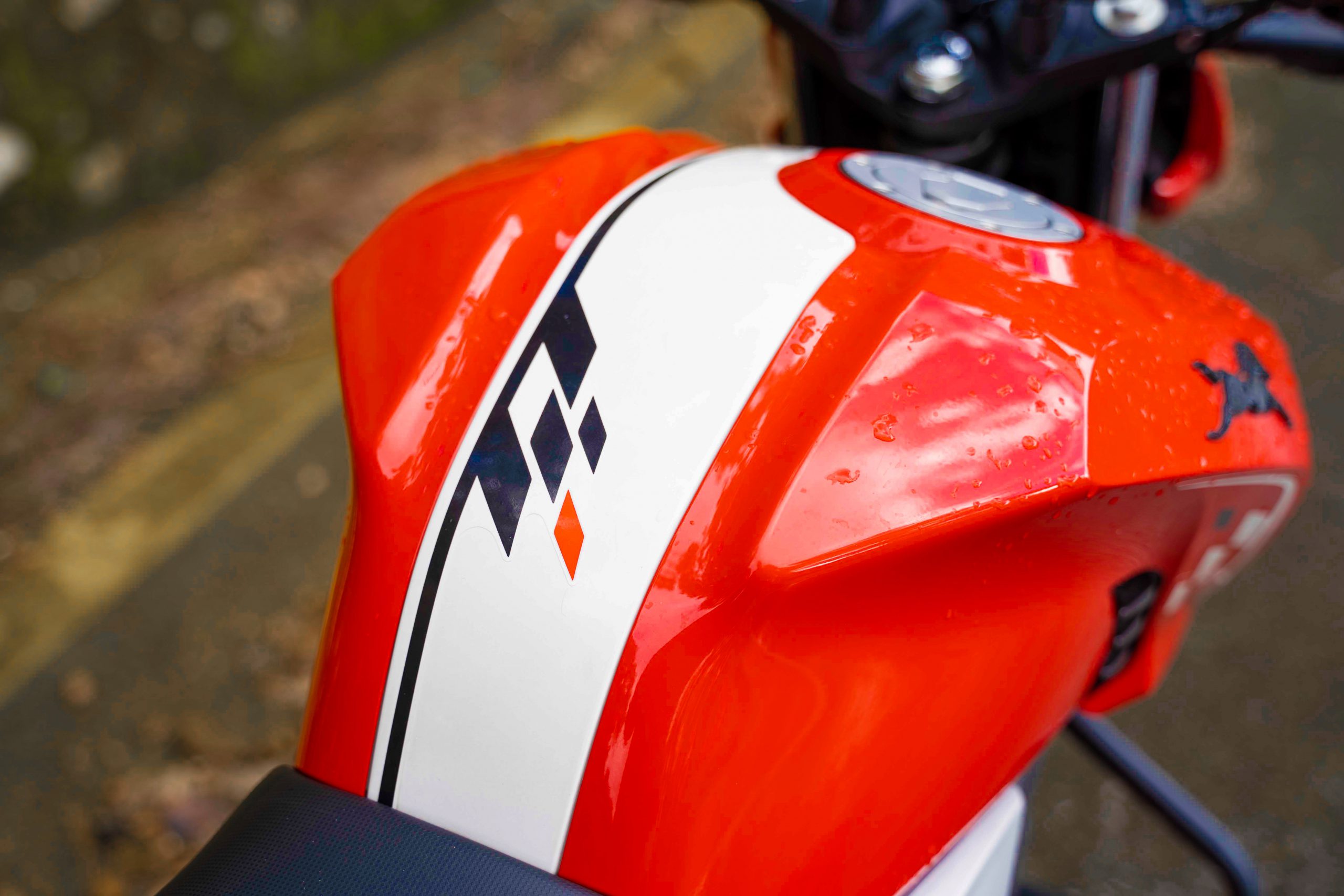 After testing it out, we managed to get around 38-40 Kmpl. Riders can achieve more than 40-45Kmpl with more economical riding.
It should give 480km to 540 km on a full tank.
Digital Meter with SmartConnect
Apache 160 4V also boasts an all-digital instrument meter.
It displays information like Average Speed, Clock, Lap Timer, High-Speed Recorder, Gear Position Indicator, and more.
There is an additional option to connect your smartphone to the bike via Bluetooth.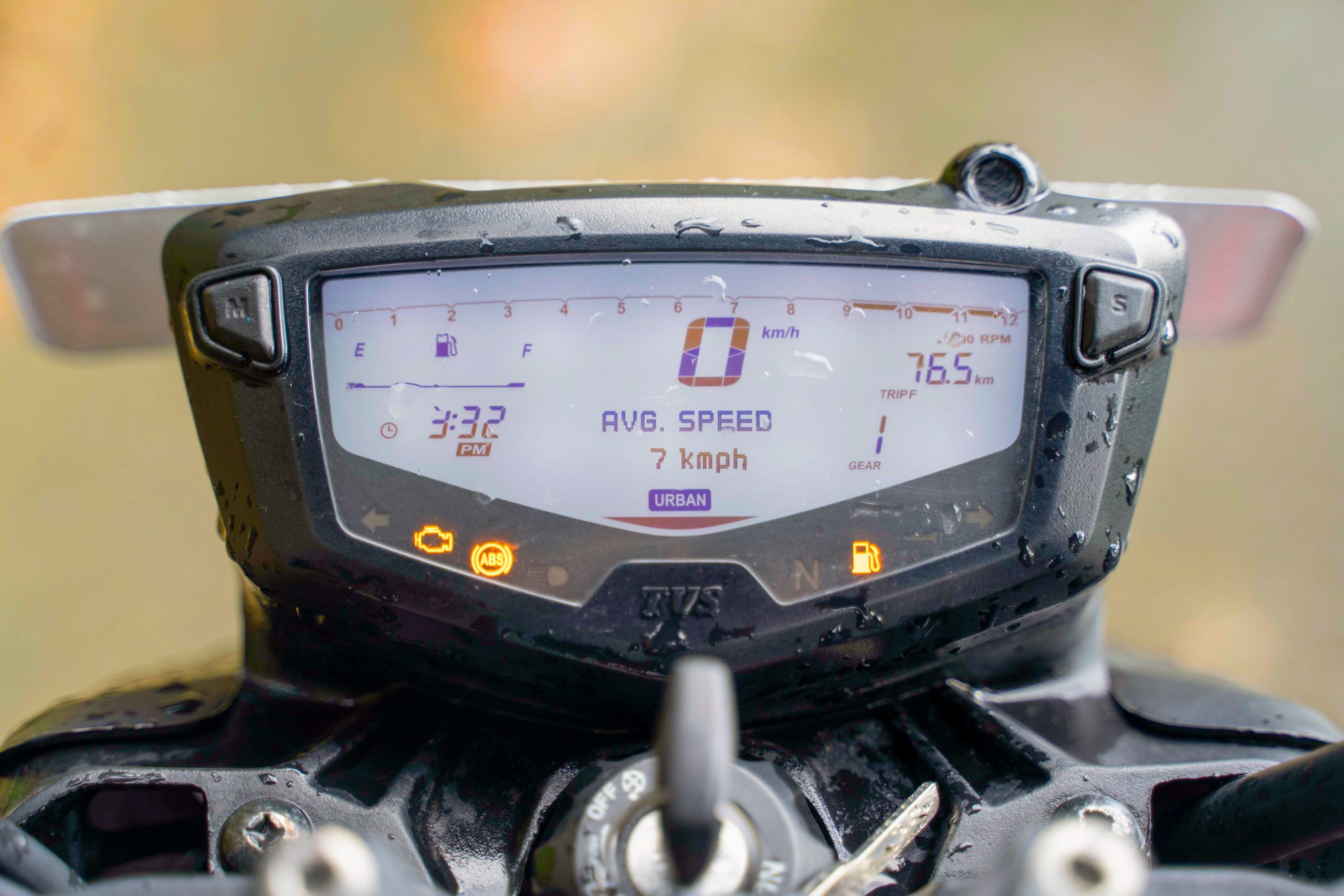 It opens the door to extra information like Call Notifications, Ride History, Last Parked Location, Ride Telemetry, Turn-by-Turn Navigation, and more.
Interestingly enough, the Shift Light is no longer customizable.
Rather, it recommends Up-shifts and Down-shifts automatically in the meter. However, those recommendations weren't that useful.
Glide Through Traffic
There is yet another nifty trick up its sleeve.
Glide Through Technology.
It provides stress-free riding by removing the need for the correct combination of throttle and clutch in slow traffic.
TVS has engineered the bike in such a way that the bike automatically maintains the speed across all five gears. With this technology, the bike can simply glide through the traffic.
Here is the reference table for GTT speed across all five gears.
| Gear | Max Speed in GTT |
| --- | --- |
| First Gear | 8 Kmph |
| Second Gear | 12 Kmph |
| Third Gear | 18 Kmph |
| Fourth Gear | 24 Kmph |
| Fifth Gear | 30 Kmph |
TVS Apache RTR 160 4V Features Highlight
Apache RTR 200 4V Inspired Styling
160cc 4-Valve Engine
BS6-compliant Bosch Fuel Injection
Ant-Head Headlamp and Repositioned DRL
Muscular Fuel Tank with Off-Placed Fuel Cap
Dedicated Info/Control Switch
Multiple Riding Modes
Digital Instrument Cluster
SmartConnect System with Bluetooth Capabilities
Stylish Grab Rails
Single-Channel ABS
Double-Barrel Exhaust with Bass-Heavy Exhaust
Dual-Disc Braking
My Experience with TVS Apache RTR 160 4V
Riding Modes
TVS Apache RTR 160 4V introduces a segment-first feature: Riding Modes.
These modes allow riders to choose from three riding modes: Sports, Urban, and Rain.
These modes fine tunes the performance based on their riding style. Depending on the riding mode, the powertrain figures are slightly different.
Sports Mode can generate 17.55PS and 14.73Nm whereas Rain/Urban Mode can generate 15.64PS and 14.14Nm.
Moreover, there is a slight variation in ABS Pulsation (feedback) as well. The Rain Mode has the highest ABS Pulsation and Sports Mode has the lowest.
Here is a brief description of the different riding modes.
Urban Mode: It is perfect for city rides and office commutes. The urban mode limits the power train figures by offering a more linear delivery.
Rain Mode: It is used for rain or wet road conditions. Similarly, Rain Mode is similar to Urban Mode in terms of riding feel. Here, the ABS is more alert.
Sports Mode: The sports mode removes any kind of restrictions on engine performance. Plus, the ABS is the least intrusive. And, the bikes feel the most fun.
Here is another table to understand the difference between these riding modes.
| Riding Modes | Max Power | Max Torque | ABS Pulsation |
| --- | --- | --- | --- |
| Sports Mode | 17.55 PS @ 9250 rpm | 14.73 Nm @ 7250 rpm | Low |
| Urban Mode | 15.64 PS @ 8600 rpm | 14.14 Nm @ 7250 rpm | Medium |
| Rain Mode | 15.64 PS @ 8600 rpm | 14.14 Nm @ 7250 rpm | High |
Punchy and Refined Practicality
The engine is super refined.
Thanks to the new RT-FI engine, the vibrations aren't as noticeable as before. Both the low-end performance and mid-range performance are excellent.
While it feels a bit lacking on the top end, it makes up for it with its punchy pickup.
The engine holds its refinement levels under 6000rpm. Moreover, there will be minor vibrations above that RPM limit, more prominent ones come after 8000rpm.
These prominent vibrations are noticeable at the footpegs and handlebar.
Unless you push the bike to its limit, the engine refinement and vibrations always hold the sweet spot.
The pickup is instantaneous.
There is no need for downshifts because the RPM can climb up easily. Furthermore, effortless gear shifts further add to the experience.
The ride is engaging and fun at heart.
Whether it is on tight traffic, empty highways or tough off-roads, the TVS Apache RTR 160 4V shines bright.
It handles everything with grace with its quick and nimble agility.
It comes across as a refined motorcycle.
TVS has put a lot of effort into its motorcycle. And, it clearly shows.
If you are confused between 160 4V and 200 4V, then go with this one. The ride handling is much more convenient and the overall offering is so much more practical.
Battle with Competition
TVS Apache RTR 160 4V rivals the all-new Bajaj Pulsar N160.
It is a fierce battle to be the segment leader.
TVS offers a feature-loaded, improved-performance machine. Whereas, Bajaj hopes to turn the table with its 250-inspired styling and Dual-Channel ABS.
It is a tough choice to choose between the two.
Both are equally fun and amazing in their own right.
If you want something fun and feature-loaded, the Apache RTR 160 4V is the way to go.
If you want something muscular and aggressive, then Pulsar N160 won't disappoint either.
Conclusion
This is the time for us to admit it.
Since its initial launch, the TVS Apache RTR 160 4V has continued to evolve. In its quest to be better, it can constantly evolve into something it always wanted to be.
Unstoppable.
The urge to constantly improve itself has finally paid off.
This is the new TVS Apache RTR 160 4V.
---
Also, watch our TVS Apache RTR 160 4V review video!