Tesla Air Conditioner, a subsidiary company of Bhu Laxmi Group is an ISO 9001:2015 certified company. Founded just two years ago, their growth has been in a steady climb. Uniquely known by their name Tesla, the company mostly focuses on air conditioners. Despite being new in the business, tides have shifted. Tesla Air Conditioner has been significantly growing in popularity. It's only a matter of time before it becomes a household name. Before that happens, we had a great opportunity to talk the man behind Tesla Air Conditioner and ask some of the most requested questions!
We recently sat down for a conversation with Mr. Kiran Acharya. Being just 28 years old, he has accomplished some interesting feats. In this interview, we explore his ideas and vision. Also, Mr. Acharya talks about his experience, his current plans, and the future of the company.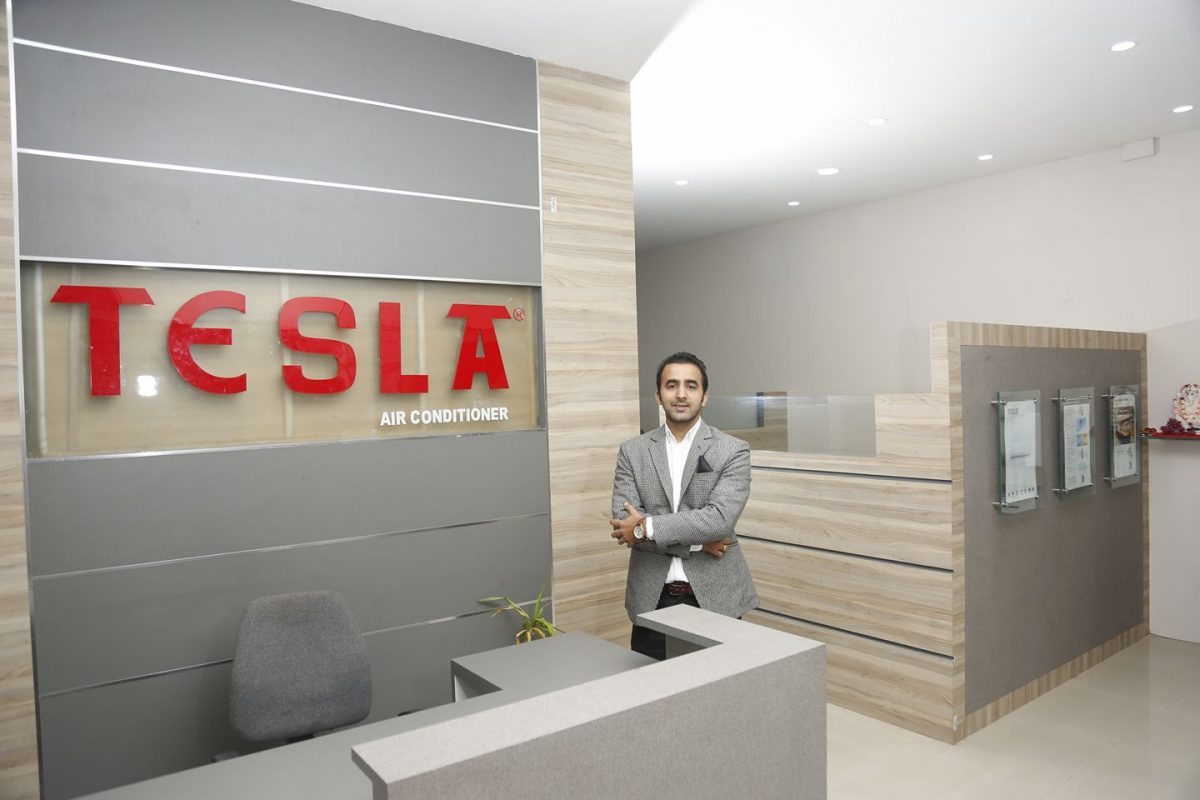 In Conversation With Tesla Air Conditioner's Kiran Acharya
---
TechLekh: Why did you choose the name "Tesla" for your product? Any specific reason behind the name?
Mr. Acharya: Nikola Tesla was a big inspiration. The name means something to me. I feel like his contribution to the inventing Alternative Current is somehow connected to what we do. Being an electronic company and selling an electronic product, I think there should be a connection with the man who started it all.
Personally, I didn't name the company 'Tesla' to copy another international brand. It's just that Nikola Tesla was such a huge inspiration for me. And, this is also one of the reasons why I named my son Nikolas.

– Kiran Acharya
---
TechLekh: Everyone looks for their own unique idea before starting a business. How did you get your idea of starting Tesla Air Conditioner? Was it a passion to do something different or just a financial motivation?
Mr. Acharya: It was spur of the moment decision. I was planning to study abroad but changed my decision to study Information Technology in Nepal. During that time, I had my first online business named merochino.com, an e-commerce website. Regardless of countless household products available, people would normally use the site to seek the prices of Air Conditioners. It was then I realized the future market of Air Conditioners in Nepal.
Air Conditioner is one of those luxury products where you must think twice before buying. Yes, there isn't any existing market right now. But we must remember that Nepal is a developing country. If you consider the continued development in various sectors like tourism (hotels, resorts) or household income, it is growing. Observing the potential market with an increase in potential demand, I decided to start Tesla Air Conditioner.
To be honest, I did not have much knowledge about business. But I knew that I wanted to do something that hadn't been done before. I guess you could say it was a passion to do something different. Obviously, there were risks and fear before starting a new business.
But your passion becomes a catalyst to overcome those risks and fear.

– Kiran Acharya
---
TechLekh: Most of us are aware of another company that shares the name, Elon Musk's Tesla Inc. Don't you think it might affect your brand in any way? If your company decides to go global, there is bound to be some confusion. What's your approach?
Mr. Acharya: This is something people ask me all the time. When I first started my company, Elon Musk wasn't mainstream. So, genuinely I didn't know there was another company with the same name.
Both Elon Musk's Tesla and Bhu Laxmi's Tesla are internationally certified company. Even though both companies share the name, their field of work is different from ours. Elon Musk's Tesla is a Motor Company whereas Bhu Laxmi's Tesla is an electronics company. We followed the same procedures to register our company through the Nepali Government, which follows international laws. I don't think there will be any legal issues but even if it did, we have nothing to worry about.
As for the confusion it might create when we go global. I don't have any problem with the confusion. I think any publicity is a good publicity. But our main vision to avoid said confusion would be by introducing "Made in Nepal" for Tesla Air Conditioner. I think that is how people will avoid any confusion in the future.
---
TechLekh: What can we expect from Tesla Air Conditioner in term of quality and price? What makes you different from national and international competitors that have been in the game for a long time?
Mr. Acharya: Our goal here is to provide low prices for high-quality products and excellent services to our customers. That is our top priority. We want to give national customers a high-quality product that would rival international brands like Samsung, LG, and etc. And we would like to offer them at half the cost.
Personally, I believe that consumers do not get the same excellent experience from international brands as advertised. The reason for the dip in their prices may be due to the drop in quality or something else. This is what Tesla Air Conditioner doesn't do. We try to put quality and customer satisfaction first.
For international brands, we can compete with them with quality products. Whereas for national brands, we can compete with them by offering newer technology at a better price. I think that's how we are different from other brands.

– Kiran Acharya
---
TechLekh: What is Tesla Air Conditioners current market share? What is your strategy to increase it?
Mr. Acharya: We've been in this business for almost two years now. During this time, we've sold more than 2000 units. It is difficult to accurately give out the current market share. However, we know that the demand for our product is high. If you want to buy a Tesla Air Conditioner, there might be a minimum one month wait time. This will continue to increase our market presence.
Our main strategy would be to introduce advanced technology to our product. Like what Apple does with their iPhone. Each year Apple's product gets more powerful and more efficient. That's how we will approach. We want to introduce technologically advanced air conditioners each year to make people want to upgrade. We are also planning to offer repair center and dealerships to improve customer experience.
On top of that, we are testing "no advertising" rule for two more years. Instead of advertising our product, we want customers to spread the good word about it.

– Kiran Acharya
---
TechLekh: You've been traveling very often, both nationally and internationally to expand your business. What is your main vision? Where do you see Tesla Air Conditioner after five years down the line?
Mr. Acharya: I want to make Bhu Laxmi Group a multinational company. We are currently in the process to establish ourselves in countries like Dubai, China, India, and the US. I have been traveling tirelessly just for laying the groundwork. I want to globalize the Bhu Laxmi and the products. That's my main vision.
Five years down the line, I want to see Tesla Nepal become a multinational brand. Providing nationally-made quality products at affordable price with excellent service is our main goal. And I believe that through determination, we can achieve that goal.
---
TechLekh: Do you want to focus only on Air Conditioners? Are there other products Tesla would be interested in bringing in Nepali market? How do you plan on achieving that goal?
Mr. Acharya: No, we don't want to limit ourselves with just air conditioners. We wanted to kick off with a luxury product like AC. Because we wanted our brand to be synonymous with luxury. Our main target would be to launch a successful line of Tesla Home Appliances like TV, Washing Machine, Refrigerator, and others.
To achieve this goal, we want to establish a manufacturing plant in Nepal. Manufacturing products with a tagline "Made in Nepal" will help to set us apart from our competitors. This isn't for profit, it is for personal satisfaction.
As of now, we are in a process to start first Tesla's manufacturing plant in Rampur, Chitwan. And I think home appliance made in Nepal will most definitely help us achieve that goal.

– Kiran Acharya
---
Tesla Air Conditioner Address Detail
Head Office: Narayanghat, Bharatpur 02, Chitwan, Nepal
Corporate Office: Samakhusi, Kathmandu 29, Nepal
Contact Details: 056-533505, 01-4387745, 01-4356446