It's HOLI next week and lots of brands are coming up with the festive offer. Among them, Tech Studio is running a "TECHOLICIOUS" offer until March 27.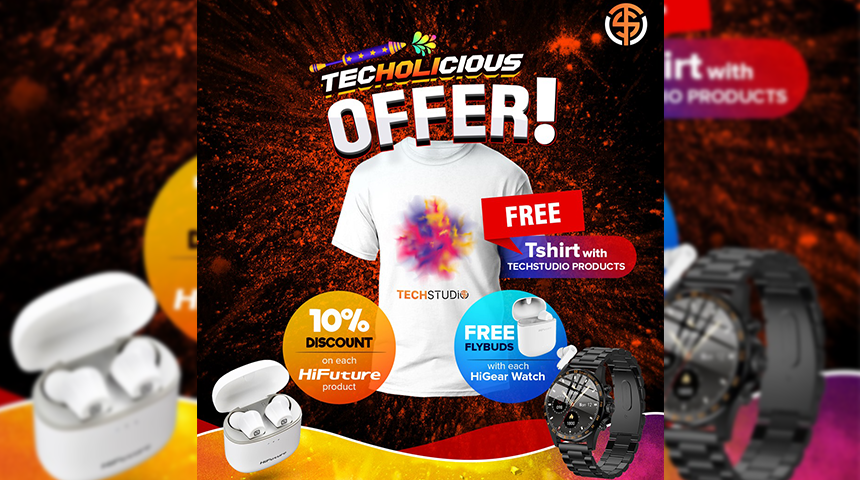 Tech Studio deals with brands like HiFuture and AQFiT. And, they are providing discounts/freebies on the purchase of various accessories from these brands.
So, let's check out Tech Studio's Techolicious offer!
Tech Studio Techolicious Offer
The campaign kicked off on March 20 and it will be valid until March 27, 2021. During this offer, you can get up to a 10% discount on products and freebies on the purchase of any products from Tech Studio.
To be specific, Tech Studio will provide a printed Holi T-Shirt on the purchase of any Tech Studio product. Furthermore, you will get a 10% discount on every HiFuture product except the HiGear.
And to top it off, you will get a free HiFuture Flybuds TWS on purchase of the HiGear smartwatch along with the T-Shirt.
HiGear is a smartwatch worth Rs. 17,999 and Flybuds is a wireless earbud worth Rs. 3,599. So, you are getting a very good deal if you are looking to buy a smartwatch and a TWS. Remember that, 10% discount is now allowed on the HiGear smartwatch.
Where and How to Buy Tech Studio Products?
You can buy the products online from Daraz, Sastodeal, Reecharger, Gyapu, Analogue Mall, Meropasal, and Neostore. You can also visit Techmax Stores located at Kumaripati, Birtamode, Bouddha, Chitwan, Pako Newroad, Civil Mall, and SB Computer Naryanghat for offline purchases.
All in all, it's a good time to buy HiFuture and AQFit products during this holi offer from Tech Studio.
READ NEXT: HiFuture Earbuds Price in Nepal: Features and Specs