Suzuki Intruder is now available in Nepal. Now, let's correct that.
Suzuki Intruder was already available in Nepal for the past two years. Despite being available for all these years, nobody really talks about it.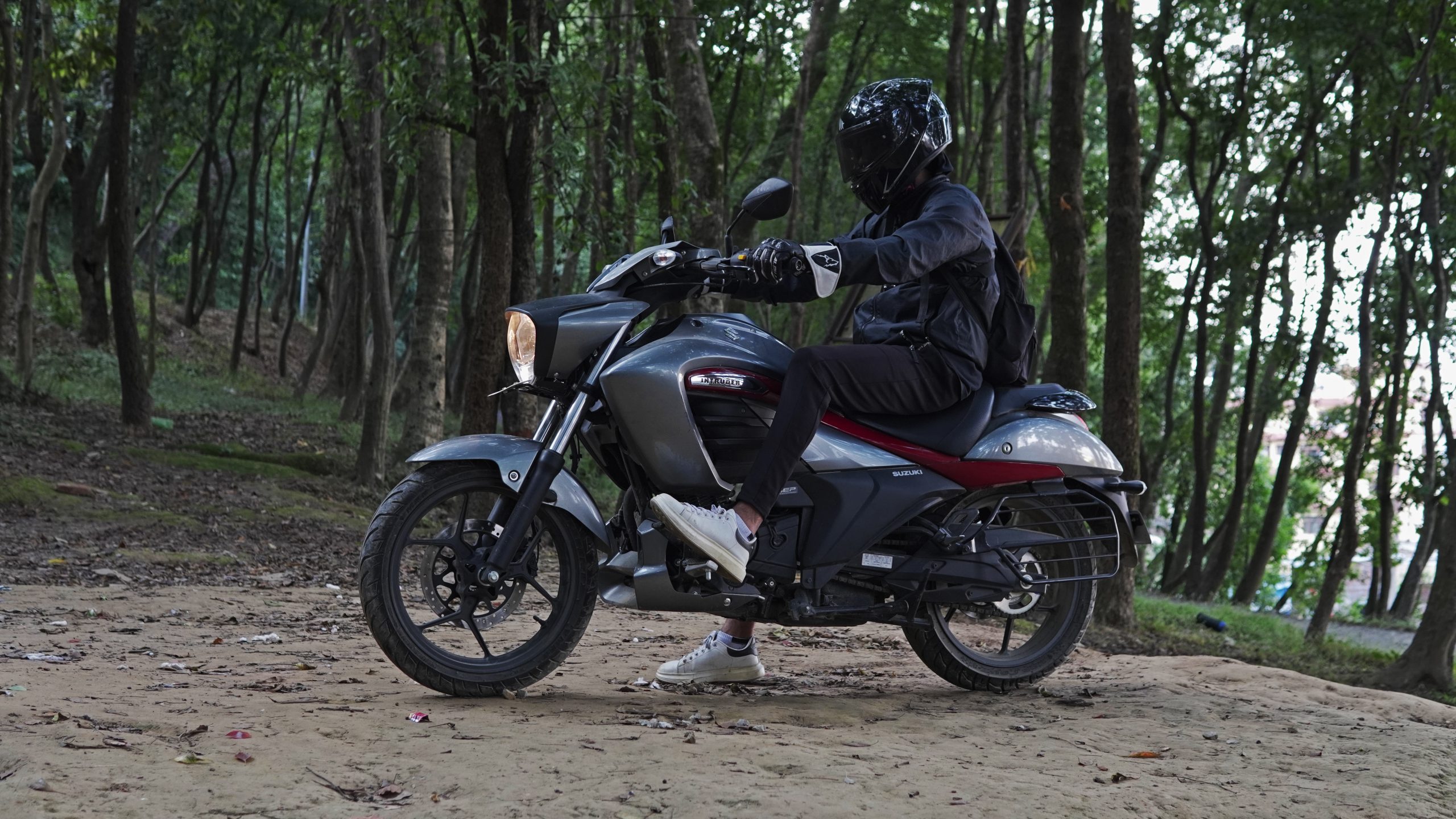 Well, it's not just that. When was the last time you saw someone riding a Suzuki Intruder down the street?
Cruiser bikes have a fair share of popularity in Nepal. Bajaj Avenger and Suzuki Enticer (now discontinued) shows the demand for cruiser motorcycle.
Yet Suzuki Intruder has barely able to crack its way into the Nepali territory. 
On paper, Intruder checks off every right box: muscular design, punchy performance, and eye-catching style.
Honestly, this doesn't make any sense. It should have been a big hit, especially with people actively looking into sporty cruisers.
Maybe it is the price. Suzuki Intruder price in Nepal is Rs. 3,29,900. Comparing with other available cruisers in Nepal, the pricing sits pretty well.
Let's try to figure things out together.
Today, we have the Suzuki Intruder for the Full Review. While we are still working on that, I want to take you guys for a brief walk around, explaining the quirks and features of this Suzuki mammoth. 
Suzuki Intruder 150 Specifications
Engine Type: S

ingle-cylinder, air-cooled, carburetor engine

BS6 Compliant: No
Displacement: 155 cc
Cooling System: Air Cooled
Starting Mechanism: Self Starter and Kick Start
Max Power: 14.6 PS @ 8000 rpm
Max Torque: 14 Nm @ 6000 rpm
Gearbox: 5-Speed
Top Speed: 115 Kmph
Fuel Tank Capacity: 11-liter
Mileage: 40-45 kmpl
Front Tyre: 100/80-17 – Disc
Rear Tyre: 140/60-17 – Disc
Tubeless Tyres: Yes
Braking System: Single-Channel ABS
Suspension Setup: Telescopic With Anti Friction Bush and Twin Shock Absorber
Seat Height: 740 mm
Ground Clearance: 170 mm
Kerb Weight: 152 kg
Colors: Black and Red
Suzuki Intruder 150 Street Price in Nepal: Rs. 3,29,900
Suzuki Intruder 150 First Ride
Bulky Design
Let's start with the design.
Inspired by the Suzuki Intruder M1800R, the heavy design makes its entry into the 150cc segment.
The bulky design is interesting, to say the least. Literally calling it a muscular motorcycle would be a massive understatement. I mean, just look at it!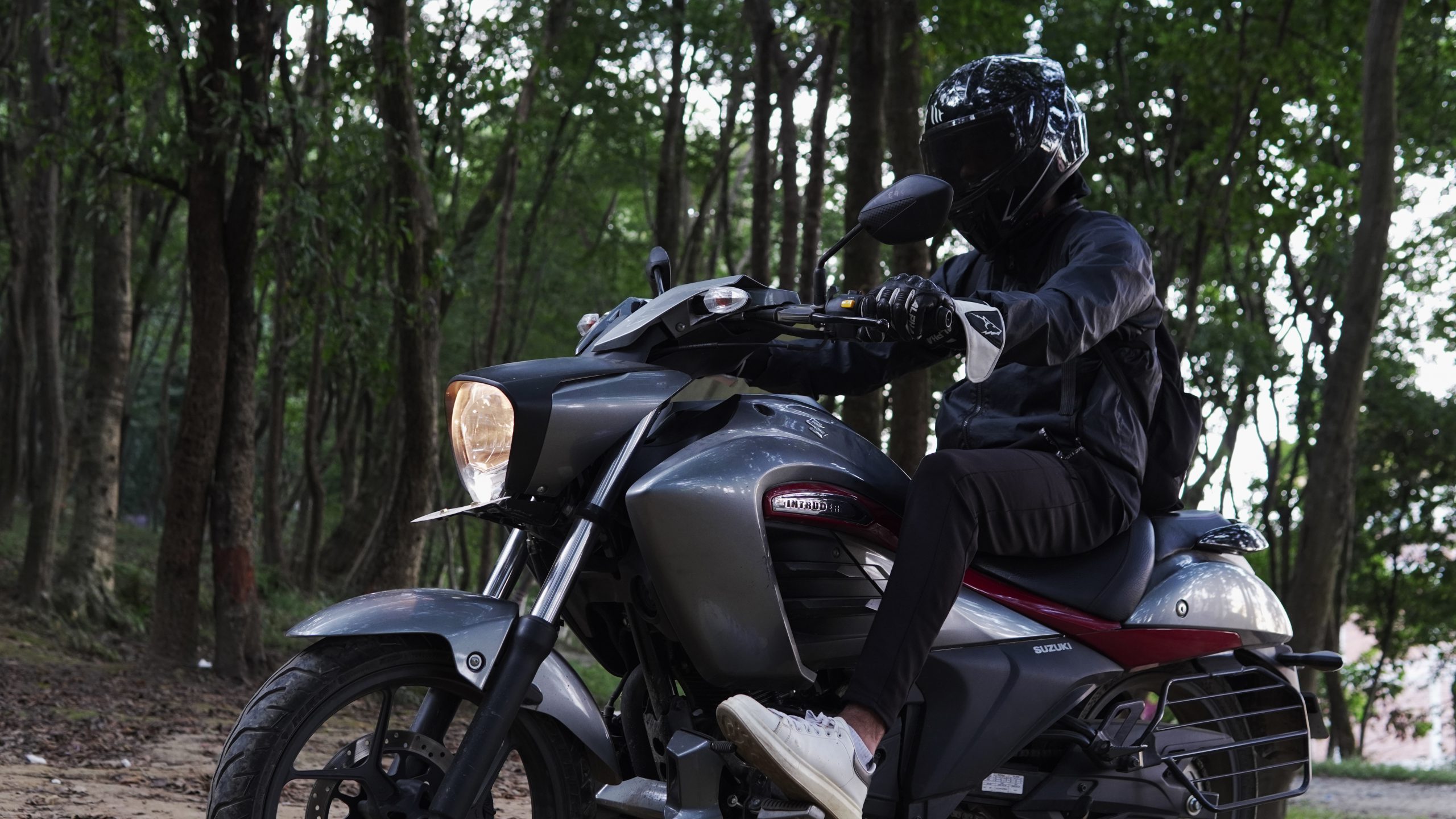 On the front, it gets a giant triangle-shaped headlamp which is complete with the yellow halogen light and white circular DRL.
Moreover, the headlamp isn't fixed, rather it moves along with the handlebar.
On a side note the large handlebar results in a weird number plate placement.
Talking about the handlebar, it's a sort-of stylized single-handlebar design. However, it does not come with a standard visor, rather a hard plastic element.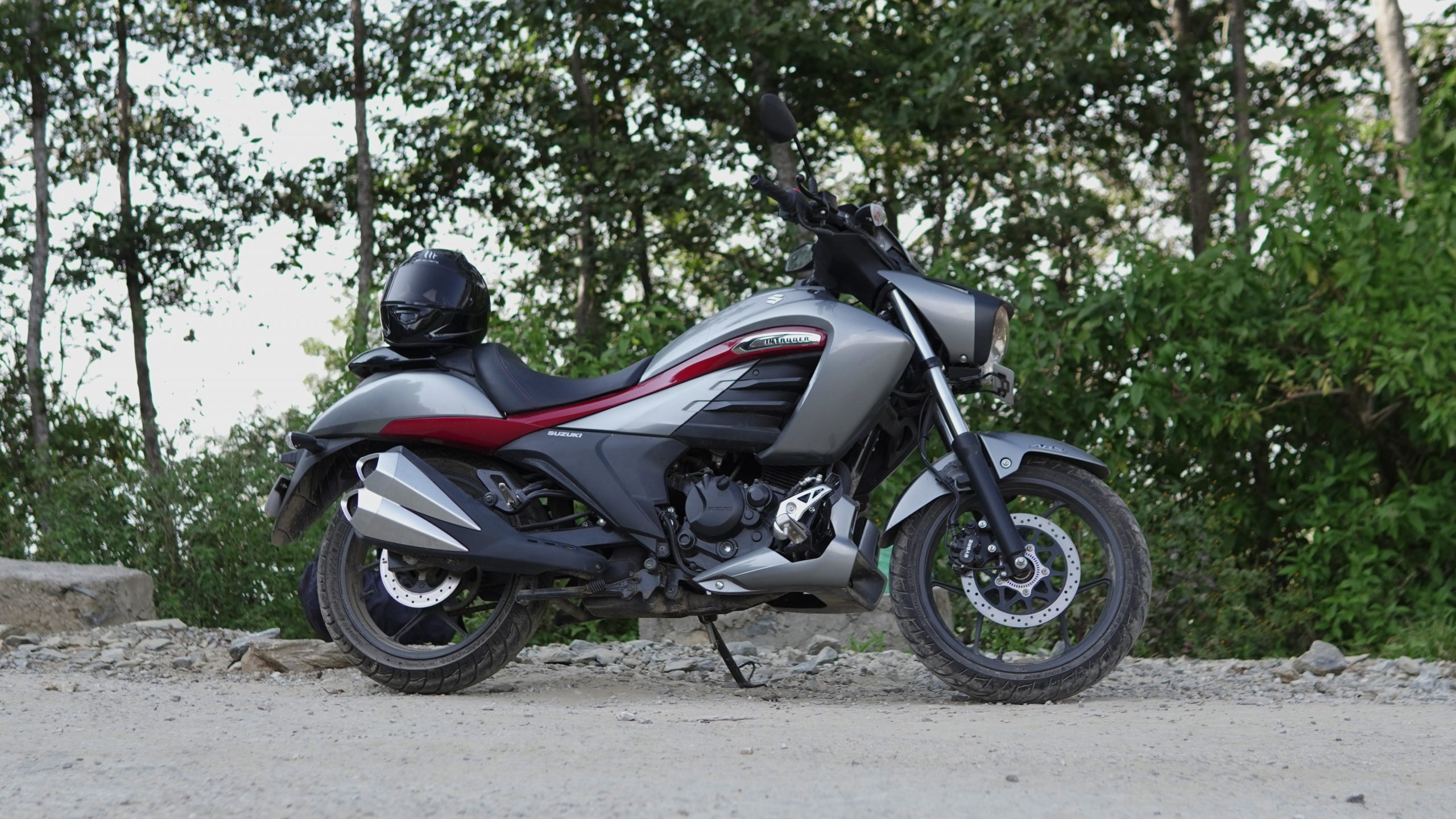 The same goes for the side profile as well.
It does not feature a traditional design, rather a bulky and intimating look. Furthermore, the look is completed with the 3D "Intruder" emblem, followed by a piano finish design.
The Suzuki cruiser proudly showcases its futuristic si-fi-inspired design, something the Nepali market has never seen before.  
Anyways, it gets a large grille-type dual-port exhaust, giving Intruder a unique look. Similarly, the rear section follows a curvy design with multiple LED setup.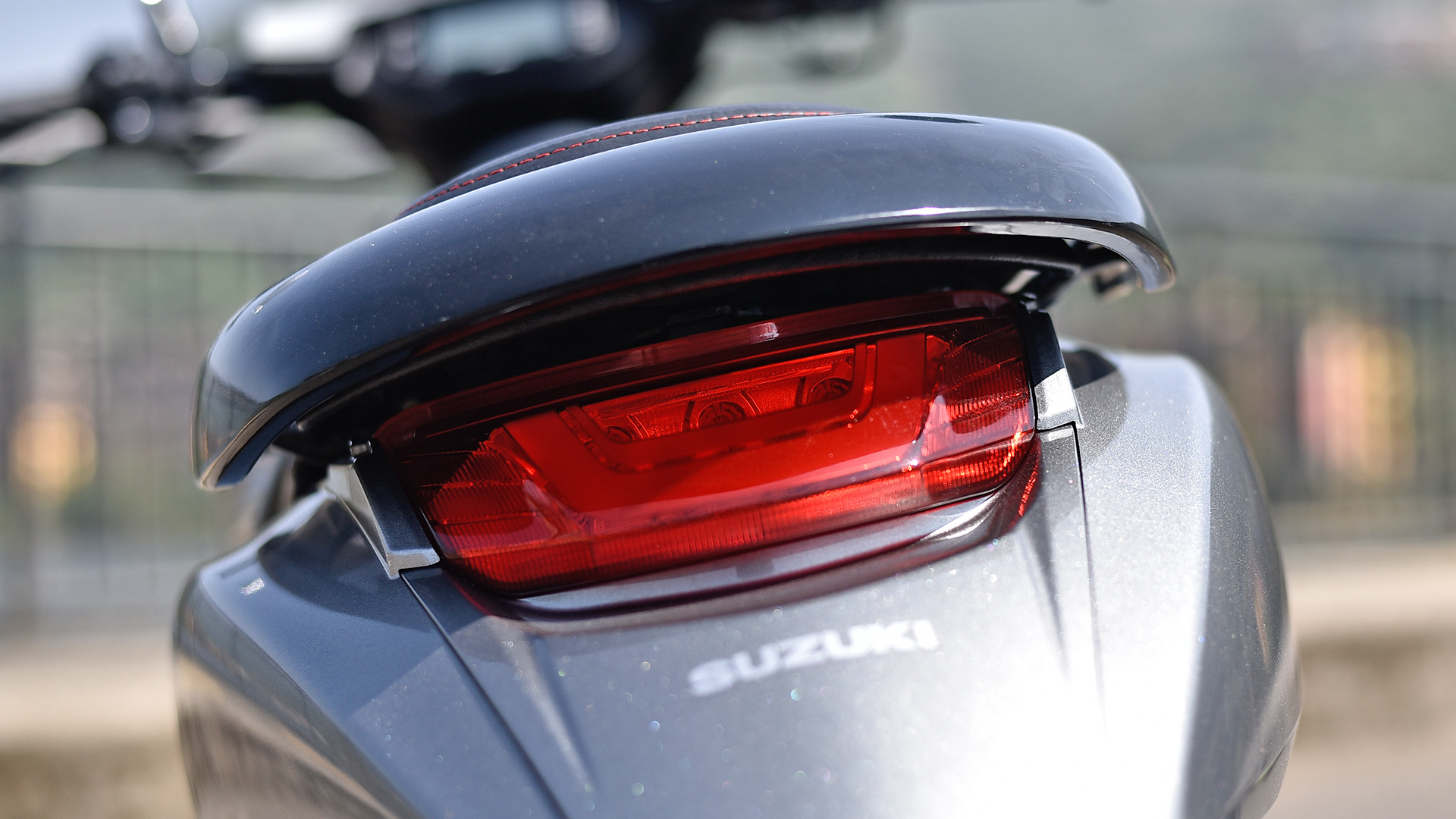 Our review unit did not have a pillion rest. However, it is available as an add on.
Suzuki Intruder is available in three different colors: White, Black, and Red. 
I should point out that there is a considerable amount of part sharing between the Suzuki Gixxer and Suzuki Intruder.
Perky Performance
Suzuki Intruder is powered by the same engine as the Suzuki Gixxer.
It gets a 155cc, single-cylinder, air-cooled, carburetor engine. Moreover, it can generate a max power of 14.6PS at 8000rpm and 14Nm at 6000rpm.
Furthermore, it is mated to a 5-speed transmission with an 11-liter fuel tank. It is a BS4-compliant engine.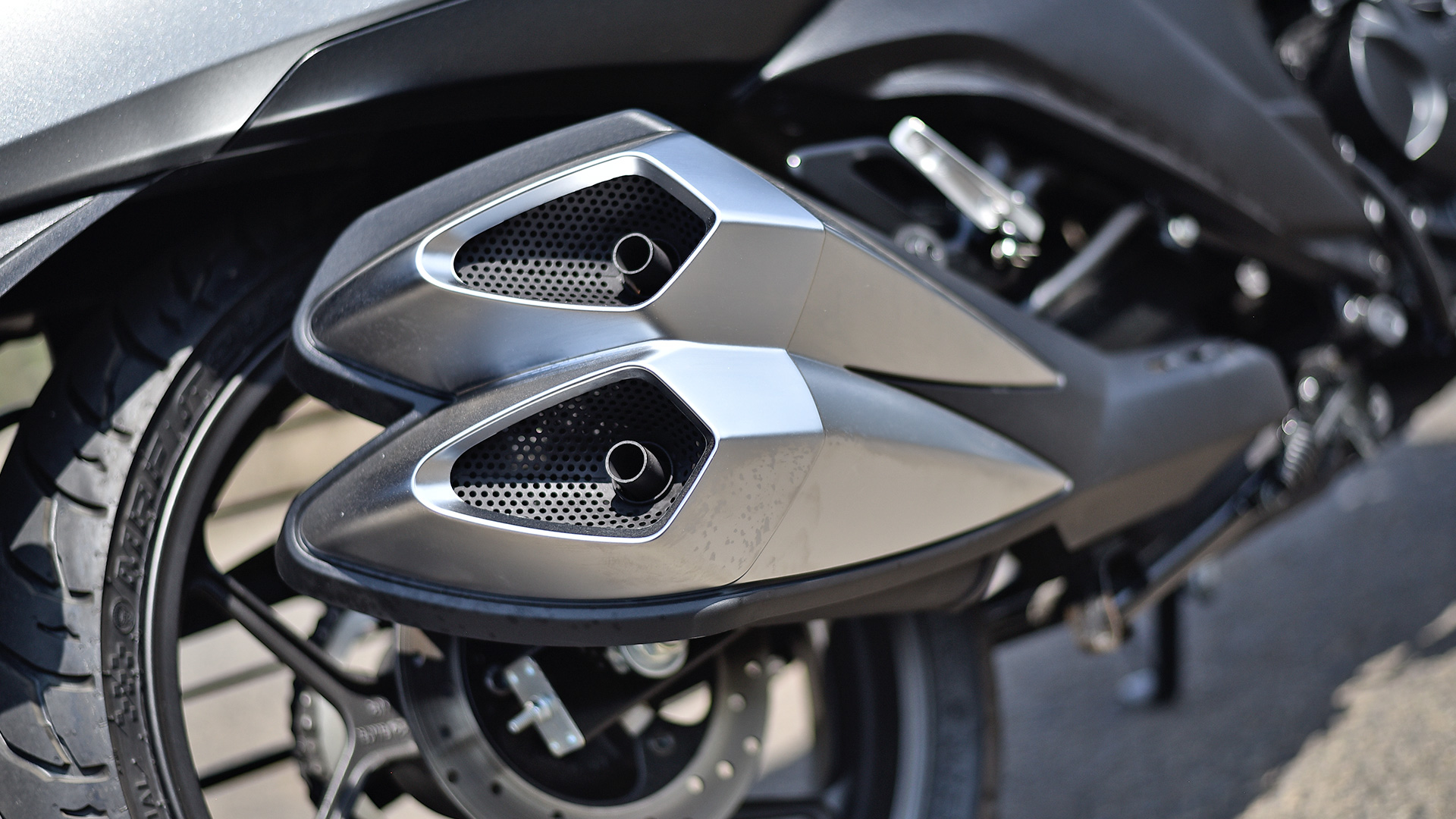 The Intruder engine is an exact match with the old Gixxer.
After the first test ride, it's pretty clear that Suzuki Intruder is exactly like the Suzuki Gixxer, but with a larger than life body.
Suzuki didn't even attempt to retuned or modified the engine in the slightest. However, the Gixxer engine is already perfect so the lack of changes is understandable.
ALSO READ: Bajaj Avenger 160 ABS Street First Ride: Mixed Experiences!
Features
Moving on to the features, Suzuki Intruder comes with a decent list of features.
Let's start with the all digital-instrument console.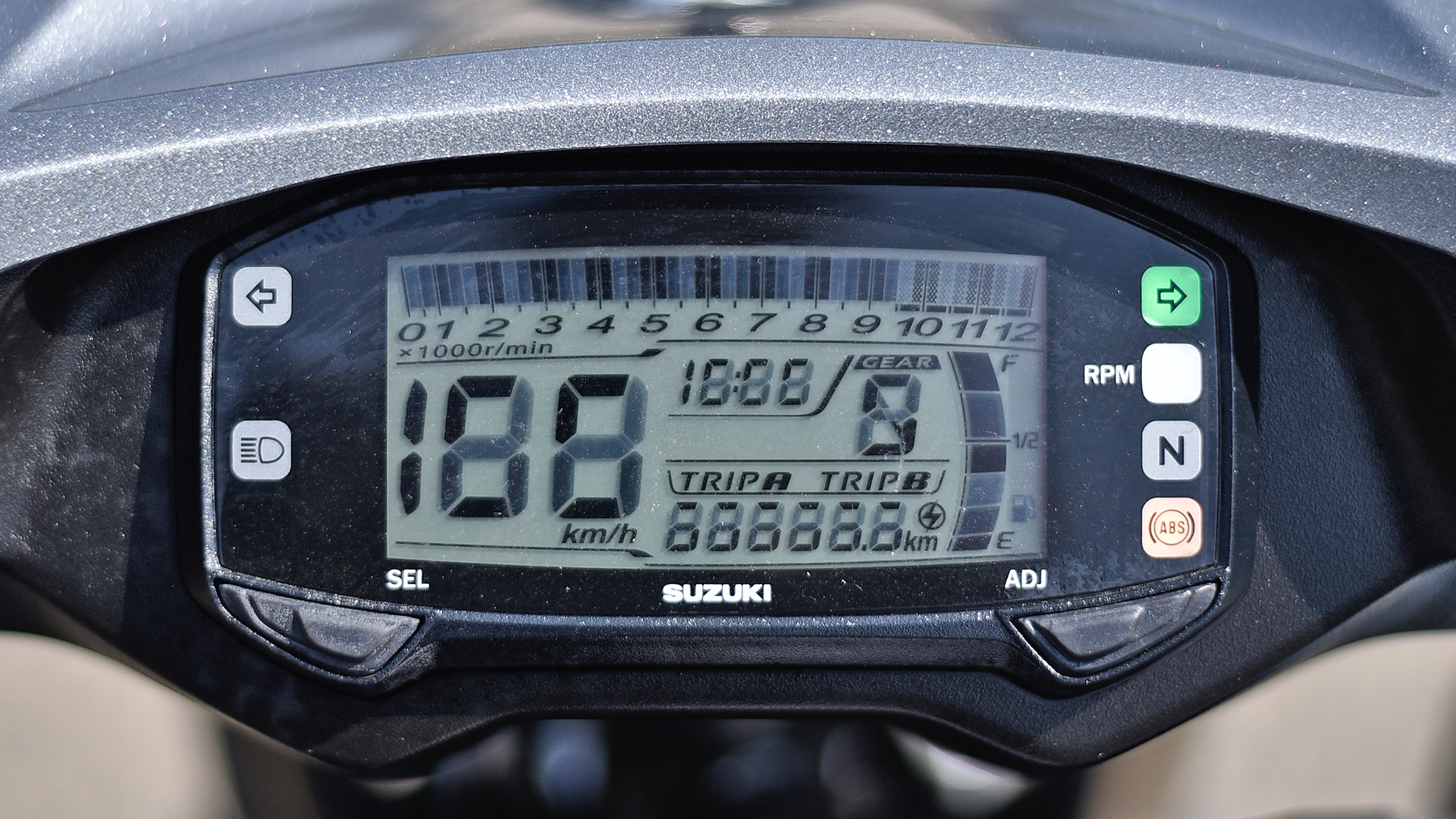 It's the same console previously seen in the old Suzuki Gixxer. Furthermore, it comes with adequate information on offer like Clock, Gear Position Indicator, Trip Meter, etc.
However, it gets an additional ABS indicator light.
That's right! 
Suzuki Intruder comes with Dual Disc brakes alongside a single-channel ABS on the front. It is pretty amazing to consider Suzuki actually included ABS as standard as far back in 2018.
Additionally, it gets a 100/80 front tyre and 140/60 rear tyre. Both are 17-inches tubeless tyres but these are not radial tyres.
Talking about the suspension setup, it gets a front telescopic suspension and rear monoshock swingarm.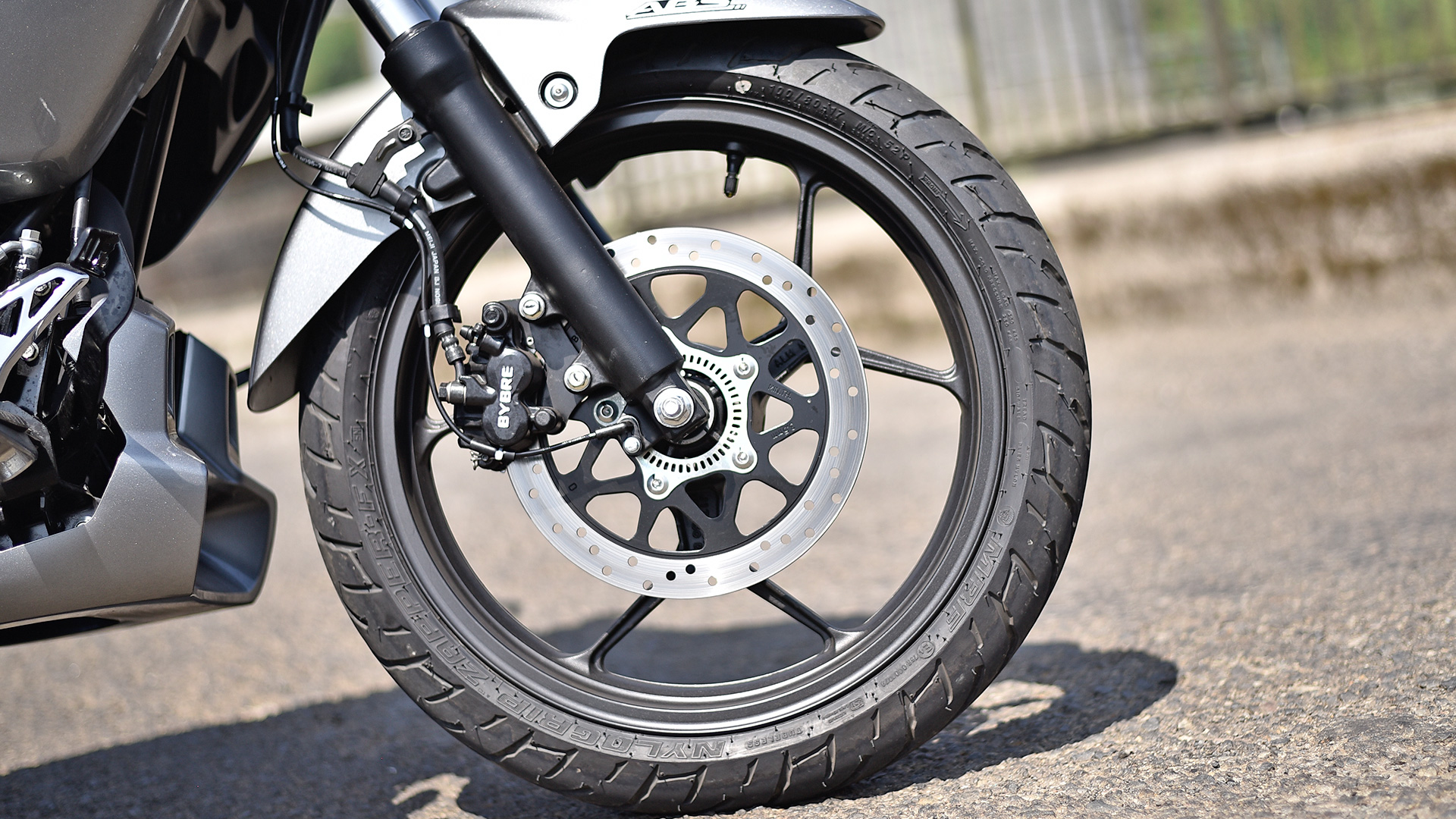 I am quite surprised to see Suzuki opt-in for Monoshock instead of Twinshock absorbers. I do think that this will affect the rear suspension feel to some extend.
Suzuki Intruder weighs about 152kg with 740mm seat height and 170mm ground clearance. As a reference, Bajaj Avenger 160 ABS weighs about 154kg with 737mm seat height and 169mm ground clearance. 
Compared to the Avenger 160, Intruder feels 2Kg lighter and 3mm taller. Moreover, the footpegs feel even more front set than the Avenger.
This will be interesting to go through in the Full Review.
Suzuki Intruder 150 Feature Highlights
Bulky Intruder M1800R Inspired Design
Larger than Life Fuel Tank Styling
Massive Halogen Headlamp and Stylish LED Taillamp
Powerful Performance
Dual Disc Brakes
Single-Channel ABS
Digital Instrument Console
Hard Plastic Body
First Ride Experience
We have only tested it for a few hours, but I have to say, there are night-day differences between the Suzuki Intruder and Bajaj Avenger.
The ride quality feels different, the riding position feels different, and almost everything feels entirely different. However, there is a considerable improvement over the Bajaj Avenger.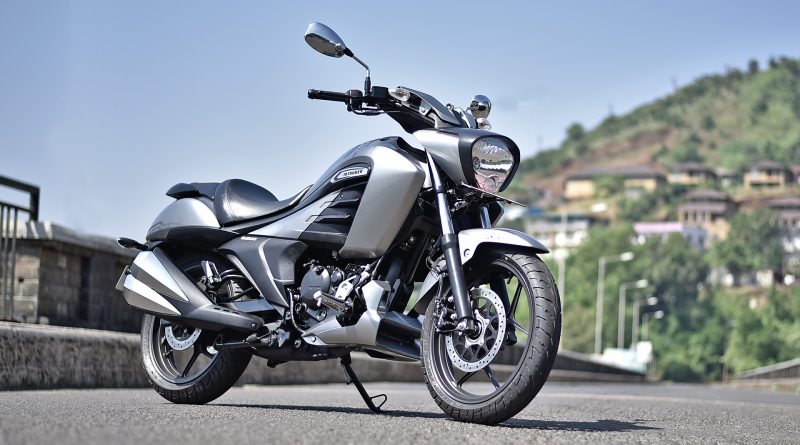 Firstly, the engine feels more punchy and torque heavy. Adding to that, the exhaust is a bit disappointing but enjoyable. 
Secondly, the dual-disc brakes are god-send! 
Suzuki still nails the performance of the brakes, with extra bite in the rear tyre. Plus, the added single-channel ABS is the cherry on the top!
In some other cases, Suzuki Intruder feels so much like a Gixxer, but it's not. 
It feels like riding a horse, with next-level road presence where every gaze is locked at you. Some might love the attention, some might not.
Personally, I did not. However, I will try to see if it grows on me until the Full Review.
Nonetheless, it's a definite piece of work, something I rarely come across.
I will try to have a field day with this, trying to put it in standard Nepali road conditions. Additionally, I have my doubts about the practical nature of this motorcycle.
However, I will have to test further and see if I am right or wrong here.