Pros
Refined Performance with Good Fuel Economy
Practical Oriented Features
European Trend Styling
Excellent Braking Feedback
Cons
Stiffer Suspension Setup
No Bluetooth Connectivity
No USB Charging Port
This is a detailed review of the Suzuki Access 125.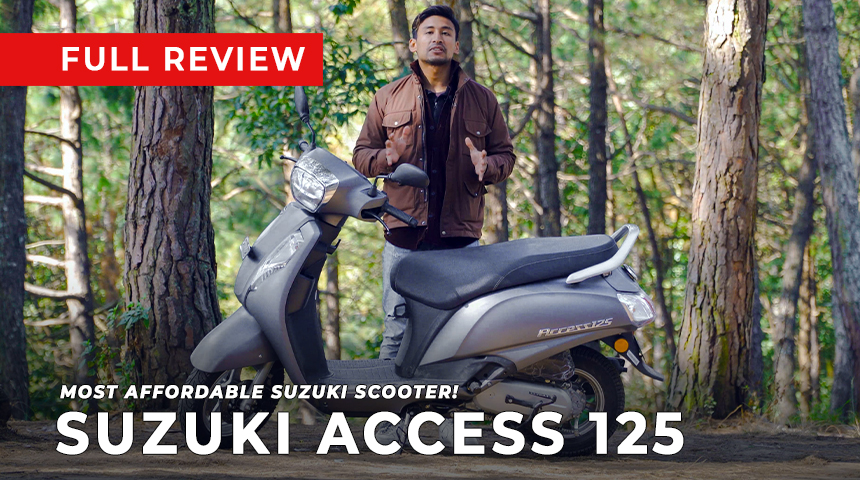 It is the third Suzuki scooter in for review, sharing the same engine as its siblings. However, the difference lies in style and feature set.
Are there more features offered for the price? Or, less?
If the Access 125 offers as many features as the Avenis or Burgman, then this can be a viable alternative for many!
Or, is there any hidden cost-cutting?
That is the question we need to tackle in this review.
Without any further ado, this is the complete review of the Suzuki Access 125.
Suzuki Access 125 FI Specifications
Engine Type: Single-Cylinder, 2-valve, SOHC, FI
Emission Standard: BS6
Displacement: 124 cc
Cooling System: Air-Cooled
Starting Mechanism: Electric Starter & Kick Starter
Max Power: 8.7 PS @ 6750 rpm
Max Torque: 10 Nm @ 5500 rpm
Top Speed: 91 Kmph
Fuel Tank Capacity: 5 liters
Mileage: 64 kmpl
Front Tyre: 90/90-12 – Disc
Rear Tyre: 90/100-10 – Drum
Tubeless Tyres: Yes
Braking System: Combi Braking System (CBS)
Suspension Setup: Telescopic Front and Mono Shock Swing Arm
Seat Height: 773 mm
Ground Clearance: 160 mm
Under Seat Storage Capacity: 22.3 liters
Kerb Weight: 103 Kg
Colors: White, Silver, Grey, Blue, Black
Suzuki Access 125 Price in Nepal: Rs. 2,65,900
Suzuki Access 125 BS6 First Ride
Retro Styling
Suzuki Access 125 is a mix of modern and classic styling.
The inspiration has a hint of retroelements along with European Design Trends. The overall styling is much more refreshing compared to a modern sporty scooter.
It sports a trapezoidal-shaped LED headlamp.
Moreover, the side indicators are body-integrated along with the halogen-bulbed DRL. It enhances the overall look and feel of the scooter.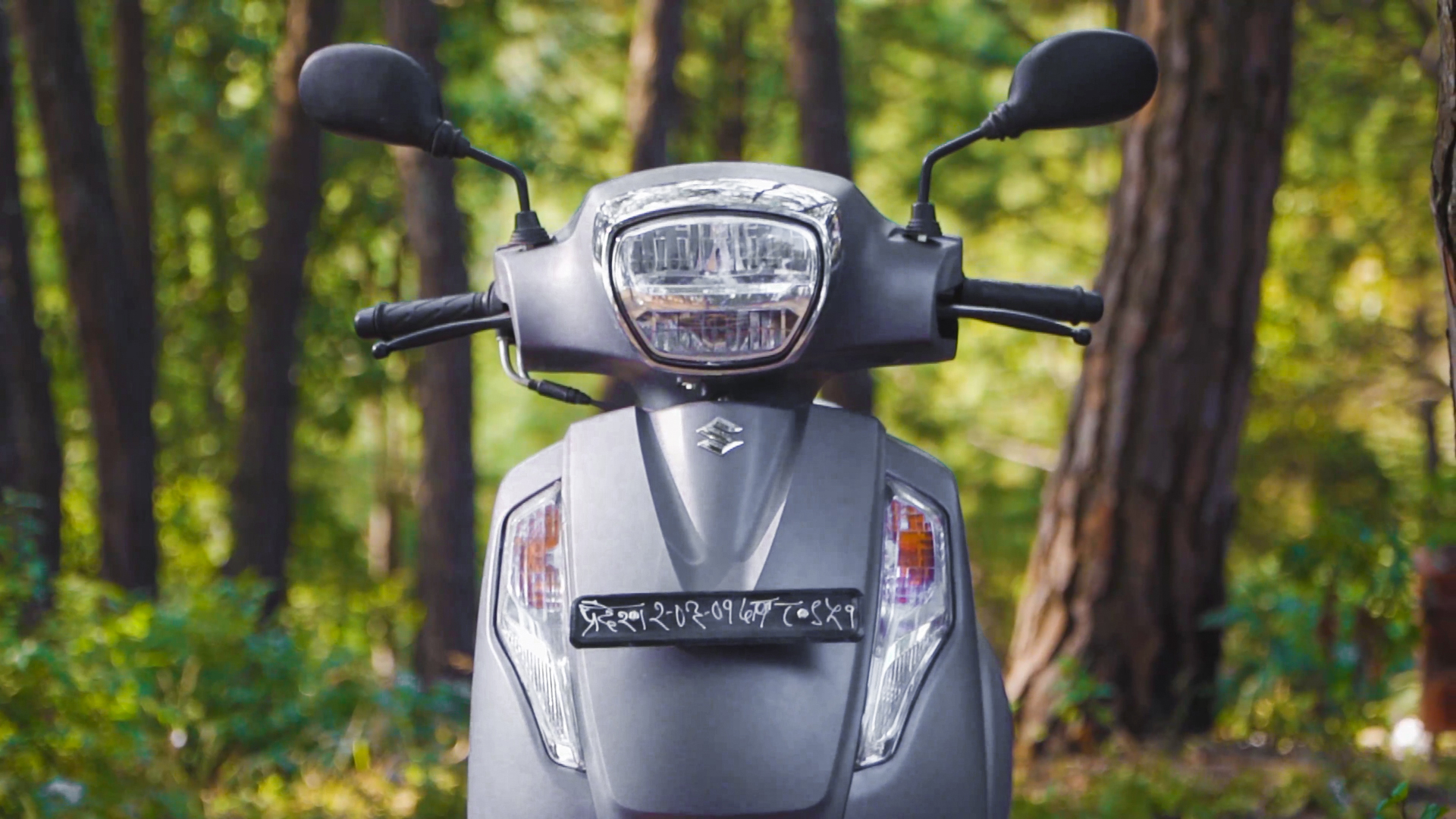 The nighttime visibility is only decent. The low beam should have been brighter and the high beam should have been wider.
Except for that little hiccup, Access nails down the styling aspect.
The side profile features prominent curve lines and creases, helping the scooter stand out. As for practicality, the seats are longer with extended footboards.
Moving to the rear section, it includes a Halogen Tail Light along with integrated Side Lights.
Suzuki has sprinkled chrome elements to elevate the overall feel of the scooter. These chromed elements are included in the muffler, external fuel cap, headlamp housing, and taillight housing.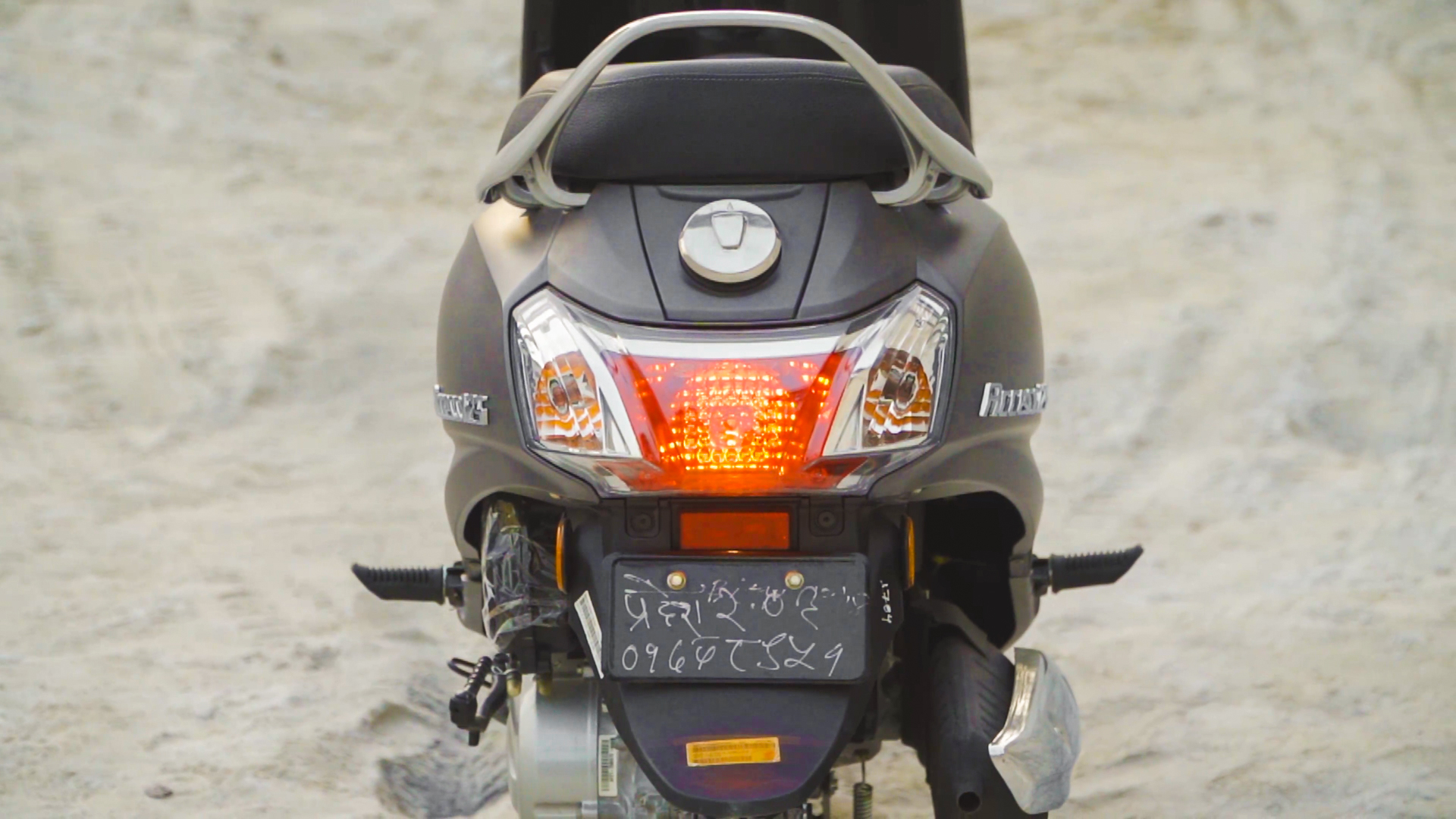 Additionally, the Suzuki Access 125 is available in five different colors: White, Silver, Grey, Blue, and Black.
Performance
Suzuki Access 125 BS6 is powered by a Single-Cylinder, 2-valve, Air-cooled, SOHC, FI engine. It generates a max power of 8.7PS at 6750rpm and a max torque of 10Nm at 5500rpm.
Moreover, it is mated to a CVT transmission with a 5-liter fuel tank capacity.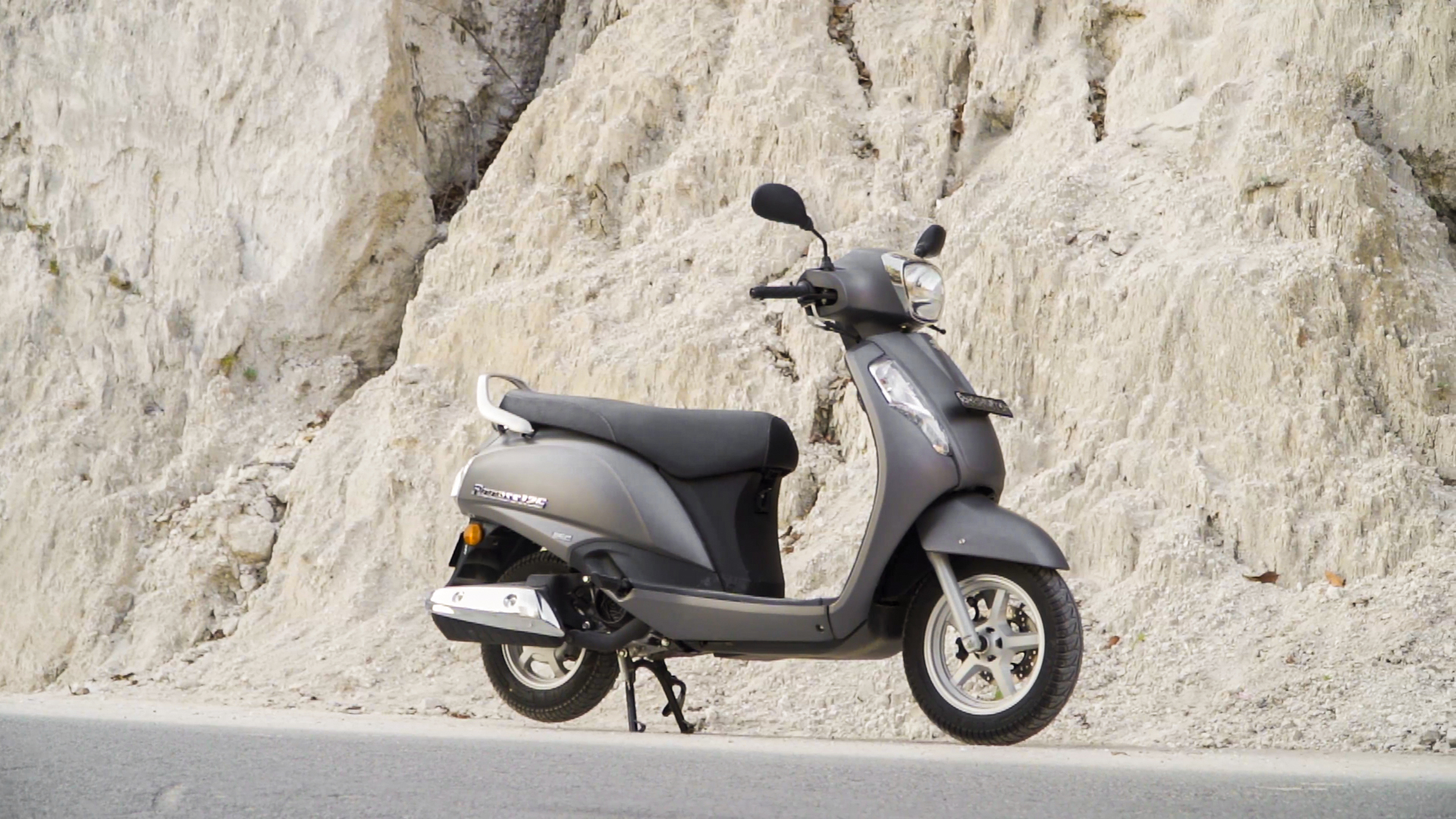 The new FI engine follows the BS6-emission standard.
It comes with the Suzuki Eco Performance (SEP). However, it only includes Easy Start System as the FI feature.
It misses out on Automatic Start-Stop System, Silent Start, and Side Stand Engine Cut Off. Please note that Side Stand Engine Cut Off is the only feature available in the Avenis and Burgman.
Additional Details
The dimensions are 1870mm in length, 690mm in width, and 1160mm in height. Moreover, the wheelbase sits at 1265mm.
Suzuki Access 125 comes with a 160mm ground clearance. And, the kerb weight is 103kg.
Practical Features
Suzuki Access 125 is loaded with practical features. However, it is important to note that the feature list is slightly less compared to modern BS6 scooters.
Braking Performance
Suzuki Access 125 gets a Front Disc and Rear Drum configuration. Moreover, it is topped off with a Combined Braking System.
Like every other Suzuki scooter, the braking performance is very impressive.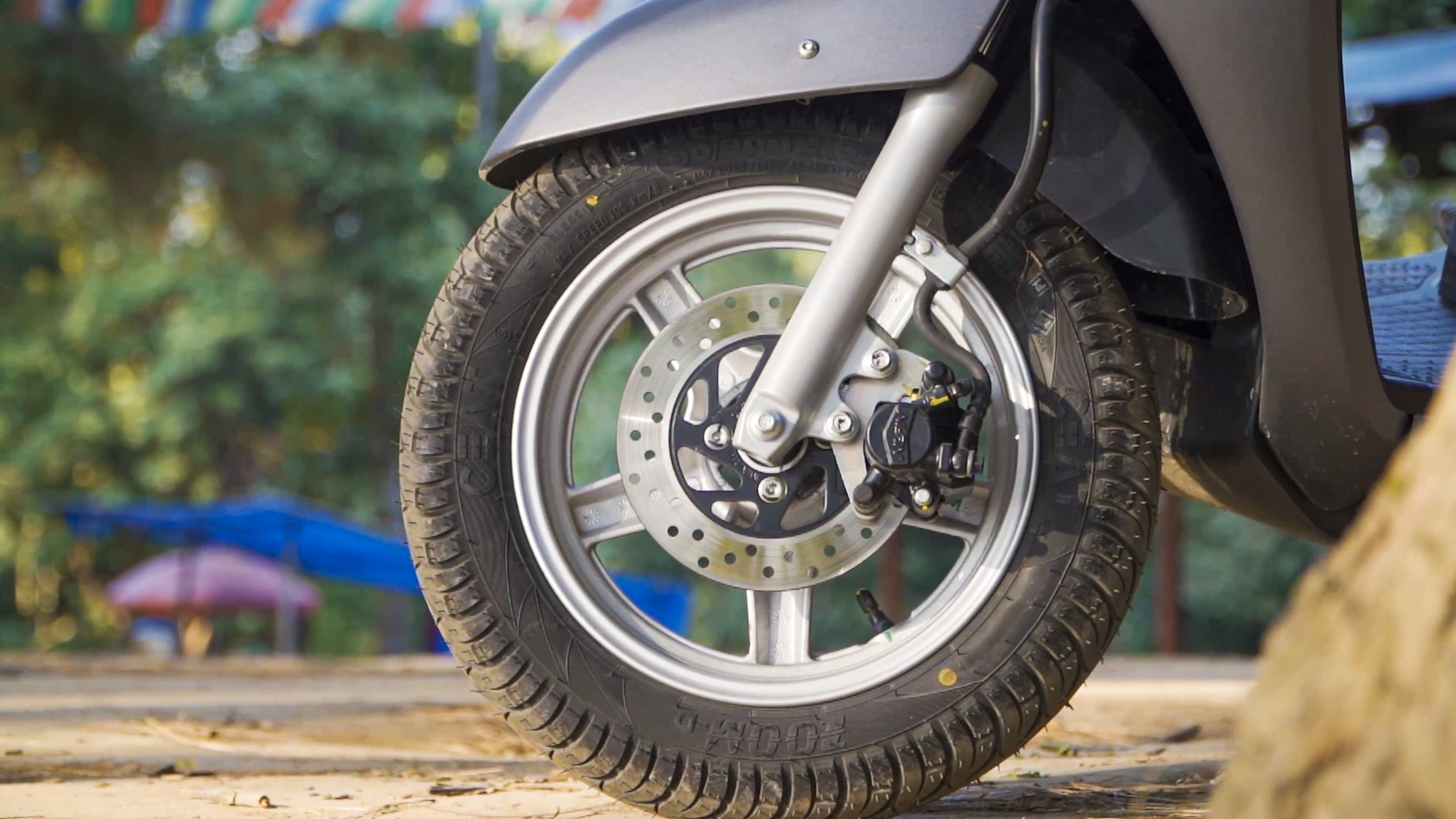 The front brakes have an excellent bite.
I think the CBS allows riders to gain a bit more confidence. As such, when pressing on the rear brakes also automatically activates the front ones.
It might seem weird at first. However, it does help elevate overall confidence.
Tyres
Suzuki Access sports a 90/90-section 12-inch tyre and a 90/100-section 10-inch tyre. The rear tyre is relatively smaller in size. Despite that, it compliments well with the Access styling.
As for the ride quality, it is very much similar to a past Suzuki scooter.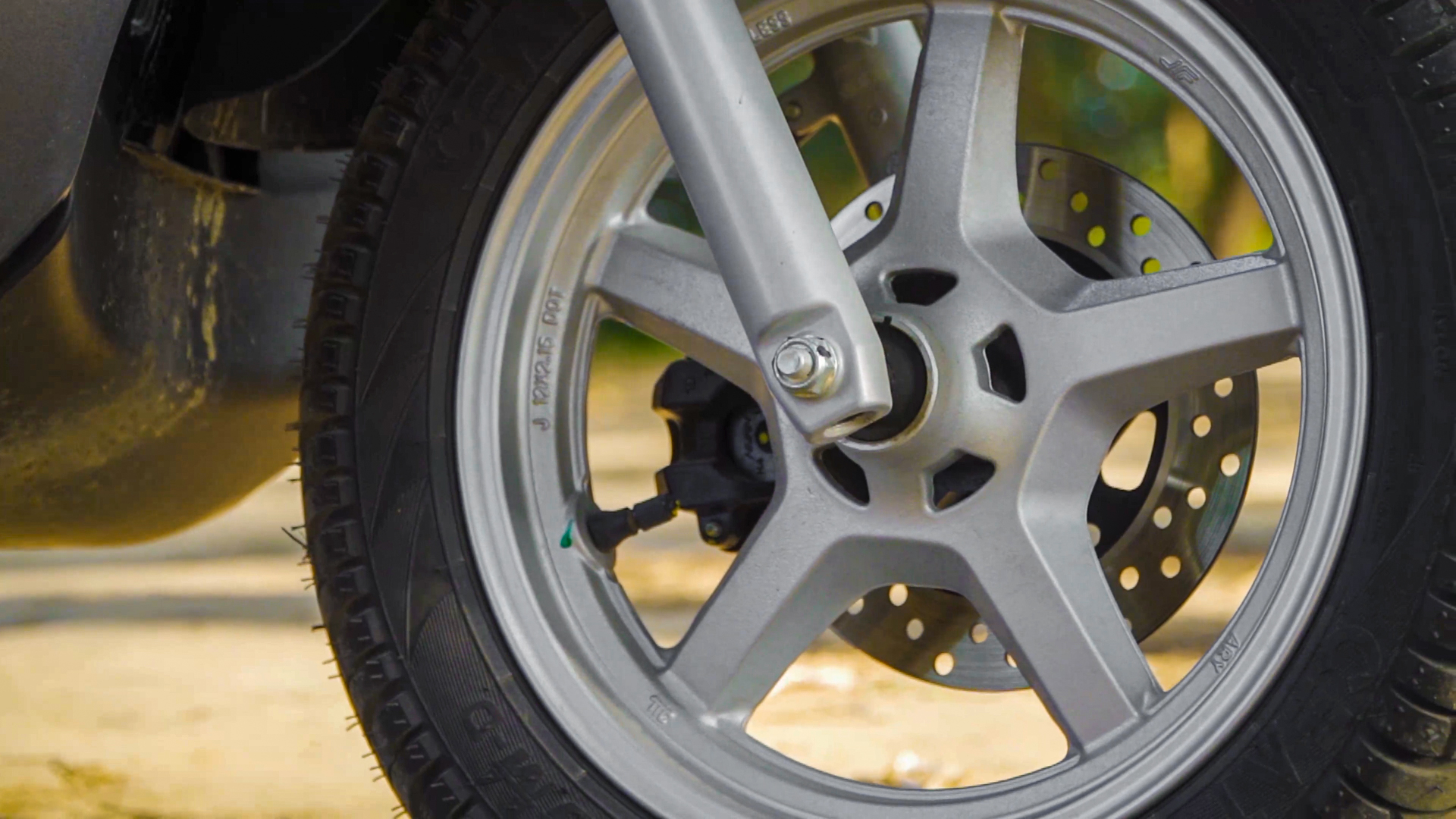 Access is less confident around corners and less stable at higher speeds. As a fair compromise, the scooter has better fuel economy.
The performance sacrifice for fuel economy sounds reasonable here.
Suzuki Access is a retro-inspired scooter. Hence, it will be less likely to be ridden hard.
Suspension
Telescopic Fork and Mono Shock Swing Arm handle the suspension duties.
The suspension setup is on the stiffer side. The road bump's impact is stern. And, it is easily felt, providing a jumping ride experience.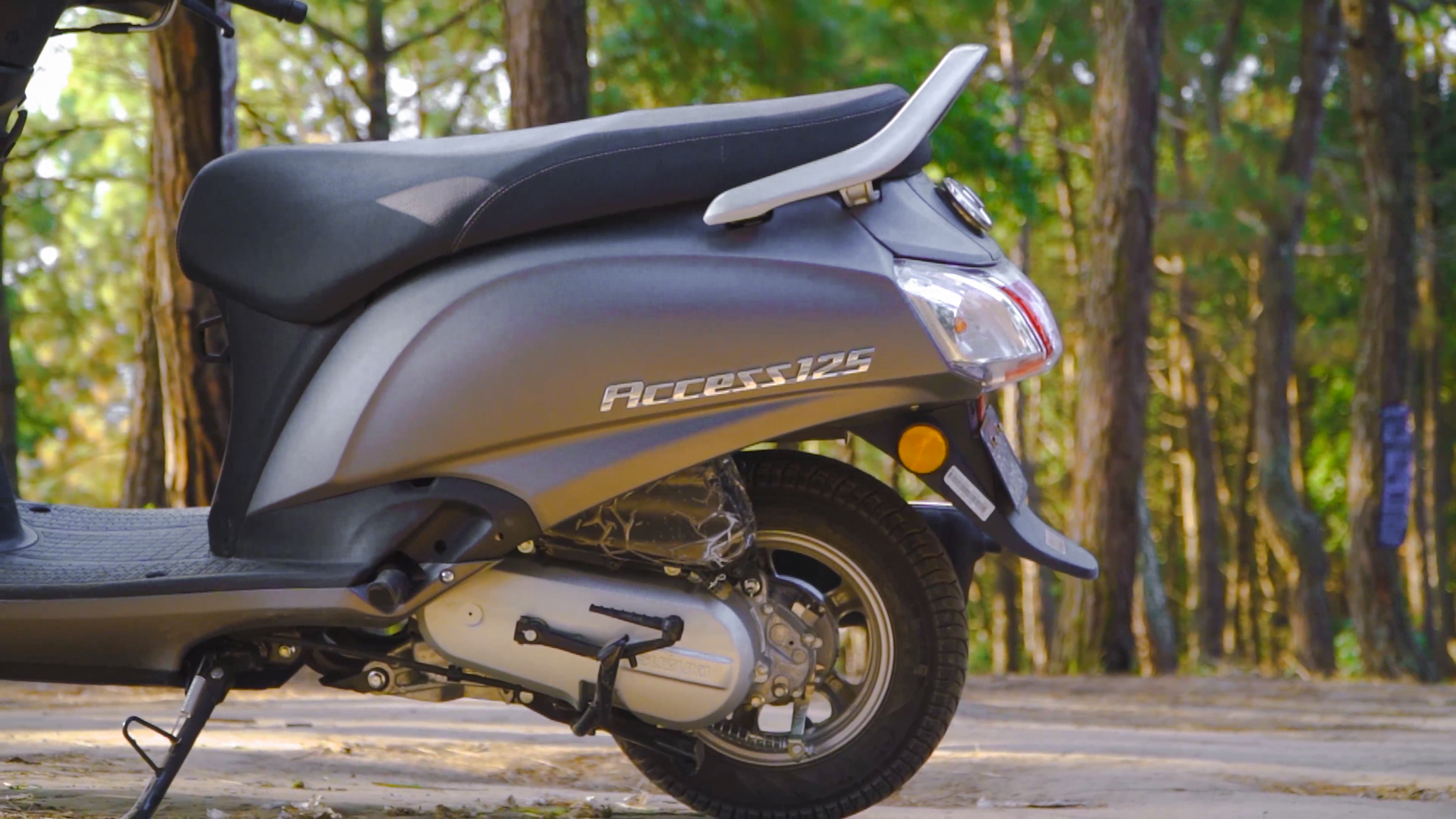 Sadly, it isn't preload adjustable.
You are pretty much stuck with the stiffer ride quality.
I kept avoiding off-road conditions, as it was near uncomfortable to ride on those roads. Otherwise, the city and highway feel good.
Seat Comfort and Pillion
I think the suspension is unable to absorb most bumps in part to this Single-Piece Seat.
The seat cushioning falls on the stiffer side.
It has more than enough space for both the pillion and the rider. Plus, the width of the seat is also wide enough.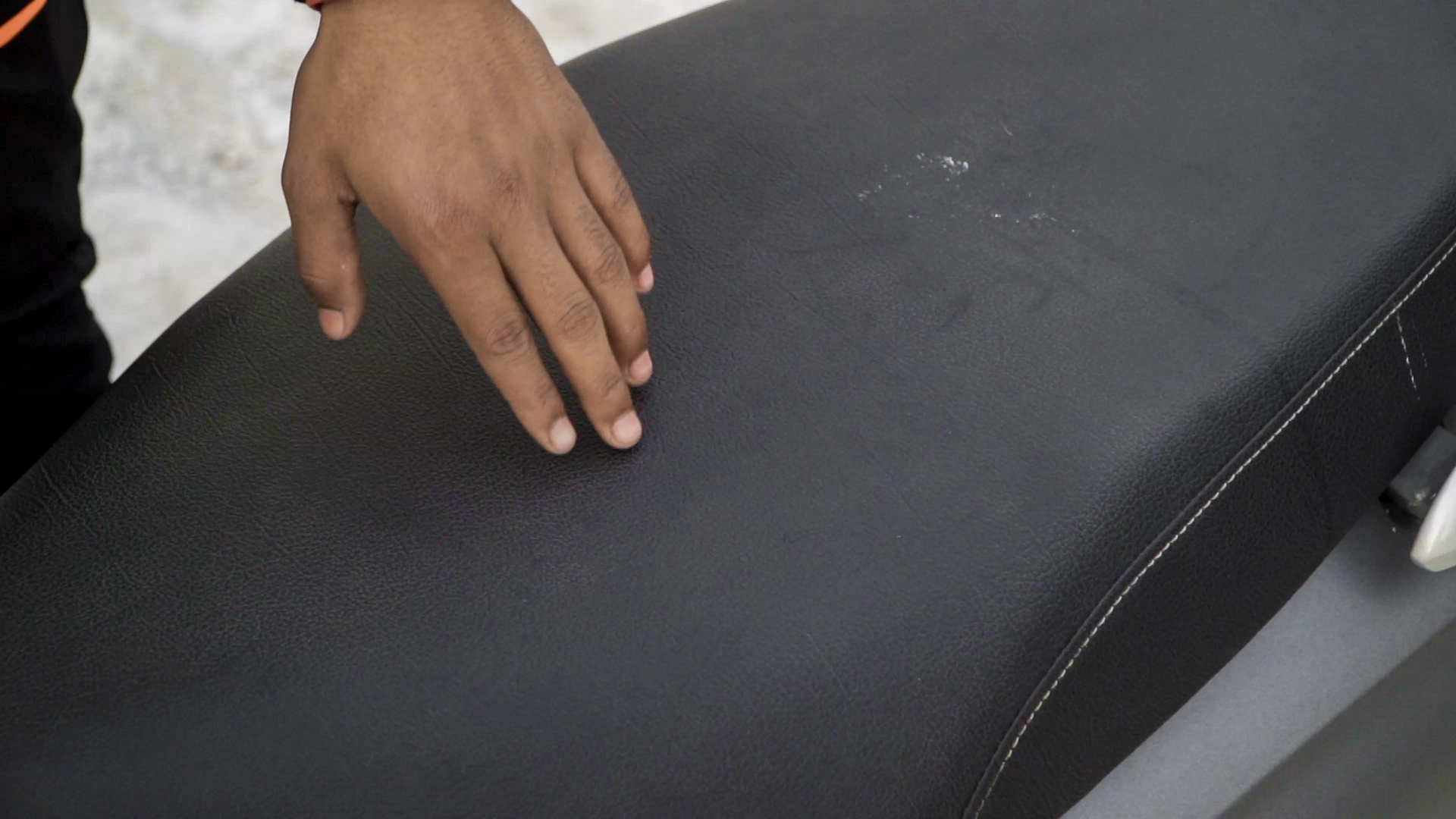 The seating position was comfortable on long rides as well.
It includes the Combinational Key Lock which provides easy access to the under-seat compartment.
There is the massive 22.3-liter storage underneath.
It has a large enough space, but it cannot fit a Full Sized Helmet. Unfortunately, it does not include any Boot Light.
Fuel Tank Capacity and Mileage
Suzuki Access sports a 5-liter fuel tank capacity.
Unfortunately, you will need to place it in a separate key slot to access the fuel tank. Moreover, it is a disconnected fuel cap, which literally comes up in your hand.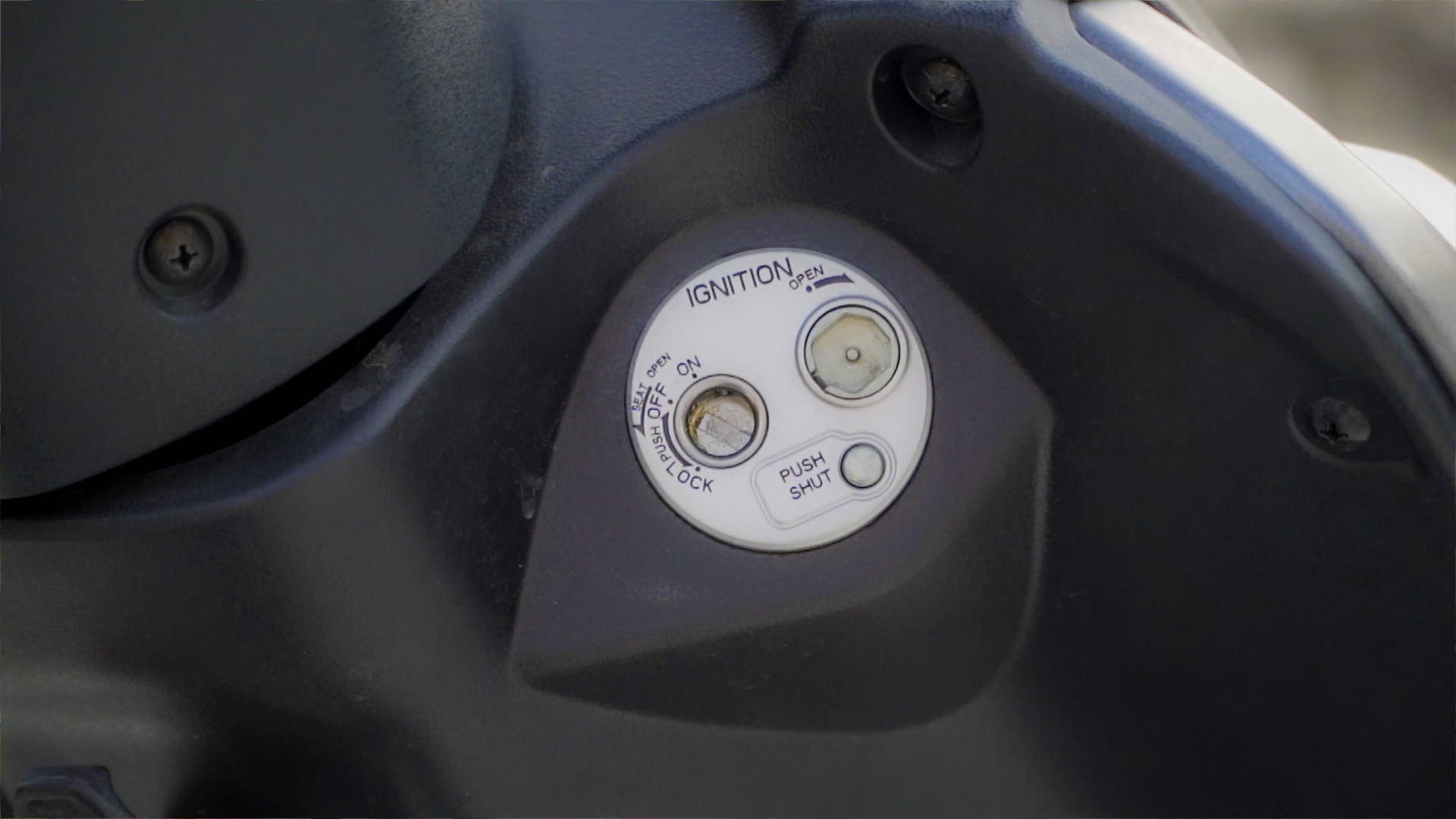 We tested it out with a fair bit of a mix of riding styles. During that, we managed to get around 50-55Kmpl of mileage.
In general, the rider should get around 250-275Km on a Full Tank.
Analog Digital Meter
Instead of a Digital Meter, the Suzuki Access 125 gets an Analog-Digital Meter.
It may seem like a downgrade at first, but it holds plenty of good information. It displays Time, Twin Trip Meter, Odometer, Battery Voltage, Oil Change Interval, Check Engine Light, and a Warning Indicator Light.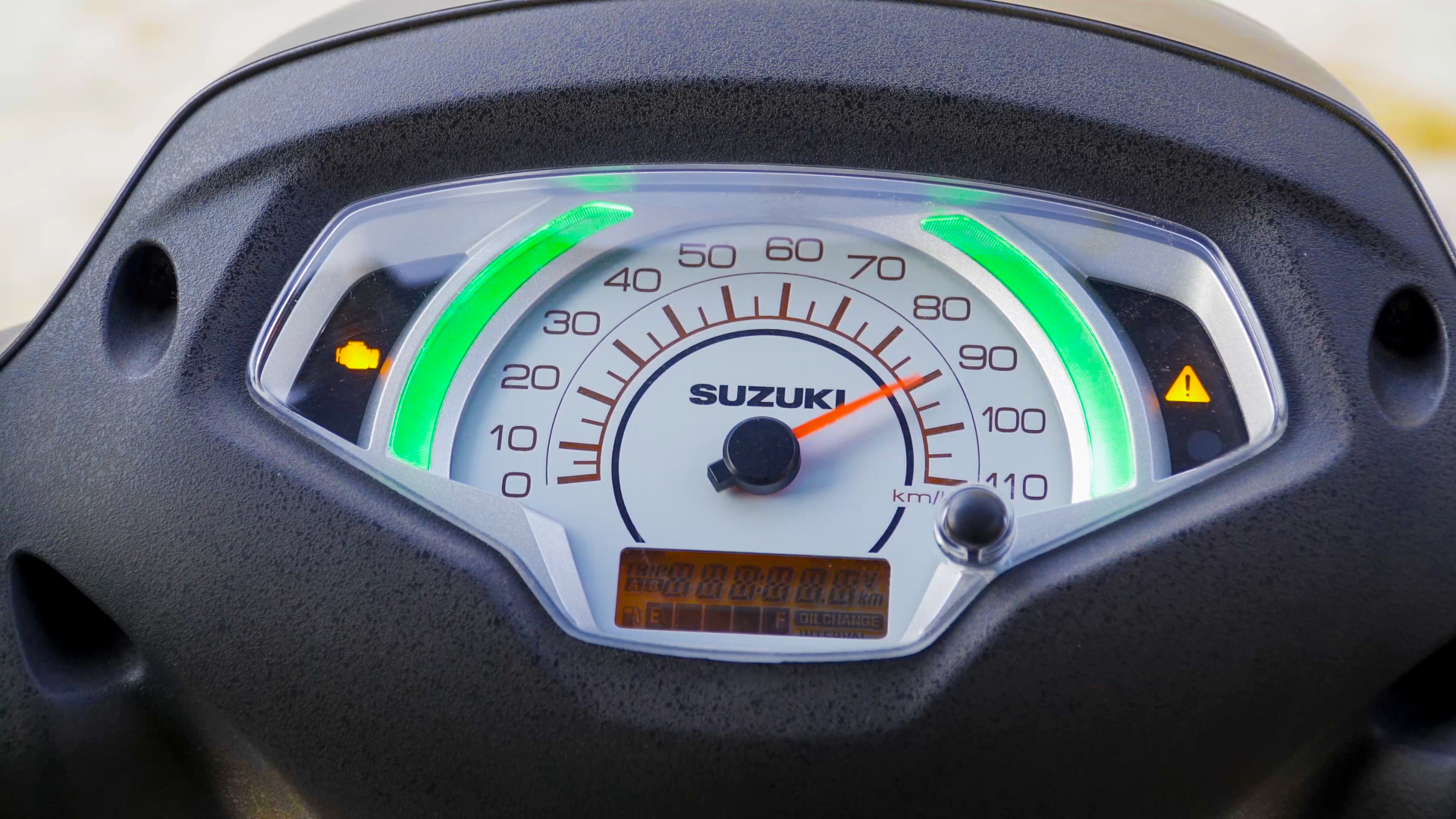 Furthermore, there is the Blue-Colored Eco Assist Illumination. It changes to Green when the scooter is ridden with fuel economically.
It is a step up over a simple Eco light in other rivals. Plus, it is very easy to grasp.
Unfortunately, it does miss out on Bluetooth Connectivity.
Practical Features
Suzuki Access 125 is a practical scooter.
Like before, it includes Luggage Hooks at the front and rear side of the footboard.
It provides a convenient storage spot for mobile phones, gloves, and other documents. However, it is an open compartment instead of a closed one.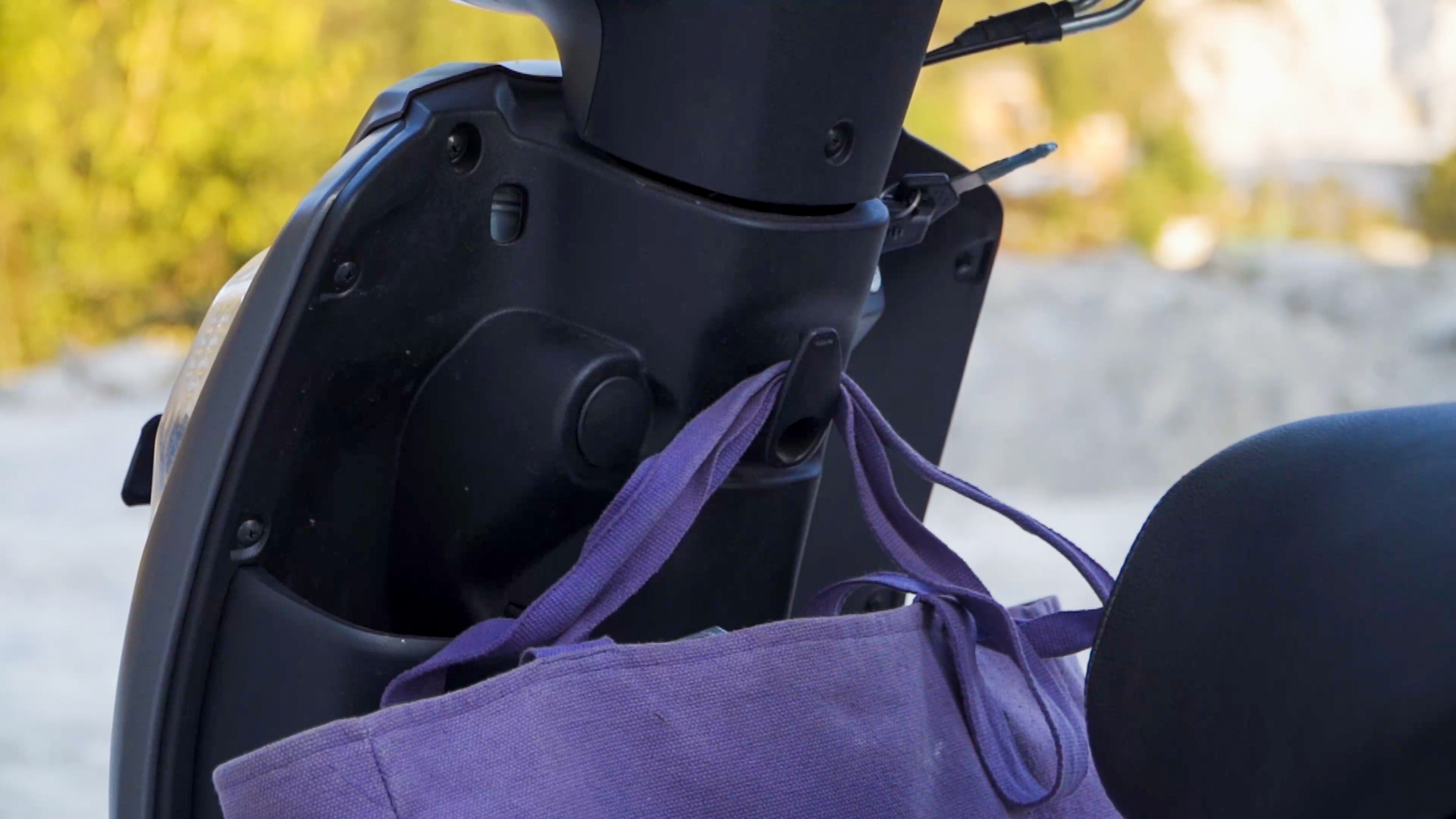 Additionally, there is no USB charging port.
I think this is where significant cost-cutting is done.
Suzuki Access 125 Feature Highlights
125cc FI Engine
Retro Scooter Styling
LED Headlamp with Chrome Finish
One Push Central Lock System
Suzuki Easy Start System (with Integrated Kill Switch)
Front Storage Pocket
Digital-Analog Meter with New Eco Assist Illumination
Chromed Access Emblem
22.3-liter Under Seat Storage
External Fuel Filler with Premium Chrome Finish
Front Disc and Rear Drum Braking
Combined Braking System (CBS)
Chrome Muffler Cover
My Experience with the Suzuki Access 125
Refined Performance
The performance is also very similar to past Suzuki scooters.
The engine is super smooth like butter and the vibrations are minimal. However, there is a slight buzz during initial acceleration around the footboard.
Thanks to its lightweight body, it is easy and nimble to handle.
The scooter is responsive, peppy, and fun.
I love how it shares the resemblance in the ride quality with other Suzuki scooters.
There is room for improvement in the low-end and top-end performance. However, it is still usable if needed.
Nevertheless, it shines in the mid-range.
It does two things well: rider engagement and refined performance.
The power delivery is linear regardless of the throttle pull. So, there is a millisecond delay when during overtaking scenarios. However, that doesn't really wavier any confidence.
You can easily complete the overtake maneuvers by timing them right.
But, Suzuki should consider punching up the pickup performance by a bit as a future improvement.
Other than that, the scooters excel in traffic and city road conditions.
With the top-end missing, it comes across as lacking on the highways. Despite its shortcomings, the Suzuki Access 125 is a good scooter with enhanced practicality at times.
There are a few cost-cutting done to keep the price down.
Ultimately, I think it is still worth it in terms of its performance and BS6-compliant tag.
Shortcomings
I didn't find any major shortcomings.
There were only two: A smaller 10-inch Tyre and Stiffer Suspension Setup.
For the tyre, it is understandable to focus on fuel economy in this day and age. However, the suspension needs better tuning.
The off-road riding experience isn't fun at all, rather coming across as a necessary chore over a fun riding experience.
If Suzuki does update the Access 125 in the future, it should focus on softening the suspension. If that is not possible, it could add more padding to its stiffer seat.
I think doing one of those things will drastically improve the overall experience.
Battle with Competition
Suzuki Access 125 rivals Yamaha Fascino 125.
Both feature similar retro aesthetics, interesting features, and a new FI engine. Furthermore, both scooters are priced at a similar price point.
Yamaha Fascino takes an upper hand with features like Silent Start, Side Stand Engine Cut Off, and Automatic Start-Stop System.

Whereas, the Suzuki Access 125 excels in styling, engine refinement, and informative meter.
Both scooters are equally good. So, it is just a matter of preference.
Conclusion
After testing out the Suzuki scooter for the third time, I am yet again impressed!
Suzuki Access is a great entry point for those looking for a good and affordable BS6-compliant scooter. It excels in refinements, affordability, and practicality.
Obviously, some features are missing to maintain that aggressive price point. However, these missing features do not hinder its overall experience and practicality.
This is the Suzuki Access 125.