Pros
Punchy Motor with Responsive Performance
Premium Build with High-Quality Components
Segment-Leading Features
Affordable Entry-Level Pricing
Comfortable Seats with Superb Suspension Feel
Cons
Uncomfortable for Two People at the Same
5-6 hours Charging Time
No Optional Space for Dual Battery
Super Soco Nepal introduced Super Soco CUx. It is an entry-level electric scooter, aimed at those looking to test the waters.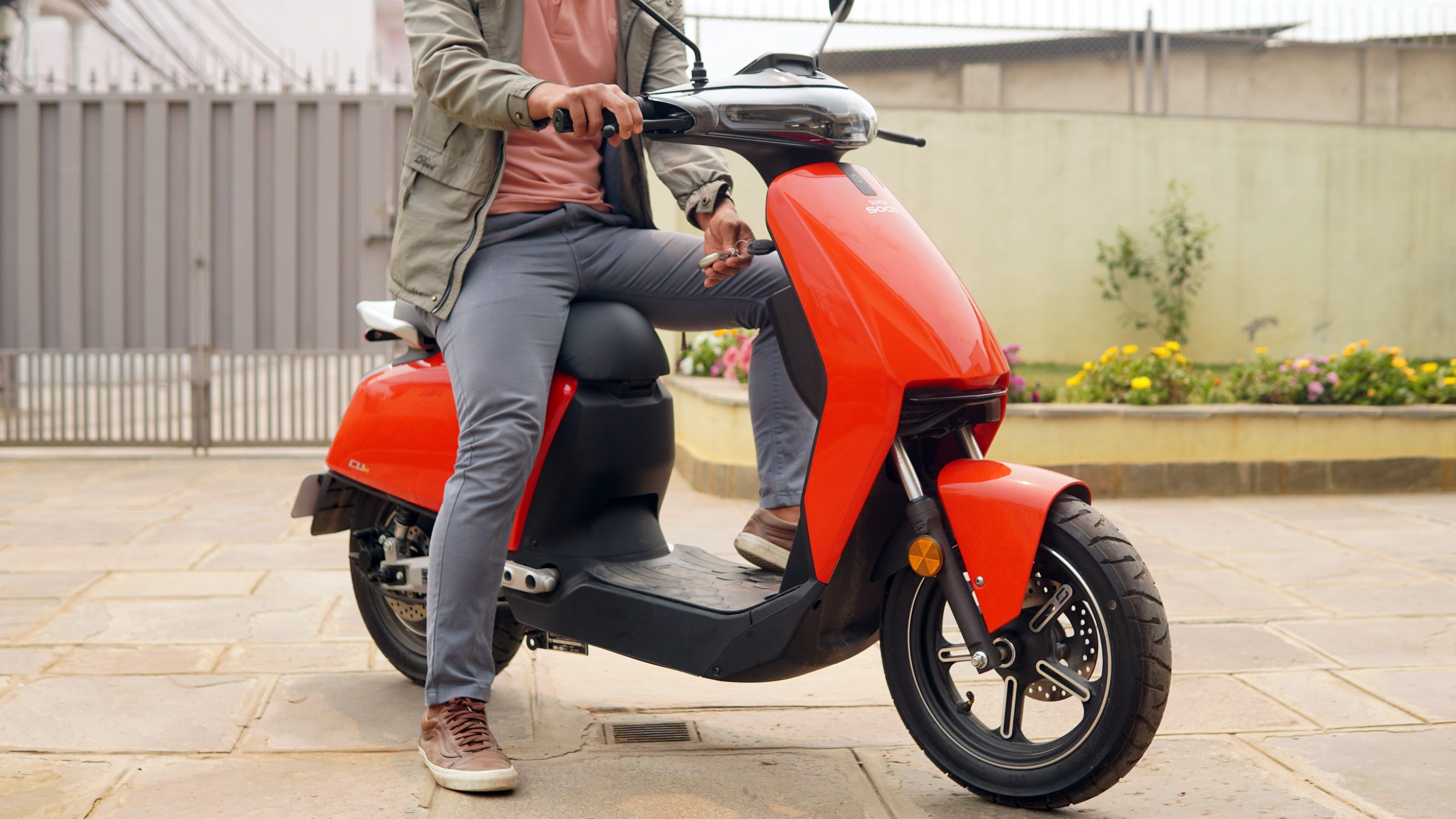 D-Lifestyle, the authorized distributor of Super Soco Scooters in Nepal, is currently offering two variants of the CUx.
As for the pricing, the Super Soco CUx price in Nepal starts at Rs. 2,39,000.
CUx has an eye-catching styling, punchy motor, and cost-effective battery.
Our first ride impression did not prepare us for all the interesting stuff CUx had on offer. Don't worry, we will talk about all that and more in this full review article of the Super Soco CUx.
Super SOCO CUx Specifications
Motor: 2788W
Battery: 60V30AH
Peak Torque: 115Nm
Battery Type: Lithium-Ion
Range: 85Km
Top Speed: 75Kmph
Charging Time: 3.5hours (Fast Charging)
Tyres: 90/90-12 – Disc
Tubeless Tyres: Yes
Braking Type: Combi Braking System
Weight: 65Kg
Colors: Grey, White, Silver, Red, Gold, Matt Black, and Blue
Super Soco CUx Price in Nepal: Rs. 2,39,900 / Rs. 2,49,900 (Luxury Colors)
Super Soco CUx Review
Minimalistic Aesthetics
Super Soco CUx is different in a lot of ways.
Rather than going in for aggressive styling or loud colors, it goes for a more minimalistic feel.
In turn, the overall styling feels completely new and modern; even fresh at times!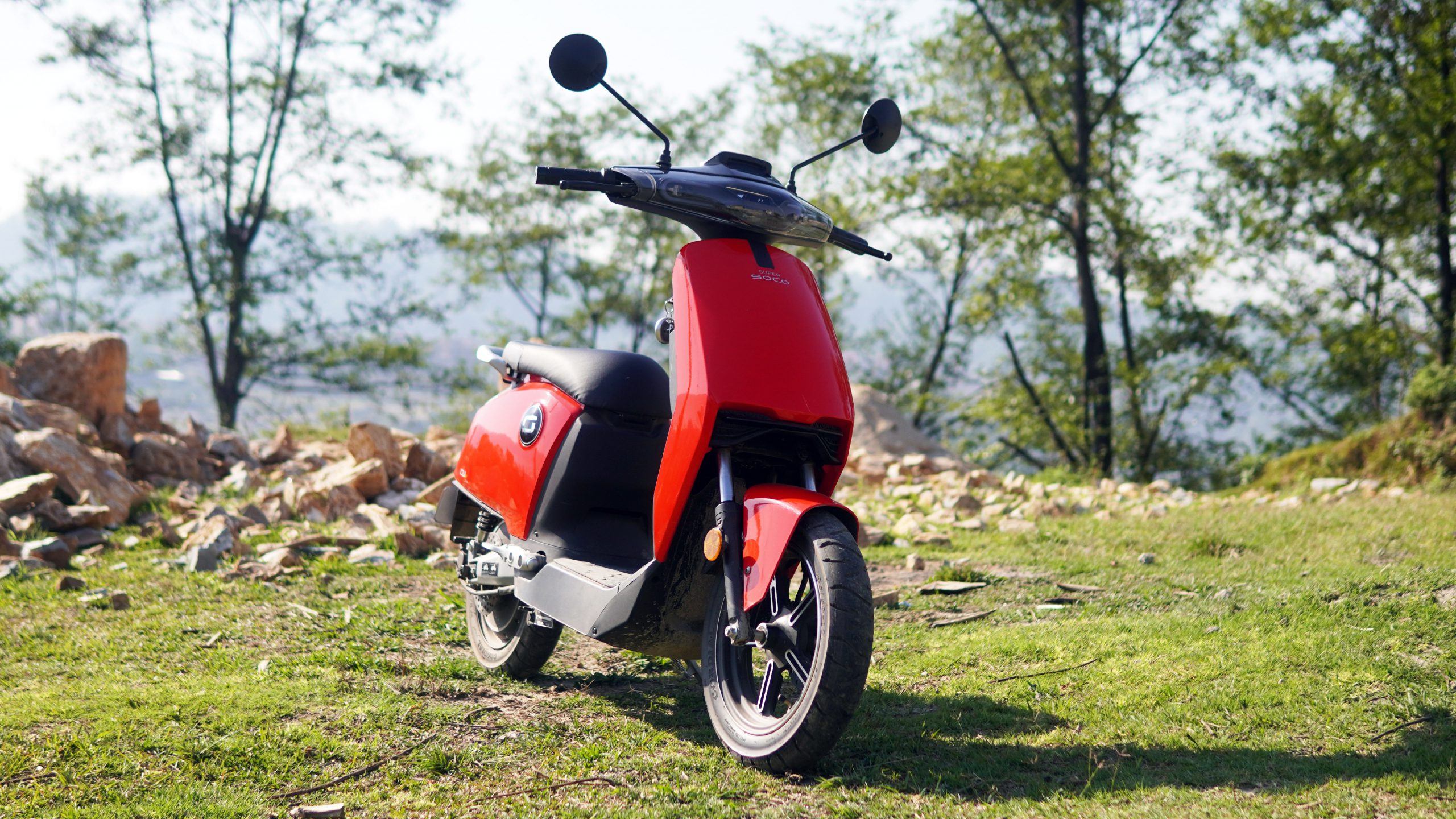 Even though it uses high-quality plastic to weigh down to just 65kg, the fit and finishing are surprisingly premium.
Super Soco is a sleek-looking scooter, with its small body assisting its agility.
Walkaround
It demands attention with its "eye of wisdom" headlamp along with its integrated side indicators.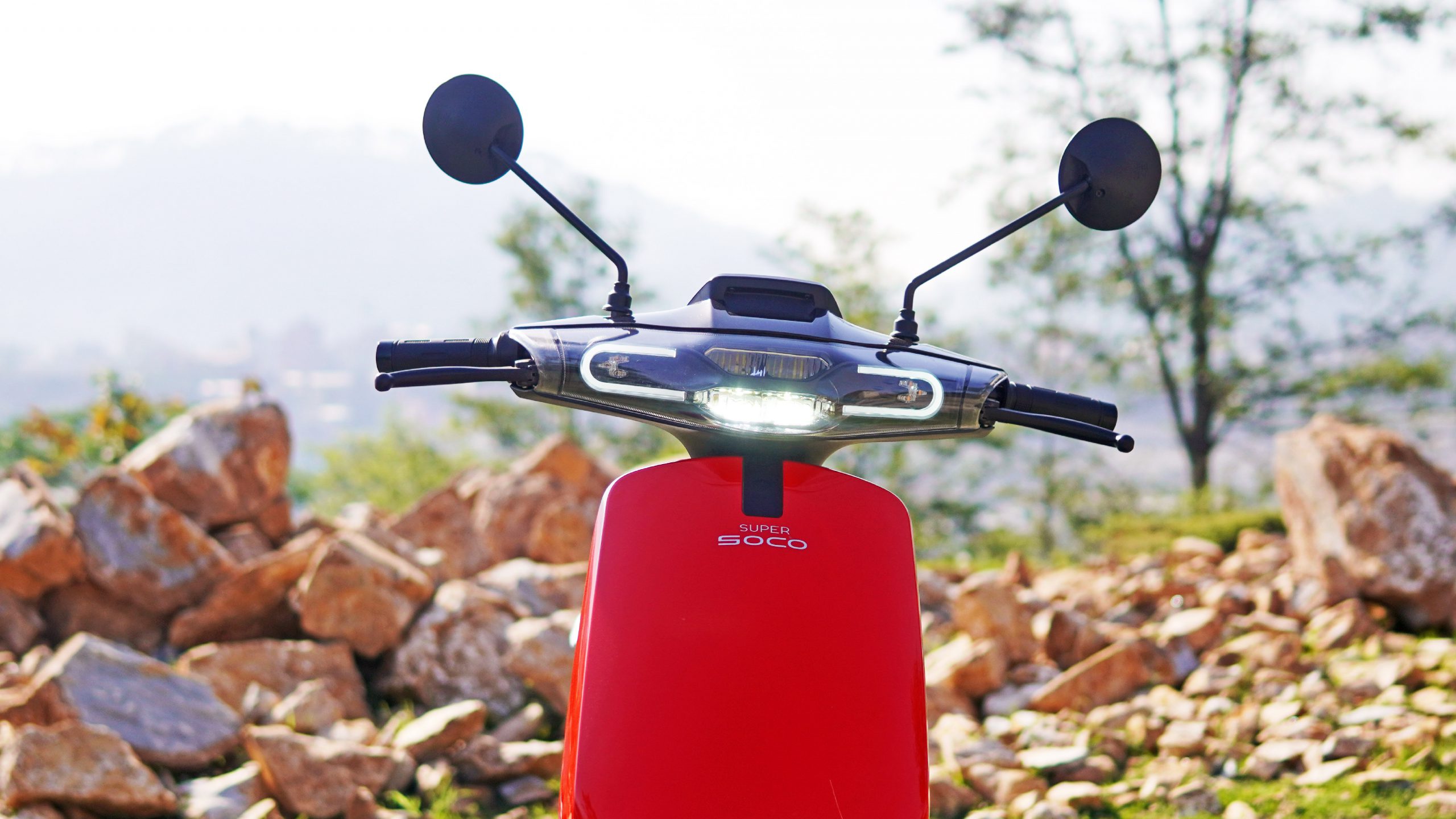 The footboard is simple but narrower.
Surprisingly, it still manages to provide a simple storage cubby and USB charging port for convenience. However, the small size does limit the broadness of the seat. Surely it is comfortable, but only for one.
Moving on to the rear section, it comes with "wings of flying", a LED indicator where the side indicator is neatly integrated within the tail lamp housing.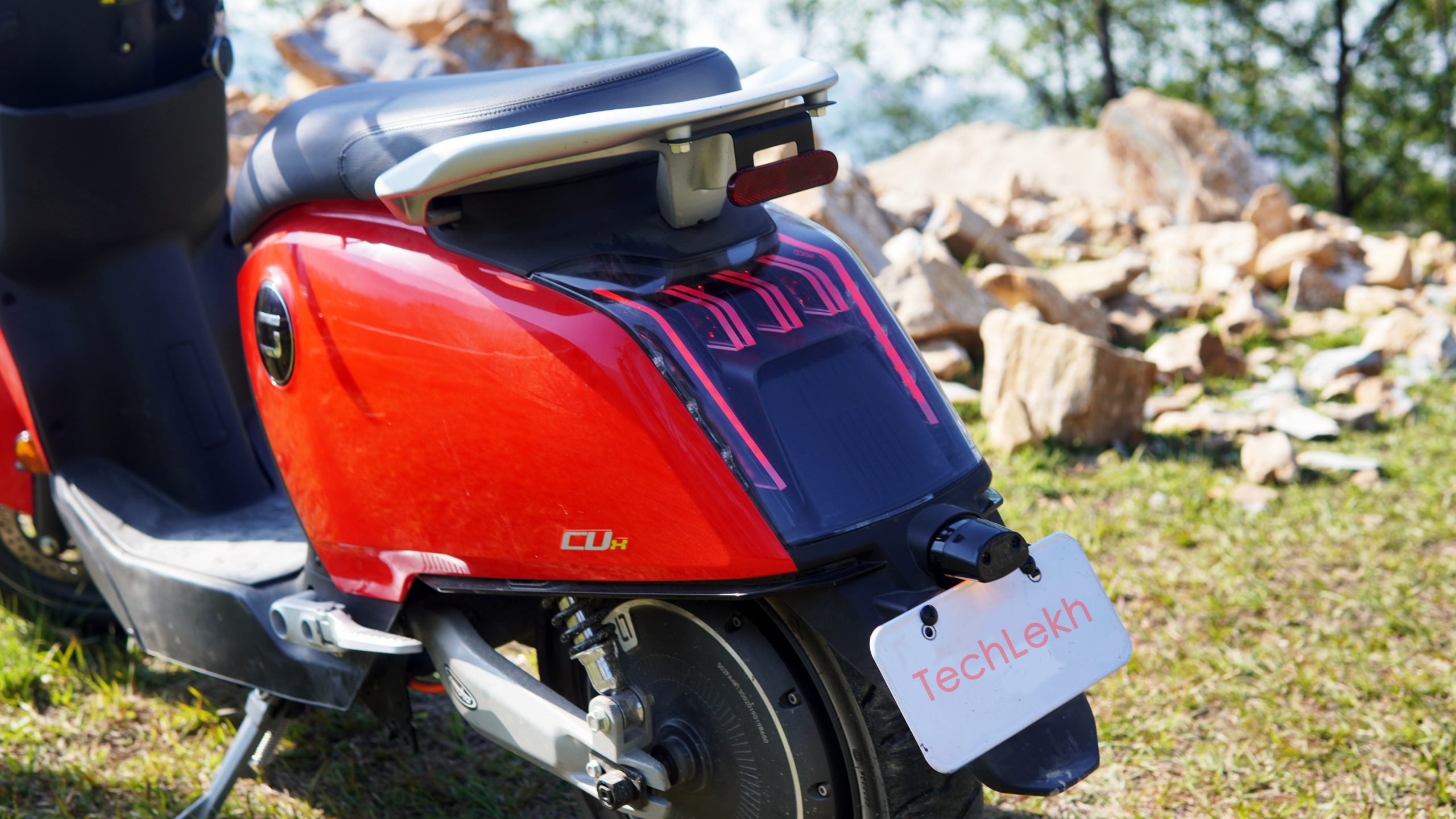 It comes with a dual-tone finish, typically expected from premium two-wheelers. The combination of red-black is nicely done.
If that isn't your style, you can easily choose from other colours like Grey, White, Silver, Gold, Matt Black, and Blue.
If you remember about the variants, this is where the price increase comes into place.
You can choose from Grey, White, Silver, and Red in the standard variant. Similarly, you can choose from Gold, Matt Black, and Blue in the luxury variant.
If you choose the luxury variant, it comes with neat-sticker finishing.
Super Soco CUx Design Highlights
Unibody Design
High-Quality Build
Eye of Wisdom Dynamic LED Headlights
Wings of Flying Inline LED Taillamps
Eye-Popping Colors
Comfortable Riding Posture
Punchy Motor
Super Soco CUx is powered by a 2788W motor that can generate a max torque of 115Nm. It comes with a 60V30AH battery with an expected range of 85Km. Furthermore, it is capable of a claimed top speed of 75Km/h.
Super Soco also provides a standard charging cable, which is easily pluggable at a normal home socket.
CUx claims an average charging time of 3.5 hours, with an average of 2000 life cycles. Unfortunately, the included battery limits any kind of storage space under the seat.
Surprising Features
Super Soco CUx is an entry-level electric scooter. Despite the low price point, it packs in enough features to make it a viable daily commuter.
Braking Performance
Super Soco CUx comes with dual-disc brakes. In order to save costs, the scooter comes with Combi-Braking System (CBS) as standard.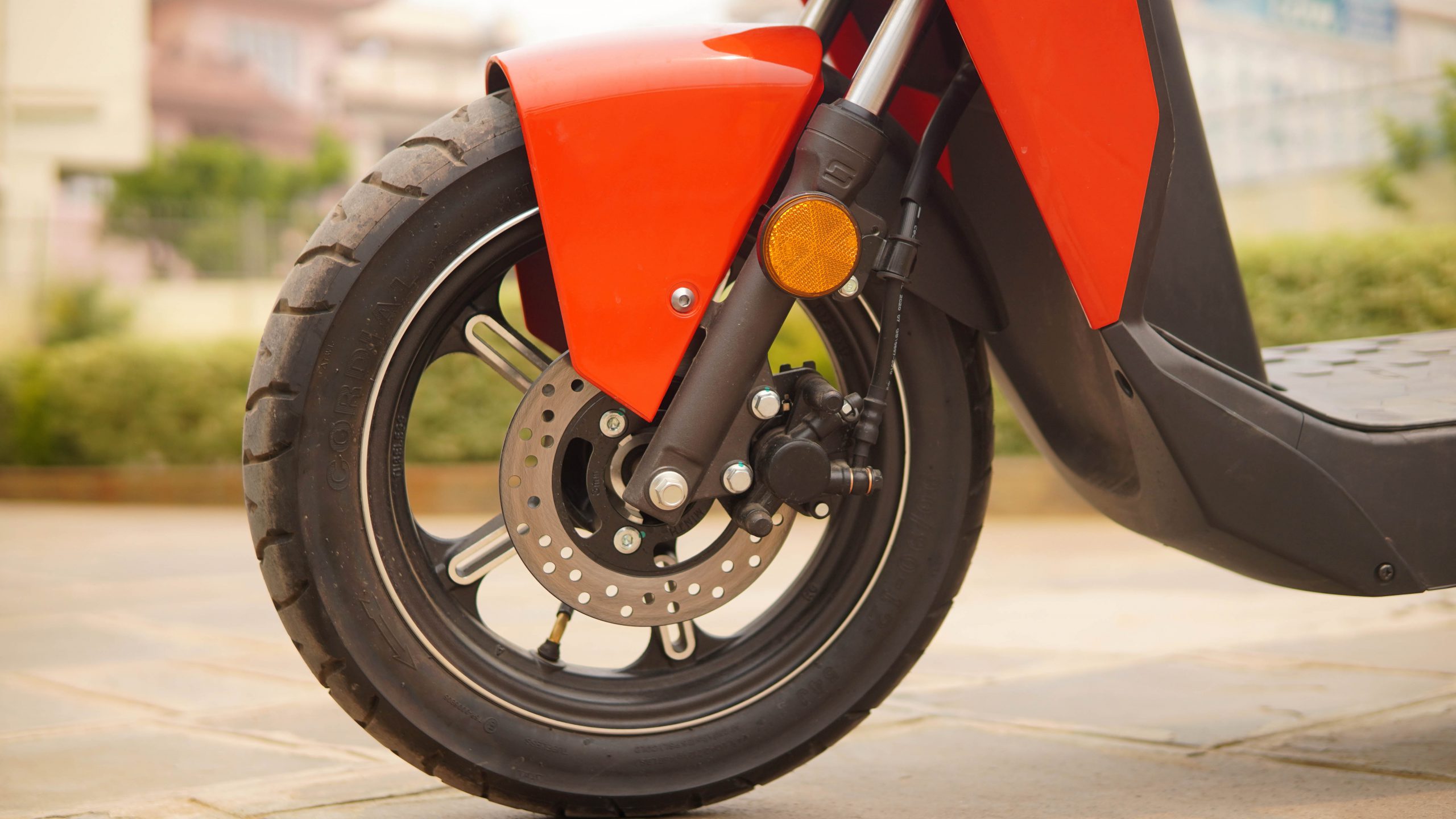 The brakes provide adequate feedback. Plus, it does its job well in inspiring confidence.
However, the lever feedback felt rather hard. I was annoyed with the hard levers during the downhill run. This might not be that big of a deal, but it is worth noting.
ALSO READ: Super Soco Electric Bikes Price in Nepal: Features and Specs
Suspension
Talking about the suspension setup, it gets a front telescopic and rear centralized hydraulic shock absorbers.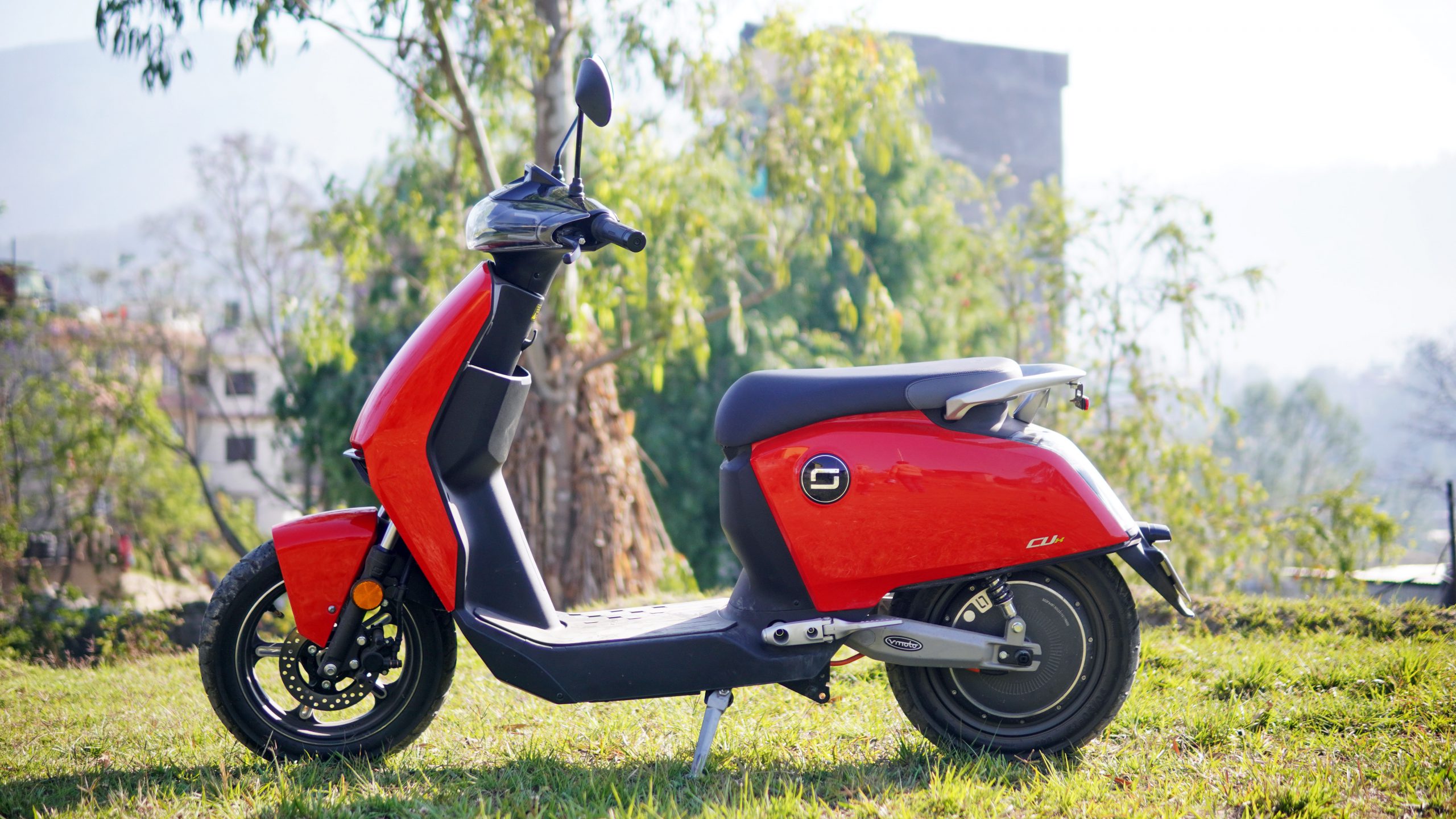 Contrary to my initial expectations, the suspension feel is nice. It balances well between the soft and hard settings. In real-world conditions, the scooter is perfect for both off-road and city-road conditions.
Smaller Seat
While the seat cushion feels premium and comfortable, it feels rather small.
The overall seating area is capable of fitting just one.
The same thing goes for the footboard. It is narrower, but it can be extended using additional accessories.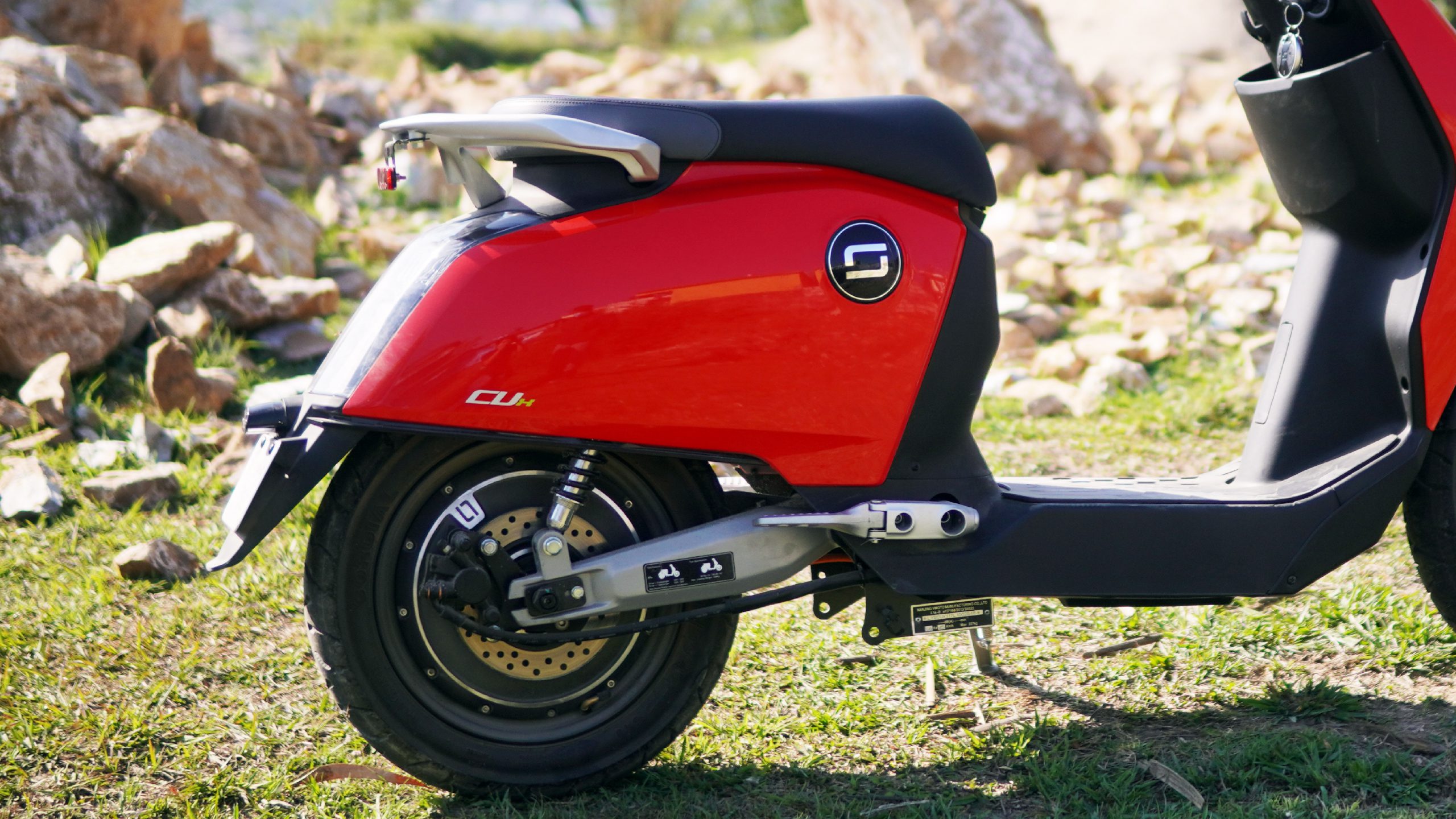 If it is just one rider, the scooter feels more than comfortable for city rides. However, the comfort level changes if there is a rider and a pillion.
Please keep in mind that if there are two people on the seat, only one can be comfortable at a time.
Battery and Range
Super Soco CUx comes with a 60V30AH battery. It comes with a standard 4A charger, capable of charging at around 5-6hours.
There is a unique placeholder, located under the seat, for both the charger and battery. The charger charges the battery at a rate of 14% per hour.
After a full charge, a rider can choose from three different modes: Mode 1, Mode 2, and Mode 3. Each increment of mode increases power and torque.
In a real-world setting, we got an average range of 60-65Km. We got this range after continuously switching between modes.
If you were to ride it economically in just Mode 1, you can get the claimed range of 85Km.
Tyres
Super Soco CUx gets 90/90 12-inch tubeless tyres, complete with attractive-looking alloy wheels.
Despite the slim tyre profile, it provides good enough traction. Plus, it is surprisingly fun and super confident-inspiring during tight corners.
Anti-Theft Security System
Super Soco CUx comes with a state-of-art anti-theft security system. It can be activated or deactivated from its unique key.
When the security system is active, it sounds like an alarm whenever there is an unauthorized movement of the scooter. If the unauthorized movement continues, then it locks the wheel that prevents it from any further movements.
ALSO READ: Super Soco Electric Scooters Price in Nepal: Features and Specs
Other Honorable Mentions
Wait… there's more!
Super Soco CUx comes with another list of cool new features like light-sensing LED Headlight, stylish LED Tail lamp, Smart Cockpit Dashboard, USB-charging, and Keyless Go.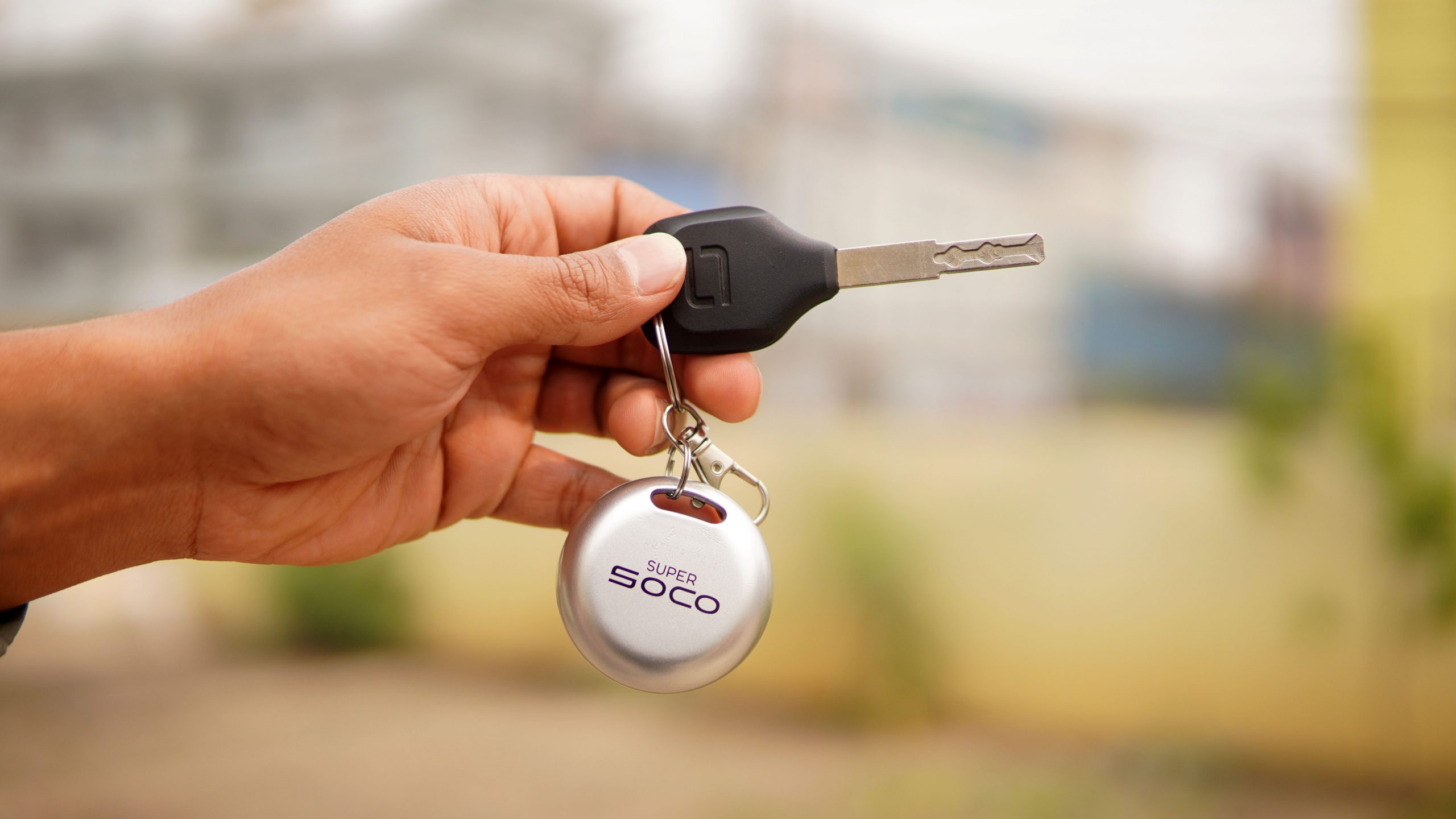 Furthermore, Super Soco managed to feature Cruise Control and Hazard Lights!
In the future, CUx will get app support and dashcam as well.
If you reconsider the price, Super Soco CUx managed to put in so many features, for so little price.
Super Soco CUx Feature Highlights
2788W Motor with 60V30Ah Battery
3-Level Riding Modes
Eye of Wisdom Dynamic LED Headlights
Wings of Flying Inline LED Taillamps
LCD Display
Comfortable Riding Posture
Digital Contact Switch with Multifunctional Button
USB Charging Port and Storage Space
Remote Key
Keyless GO with App Integration
Advanced Anti-Theft Safety Feature
Dual Disc Braking
Combi-Braking System
My Experience with Super Soco CUx
Punchy Performance
"Never judge a book by its cover."
Despite its pocket size, the scooter packs in a punch.
The in-built 2788W motor comes through with a mind-blowing performance. Both the power and torque figures are in a class-of-its-own.
Whenever the throttle is opened, the punchy feel is almost instantaneous. Over a traditional scooter, the experience feels exponential and livelier.
| Riding Modes | Achieved Top-Speed |
| --- | --- |
| First Mode | 16Kmph – 18Kmph |
| Second Mode | 30Kmph – 33Kmph |
| Third Mode | 60Kmph+ |
I rode the CUx mostly in Mode 2, while occasionally switching to Mode 3 for quick overtakes.
People kept underestimating the CUx, perhaps due to its size. But whenever I pulled on the throttle on a straight road, CUx left them completely speechless.
I think it is the speciality of this scooter, leaving people speechless.
Cost-Savings
Cost savings is one of the most important aspects of an electric scooter.
We did the math! Basically, we compared the Super Soco CUx with a normal 110cc scooter, in terms of cost of ownership and fuel.
Super Soco CUx consumes 1.5-2 units for a full charge. If you want to know the meaty details, be sure to check out our full review video.
In summary, we ended up calculating Rs. 70,200 worth of difference in just fuel saving! We didn't even add the pesky maintenance cost of the engine and its expensive parts.
Compared to a traditional scooter, Super Soco CUx is 3x more power-efficient. Plus, there isn't any kind of noise or vibrations.
Super Soco CUx vs Pure EV ePluto 7G
Both Super Soco CUx and Pure EV ePluto 7G is the price the same.
On a direct spec comparison, Super Soco CUx comes with much better hardware and a better build finish.
CUx is trying to look different, actively trying to stand out from its petrol rivals.
On the other hand, Pure EV ePluto 7G comes with a Vespa-inspired design. Plus, the in-built 1500W motor feels underpowered in comparison.
By sacrificing the motor, the ePluto 7G is able to offer more range. However, the fit and finishing require a fair bit of work.
Nonetheless, ePluto 7G was able to carry two passengers on a steep hill climb without losing any momentum. Unfortunately, CUx wasn't able to do the same.
Conclusion: Does Size Matter?
Given the size of the CUx, many might find themselves reluctant to go electric.
While the small size improves the overall agility of this entry-level Super Soco scooter, it also restricts the practicality.
Nonetheless, it is completely up to the rider to choose one over the next.
If you are a young rider trying to dip your toe in e-Mobility or a young commuter trying to save on fuel and transportation, then Super Soco CUx is a perfect-stepping stone.
For some of us, we put more emphasis on reliability over performance.
If that's the case, Super Soco has it covered. Super Soco CUx comes with 2 years of Motor warranty and 3 years of Battery warranty.
So no, size does not matter!