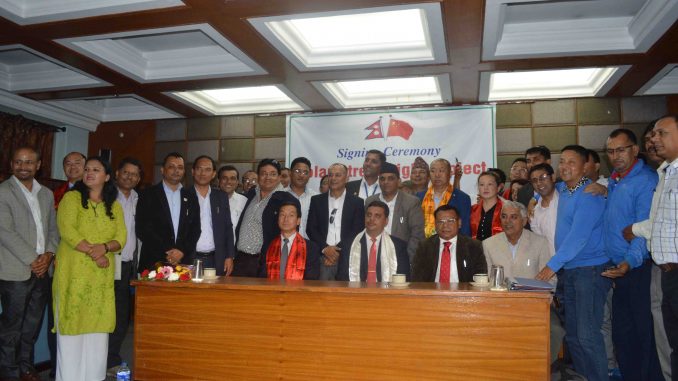 One thousand solar street lights in Pokhara that have been installed were formally handed over by the Chinese government to Pokhara Lekhnath Metropolis in a function held in the Lake City on May 7.
The solar street lights have been installed from Bijayapur to Hallanchowk with a Rs. 15 crore aid from the Chinese government.
A Memorandum of Understanding was signed between Executive Officer of the metropolis Dirgha Narayan Paudel and Deputy Director General of Foreign Affairs Office of Tibet Autonomous Region Ma Quinsheng.
Biswoshankar Palikhe, Chairperson of Pokhara chapter of Federation of Nepalese Chamber of Commerce and Industry, said that the project was completed with special support from the FNCCI.
Chinese envoy Yu Hong, who was present at the function, expressed his happiness at being able to assist the metropolis. Hong added that the works on the Pokhara Regional International Airport would start shortly.
Pokhara acquired the support from China after establishing a sister-city relation with Linzi. This plan had started in the beginning of last year in a bid to control night-time criminal activities. The lights were planned to be fitted from Pokhara's main entry point Bijaypur to Hallanchowk with the road section from Prithivichowk to Mahendra Bridge and Sidhartha Chowk to Srijana Chowk and Mustang Chowk as the priority.