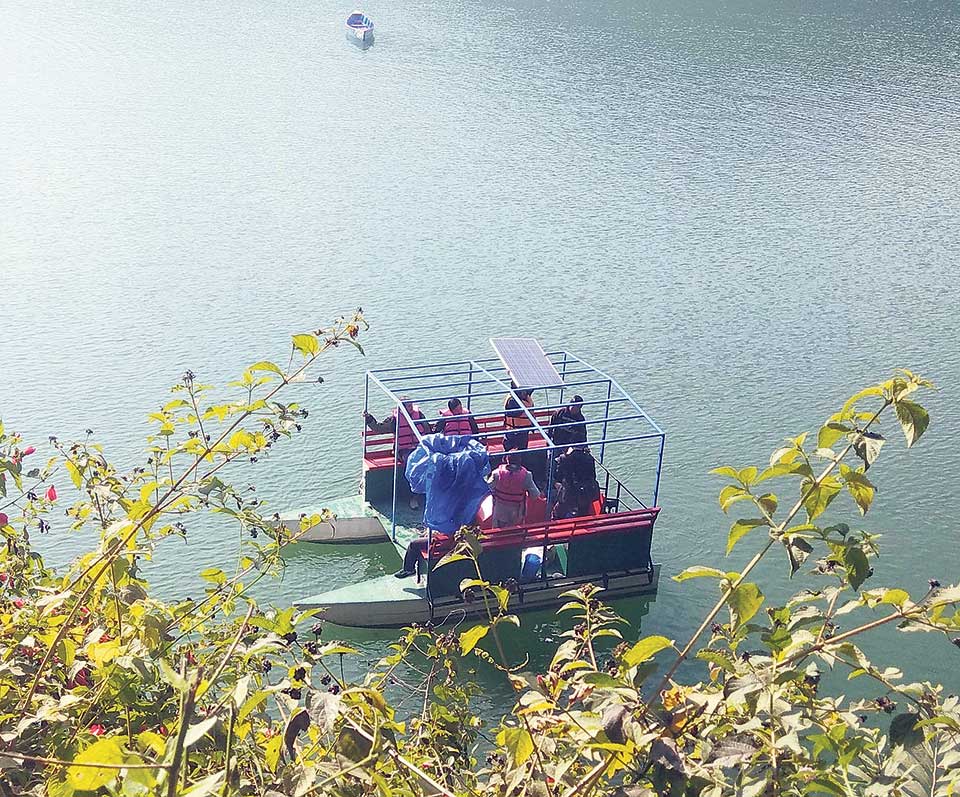 According to a recent feasibility experiment, it was found that boat entrepreneurs in Fewa Lake of Kaski district can use solar energy to operate their boats.
This feasibility experiment was initiated by the Renewable Energy Confederation. It tested solar operations based on Chinese technology on a boat that could carry 10 persons at a time.
According to Mayor Man Bahadur GC of Pokhara Lekhnath Metropolitan, the technology was found feasible from both environmental and technical perspectives. He said, "After the implementation of the technology, boat entrepreneurs can forget about rowing their boats with their hands." He also said that the technology was even more necessary as it is environment friendly.
Gunaraj Dhakal, chairman of Renewable Energy Confederation explained that to operate the boats, solar panels would be put on the roof of the boats. The energy generated will charge the batteries installed in the boat.
"We used lower capacity solar panels and battery in our test phase. At an optimum level, solar panel of at least 1,000 watt can be installed in a boat for entrepreneurial purpose.", mentioned the Mayor.
Dhakal too is very positive about the techonology. He suggested that the government should provide grants to boat entrepreneurs to encourage them to use the technology. According to him, government programs and grants with minimal interest rates will encourage more people to use the technology and the solar operated boats can be spread to Begnas and other lakes as well.
He added that such boats would also make rescue works faster when unexpected accidents happen in lakes. Furthermore, the technology can be used in rivers and small ponds in order to promote tourism through boating.