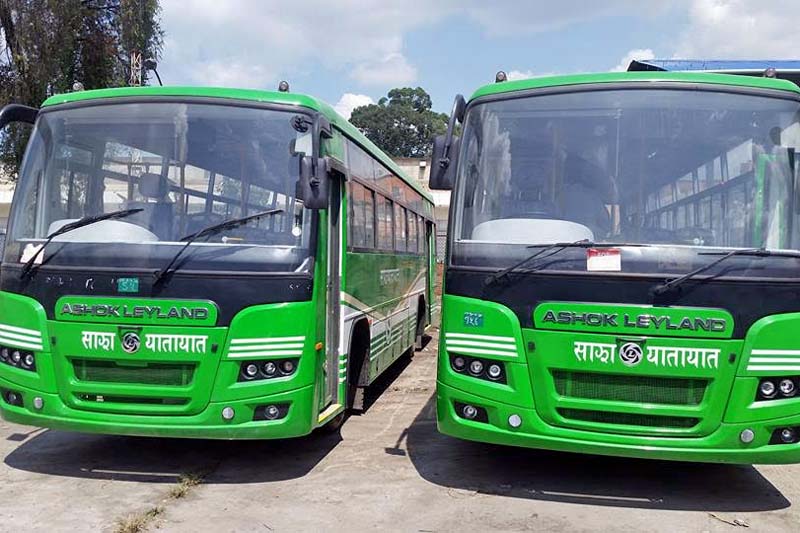 Sajha Transport Cooperatives Limited has brought disabled-friendly bus service into operation in Kathmandu Valley.
At a program on 8th March, the bus service was inaugurated jointly by Kathmandu Metropolis Mayor Bidyasundar Shakya and Lalitpur Metropolis Mayor Chiribabu Maharjan.
What they are saying:
Kathmandu Mayor Shakya said that the number of the disabled-friendly bus will increase in future considering the need of citizens.
Lalitpur Mayor Maharjan pledged to provide all possible support from his side to continue the operation of Sajha bus service.
Sajha Transport Chairperson Kanak Mani Dixit said that the citizens have been facing several challenges for optimum use of large buses in the Valley and expressed his confidence that Sajha Transport will overcome the challenges in coming days.
The Details:
The buses have a capacity of 41 seats and they also have arranged separate seats for children.
The disabled-friendly buses will operate on the route from Lagankhel to Gangalal Hospital through Patan hospital, Jawalakhel, Kupandole, Tripureshwor eye hospital, Bir Hospital, Jamal, Lainchaur, Lazimpat, Kanti Bal Hospital and Teaching Hospital.
---
Editors Recommendations
Read all the tech news of TechLekh. Stay updated!