Who is not fascinated by a robot? The idea of a machine understanding human commands and behaving intelligently to it; there might be very few who are not mesmerized by this advancement of technology. While almost everyone admires these inventions there are some people who actually want to build one of these. If you are one of those robot enthusiasts, there is a perfect opportunity for you to be part of a society of like-minded people. Robotics Association of Nepal (RAN) has recently announced opening for their membership.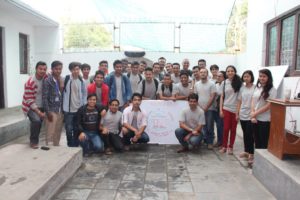 Established in 2010, RAN is a non-profit organization working for the development of Robotics and Technology. Right from its establishment, it has been continuously working in the field of robotics and electronics automation. Robotics Association of Nepal has built a network of tech professionals, students, and enthusiasts in Nepal through RAN membership, RAN Representatives, and Internships.
Each year it organizes different programs such as Yantra, the festival of art, science and technology and MissTech, a platform for women empowerment. In addition to that, it has organized and supported different hackathons such as NASA Space App Challenge 2016, Robotech-2016, RAN Talk, Hardware Freedom Day, Hack The Quake etc. It also conducts workshops on Internet of Things, Aerodynamics, Robotics, Renewable Resources and 3D Printing and Modelling.
Till date, it has organized five national robotics competitions, became the national winner of Coding your way to opportunity Grant from Nepal, distributed 350 Solar stations through Light of Hope – a Solar distribution and Training Campaign and much more.
The association has a great scope in the field of robotics and technology. Thus if you are interested in the field of robotics, this might be a great opportunity for you.
Details for Membership
Documents needed
CV
RAN membership application form
Recommendation letter
Membership Eligibility Criteria
Anyone who has either:
Recommendation letter
– From one of existing RAN executive member
– From respective robotics club or college or school
Participated in at least three RAN events either
–  Organized by RAN
–  Supported by RAN'
Enthusiasm in working in the field of robotics or electronics or automation
Registration Fee: NRs 1000.00/- and the last day of registration is April 30, 2017.
For more details about membership visit the registration page.