The government has extended the nationwide lockdown for the third time. Judging by the on-going situation, there is a strong probability to see lockdown extended for a few more weeks.
Surely, we are all affected by this in terms of economical activities and social interactions. However, we are not alone!
Several tourists are stranded in the valley and other tourist hotspots, unable to get home due to the lockdown. Just to add insult to injury, many have exhausted their resources, just barely surviving amid a lockdown.
OYO Hotels in Nepal Provides Free Stay for Tourists in Need
OYO has announced its plans to provide free stay for both the stranded tourists and Nepalis. Moreover, it has been offering free hospitality service since April 1, 2020. OYO established this initiative especially and only for Nepal as it aims to support the country's government amidst the lockdown.
"We are fully compliant with all the checks and measures suggested by the government to ensure complete safety for the hotel owners, staff, and tourists.", says OYO.
Mr. Weeky Yolmo, Country head of OYO Hotels in Nepal shared "The COVID-19 pandemic has had an adverse impact across the globe and we are operating in a challenging time. As a responsible corporate, we truly understand the importance of standing in support of those in need. We are striving to open the doors of our hotels for those who are stranded in Nepal amidst the lockdown. We will do everything that is possible in our limits to help the tourists, government and all our stakeholders in Nepal in these tough times."
Interestingly, the service will run until April 7, 2020, today (when the lockdown was expected to end). However, the company might extend its services as the government has prolonged the lockdown for one more week. We reached out to OYO to talk on this matter. They told us that they haven't made any final decisions about the extension yet. "We are currently holding discussions with our stakeholders about the extension of this support. We will possibly circulate a final notice on our social media pages and app later today.", they added.
ALSO READ: Foodmandu Fresh: A "Fresh" Transition to Deliver Essential Groceries in The Hour of Need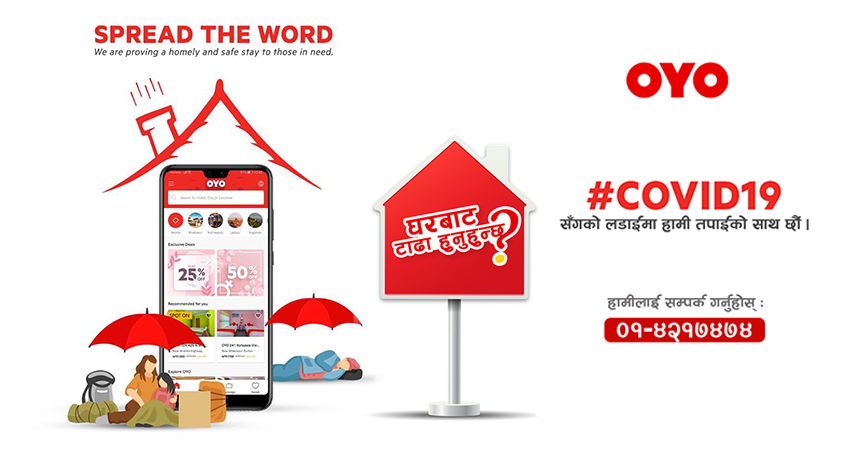 If you are the person in need, then please contact OYO's customer service at 01-4217474. Please note that you can only get help through the customer service, and not the app.
Currently, OYO  has partnered up with 7 hotels in Kathmandu and 3 hotels in Pokhara, since those are the prime tourist hotspots. Among those, a hotel in Thamel is running at full capacity.
Additionally, Ritesh Agarwal, Founder & CEO of OYO, has announced his plans to relinquish 100% of his annual salary. Instead, he plans to use it to fuel the fight against the COVID-19 pandemic.
In a statement, Agarwal said, "The current situation the world over is deeply concerning to each and every one of us. OYO is doing everything to support the world with its limited resources in this pandemic from making isolation centers to finding a safe place for first responders."
"Given the current business situation, which is unprecedented for our industry globally, I am foregoing 100 percent of my salary for the rest of the year. I am grateful to my leadership team, that have also taken pay cuts and support the company during these tough times."
"We at OYO stand committed towards the fight against COVID-19 and will try to do everything in our control to reach out and help people while also ensuring long-term success of the company, and our ability to continue delivering on our mission to bring better living spaces for all, at the right prices, globally," he added.
OYO Rooms, commonly known as OYO, is an Indian hospitality service and budget hotel network that owns, operates, and even aggregates the standardized hotel rooms since 2013. OYO made its debut in Nepal back in 2017, offering a one-stop-shop to book hotels from any place at any time.
Over 440+ hotels and 6,600+ exclusive rooms are part of OYO's chain in Nepal. The company has been consistently growing its footprint in the country while reiterating its strong commitment towards adding value to Nepal's hospitality industry.
READ NEXT: JEEVEE, Nepali Online Medicine Delivery Platform Marches Forward with a Leap of Faith Amid Lockdown