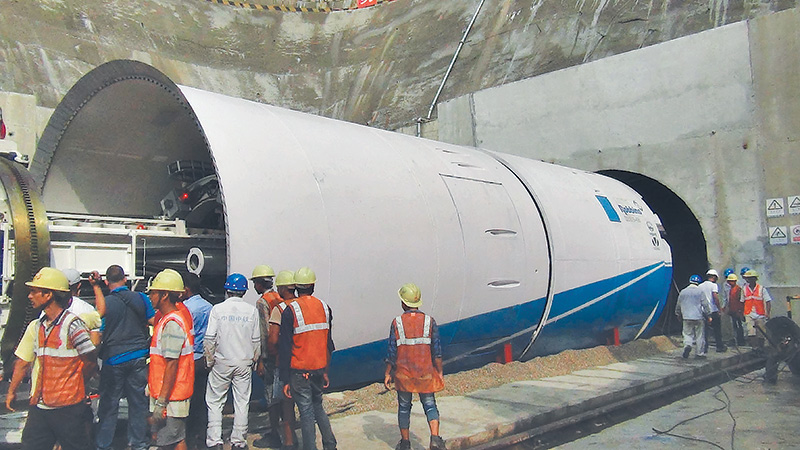 Nepal's first Tunnel Boring Machine(TBM) will be installed in a month, reports The Kathmandu Post. The TBM will be used in the Bheri Babai Diversion Multipurpose Project to dig the tunnel.
The official contractor of the project is the China Overseas Engineering Group. It had hired a foreign company to manufacture the machine.
The TBM is being manufactured by US based company named Robbins. The tunnel was estimated to take two months to install but after the company offered a three-fold rise in wages to the people working during Dashain, the work in on track to complete before Tihar.
After installation, Robbins will assemble the TBM and demonstrate the use of the machine by digging a 5-metre tunnel.
The machine will dig under the Chure hills to create a 4.2-metre wide and 12-km long tunnel through which water from Bheri River will be diverted to Babai River.
All this is expected to take 2 to 3 years.
Bheri Babai Multipurpose Diversion Project
The project will build a dam 15 metres high and divert 40 cubic metres of water per second from the Bheri River to the Babai River. It is located at Bheri-Ganga Municipality in Surkhet district in western Nepal.
The water from the dam will be used to irrigate 51,000 hectares of land round the year in Banke and Bardia districts. It will also generate 48 MW of electricity.
The project is expected to cost around Rs. 16 billion. It is expected to make an indirect financial contribution of Rs. 3.1 billion to the state, and a direct revenue contribution of Rs. 2.1 billion through energy sales.