Nepal Electricity Authority (NEA) is soon installing electric vehicle charging stations at 50 locations.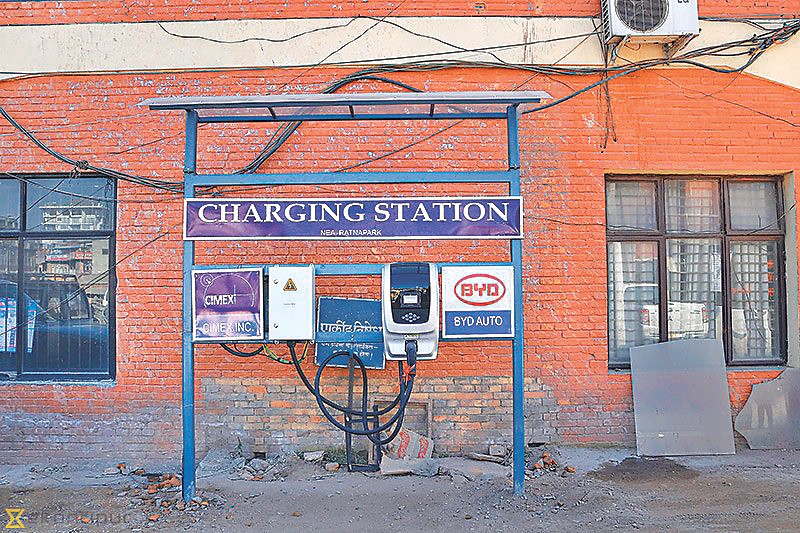 For this, the government has signed an agreement with a Chinese contractor Wangbang Digital Energy Corporation Limited. The contract is worth 377.9 million.
The contractor will be responsible for the supply, delivery, installation, testing, maintenance, commissioning, and operations in each location till next year. NEA has given the responsibility to the company for maintenance of the station for the next five years.
The government is building the charging station with assistance from Asian Development Bank.
The charging station will have a capacity of 60/60 kW DC and 22 kW AC chargers. This enables fast charging where three vehicles including a big bus can be charged simultaneously.
The 50 stations will be in different districts of all provinces. All the charging stations will be controlled from Kathmandu.
The charging stations will be set up in major highways and city bus parks. According to NEA, the stations will be placed at Damak, Bhadrapaur, Kankai, Biratnagar, Itahari in Province 1. Likewise, in Province 2, the stations will be installed at Birgunj, Simara, Chnadranigahapur, Dhalkebar, Janakpurdham, Bardibas, and Rajbiraj.
The station will be set up at Malekhu, Sindhuli, Hetauda, Bharatpur, Muglin-Kurintar, and Banepa in Bagmati province.
Similarly, the government body will install stations at Nawalpur, Damauli, Syngja, and Pokhara. In the Lumbini province, the stations will be placed in Nepalgunj, Bhalubang, Dang, Rupandehi, and Bardaghat-Sunawal. The station will be placed at Surkhet of Karnali province and Mahendranagar, Dhangadhi, and Dadeldhura.
According to NEA, the number of charging points will differ according to the necessity of the area. The location for Kathmandu is yet to be fixed.
READ NEXT: Super Soco Electric Scooters Price in Nepal: Features and Specs